With Christmas just around the corner, I thought now would be a good time to share all my Christmas recipes made easy from festive drinks and party nibbles to the main event with all its trimmings in one place.

I have now been sharing my Christmas Recipes Made Easy for several years, old favourites mixed in with with some new ones. Slowly but surely I now have almost every recipe I need for the festive period on the blog.
From festive drinks and party nibbles to the main event with all its trimming. As Christmas is always a busy time its helpful to be able to have them listed all together so you and I can lay our hands quickly on the ones we want.
You will also find my Christmas Bakes and Makes Made Easy which could be made in advance in one place but here I want to share with you the recipes that you need to make nearer the time be it for party nibbles to share with friends or the big day itself.
I also have a printable Christmas Day Plan, so along with that and all my recipes listed together Christmas planning and cooking has never been easier. Where I am still a bit on the light side with recipes, I have asked my blogging friends for suggestions to fill in the gaps. So all that remains is for me to wish you a merry and delicious Christmas.
Festive drinks and Party Nibbles
Drinks

At this time of year for me, nothing gets me more in the festive mood than a warming hot toddy, which is why one of the very early recipes I shared with you was for my Mulled wine and cider. The photos aren't great but the recipes are! I've since added a delicious non-alcoholic cranberry punch.
I also have some great festive cocktails and some non-alcoholic soft drinks too. My non-drinking guests love my Apple & Ginger Fizz and Lime and Mint Spritzer .
Party Eats

When it comes to cooking for parties no one wants to spend too much time in the kitchen. My pesto Christmas tree uses ready-made puff pastry and is really easy and quick to prepare and yet makes a fun centrepiece for a buffet table.
Crostini are quick and easy to prepare. The croutes can be baked in advance and will keep in an airtight container for a couple of days and the toppings can be made up to 24 hours in advance then its just a quick assembly job when required.
Other recipes that go down well at my Christmas gathering include my spicy turkey nibbles, a dip or two and of course every one loves sausages on sticks
THE BIG DAY
The Starters
If I'm honest I rarely serve a starter on Christmas day but I know a lot of people do. Keep it light and simple or choose something you can make in advance.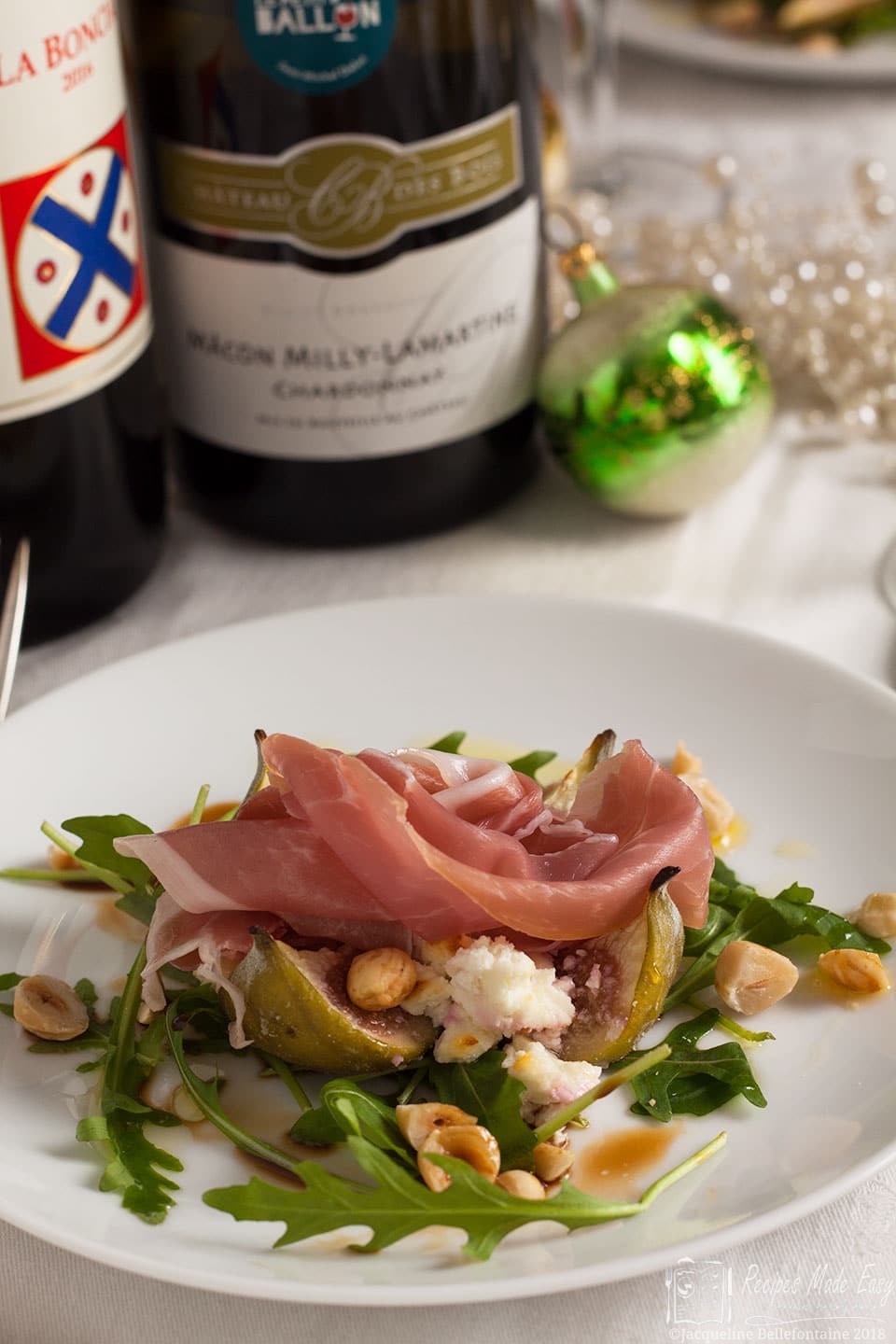 The Main Course

For us, it has to be a roast turkey. As with any roast dinner success is really all about the timing which is why my time plan comes in so handy.
We also like to have a gammon though that usually gets eaten on boxing day!
The sides
No roast dinner is complete without roast potatoes and a selection of seasonal vegetables
Honey Roasted Carrots and Parsnips from Charlottes Lively Kitchen
Roasted Balsamic Brussel Sprouts by Veggielicious or a for an all in one veg dish you might want to try Roasted Brussels Sprouts with Potatoes and Cranberries from Little Sunny Kitchen
and all the trimmings

On my Christmas Day Countdown post you will find not only my menu and time plan but also recipes for everyone favourite Pigs In Blanket and the Gravy.
I for one love stuffing. Sage and onion is the classic which I often make, I love the crispy texture. I also like to stuff the turkey with a Chestnut and sausagemeat stuffing. If you prefer not to stuff the bird you can pack it into a loaf tin instead.
Finally I like to make my own Cranberry Sauce, which has a lovely tart flavour.
Vegetarian Options
If you are serving a vegetarian option this Christmas my Carrot and Feta Strudel will not disappoint.
I sometimes serve a nut roast like this Lentil and Brasil Nut Roast form Tin and Thyme or this Vegan and gluten free Nut Roast from Fab Food for All.
For something a little unusual you might like to try Easy Peasy Foodie's Cranberry Feta and Quinoa Stuffed Butternut Squash.
Desserts

In the Bellefontaine house, we do love our desserts, so for Christmas, I really go to town. Christmas pudding with brandy butter is a must.
I also like to make something a little different such as my Christmas pudding ice cream as well as a meringue dessert of some kind (that's the boys favourite) and of course a trifle!