Are you looking for a different dessert to serve on Christmas day. Or do you have some leftover Christmas pudding after the big day? Then this dessert is for you. Rich and creamy with all the sweet Christmassy flavour you associate with Christmas pudding in the form of an ice cream.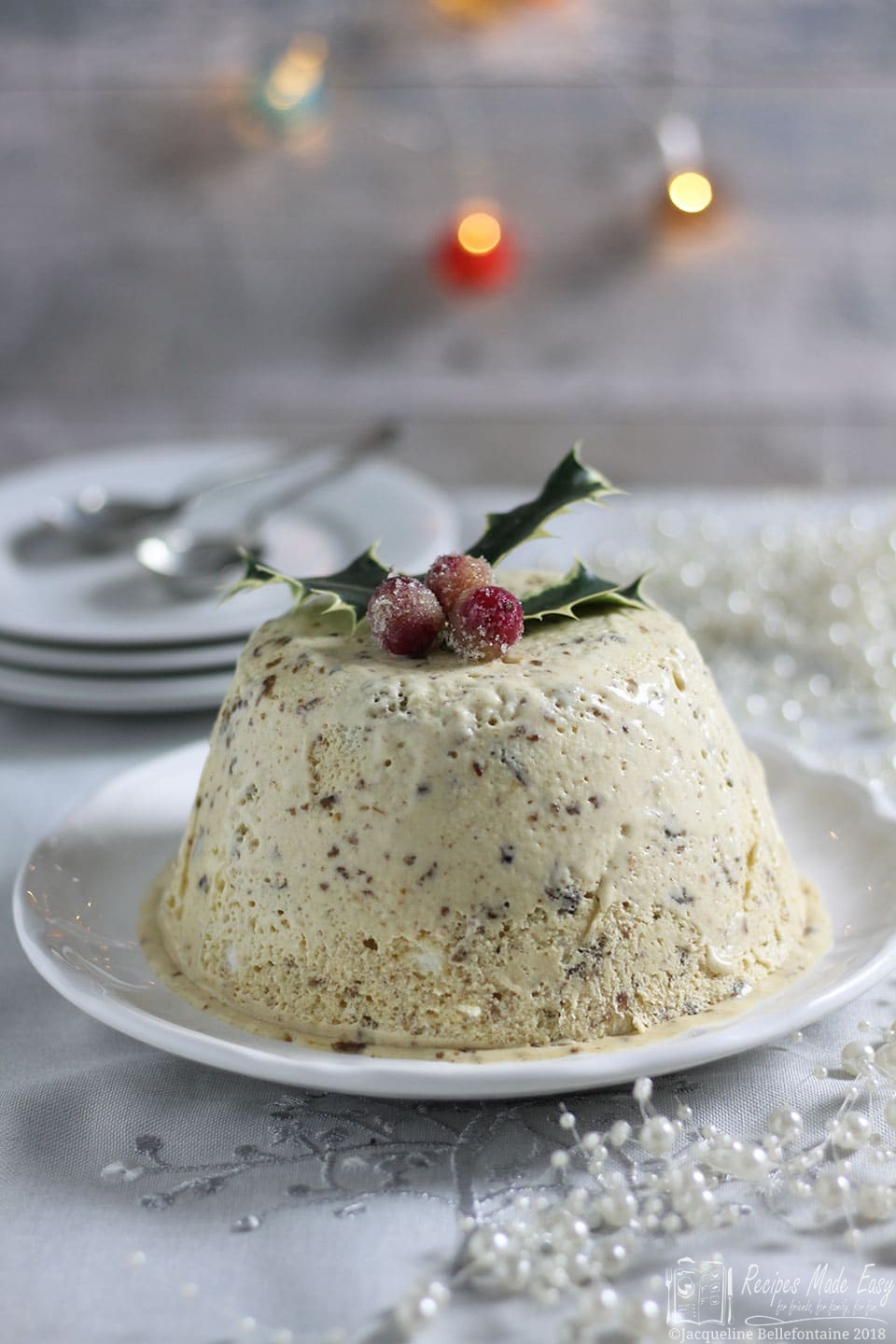 I have found that even those who don't like Christmas pudding (shocking, I know, how can you not like Christmas pudding) like Christmas pudding ice cream. What's more, it is really easy to make and doesn't require any churning or beating during freezing.
Why haven't I thought about making Christmas Pudding Ice cream before now? There really is no good reason except, maybe, because I am a huge Christmas Pudding fan and love it as it is.
Even though in reality I can only eat a very small portion on the day itself. After such a big roast lunch I am usually feeling pretty stuffed, but I will happily eat it on the days that follow.
So I am guessing that's why I have never got around to using it in an ice cream. However I do remember a colleague at Woman's Realm making it many years ago, but I don't remember what it tasted like.
Maybe I never actually got to try it at the time because if it tasted as good as this one, then I'm sure I would have remembered and made it sooner.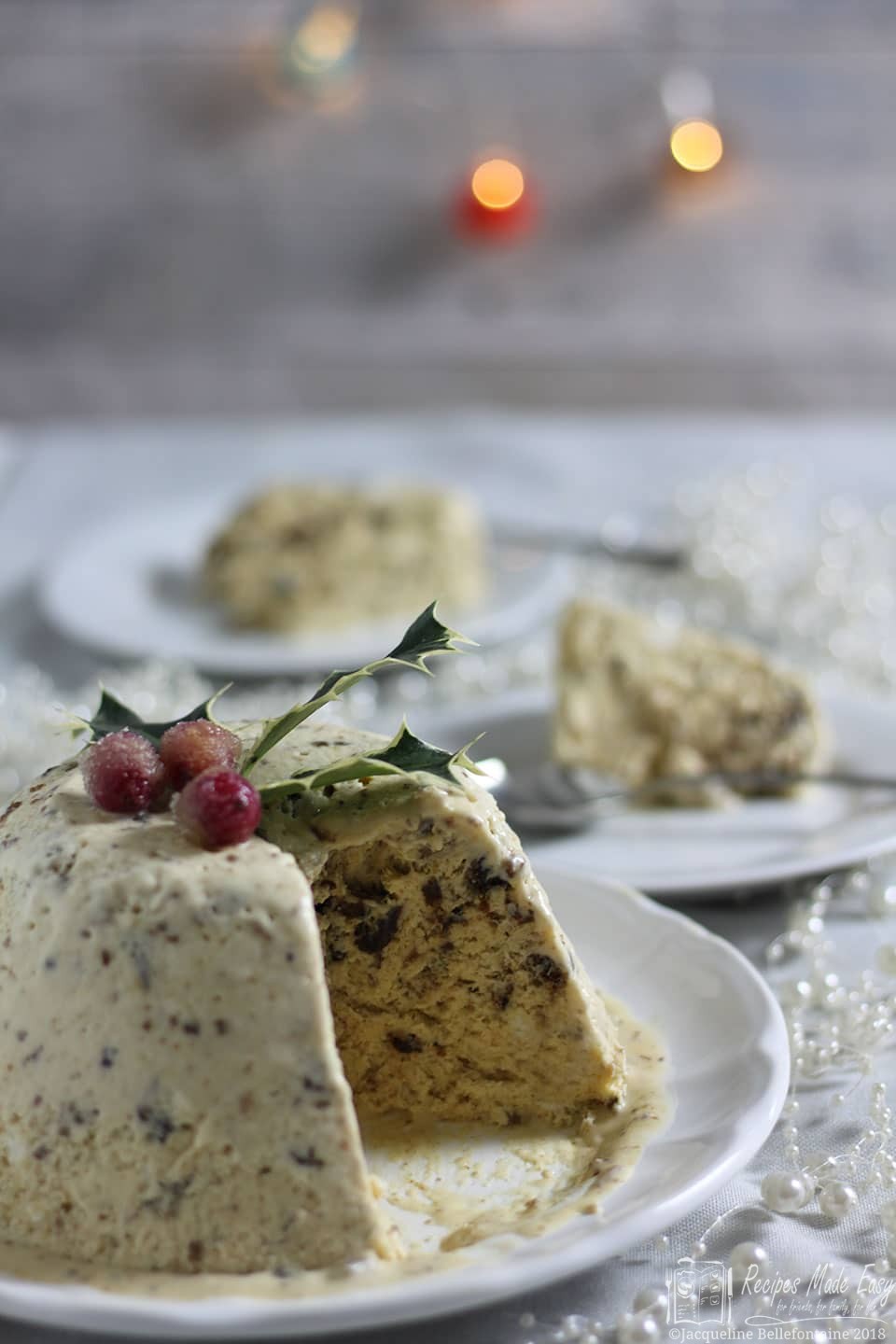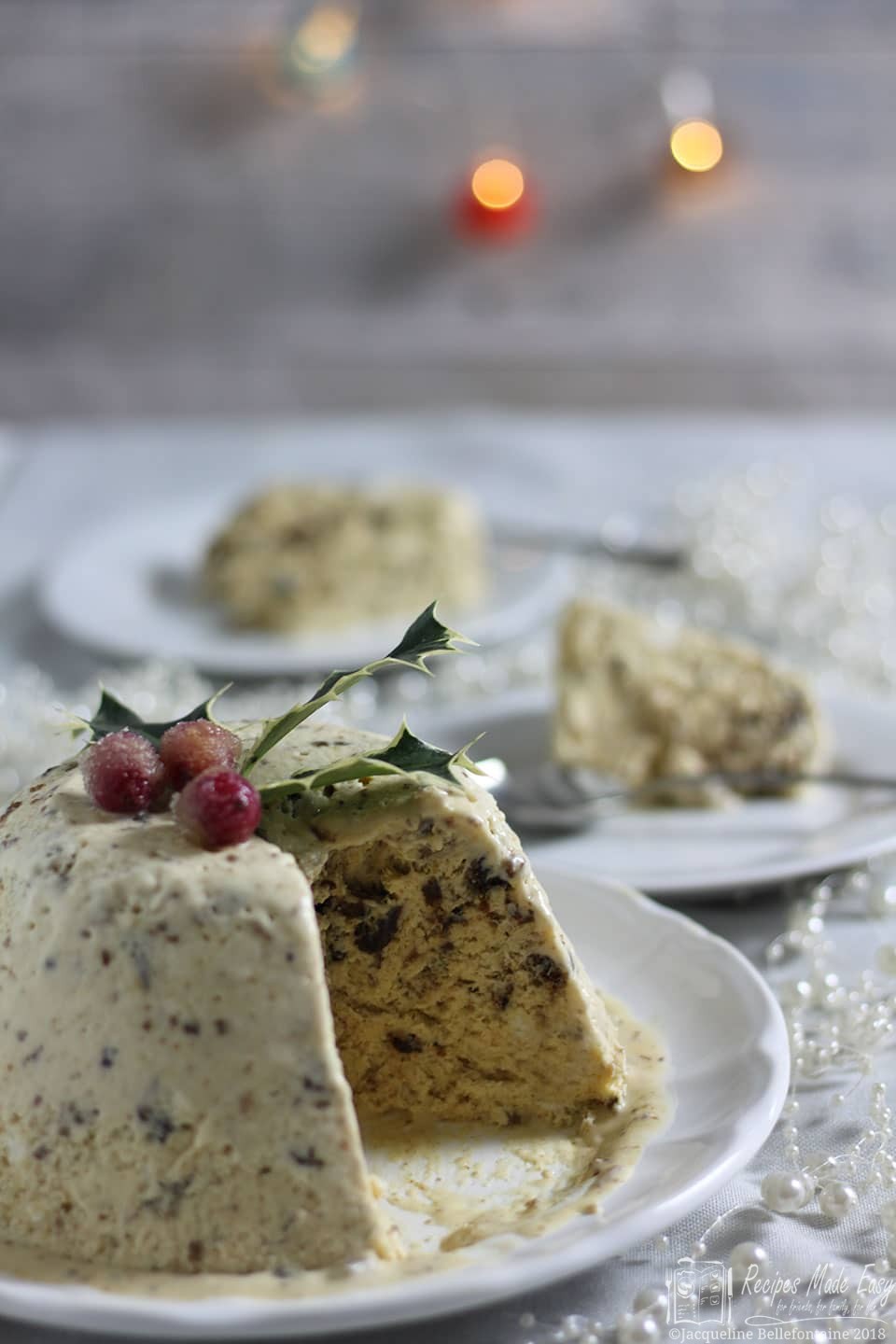 So why now? Well, when I was planning my Christmas posts I was thinking about some recipes that would use up Christmas leftovers and this came to mind.
We always have left over pud, and one of my ideas was making an ice cream with it. After all the cooking in the lead up to Christmas I am aware that you wouldn't want to have to spend too much time in the kitchen afterwards.
So I added whisked egg whites to the cooked and flavoured base custard. Egg whites have the effect of coating the ice crystals as they form and stopping them forming into large ice crystals (churning breaks down large crystals mechanically to produce a smooth ice cream).
It's a trick I often use when making sorbets. It worked a dream and this ice cream as a lovely smooth texture.
The only down side is that, as this recipe uses raw egg whites, it is not suitable for young children, pregnant women, elderly people or those with weak immune systems.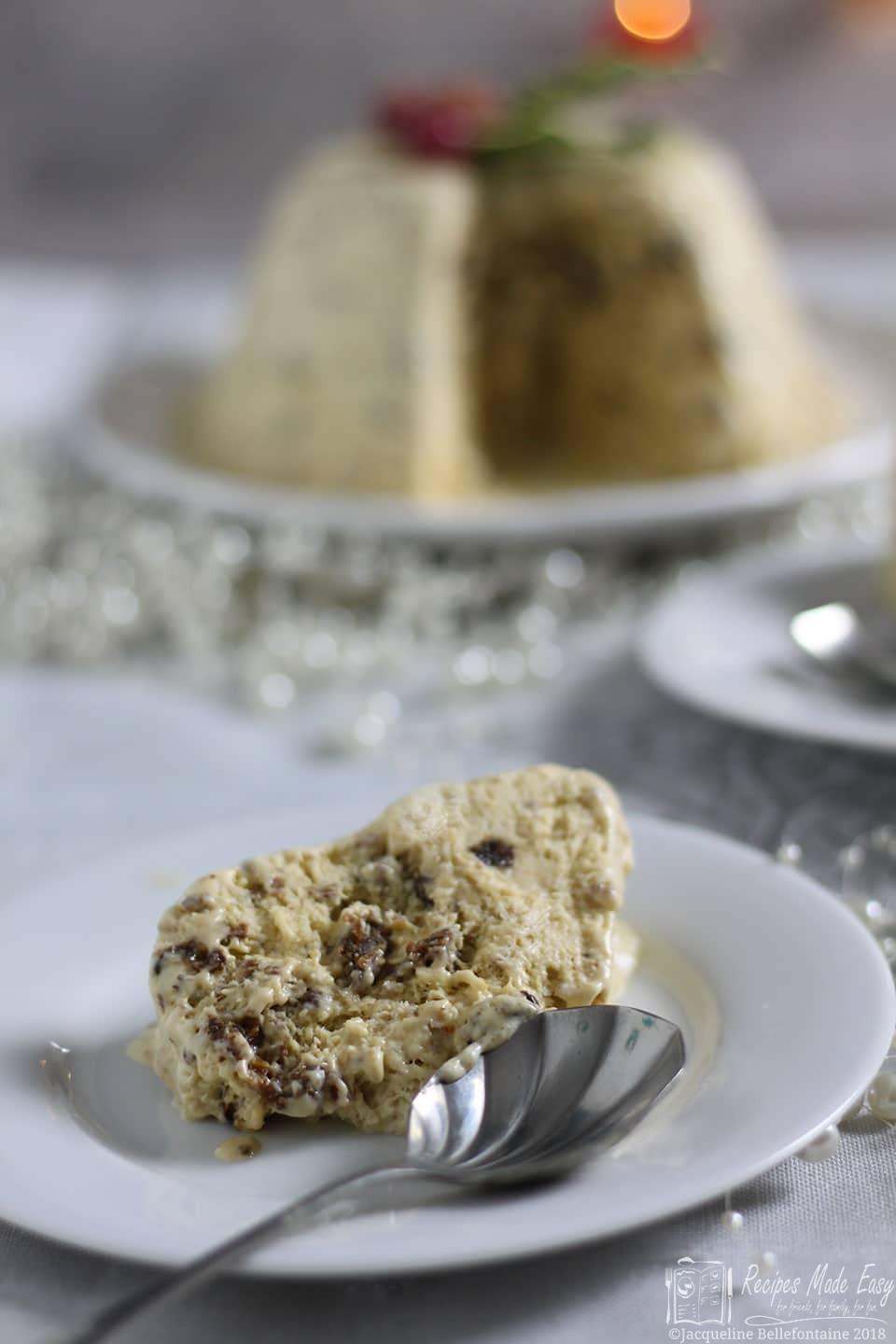 Thinking about how to present the ice cream I thought it would be fun to serve it looking like a pudding and so I froze it in a pudding basin. Easy to turn out onto a plate once the bowl has been standing in hot water for a few seconds.
I then decorated it with a holly sprig and a few frosted grapes (brush grapes with beaten egg white and dip in caster sugar).
But here's the thing, when I tasted it, I decided it tastes so good that it was too good to be consigned to just a recipe for using up left overs. It is well worth making in its own right for the big day itself. It certainly looks and tastes the part!
You can serve it on its own, perhaps accompanied with a sweet sherry or sweet dessert wine. As I made this before Christmas, after shooting I served it later, scooped into balls with a Pears poached in red wine and served it to friends. I can honestly say they loved it.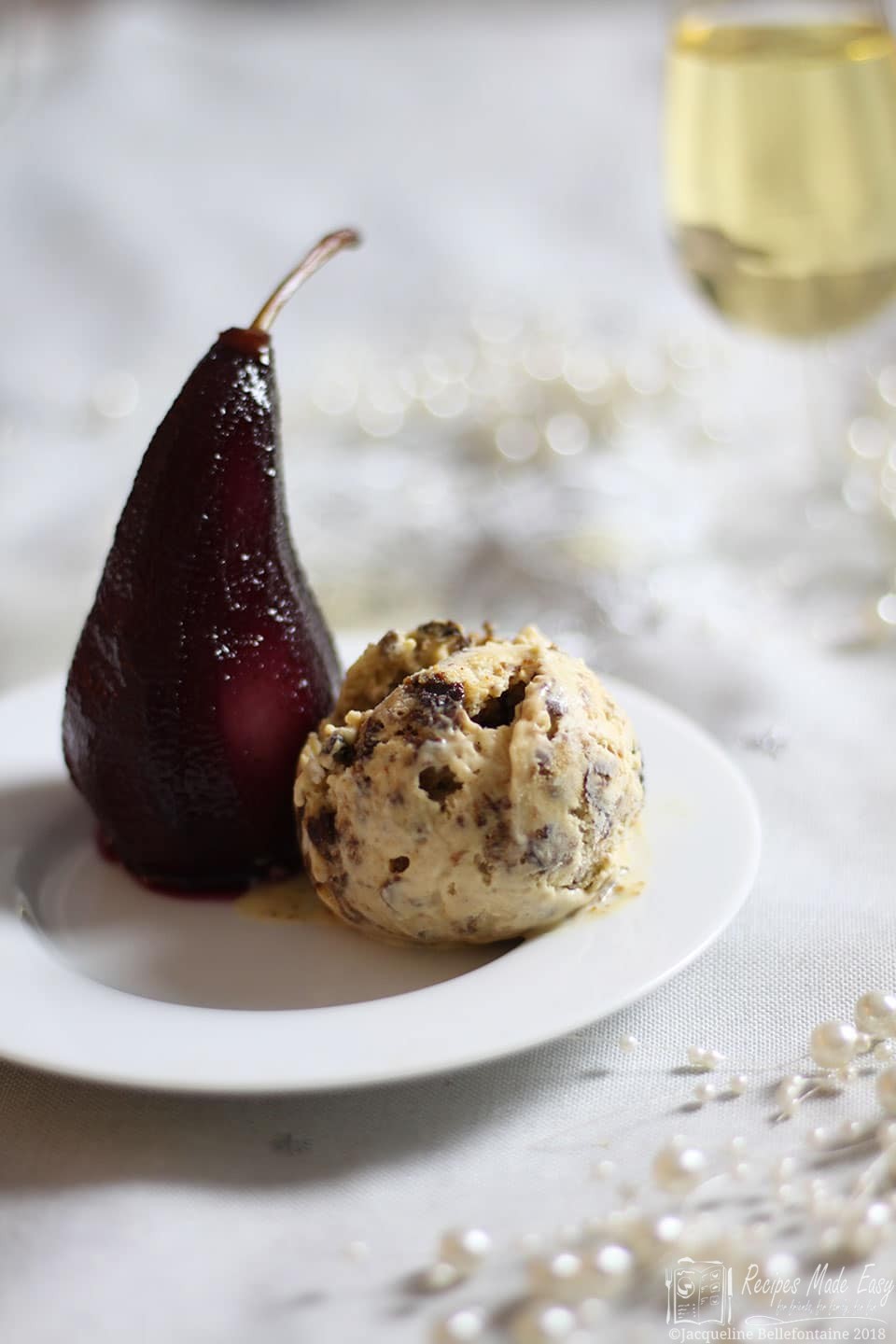 Step by step Christmas pudding ice cream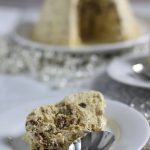 No-Churn Christmas Pudding Ice cream
Print Recipe
Pin Recipe
Save Recipe
Saved!
Rich and creamy with all the sweet Christmassy flavour you associate with Christmas pudding but in an ice cream.
Ingredients
4

eggs

separated

100

g

caster sugar

2

teaspoon

cornflour

300

ml

double cream

150

g

leftover Christmas pudding

2

tablespoon

brandy or orange flavoured liqueur
Instructions
Whisk the egg yolks, sugar and cornflour together until smooth.

Heat the cream in a saucepan until just coming to simmer, then pour into the egg yolk, mixture, whisking as you do so. Place the bowl over a pan of hot water and heat until thickened slightly, stirring constantly.

Remove from the heat. Crumble the Christmas pudding into small pieces and add to the egg mixture. Stir in the brandy or orange liqueur. Allow to cool stirring occasionally to prevent a skin forming.

Once the custard has cooled, whisk the egg whites until standing in soft peaks and fold in.

Pour the mixture into a 900ml/2 pint pudding basin and freeze overnight.

Remove from the freezer and place in the refrigerator for about 20 minutes. Turn out and serve.
Notes
Notes: Place the bowl in hot water (taking care not to let any get into the ice cream) for a few seconds to loosen the ice cream before turning out. Contains raw egg whites which are not suitable for young children, pregnant woman, elderly people or those with weak immune systems.
Nutrition information is approximate and is meant as a guideline only.
Nutrition
Serving:
1
portion
|
Calories:
225
kcal
|
Carbohydrates:
19
g
|
Protein:
3
g
|
Fat:
14
g
|
Saturated Fat:
7
g
|
Cholesterol:
106
mg
|
Sodium:
36
mg
|
Potassium:
46
mg
|
Sugar:
10
g
|
Vitamin A:
535
IU
|
Vitamin C:
0.2
mg
|
Calcium:
29
mg
|
Iron:
0.3
mg