Brandy butter is the perfect accompaniment to Christmas puddings. It is quick and easy to make and if you want to get ahead of the game it can even be frozen for up to 2 months.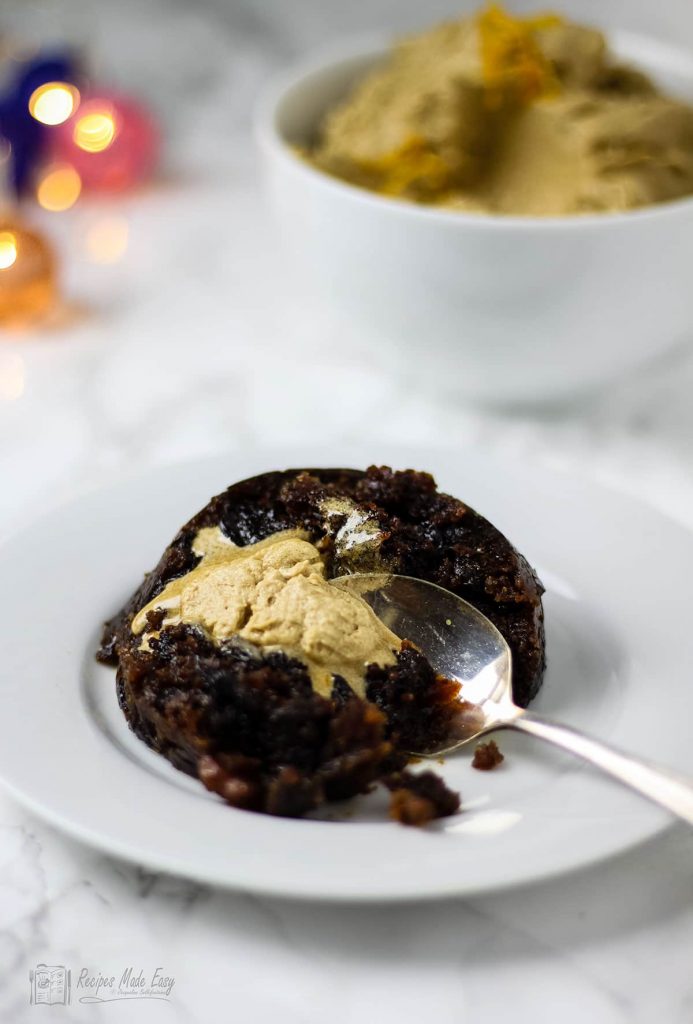 Stir up Sunday is the Sunday before the first sunday of Advent and I, along with many other suckers for a bit of a tradition, will be making my Christmas Puddings.
Stir-up Sunday is an informal term in Anglican churches for the last Sunday before the season of Advent. It gets its name from the beginning of the collect for the day in the Book of Common Prayer, which begins with the words, "Stir up, we beseech thee, O Lord, the wills of thy faithful people". - Wikipedia
I like a rich, dark pudding so I will be using my recipe for Christmas Pudding which I is one of my earliest posts on Recipes Made Easy (before this blog was even officially launched and was still in the learning/testing phase).
I have been using this recipe for years and it always goes down well on Christmas day. This year, as in the past, I'll be serving it with brandy butter.
What to serve with the pud
Brandy butter was not part of my Christmas before I left my parental home. Christmas pudding was served with custard or cream and sometimes both. Perhaps it was because my dad (who was never a beer man) was partial to a drop of brandy or cognac and considered it too good for using in recipes.
I have never developed my dad's taste for brandy as a drink, but I do like to use it in both sweet and savoury recipes. So when I started cooking my own Christmas dinners brandy butter became part of my Christmas Fare and has been ever since. I'll still have a big jug of custard too!
What do you serve with your Christmas pudding?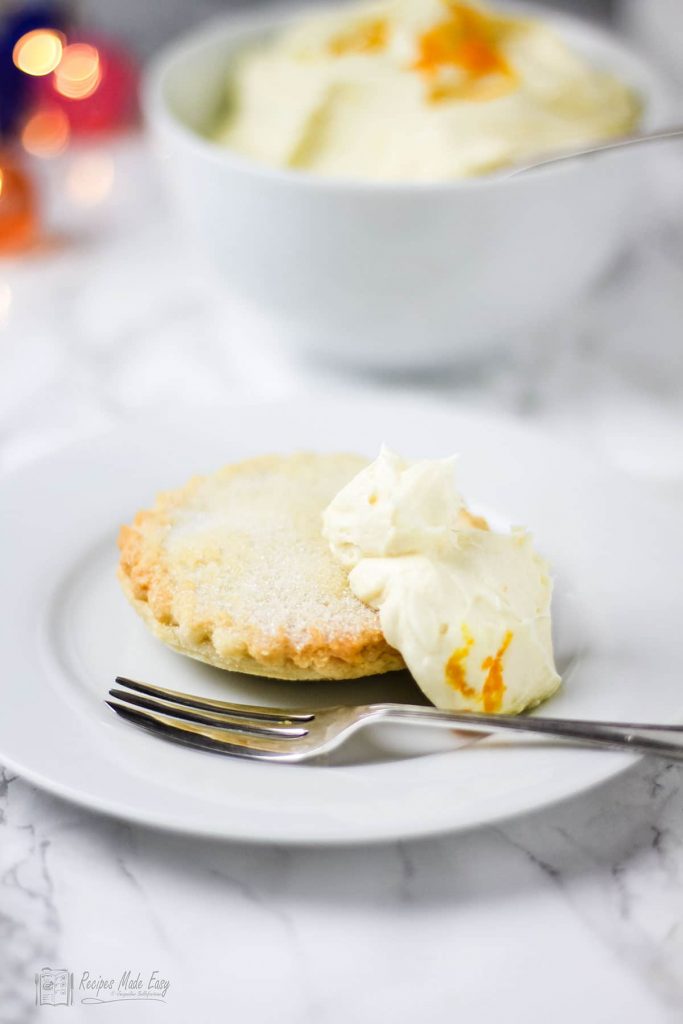 The Perfect Brandy Butter
It is a very simple recipe with very few ingredients. I like mine made with light muscovado sugar for the additional caramel flavoured elements that the sugar brings.
Mr B, on the other hand, prefers it made with icing sugar. Brandy butter made with muscovado sugar has a slightly grainy texture, whereas when made with icing sugar it has a lovely creamy smooth texture.
So I guess its a personal choice which take priority the extra flavour or the creamiest texture. It's so quick and easy to make that I don't mind making two batches so we are both happy.
It will keep for up to a week or two in the refrigerator or a couple of months in the freezer, so it's not as if I have to make it on the day. I also like brandy butter with mince pies warm from the oven, so some will get eaten before the big day.
I like to add a little orange zest to the butter too. I use one of those really sharp extra *fine microplane graters . They are not the cheapest grater you can buy but definitely the best and I think so worth investing in.
I think the zest is a must when using icing sugar but you could leave it out of butter made with the light muscovado sugar as that has plenty of extra flavour. When making and serving brandy butter straight away, you can garnish the butter with a few thicker strips of zest if you like.
You can make brandy butter by beating it with a wooden spoon but a hand held whisk will take the effort out of it. I love my *Kenwood hand whisk which is a good solid work horse.
Beating the butter first to soften will make adding the sugar easier. You can add the muscovado sugar in just one or two stages. Icing sugar, however, will need to be added slowly to avoid clouds of sugar dust.
I like to push the amount of brandy to the max, but take care not to add too much or it will curdle. If it does accidentally curdle, add some extra sugar and beat again.
Not keen on brandy? Try making it with rum or an orange flavoured liqueur. Just change the name accordingly.
A Foodie Gift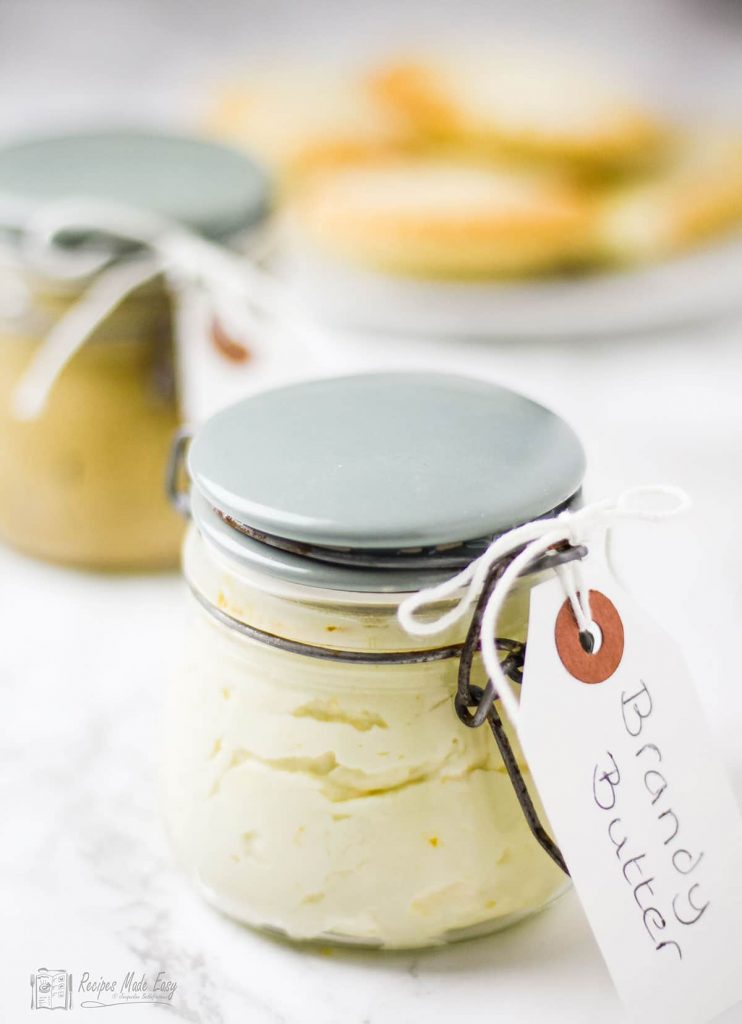 Brandy butter packed into pretty jars can also make a great gift, especially if given alongside a home-made Christmas Pudding.
Disclosure: The Christmas pudding, and the mince pies in these pictures were not homemade. Well, as I write this, it is still November! I'll be starting my Christmas planning and baking at the weekend in line with tradition.
Brandy Butter step by step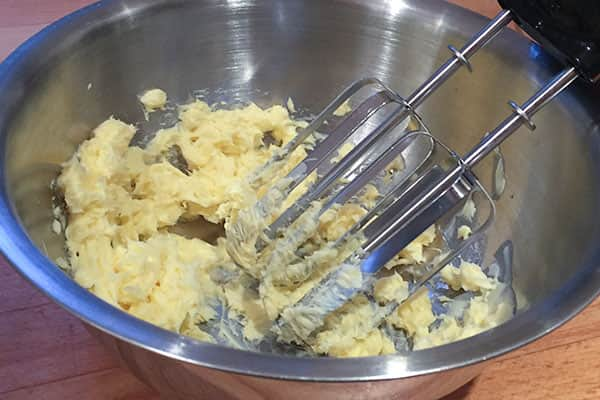 Brandy Butter
Print Recipe
Pin Recipe
Save Recipe
Saved!
Brandy butter is simple to make and can be made in advance. The perfect accompaniment to serve with Christmas pudding or mince pies.
Equipment
microplane grater

Hand whisk
Ingredients
125

g

butter

softened

finely grated zest of 1 orange

250

g

icing sugar, sieved or

250

g

light muscovado sugar

3-5

tablespoon

brandy
Instructions
Beat the butter until really soft.

Beat in the orange zest and then gradually beat in the icing sugar or muscovado sugar until well combined, light and fluffy.

Finally gradually beat in the brandy to taste, adding a tablespoon at a time, taking care not to let the mixture curdle.
Notes
Store in a sealed container in the refrigerator for up to 2 weeks. Bring to room temperature to serve.
Freeze for up to 2 months thaw overnight at cool room temperature.
Nutrition information is calculated using
an online nutrition database - is approximate and is meant as a guideline only.
Nutrition
Calories:
163
kcal
|
Carbohydrates:
20
g
|
Protein:
1
g
|
Fat:
8
g
|
Saturated Fat:
5
g
|
Cholesterol:
22
mg
|
Sodium:
80
mg
|
Potassium:
28
mg
|
Sugar:
20
g
|
Vitamin A:
260
IU
|
Calcium:
20
mg
|
Iron:
1
mg