Cooking Christmas Dinner? – Let me make it easier for you. Here at Recipes Made Easy, I have put together a Christmas day dinner time plan to help make cooking the Christmas as stress-free as possible.

A little planning goes a long way
You will find a link to a printable version of my timetable at the bottom of the post.
As with any other roast dinner, the success of Christmas dinner is all down to timing. Each element of a roast dinner is pretty simple in itself but getting the timings right so it all comes together at the end can be a little tricky.
So that's why I always make a simple Christmas day dinner countdown. A little bit of planning goes a long way to help take the stress out of the day.

Everybody's plan will be a little bit different. You may want to be serving dinner a bit earlier or later. You might like different accompaniments or vegetables to mine so I have added some extra lines for you to add your own prompts and easily adapt it to suit your menu.

I have also included tick boxes to make it easier to follow along. Don't worry if the time plan goes slightly array, simply re-gig the times a little as required and so long as you are reasonably close and follow the order, you should be fine.
And as of next year, it will make my life easier too as I won't have to write it from scratch again as I have done every year in the past, I will just pop back here and print it again in the future.
Of course, I cant guarantee, perfection! You may forget to serve the cranberry sauce you made in advance and left in the fridge, or overcook the stuffing because the phone rings with someone calling to wish you a happy Christmas.

The gravy might be a bit lumpy, (strain it through a sieve to remove the lumps if it is really bad). I know I have in had all these happen to me and more in the past (thankfully not all in the same year) but I can assure you your guests are not looking for perfection.
But so long as you enjoy yourself and don't work yourself into a frazzle worrying about the little things then, trust me you will have a great day. After all its Christmas!


Christmas Day Dinner Count Down
Christmas Eve
Make the Chestnut and sausagemeat stuffing.
Prepare and stuff the turkey and place in a large roasting tin, covered in foil in the refrigerator.
Make the Sage and onion stuffing.
Make the giblet stock for the gravy.
Make the cranberry and bread sauce.
Prepare the Pigs in Blankets and leave covered in the refrigerator.
Make the trifle.
Make the brandy butter ( or make earlier and freeze ).
Peel potatoes and place in a bowl of water. I have to peel loads ( or at least get someone to)as Mr B likes both mash and roast at Christmas - must be his Irish heritage.
If you have time you may also like to prepare the other vegetables. Once prepared I store mine sealed in plastic bags with a few tablespoons of water in a cool place.
If I am serving red cabbage, I like to cook mine on Christmas Eve as it reheats well.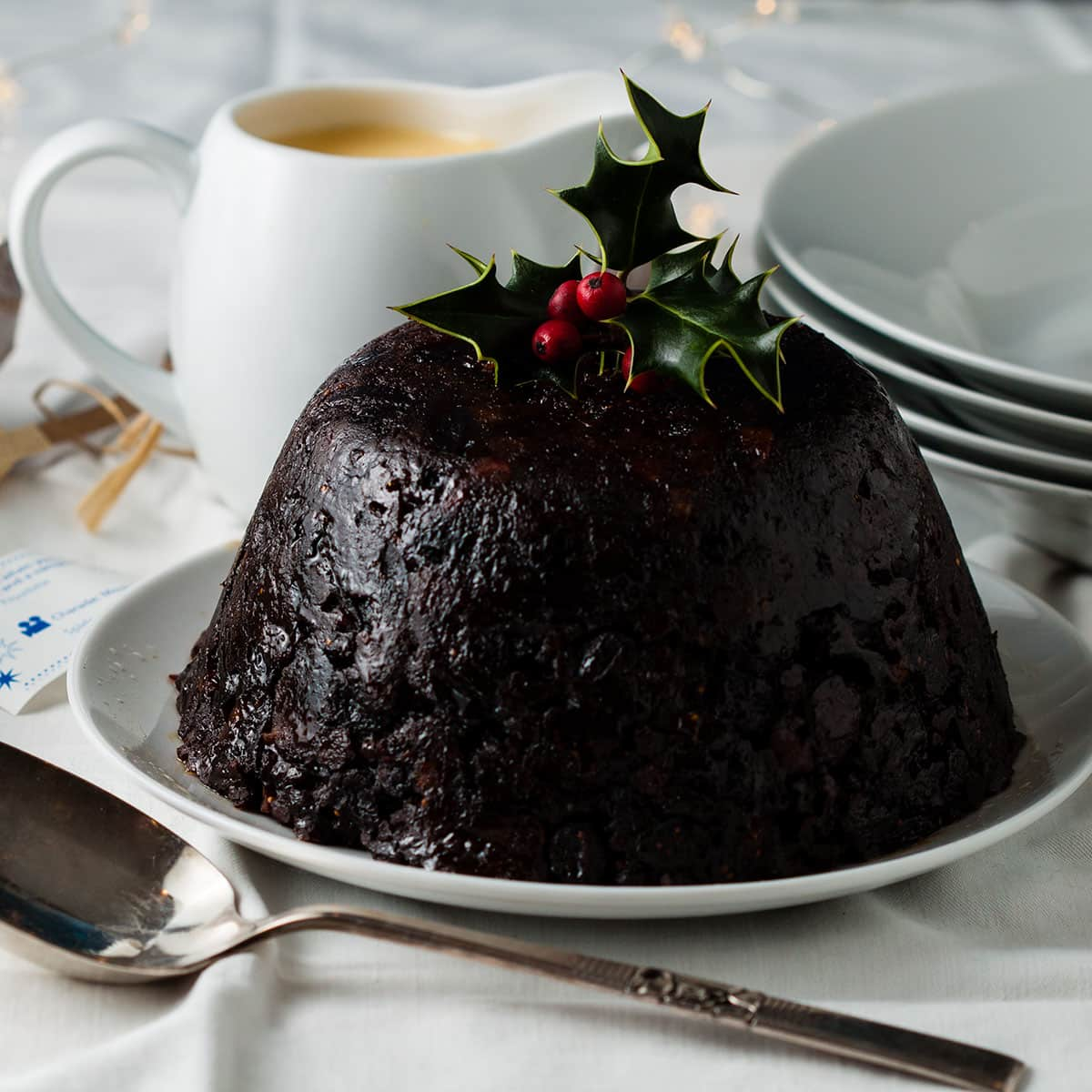 Christmas Day Time Plan
I usually serve a 5-6kg (12-14lb) turkey for 8- 10 people at 2pm. Timings have been calculated for this. Adjust as necessary if serving a smaller or larger bird or at a different time.
8.15am

Remove turkey from the refrigerator so it rises to room temperature

8.45 am

Preheat oven to 170℃ (160℃ fan)/325°F/gas mark 3.

9.00 am

Turkey into the oven.

9.30am - 12 noon

Baste turkey approximately about every 45-60 minutes.

12.30pm

Check the turkey to see how it is cooking, baste and return to the oven if required.

1pm

Remove turkey from the oven after checking it is fully cooked and allow to rest loosely covered with foil in warm place.

Increase oven temperature to 200

℃

(180

℃

fan)/400°F/gas mark 6.

Place the goose fat or oil for the potatoes in the oven to heat. Put the potatoes on to parboil.

Steam the Christmas Pudding to reheat remember to check water levels from time to time.

Make the gravy, and keep it warm or put in a pan to reheat just before serving.

1.10pm

Put the roast potatoes into the oven, toss in the hot oil.

1.15pm

Put the roast parsnips in the oven.

Bake the chestnut and sausagemeat stuffing (if cooking separately).

Place the pigs in blankets in the oven and bake for about 35 minutes until crisp and golden.

1.30pm

Put plates and serving dishes to warm.

Reheat red cabbage gently on the hob. Transfer to serving dishes and keep warm.

Put the sage and onion stuffing in the oven.

Turn the roast potatoes.

Boil potatoes for mashing until tender. Mash well with a splash of hot milk and a generous knob of butter. Transfer to a serving dish and keep warm.

1.45pm

Put a kettle of water on to boil for the vegetables.

Make custard for the pudding. Keep warm.

1.50pm

Cook carrots and sprouts in lightly salted boiling water. Drain and place in a serving dish, Keep warm.

Check water level for the pudding.

Carve the turkey.

2pm

Serve. Pull a cracker, relax and enjoy!

Later

Serve the Christmas Pudding and/or other desserts.

Quite a bit Later

Get someone else to do the washing up!

Hints and Tips for the Big Day
As soon as breakfast is cleared away, laying the table is my number one tip for appearing well organised and on top of things. For big dinners, I usually go for a fairly simple white and silver colour scheme as the food will be the main attraction.
Traditionally turkeys would be tidied (trussed) into a neat shape with the wings tucked under and the legs tied together. I prefer not to truss the bird as leaving the legs apart allows the heat of the oven to circulate better and you are less likely to have an undercooked bird.
I am lucky enough to have a double oven but if you only have one oven consider cooking the turkey 30 minutes to 1 hour earlier, this will allow you to turn the temperature up in time for the potatoes and the other trimmings. Following my time plan, the turkey should be cooked by 1pm.
Once cooked transfer the turkey to another tin or carving plate, cover loosely with foil and leave in a warm place covered thick towel. It will keep like this for up to 2 hours and still be piping hot when you come to carve.
Try to baste the bird every 30 -60 minutes or so, I have added a couple of prompts on my printed timetable but it is not the end of the world if you miss a couple. Take the turkey out of the oven and close the door baste quickly (but carefully you don't want to get splashed with hot fat) before returning to the oven.
If you have a thermometer check the temperature of the turkey in the thickest part of the thigh about 30 minutes before it should be ready. If it has reached a temperature of 75-80℃/167-176°F then it is ready and you can remove it from the oven. If you do not have a thermometer I recommend you cook it the full time and check to make sure juices are running clear before removing from the oven.
If the turkey is getting too brown before it is cooked cover with foil. Sometimes I cover just the legs.
Allocate jobs to others particularly in the last stages as there are several things that need doing in a short space of time.
Tick each job off the list as you do them, that way others know what still needs to be done.
Get someone else to do the washing up!
Click here for a printable version of the time table
Wishing you all a Merry Christmas and a Happy New Year