This Braised Red Cabbage recipes as been given a twist with the addition of pickled beetroot to help bring out the slight sweet-sour taste associated with this classic side dish.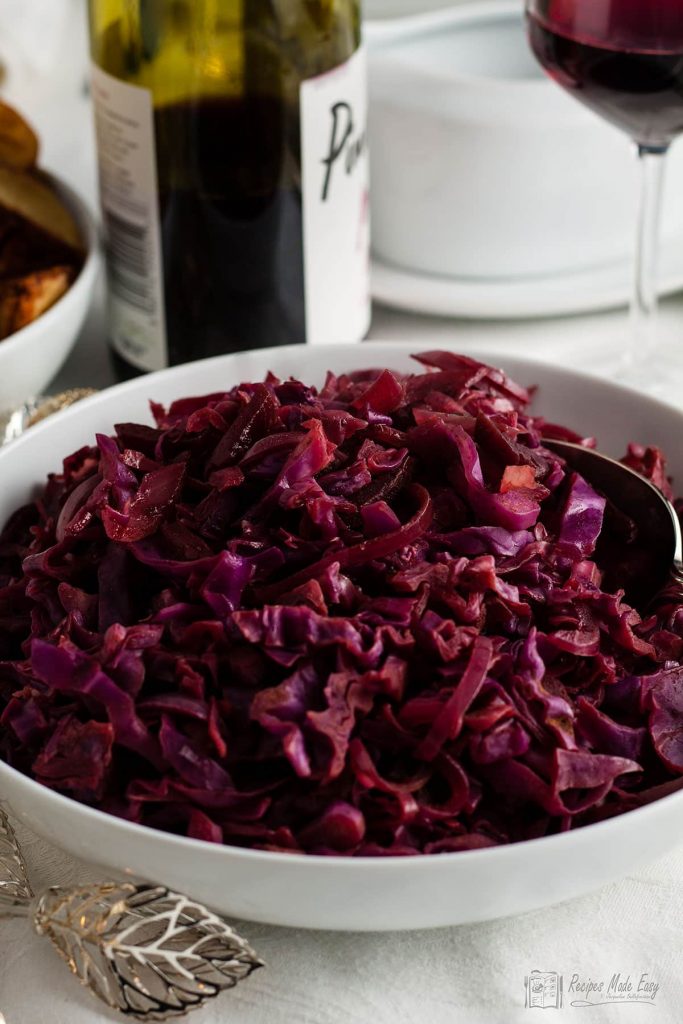 Braised red cabbage is one of my favourite vegetable side dishes and it seems I am not alone in loving this dish. Red cabbage seems to positively on trend at the moment with just about every pub that serves food having it on the menu and right now it seems to be all over the internet too.
I'm not surprised it is popular in restaurants and pubs, as red cabbage is one vegetable side dish that works well prepared ahead of time and then reheated. Indeed I think it may even taste better reheated as the flavours have time to mellow and blend.
So that makes it perfect for easy home entertaining too, as you can cook it when you have time. Red cabbage will keep in the refrigerator for up to 4 days. Braised red cabbage can also be frozen for up to 3 months.
This is also why it is popular in our house, we often eat it throughout the year especially when we have a big family roast or friends around for dinner and want to prepare ahead.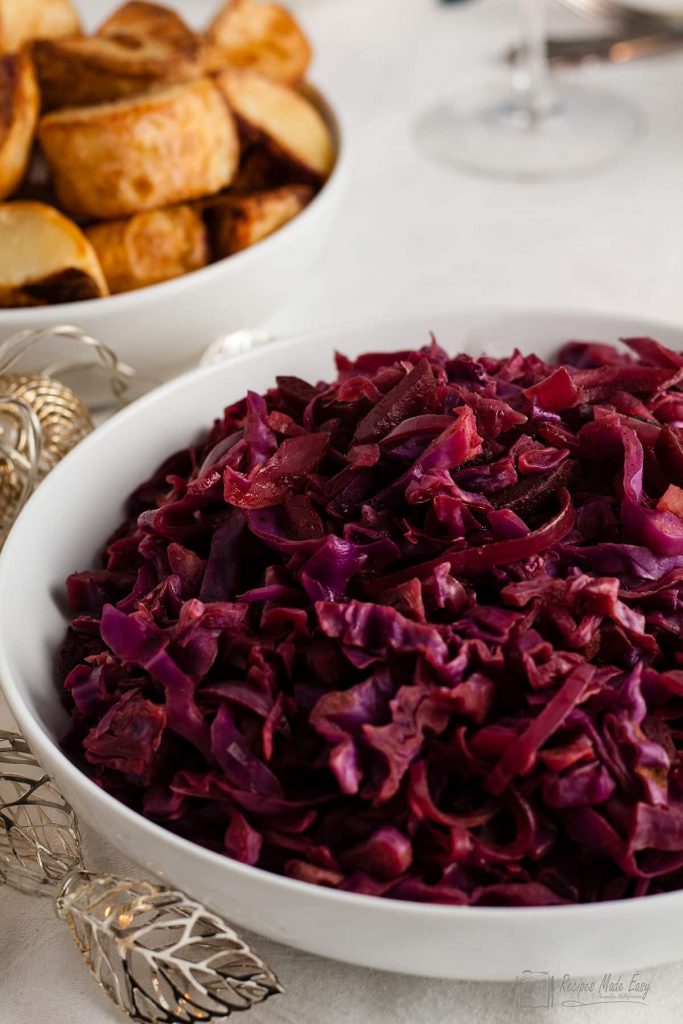 And of course, at Christmas time it's a classic! Although I have to confess that there have been more than one occasion that it has been reheated in the microwave and forgotten until halfway through the dinner, and I realise there is something missing - Well no one is perfect!
Of course, there is one other vegetable that is essential with a family roast and never gets forgotten and that's Roast Potatoes. If you want to know how to get the Perfect Roast Potato then read this post.
Braised Red Cabbage with Beetroot
Strictly speaking, braising is a combination of cooking methods that uses both wet and dry heats so the food is first sautéed or seared at a high temperature, then finished in a covered pot at a lower temperature often in the oven.
But cooking red cabbage on the hob reduces the cooking time by at least a half so is my preferred method.
That said if I have the oven on anyway then I will pop it in the oven instead. It needs a low oven between 140–150℃ (120-140℃ fan)/275-300°F/gas mark 2-3 and will take between 1½ - 2 hours. Stir occasionally and add a little more liquid if required.
With either method there is no pre frying/searing required, Just put in the pan and cook genlty.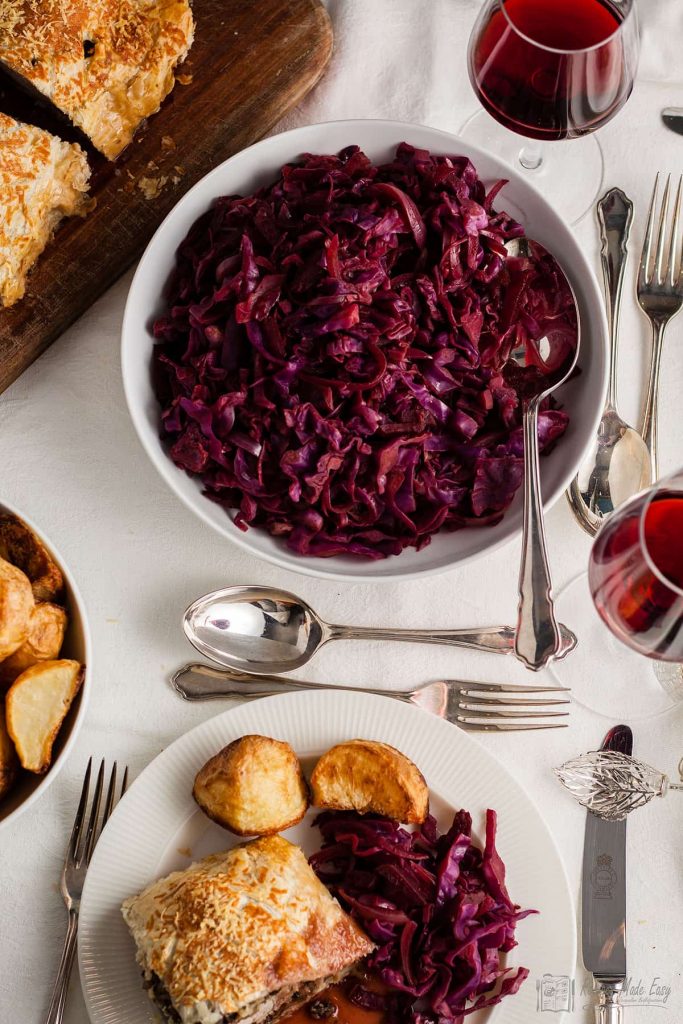 I like to add a little picked beetroot (beets) to the red cabbage. (I usually have some on the fridge.) This gives it a little more of a sweet-sour kick that I like but you can leave the beetroot out if preferred.
Often red cabbage is cooked with apples, choose cooking apples or a tart dessert apple such as a Granny Smith and you can add them to this recipe with or without the beetroot.
On the side
If you are looking for other interesting vegetable side dishes why not try one of these
Step by step Braised Red Cabbage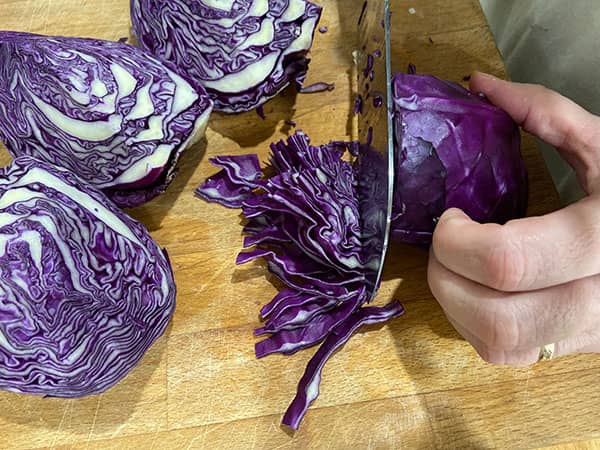 Braised Red Cabbage
Print Recipe
Pin Recipe
Save Recipe
Saved!
This braised red cabbage has a delicious sweet-sour flavour enhanced by the addition of beetroot.
Ingredients
700

g

red cabbage

cored and thinly sliced

1

large onion

peeled and sliced

175

g

pickled beetroot

cut into thin sticks

25

g

light muscovado sugar

2

tablespoon

vinegar from the beetroot

2

tablespoon

balsamic or red wine vinegar

100

ml

vegetable stock

½

teaspoon

ground cinnamon

¼

teaspoon

ground allspice

generous pinch ground cloves

salt and freshly ground black pepper
Instructions
Layer the 700g (1½lb) shredded red cabbage and 1 large sliced onion in a large saucepan and scatter 175g (6oz) shredded beetroot on top.

Sprinkle over 25g (1oz) sugar and pour in the 100ml (4floz)stock and 4tablespoon vinegar.

Season with the ½ teaspoon ground cinnamon, ¼ teaspoon ground allspice, punch cloves, salt and pepper.

Toss to combine.

Cover and cook gently for 45 minutes - 1 hour or until the cabbage is tender.
Notes
Cook's Tip
If making without the beetroot, double the amount of balsamic or red wine vinegar.
½ -1 teaspoon ground mixed spice can be used in place of the individual spices.
Nutrition information is calculated using
an online nutrition database - is approximate and is meant as a guideline only. (It does not include seasoning with salt and pepper.)
Nutrition
Calories:
79
kcal
|
Carbohydrates:
19
g
|
Protein:
2
g
|
Fat:
1
g
|
Saturated Fat:
1
g
|
Sodium:
125
mg
|
Potassium:
411
mg
|
Fiber:
4
g
|
Sugar:
12
g
|
Vitamin A:
1347
IU
|
Vitamin C:
69
mg
|
Calcium:
65
mg
|
Iron:
1
mg
I'm linking this post to #CookBlogShare hosted at Lost in Food