Planning your Christmas baking? Need inspiration? Look no further I have rounded up some of my favourite festive foodie bakes and makes from Recipes Made Easy.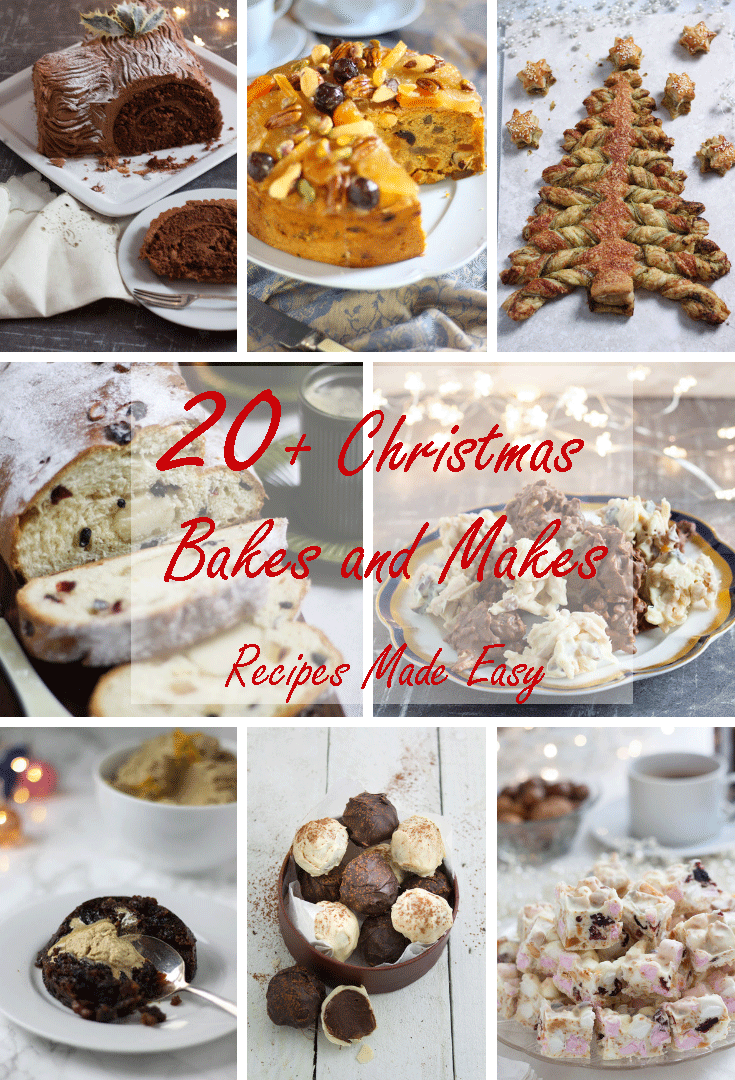 Recipes Made Easy Christmas Bakes and Makes
Depending on when you read this post, it could be because you like to make an early start on your Christmas baking, just want to start to planning your festive cooking, or looking for some last minute ideas for Christmas bakes, I thought I would round up some of the Recipes Made Easy Christmas Bakes and Makes in one place to make them easier for you to find. Some of the early recipes don't have great pictures but they are too good to leave out.
The Christmas Pudding
Traditionally made on stir up Sunday the last Sunday before Advent. Tradition has it that everyone present should stir the pudding and make a wish. I actually mix up my Christmas pudding on Saturday, leaving it to stand overnight to allow the flavours to blend, then on the Sunday, there is plenty of time to give it one final mix make a wish and steam the puddings.

If a traditional Christmas pudding is not your thing you might like to try Christmas Pudding Ice Cream
I usually make it with any left over pudding and serve as a treat over the holidays but if you buy a mini Christmas pudding you can make it in advance and serve it on the big day itself.
As well as the traditional Christmas pudding I like to serve a selection of desserts which always includes a Trifle and usually a meringue based dessert such as my Coconut and Pineapple Meringue Roll or a Pavlova.
Christmas Cakes

Mr B and I love a traditional Rich Fruit Cake so I often bake one at Christmas but my boys are not so keen. I don't mind as they keep well and can be made weeks in advance. Sometimes I decorate them, sometimes not.
This Special Fruit Cake is lighter than my traditional rich fruit cake. Packed with delicious pieces of candied pineapple, ginger, mixed peel, glacé cherries and apricots, along with chopped and whole nuts, it really lives up to its name.
If fruitcake is not your thing then a Yule Log is a classic Christmas cake, that requires just the minimum of cake decorating skills and yet can make a stunning centrepiece.
I discovered the joys of a stollen after I left my childhood home and it is now part of my must make Christmas bakes. As it is an enriched dough (with added butter and egg) it will keep for several days, but it is particularly good on the day it is made, and at its very best while still warm from the oven.
More recently I have discovered that Stollen tastes amazing lightly toasted.
Panforte A chewy, nutty, sweet and spicy traditional dense Italian cake which is packed with fruit and nuts. Perfect for a treat with a cup of coffee or tea it also makes a great gift.
Of I am seeing any little ones over Christmas its fun to make up some novelty cupcakes like the robin cupcake on Only Crumbs Remain.
I also like to sometimes serve a couronne which is a French sweet yeasted bread traditonally served at Christmas.
Mincemeat
Christmas wouldn't be Christmas without Mincemeat. Home Made Mincemeat is so much better than the jars you buy which tend to be overly sweet. It's also very easy to make and makes a great Festive gift.
Of course you can use it to make mince pies but if they seem a bit fiddly and too much of a faff for you, why not try making one large tart like my Mincemeat and Pear Tart. Mr B sometimes complains that mince pies are too sweet for him so I came up with Cranberry and Marzipan Pies
Edible Gifts
A jar of homemade mincemeat is not the only make that is a great gift I sometimes give jars of my Fruity Chutney to friends. It goes really well with cold turkey and ham.
Chocolates always go down well as a gift. My Hand Rolled Coffee Truffles remain one of my most popular recipes
and my Prosecco Truffles are also rather good.
My Almond and Cranberry Rochers and this White Christmas Rocky Road are quicker and easier to make but decadent enough to make them a real festive treat.
Whisky Fudge is also fast becoming a festive favourite of mine.
Cranberry and Pecan Biscotti keeps well and can be made in advance and these simple to make Caramelised Pecan Nuts can be given as a mini gift and are delicious with Christmas drinks.
Festive Savoury Bakes

This Festive Pesto Christmas Tree is fun to make and easier than you might think. My Savoury Palmiers and Pork and Cranberry Sausage Rolls are also made with puff pastry and are quick and easy bakes for the festive season. Parmesan Crisps can be made in minutes and are great with festive drinks
Bakes for Special Diets
Even if you do not have to cater special diets day to day, you may well have guests that have dietary requirements, so I ask my blogging friends to share their favourite Alternative Christmas Bakes.

Mini Christmas Cakes from Glutarama – Gluten free with nutfree marzipan
Whisky and Ginger Cake from The peachick Bakery – Gluten Free
Vegan Gluten Free Christmas Cake from Rhian's Recipes – Gluten Free/Vegan
Christmas Banana Bread with Cranberries from Sneaky Veg – Vegan
Sticky Gingerbread Tray Bake from Basement Bakehouse- Dairy Free
Ricciarelli (Biscuit) - from Easy Peasy Lemon Squeezy