Chewy, nutty, sweet and spicy this traditional dense Italian cake is packed with fruit and nuts. Perfect for a treat with a cup of coffee or tea it also makes a great gift.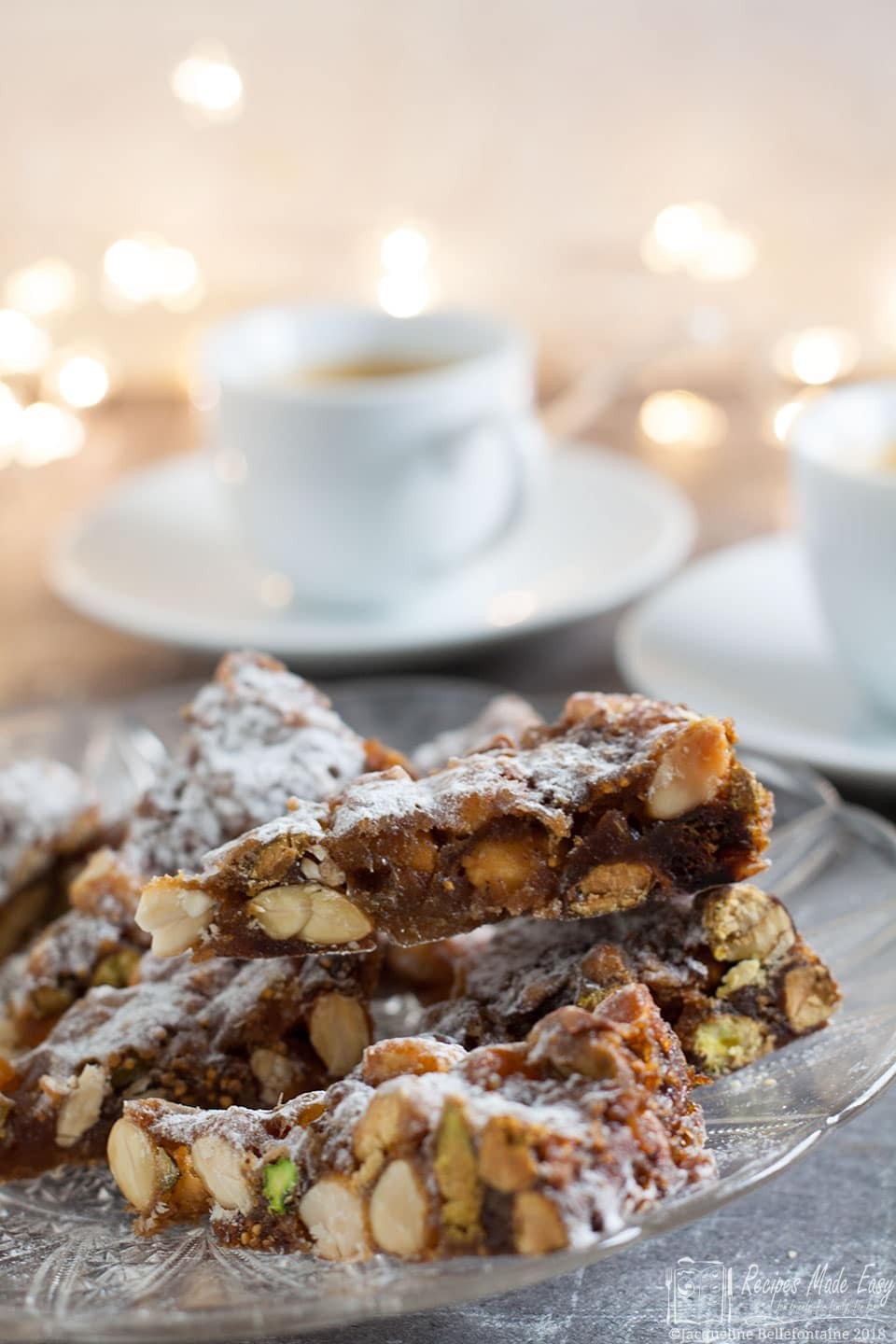 While it is often referred to as cake, Panforte is not what we think of as cake here in the UK. It is more of a chewy confectionery. It goes really well with a cup of coffee but is also delicious served with a glass of sweet wine at the end of a meal as an alternative to dessert.
Panforte may date back as far as the 13th century, as in Sienna documents from 1205 show that panforte was paid to the monks and nuns of a local monastery as a tax which was due on the seventh of February that year. (source Wikipedia)
Hints Tips and Variations
I have made Panforte several times over the years, each time tweaking it according to what I have to hand or how the fancy takes me at the time. Panforte literally means "strong bread" which refers to the spicy flavour, often pepper. In this version, I have chosen to give the panforte a little spicy heat with ginger instead. Often citrus peel is added to Panforte but I am not a huge fan especially when it's in the form of diced mixed peel. So instead of peel, I have used crystalised ginger instead and I think it works really well. I will certainly be making this version again. If you want to be more traditional and use candied peel, look out for the large pieces that you chop yourself, the taste is definitely worth the effort. In the last few years I have noticed them appear in the baking section of large supermarkets over the Christmas period.
I have used almonds and pistachios for the nuts but it also works well with hazelnuts.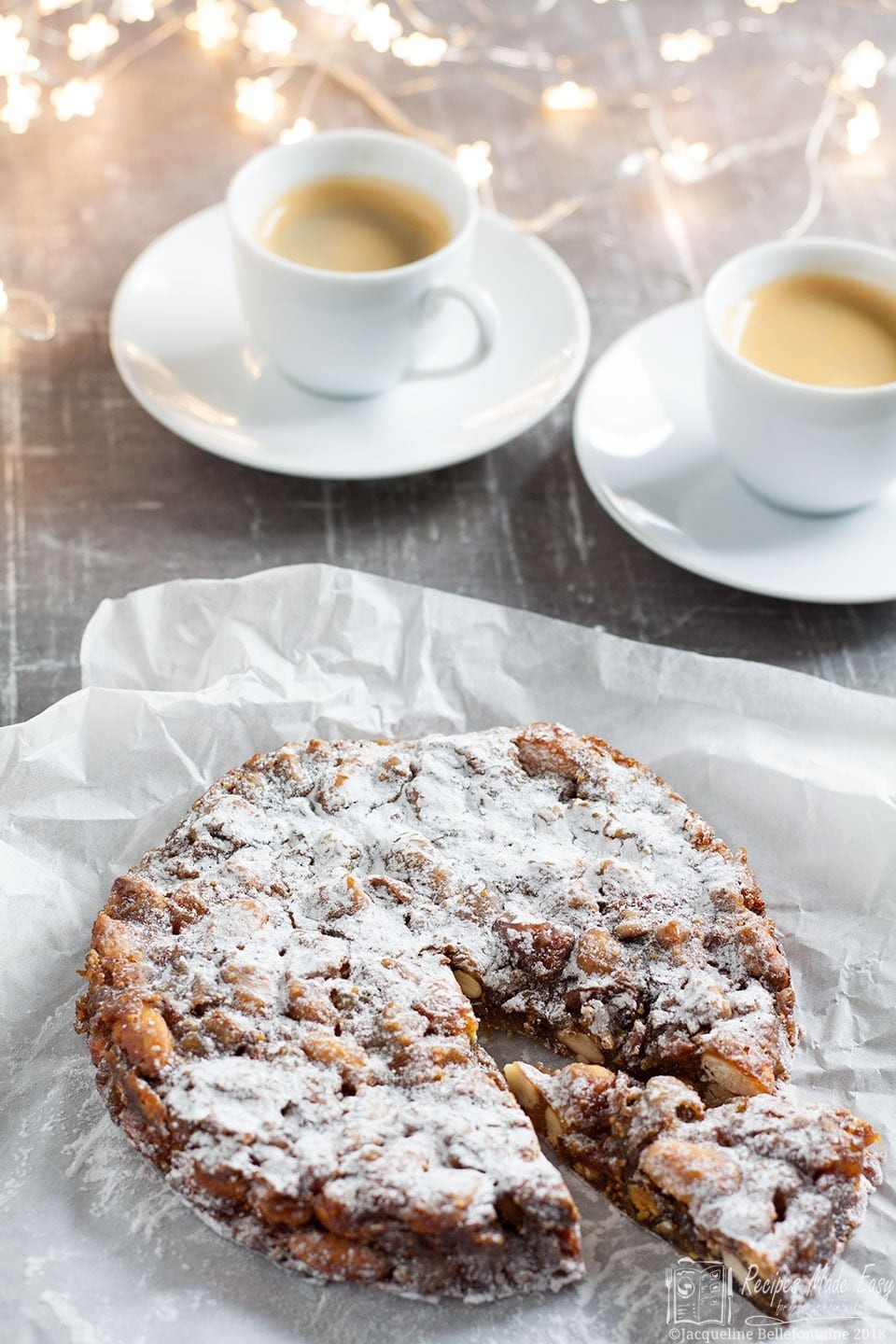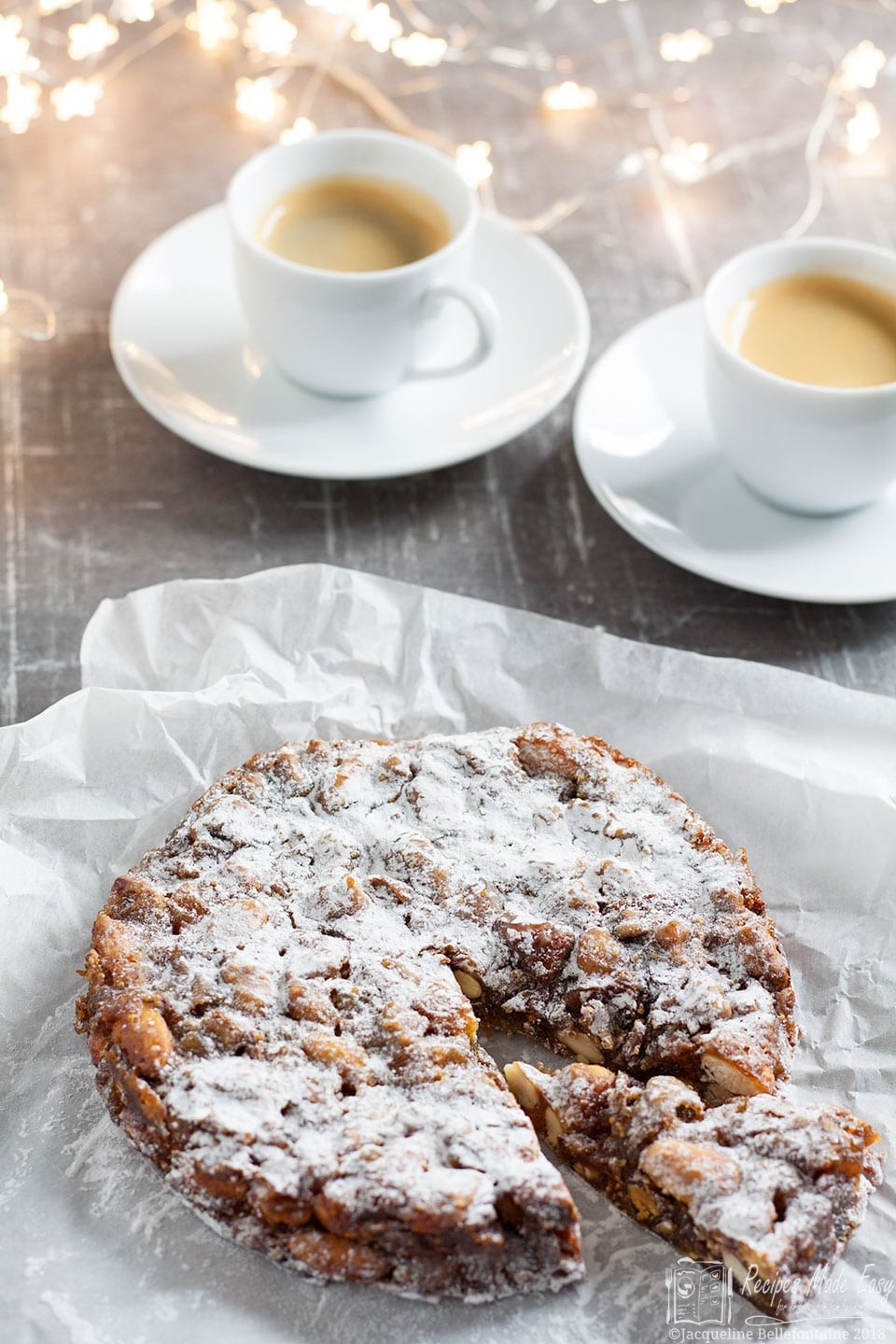 I think these make great gifts as they can be made in advance and will keep in a cool dry place for a couple of weeks if wrapped well. So this time I have made one 15cm (6in) panforte to cut and share with friends and several individual ones to give as gifts. Alternatively, you can make one large 20cm (8in) round cake or about 18-20 individual panforte. I will admit the individual ones are a little bit fiddlier to make as the mixture is very sticky. The 20cm (8in) will take about 50 minutes to bake, the 15cm (6in) about 45 minutes and the individual panforte about 35 minutes. The mixture will look dry on the surface when cooked.
Always line the base of the pans with baking parchment. Allow to cool for a few minutes before loosening the edges with a palette knife and removing from the tin before completely cold. Then peel away the parchment. If you can find it you can line the bottom of the tin with rice paper which you do not need to remove.
When giving as a gift I wrap the panforte in fresh parchment and tie with bakers twine You can overwrap with pretty paper as well if you like but I quite like the simplicity of parchment.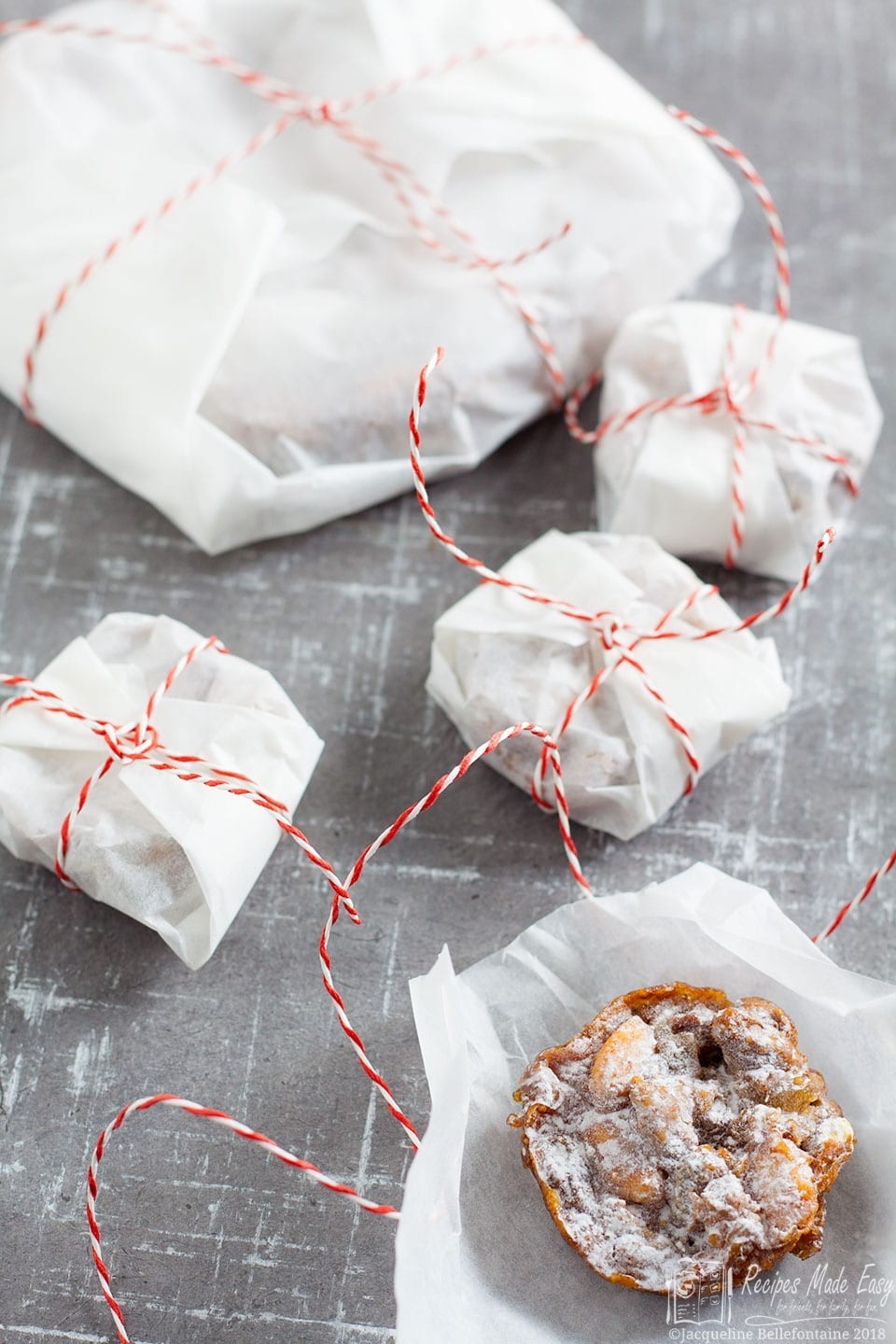 One important word of warning when you mix the fruit into the honey mixture it is quite stiff but the syrup is very hot so take great care not to get the mixture on your skin.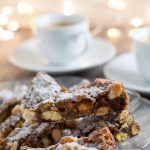 Print Recipe
Panforte
Enjoy this Tuscan cake made with dried fruits and nuts with a glass of sweet wine or coffee, or wrap up and give as a homemade gift
Ingredients
125

g

pistachios

125

g

blanched almonds

100

g

dried apricots

chopped

100

g

dried figs

chopped

75

g

crystallised ginger

chopped (candied)

75

g

plain flour

1

tsp

ground cinnamon

½

tsp

ground cloves

¼

tsp

freshly grated nutmeg

150

g

caster sugar

125

g

clear honey

icing sugar to dust
Instructions
Preheat the oven to 150°C (140°C fan) /300°F/gas mark 2. Grease and line the base of a 15cm (6in) cake tin and 9 bun tins with a disc of parchment.

Spread the nuts out in a single layer on a baking sheet and toast in the oven for 5–10 minutes, until pale golden. Take care not to overbake them.

Transfer the nuts to a bowl and add the chopped apricots, chopped figs, ginger, flour and ground spices. Mix until well combined.

Place the sugar and honey in a pan, heat gently, stirring until the sugar has dissolved and the mixture comes to the boil.

Remove from the heat and add the fruit and nut mixture. Mix quickly stirring until well combined. Take care the honey mixture will be very hot and can give a nasty burn.

Place half the mixture in the cake tin and flatten with the back of a spoon or a palette knife. Divide the remaining mixture between the bun tins and press down to level the top.

Bake the individual panforte for

35 minutes

, until the top of the mixture is set and is just dry to the touch. Check this by pressing the flat side of the blade of a dinner knife gently onto the panforte to check the mixture is dry.

Bake the larger panforte for a further

10 minutes

or until the surface is dry testing in the same way.

Allow to cool for a few minutes in the tin before loosening the edges with a knife and transferring to a wire rack and allowing to cool completely. Remove the parchment from the base of the panforte and sprinkle generously with icing sugar. Store in an airtight container until required.
Nutrition
Calories:
170
kcal
|
Carbohydrates:
27
g
|
Protein:
3
g
|
Fat:
6
g
|
Sodium:
3
mg
|
Potassium:
204
mg
|
Fiber:
2
g
|
Sugar:
21
g
|
Vitamin A:
205
IU
|
Vitamin C:
0.5
mg
|
Calcium:
34
mg
|
Iron:
0.9
mg
Tried This Recipe?
I would love to know how you got on – Tag me on Instagram or Twitter @RecipeCrumbs or leave me a comment and rate the recipe below
More Edible Gifts Made Easy