Everyone deserves chocolates, and these hand-rolled coffee truffles are the perfect gift. Grabbing a box of chocolates from the supermarket shelf is easy, but when you make them yourself you also give your time and love. Which make them a much more special gift and will earn you some serious brownie points. Best of all they are simple (albeit a bit messy) to make and taste amazing.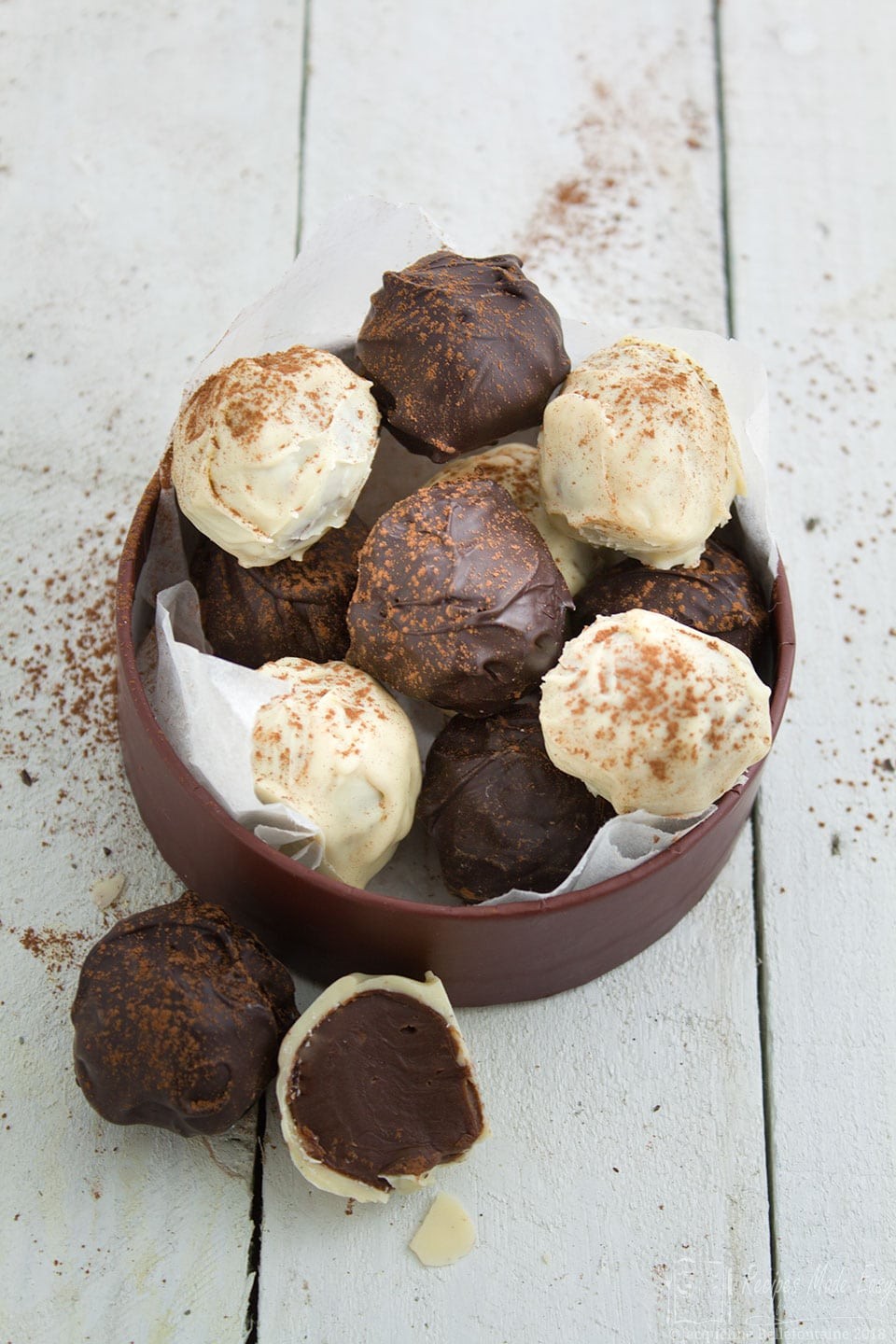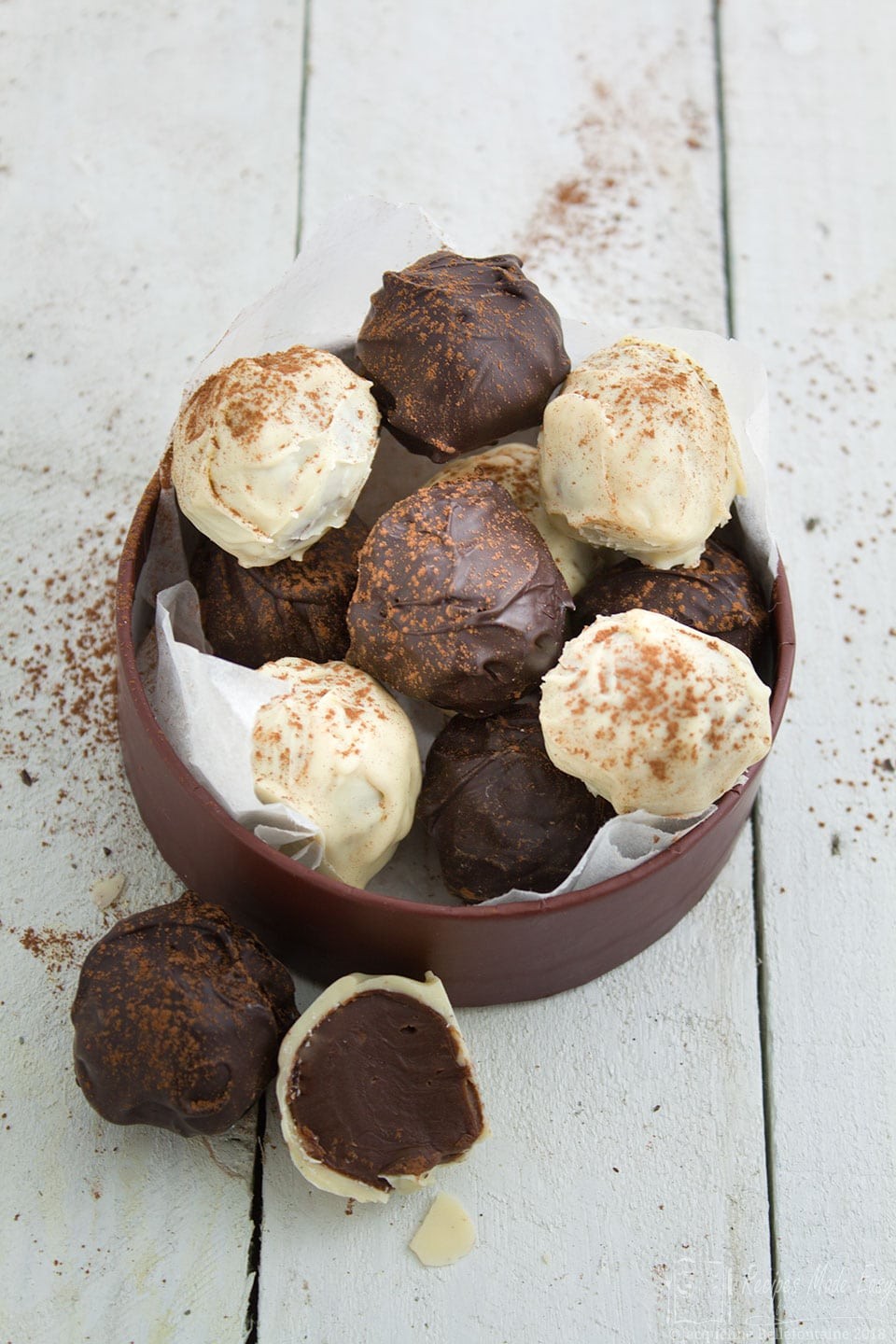 Messy is good
There is no getting around it. If you decide to give these a go you are going to get your hands dirty – or at least chocolaty. The first step is to make a coffee flavoured ganache.
Once it has a chance to set, you need to roll it into balls to make the centre of the truffles. Once the balls have hardened sufficiently, you need to coat them in chocolate. The quickest and easiest way to do this is to literally dip your fingers into molten chocolate, pick up the truffles and roll them on your fingertips to coat them with the chocolate.
If you have tempered your chocolate (see below), the first ones will have set by the time you have finished them all and you will be able to give them their second coat straight away.
Word of warning though. Don't be tempted to lick your fingers at any time until you have finished coating all the truffles, as any moisture will cause the chocolate to seize and become unusable. And that's beside the fact that it's not good hygiene practice to be licking your fingers anyway.
If your hands become too chocolaty and you stop partway through to wash them, make sure you dry your hands completely before continuing. If you really don't like getting your hands dirty you could use a dipping fork to dip the truffles into the melted chocolate. This is a bit slower though and it is a little trickier to get that nice ruffled finish.
Tempering Chocolate
For a perfect finish, these coffee truffles are coated in tempered chocolate. Tempering chocolate is the process of heating and cooling chocolate so that it sets to a crisp shiny finish. It gives chocolate that characteristic snap as you bite into it. Untempered chocolate has no "bite" and may develop a bloom (spotty dull white colour) which spoils the appearance.
The easiest way to temper chocolate is by following a process called "seeding." Melt about two-thirds of the chocolate slowly over a low heat. Once it is melted, add the remaining chocolate and stir until it melts. This will cool the chocolate and it will begin to thicken slightly. It is now ready to use.
I was lucky enough to watch well known chocolatier Paul A Young demonstrating tempering chocolate on a marble board. This is the traditional method, but not easy and potentially very messy.
However, I did come away with one very useful tip: NEVER hurry the melting process. You can even leave the chocolate melted for several hours before beginning the cooling process.
Although you might not want to leave it that long, it is essential that you let the chocolate melt slowly. Place the chocolate in a bowl over a pan of hot water, making sure the water is not touching the base of the bowl as this may cause the chocolate to become too hot.
If I'm melting chocolate that doesn't need to be tempered, to go into a cake, or to make a cheesecake or mousse, for example, I may be tempted to use the microwave to melt the chocolate more quickly. But for this recipe, to get a good finish, I strongly recommend against using the microwave.

Milk, plain (dark) or white chocolate
The type of chocolate you use to coat your coffee truffles is a matter of personal choice. I like to contrast the coating chocolate with the one used in the centre. Therefore my preference is to use white or plain chocolate for this, but if you prefer, you could use milk.
White chocolate is a little harder to temper as it is much more sensitive to temperature changes and can easily be over-heated. Plain chocolate, on the other hand, is the easiest with milk in the middle.
For the truffle centre, please only use milk chocolate. I haven't tested it with white or plain chocolate so I can't be sure it will work! Also, do take care when measuring the ingredients with some recipes you can play around with proportions and ingredients to suit but this is not one of them.

Dusted to perfection
When making the recipe for the blog, I used both white and plain chocolate to coat the coffee truffles and I thought the white chocolate would look particularly nice dusted with a little cocoa powder.
When it came to photographing them, however, the dark chocolate truffles did not come out well as they were so dark, so I dusted those with a bit cocoa powder to lighten them a little for the photograph. Personally, I liked the way they turned out, and dusting with cocoa powder has an added advantage – it disguises any imperfections in the finish. Win-win!
I (and my poor friends who had to taste test them for me) love the coffee flavour of these chocolates. They are seriously good and I would go as far as to say they are the best homemade chocolates I have ever made. And that says something as I have made a lot of chocolates!!
But I would love to know, what is your favourite flavoured chocolate truffle centre?
Love Truffles then you might like to try these Chocolate Recipes Made Easy
Step by step Coffee Truffles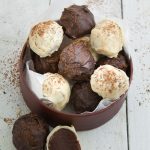 Coffee Truffles
Print Recipe
Pin Recipe
Save Recipe
Saved!
Coffee flavoured truffles with a hint of Kahlua, hand rolled in chocolate. A perfect gift or treat. You will need about 1 hour hands on time to make the truffles but remember to extra time for chilling and setting.
Ingredients
250

g

milk chocolate

75

ml

double cream

(heavy cream)

2

tablespoon

Kahlua coffee liqueur

1

tablespoon

instant coffee granules

200

g

milk, plain(dark) or white chocolate

, for coating

cocoa powder for dusting

optional
Instructions
Line a 900g (2lb) loaf tin with parchment.

Break the milk chocolate into small pieces.

Heat the cream in a small saucepan with the Kahlua and coffee granules over a low heat stirring until the coffee has dissolved and the cream is beginning to bubble around the edge of the pan.

Remove from the heat and stir in the chocolate. Stir constantly until the chocolate has melted and combined with the cream to produce a smooth chocolate cream (ganache).

Immediately pour into the lined loaf tin and allow to cool, then chill for 2 – 4 hours until firm.

Remove the mixture from the tin and cut into 24 pieces. Pinch and roll each piece into ball and place on a baking tray lined with parchment. Return to the refrigerator until you are ready to roll the chocolates.

To coat the truffles, melt about two thirds of the chocolate over a pan of hot water. Remove from the heat. Add the remaining chocolate and stir continuously until all the chocolate has melted.

Dip the fingertips of both hands into tempered chocolate and pick up a truffle. Roll the truffle in a circular movement between your fingertips until coated in the chocolate. Place on a clean sheet of baking parchment.

Once all the truffles have all been dipped, repeat the rolling again to add a second, slightly thicker, layer of chocolate. Return to the baking parchment and allow to set.

Dust with a little cocoa powder if desired.
Nutrition
Serving:
1
truffle
|
Calories:
118
kcal
|
Carbohydrates:
10
g
|
Protein:
1
g
|
Fat:
8
g
|
Saturated Fat:
4
g
|
Cholesterol:
4
mg
|
Sodium:
4
mg
|
Potassium:
99
mg
|
Fiber:
1
g
|
Sugar:
7
g
|
Vitamin A:
50
IU
|
Calcium:
11
mg
|
Iron:
1.3
mg