It's going to be hard to resist these chocolate and salted caramel popcorn chunks. I have taken two movie night favourites, chocolate and popcorn, and combined them into indulgent chunks of deliciousness.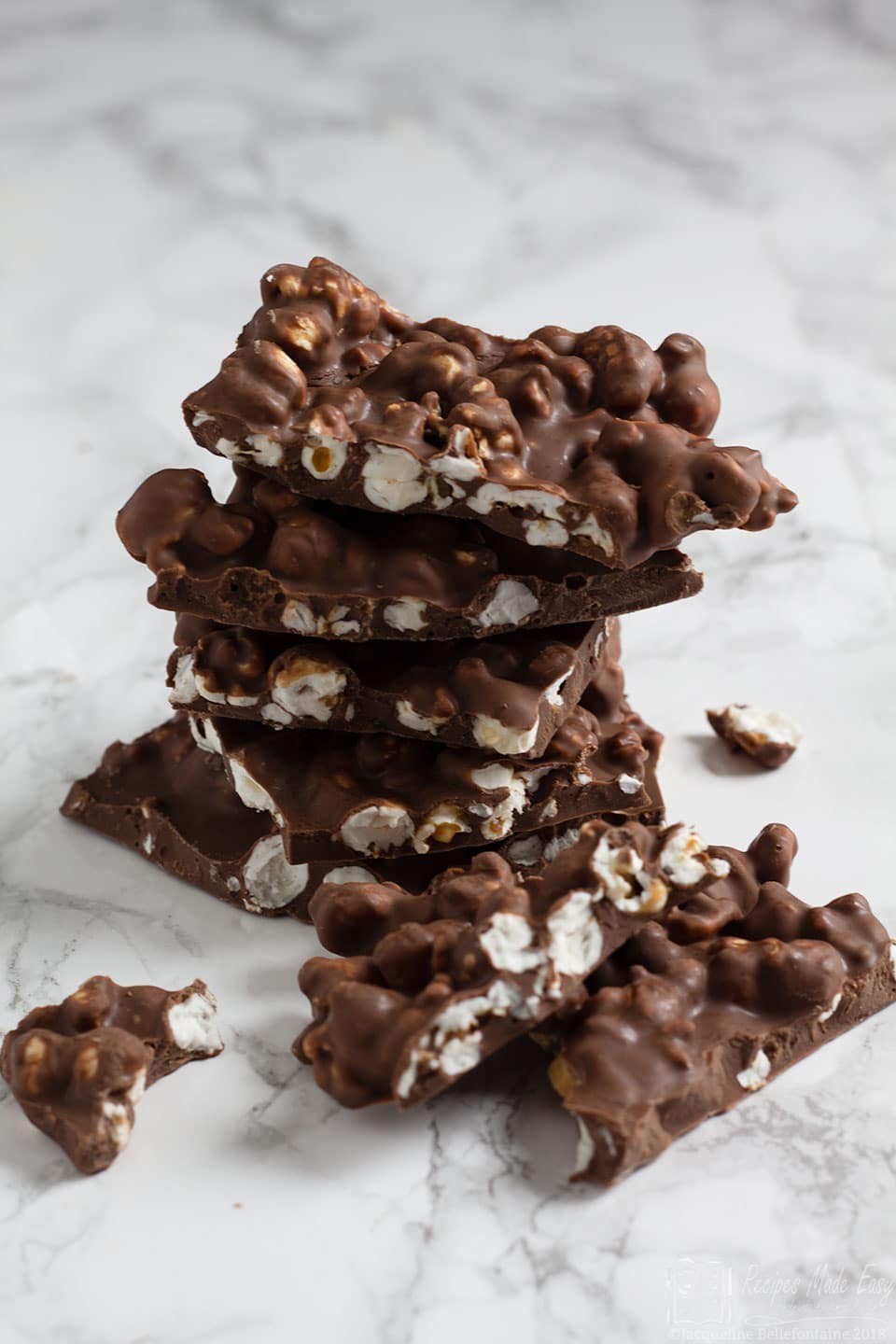 Easy
Naughty but nice
Family favourite
Edible gift
Chocolate and Salted Caramel Popcorn Chunks
The name of this delicious treat, chocolate and salted caramel popcorn chunks is a bit of a mouthful but trust me it is a delicious one. Its also very easy to make.
First Pop your corn
First you have to pop some corn. Simply put the corn in a pan with a little oil. cover and heat until its popped. Then coat it in a very simple caramel mixture made by melting butter and sugar together, Add a pinch of salt because its trendy (oh and it tastes good).
Temper some chocolate
To give the chocolate a shine and its characteristic snap you need to temper the chocolate. I've written more about how to temper chocolate here. For this recipe I have used what is known as the seeding method which basically means melting most of the chocolate then adding some unmelted chocolate to quickly cool it down. You could use the more traditional way, cooling it down by swishing it about on a cold marble board but that is more tricky and tends to get rather messy! So lets stick to the seeding method. As for which chocolate to use I'll leave that up to you. while I am a fan of milk chocolate generally I do think the salted caramel goes very well with plain dark chocolate too
Break into Chunks and Enjoy
Once you have tempered the chocolate, chuck in the popcorn, mix well and spread out onto a sheet of baking parchment and allow to set. Break into chunks and share with friends. Well, it would be greedy to eat it all yourself and sharing is more fun. Movie optional!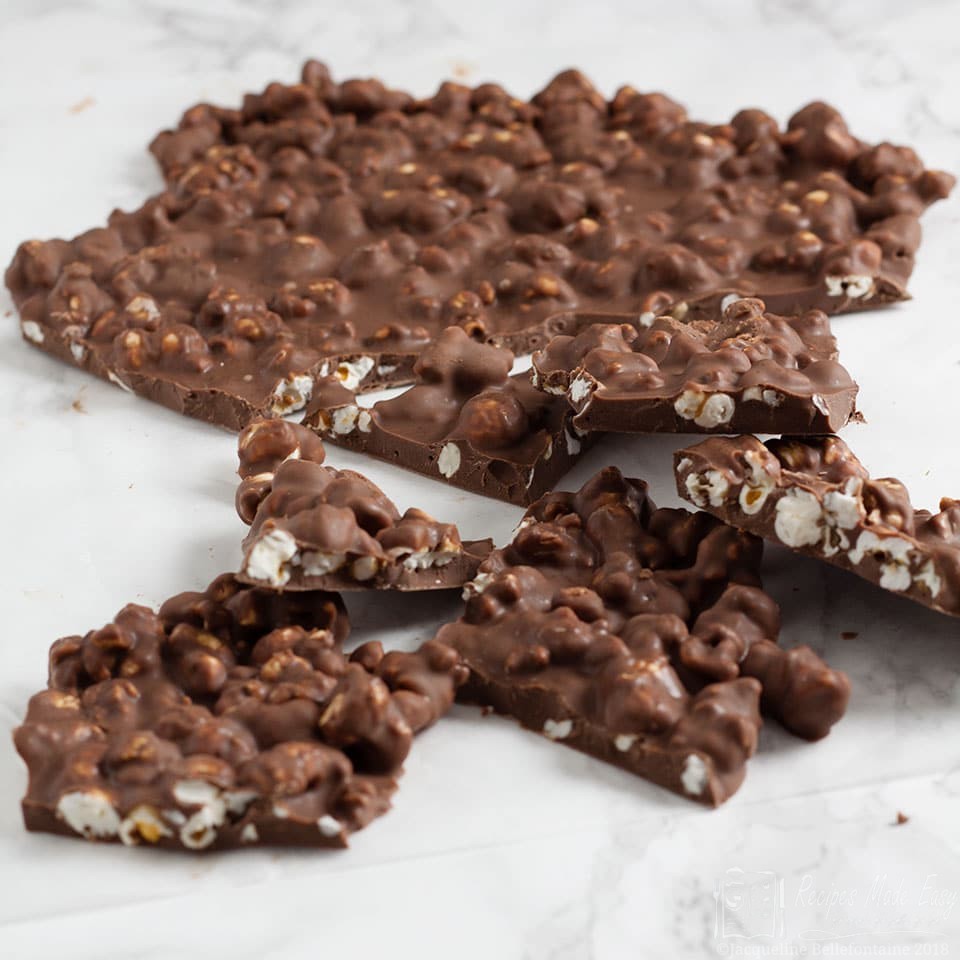 Chocolate with salted Caramel Popcorn
Print Recipe
Pin Recipe
Save Recipe
Saved!
Chocolate mixed with salted caramel flavoured popcorn. Fun and delicious
Ingredients
2

teaspoon

rapeseed oil

2

tablespoon

popcorn kernels

15

g

butter

2

tablespoon

light muscovado sugar

pinch

sea salt flakes

400

g

chocolate
Instructions
Place the oil in a large medium to large saucepan and add the popcorn. Cover and heat gently until the corn starts to pop.

Shake the pan as the popcorn continues to pop. When the popping stops remove from the heat.

Tip the popcorn into a mixing bowl and remove any un-popped corn.

Wipe out the saucepan and add the butter and sugar to the pan, heat gently stirring until the butter has melted and the sugar has dissolved.

Remove from the heat, add a pinch of salt then return the popcorn to the pan and stir until coated in the caramel mixture. Line a baking sheet with baking parchment.

To temper the chocolate. Break the chocolate into small pieces and place three-quarters into a heatproof bowl. Place over a pan of hot water and stir until melted.

Remove from the heat then stir in the remaining chocolate until all the chocolate has melted.

Tip in the popcorn and stir until coated in the chocolate, then pour out onto the baking sheet lined with parchment, spread into an even layer. Chill until set. Break into chunks to serve.
Notes
Use milk or plain (dark) chocolate according to your own preference.
Nutrition information is approximate and is meant as a guideline only.
Nutrition
Calories:
307
kcal
|
Carbohydrates:
36
g
|
Protein:
2
g
|
Fat:
19
g
|
Saturated Fat:
11
g
|
Cholesterol:
4
mg
|
Sodium:
22
mg
|
Potassium:
158
mg
|
Fiber:
3
g
|
Sugar:
28
g
|
Vitamin A:
45
IU
|
Calcium:
14
mg
|
Iron:
1.5
mg
Click on the Images for More Chocolate Recipes Made Easy
What movies or box set would you be watching?
I love to hear from readers who have made my recipes. Did you enjoy it? (I do hope so) Leave a comment and rate the recipe or drop me an email and let me know and in the case of this recipe what movie or box set will you be watching while munching?
I'm sharing this recipe on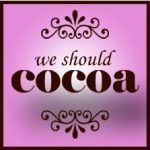 hosted at Tin and Thyme