A traditional classic Christmas pudding. Rich, dark fruity but not too heavy, it is a popular part of the festive dinner. Christmas just wouldn't be the same without the Christmas pud!.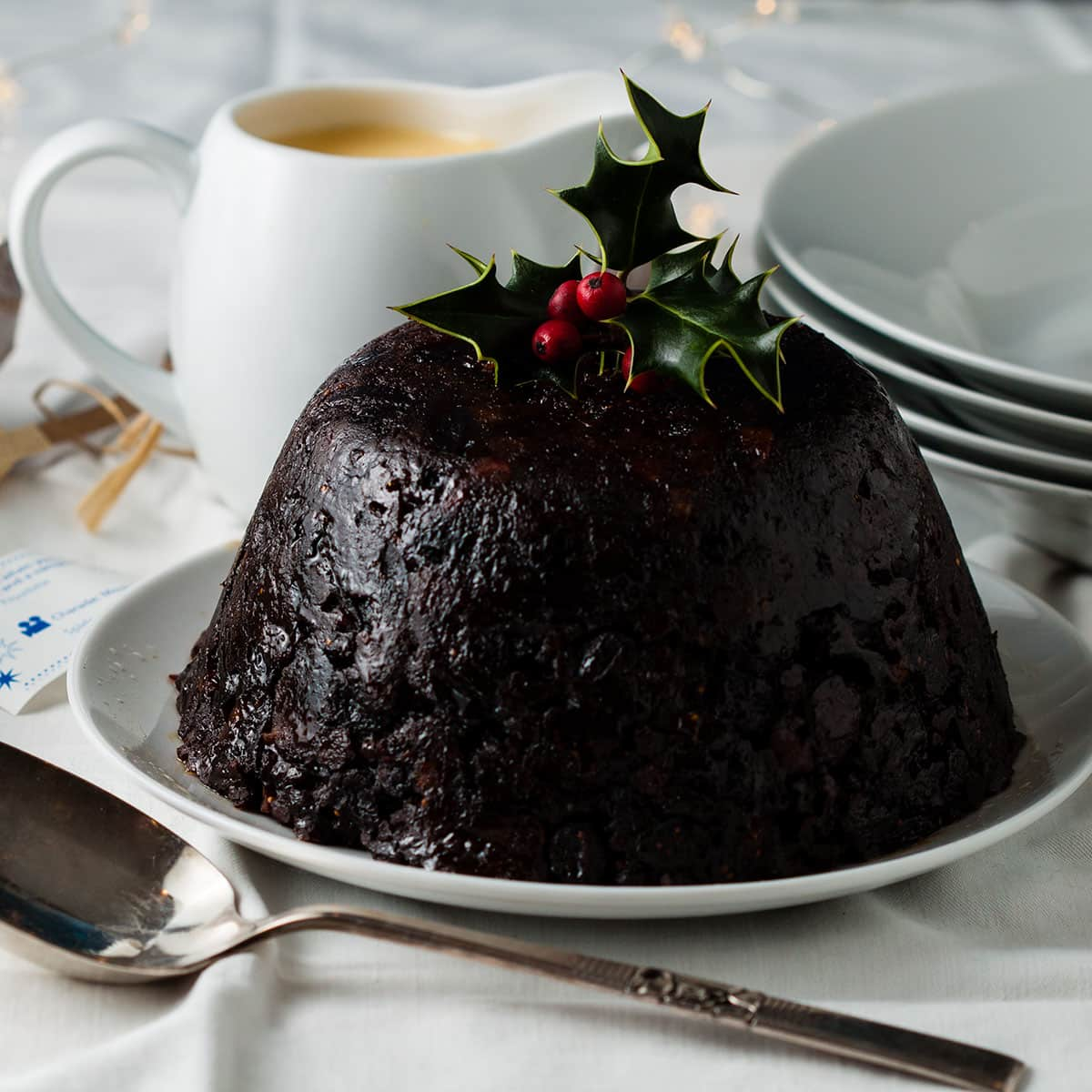 Stir up Sunday is the day that traditionally people make their Christmas pudding to give the flavour time to mature by Christmas day.
Falling on the last Sunday before advent for me it is the day that I really start to think about Christmas or more specifically what foods I might like to cook this year, which favourites stay on the menu, and which new ones to add. – I always like to try a few new recipes each year.
Being a bit of a traditionalist, I also like to make my Christmas pudding and Christmas cake on Stir up Sunday if I can.
Figgy Pudding
Christmas puddings as we know them today consisting of flour, fruits, suet, sugar and spices, goes back to Victorian times when it was sometimes called a plum pudding,(the early term for raisins was plums).
This recipe is based on one I have been using for as long as I can remember. Thinking of words of a popular Chrsitmas Carol "Now bring us some figgy pudding" some years back I decided to put some figs back into figgy pudding in my Christmas puddings rather than just use the usual raisins , sulatanas and currants.
I loved it and I have used this recipe ever since. It was even one of the very first recipes I published on Recipes Made Easy before I had even gone public with the site.
This mixture is enough to make one large and one small pudding. If you don't need two pudding, after cooking why not wrap one up in muslin, tie with a pretty ribbon and give it to a friend. Some years I make several individual puddings by steaming them in teacups, once cold they are turned out and wrapped in cling film then muslin. Perfects gifts for those who might otherwise miss out on home-made pud.
But don't worry if you don't have time to make it on stir up Sunday or you are running a little late. I can assure you it will still taste delicious, even on the day its made. When it is freshly made the flavours of all the different fruits and spices are a little more distinctive. Over times it mellows and matures to a more homogenous flavour both styles are equally different. Once made the pudding will keep even keep for up to a year.

Easy To Make
It's true that very often come Christmas day we are all a bit too full after all the turkey, stuffing and pigs in blankets to really need a dessert (let alone a selection of desserts which I usually offer) but Christmas just wouldn't be Christmas without a classic Christmas pudding.
Luckily it is fun to make and taste so much better than a shop-bought pud so I am more than happy to make one and come to that to be the one who finishes up the leftover pudding after Christmas.
Despite the long list of ingredient Christmas pudding is really easy to make. It is basically just a matter of adding all the ingredients in a large bowl and giving it a good mix. Then piling into pudding basins and steaming.
Now, perhaps I should be clearer, when I say I make my puddings on Stir up Sunday what I really mean is I mix up the pudding on the Saturday and steam it on the Sunday.
Leaving it to stand overnight to allow the flavours to blend then on the Sunday there is plenty of time to give it one final mix. Inviting the family to give the pudding a stir and make a wish – it's been a few years since they last did that though, them being all grown up and that! But I'm still happy to carry on the tradition.
Steaming the pudding

Once packed into pudding basins the puddings need to be steamed for at least 6 hours. See here for how to cover and cook your the puddings. By the end of that time, the house is warm, cosy, and filled with the smell of sugar and spice and all things nice.
Remember to check the water levels frequently when cooking to ensure the pan does not boil dry.
How to cook a Christmas pudding in a pressure cooker or Instant pot
If you have a pressure cooker or Instant pot you can dramtically cut down the amount of time it takes to docook the pudding.
Place the trivet and the basket in the base of the pressure cooker and place the bowl in the basket. Fill the pressure cooker with cold water to approximately 20mm below the top of the bowl.
Secure the pressure cooker lid and bring to high pressure once pressure is reached maintain the pressure for 1 to 1 ½ hours for the larger pudding and 45 minutes to 1 hour for the smaller pudding.
Remove the pressure cooker from the heat or turn off and allow the pressure to reduce naturally.When the pressure has been released remove the pudding and allow to cool.

To serve the pudding
On Christmas Day, steam it for 1-2 hours or reheat in the microwave. Once you have reheated the pudding, turn it out onto a serving plate (you may need to loosen the edges with a knife serve decorated with a sprig of holly. If you like you can douse it with warmed brandy and set it alight. Allow flames to subside and go out completely before serving.
Serve with custard, cream brandy or rum butter or brandy or rum sauce.
Fancy a little tipple with your pudding serve with a sweet dessert wine, sweet sherry or port or for a delicious fruity homemade tipple my Christmas vodka.
To reheat in the microwave
Remove the foil and leave covered with baking parchment. Reheat at medium power (based on an 800 W microwave) for 4minutes. Allow to stand for 2 minutes, then cook again for a further 4 minutes on medium power.
To reheat in a pressure cooker
Place the trivet and the basket in the base of the pressure cooker and place the bowl in the basket. Fill the pressure cooker with boiling water to approximately 2cm (1in) below the top of the bowl.
Secure the pressure cooker lid and bring to high pressure once pressure is reached maintain the pressure for 30 minutes.

To reheat in an Instant Pot
When ready to cook, place the pudding on the trivet with boiling water to approximately 2cm (1in) below the top of the bowl.
Set the Instant Pot to 20 minutes on Steam (close the Valve). You can then do a quick pressure release and serve straight away or leave it to release pressure naturally and leave it for an hour or two on Keep Warm until you are ready for it.
Classic Christmas Pudding Step by step


Classic Christmas pudding
Print Recipe
Pin Recipe
Save Recipe
Saved!
A dark rich Christmas pudding, serve with custard, cream or brandy (or rum) butter. Makes 1 large and 1 small pudding
Equipment
pudding basins

baking parchment

foil

string

steamer or large saucepan with lid
Ingredients
125

g

white breadcrumbs

50

g

plain flour

125

g

vegetable suet

225

g

dark muscovado sugar

125

g

sultanas

125

g

raisins

50

g

currants

150

g

dried figs

chopped

150

g

dried dates

chopped

50

g

diced mixed peel

50

g

glacé cherries

halved or quartered

50

g

almonds

chopped

1

small

cooking apple

peeled cored and grated

finely grated zest and juice of 1 lemon

2

tablespoon

black treacle

1

teaspoon

ground mixed spice

½

teaspoon

grated nutmeg

½

teaspoon

ground cinnamon

2

large

eggs

175

ml

sweet white wine or stout

butter

for greasing

rum or brandy to serve

(optional)
Instructions
Place the breadcrumbs, flour, suet and sugar in a large mixing bowl and stir until well blended.

Stir in the sultanas, raisins, currants, figs, dates, mixed peel, cherries and almonds and mix well.

Add all the remaining ingredients and stir again. Cover the bowl and leave overnight to allow the flavours time to blend.

Spoon into one 1.2litre (2½pt) and one 600ml (1¼pt) well greased basins and press down well. Cover with a sheet of greaseproof paper or baking parchment. Then cover with foil and tie securely with string. Steam the pudding for 6 – 8 hours, topping up the water as required.

Once cooked remove from the steamer or pan and remove the covers. Allow to cool completely then cover again with fresh parchment and foil. Store in a cool dry place until Christmas.

To serve. Steam the puddings for another 2–3 hours. Turn out onto a warm plate. Heat a little brandy or rum in a ladle or small saucepan. ignite and pour over the pudding. Allow the flames to subside before serving.
Notes
Cooking Times
Use the longer cooking times for the larger pudding and the shorter cooking times for the smaller pudding.
Remember to keep an eye on the water level in the pan and top up as required to ensure the pan does not boil dry.
Cooking Method
For more details on how to steam the puddings plus information on how to cook in a pressure cooker or reheat in the microwave see the body of the post.
Variation:
If you prefer not to add alcohol to your pudding add orange juice apple juice or cold tea.
Nutrition
Calories:
321
kcal
|
Carbohydrates:
57
g
|
Protein:
4
g
|
Fat:
10
g
|
Saturated Fat:
4
g
|
Cholesterol:
26
mg
|
Sodium:
61
mg
|
Potassium:
391
mg
|
Fiber:
4
g
|
Sugar:
38
g
|
Vitamin A:
36
IU
|
Vitamin C:
1
mg
|
Calcium:
76
mg
|
Iron:
2
mg