I'm sure you have all heard about the wizzy new(ish) kitchen gadget that cuts vegetables into long noodle like strands - spiralizers, by now. I can't resist a kitchen gadget Putting it through its paces I made a spiralised orange and fennel salad with a delicious orange, ginger and honey dressing.

I have never been one to follow diet fads and I would question if any one single food, one type of food, or even one method of cooking is the answer to all our dietary prayers. I strongly believe that a varied diet without too much of any one food and with all foods in moderation is what constitutes a good diet.
So, spiralising has never appealed to me solely as a way to eat better or to lose weight - on a no carb diet. I do, however, think the ribbons of food can look pretty in a dish and a new method of cooking and eating vegetables is always a fun idea. And that's exactly why I have wanted to try it.
The Spirelli i choose looks rather like a large double ended pencil sharpener. I like the fact that, unlike some spiralisers, it is not too large and can easily fit in a drawer. On the other hand, its size may be considered a downside by some people as it does limit the number of different types of vegetables that it can spiralise.
The vegetables need to be small enough to fit into the spiraliser. I found it very successful with courgettes (yes I did manage to get some despite the current shortage), carrots, parsnips and cucumbers. It might work forsmall long sweet potatoes too (I didn't have any to try) but was not successful with butternut squash.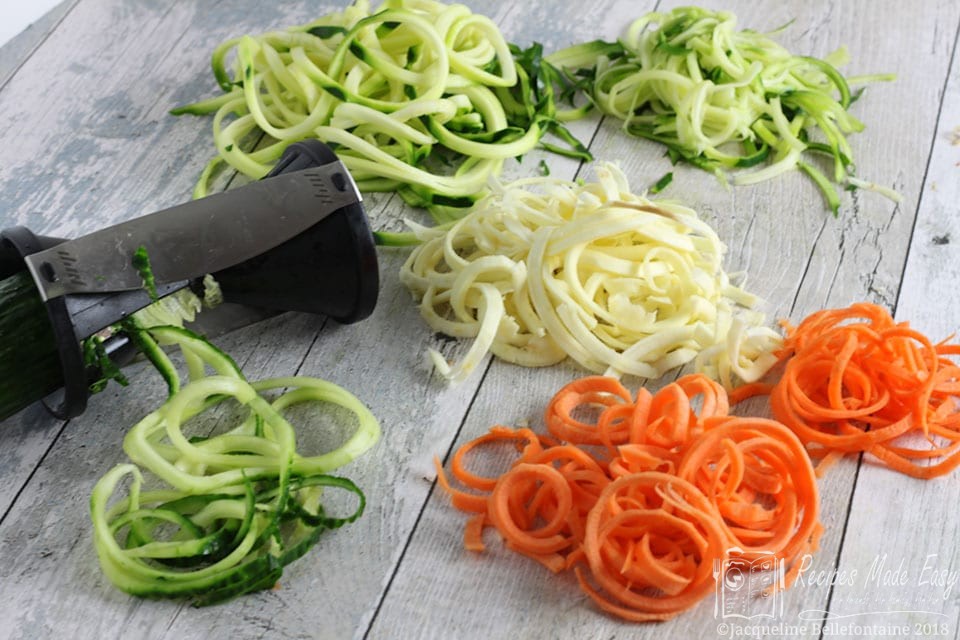 Basically, in order to use it, you simply peel the vegetable (if required), insert it into the Spirelli and turn. Just like sharpening a pencil. There are two blades that produce slightly different thickness.
It comes with a cap to help turn the vegetables but I found this rather difficult to use. I found that the spirelli was probably slightly more wasteful than some other as it leaves a rather large stump of the vegetable un-spirialised at the end in addition to a small central core. I hate food waste, so kept the trimmings to make stock.
Spirialised Carrot and Fennel Salad

So, what to do with the spiralised vegetables?
I decided to make a salad with some spiralised carrots, and I do think they can look tasty and colourful in salads. Opting for a carrot and fennel salad with an orange, ginger and honey dressing.
After finely slicing the fennel, I spiralized some carrots and tossed them together in the dressing. The result, I think, is a pretty salad which I would definitely make again.
Having tested the spiraliser with a cucumber, I also tossed that with some spirialsed carrot in the same dressing which made a tasty variation.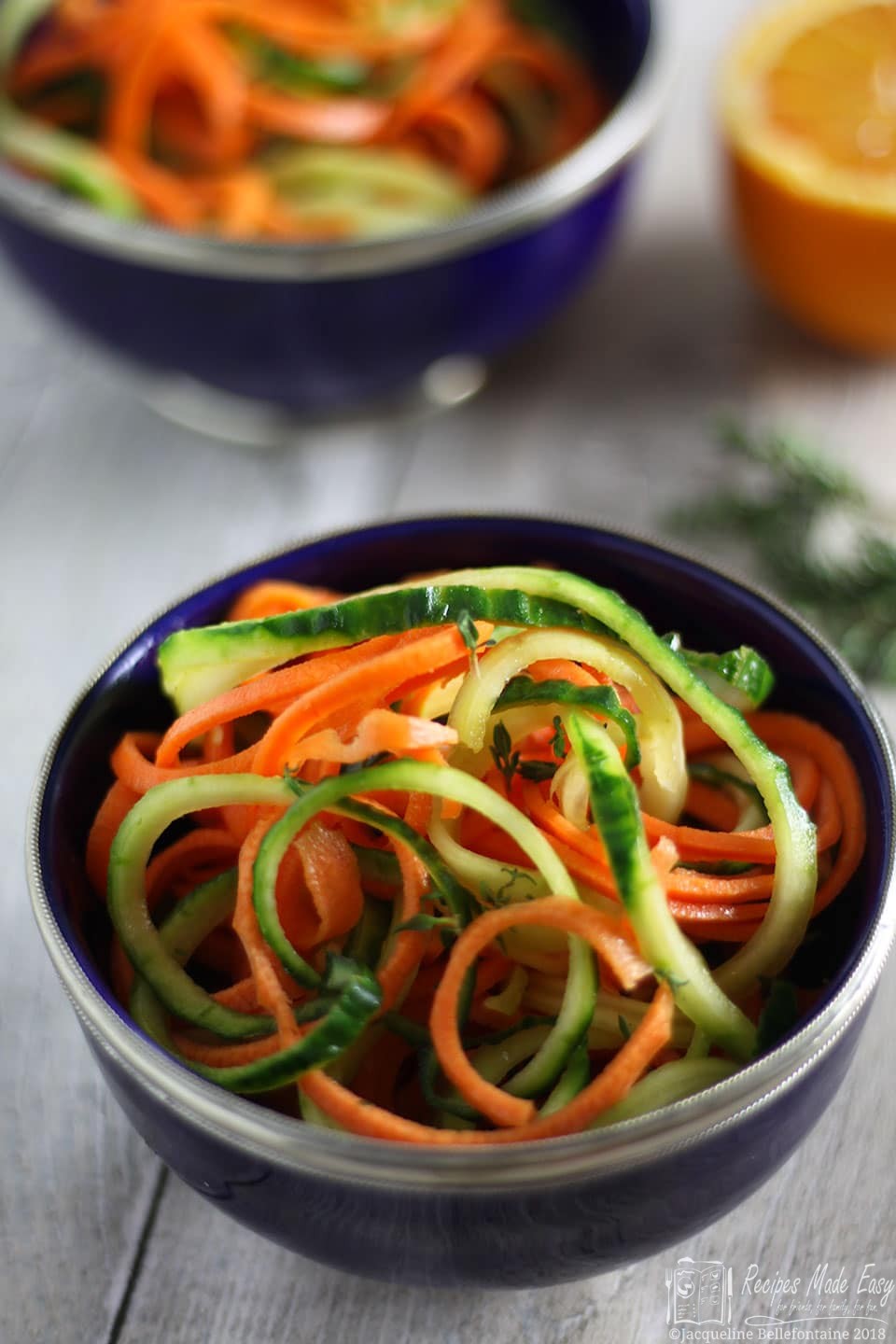 The other spiralised vegetables didn't go to waste either. I blanched them briefly in boiling water and served them with the Easy Oriental Pork which I posted earlier this week.

I was also surprised by how much I liked the spiralized vegetables as noodles and although I will not be giving up pasta any day soon, I would occasionally substitute spiralized vegetables.
Although you can buy spiralized vegetables in the supermarket I wonder how many vitamins are left. After all, vegetables start to lose vitamins as soon as they are processed, so I would not be tempted to buy ready spiralized vegetables. Making my own this way is a much better option. I think you will probably be seeing some more spiralised vegetables cropping up in future recipes.

Spiralised carrot and fennel Salad
Print Recipe
Pin Recipe
Save Recipe
Saved!
A simple, colourful salad in an orange, ginger and honey dressing
Ingredients
3

medium sized carrots

peeled if desired

1

head fennel
dressing
1

tablespoon

orange juice

1

tablespoon

white wine vinegar

4

tablespoon

extra virgin olive oil

¼

teaspoon

ground ginger

1

teaspoon

honey

½

teaspoon

chopped fresh thyme

salt and freshly ground black pepper
Instructions
Whisk all the ingredients for the dressing together with a fork and set aside.

Spirialise the carrots and place in a bowl.

Trim the top and bottom from the fennels. Discard the outer leaves if they are very tough or discoloured, then cut into quarters and thinly slice. Add to the carrots.

Mix the dressing ingredients together again and pour over the salad. Toss to coat.
Notes
Nutrition information is approximate and is meant as a guideline only. (It does not include seasoning with salt and pepper.)
Nutrition
Calories:
168
kcal
|
Carbohydrates:
10
g
|
Protein:
1
g
|
Fat:
14
g
|
Saturated Fat:
1
g
|
Sodium:
62
mg
|
Potassium:
388
mg
|
Fiber:
3
g
|
Sugar:
3
g
|
Vitamin A:
7720
IU
|
Vitamin C:
11.9
mg
|
Calcium:
44
mg
|
Iron:
0.6
mg