Irish Soda bread is one of the easiest and quickest breads to make, has a lovely crispy crust and a delicious soft crumb.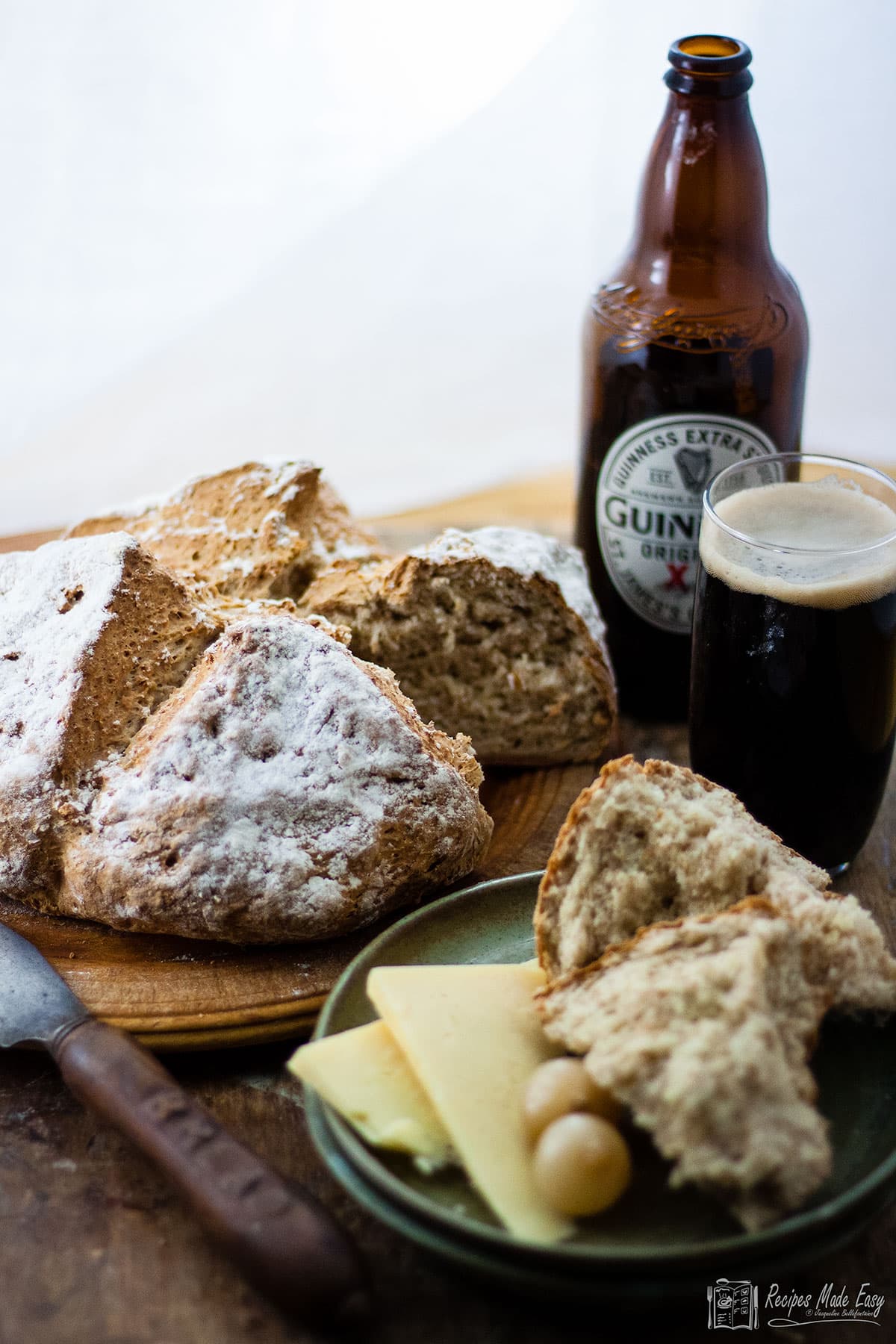 As the daughter of a master baker I love the smell of fresh baked bread. I can still remember waking up in the mornings to the smell of fresh baked bread.
So carrying on the family tradition of baking, all be it in a smaller way, I often bake my own bread. It gives me such satisfaction. Although not difficult to make good yeasted bread takes time to rise (I currently make sourdough bread most frequently and it takes about 14 hours to make from start to finish).
But sometimes you need a loaf in a hurry and this is where soda bread comes into its own. It still tastes fabulous and has a great crust but it only takes minutes to make and then it's straight into the oven to bake.
I would love to say that I was given this recipe by my Irish mother-in-law and that it has been in the family for years, but while she was a most remarkable and lovely woman (I was very lucky on the mother-in-law front!), she would have been the first to admit that she was no cook.
But even without a long family history this recipe is a good traditional one with just a couple of minor tweaks.
Soda bread is often made with all wholemeal flour or half wholemeal and half plain flour, but I find both a bit heavy so opt for a mixture of 2 parts white flour and 1 part wholemeal. It gives a good texture with some of the benefits of the wholemeal flour.
The other change I have made is that traditionally soda bread is made with buttermilk. The acidity of the buttermilk reacts with the bicarbonate of soda in the bread to produce CO2 which makes the bread rise.

These days even in London, I find buttermilk hard to find unless I go to a large supermarket and so I make mine with natural yogurt instead which works just as well.
Use full fat rather than low fat natural yoghurt and not a Greek style or set yogurt – I have found Yeo valley natural yogurt works well.

Flavoured Soda bread
If you like plain soda bread why not experiment and try adding some extra flavourings to the bread. I like the following variations but you could also try experimenting yourself to make your own favourite flavoured bread. Stir into the bread before adding the yogurt.
Add 1 tablespoon chopped fresh thyme or rosemary and handful of sultanas
Add 2-3 tablespoon snipped chives
Sauté 1 thinly sliced small onion in a little olive oil until just golden and add to the dough
Soda bread is best eaten the day it is made but if you want to keep it to the following day then pop it in a bag to help keep it moist. It also freezes well so you could pop what you don't need into the freezer for another day.
Step by step soda bread
This really is an easy recipe so, if you loved fresh baked bread but don't think you consider yourself a bread maker, why not give it a go you may just surprise yourself.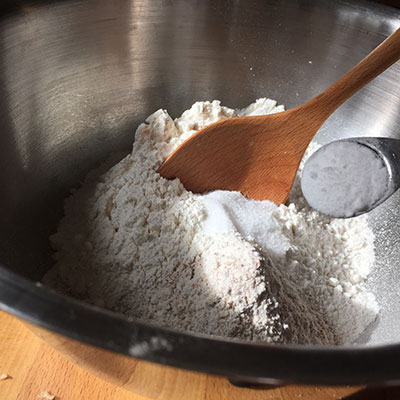 Irish Soda Bread
Print Recipe
Pin Recipe
Save Recipe
Saved!
Quick and easy to make. A great introduction to making your own bread.
Ingredients
125

g

plain wholemeal flour

275

g

plain white flour

1

teaspoon

bicarbonate of soda

1

teaspoon

salt

500

g

carton full fat natural yogurt

extra flour for dusting
Instructions
Preheat the oven to 200℃/190℃ Fan/gas mark 6. Lightly oil a baking sheet or line with baking parchment.

Place the flour, salt and bicarbonate of soda in a large mixing bowl and stir with a wooden spoon to combine.

Add the yogurt and mix to a soft sticky dough. Tip the dough out onto a lightly floured work surface and knead lightly, then shape into a ball.

Place on the baking sheet and flatten the ball with your hand, then score a deep cross into the dough almost but not quite cutting the dough into quarters. Dust liberally with flour.

Bake for 35 minutes or until the bread is risen and a golden brown.

Transfer to wire rack to cool. Best eaten on the day it is made.
Notes
Freeze for up to 2 months
Nutrition
Calories:
1306
kcal
|
Carbohydrates:
233
g
|
Protein:
46
g
|
Fat:
19
g
|
Saturated Fat:
11
g
|
Cholesterol:
65
mg
|
Sodium:
3655
mg
|
Potassium:
1069
mg
|
Fiber:
7
g
|
Sugar:
24
g
|
Vitamin A:
495
IU
|
Vitamin C:
3
mg
|
Calcium:
646
mg
|
Iron:
13
mg
More bread recipes made easy