Trust me, it really is easy to make bread at home and it's really hard to beat the taste and smell of home made bread, so the reward for your effort is worth it.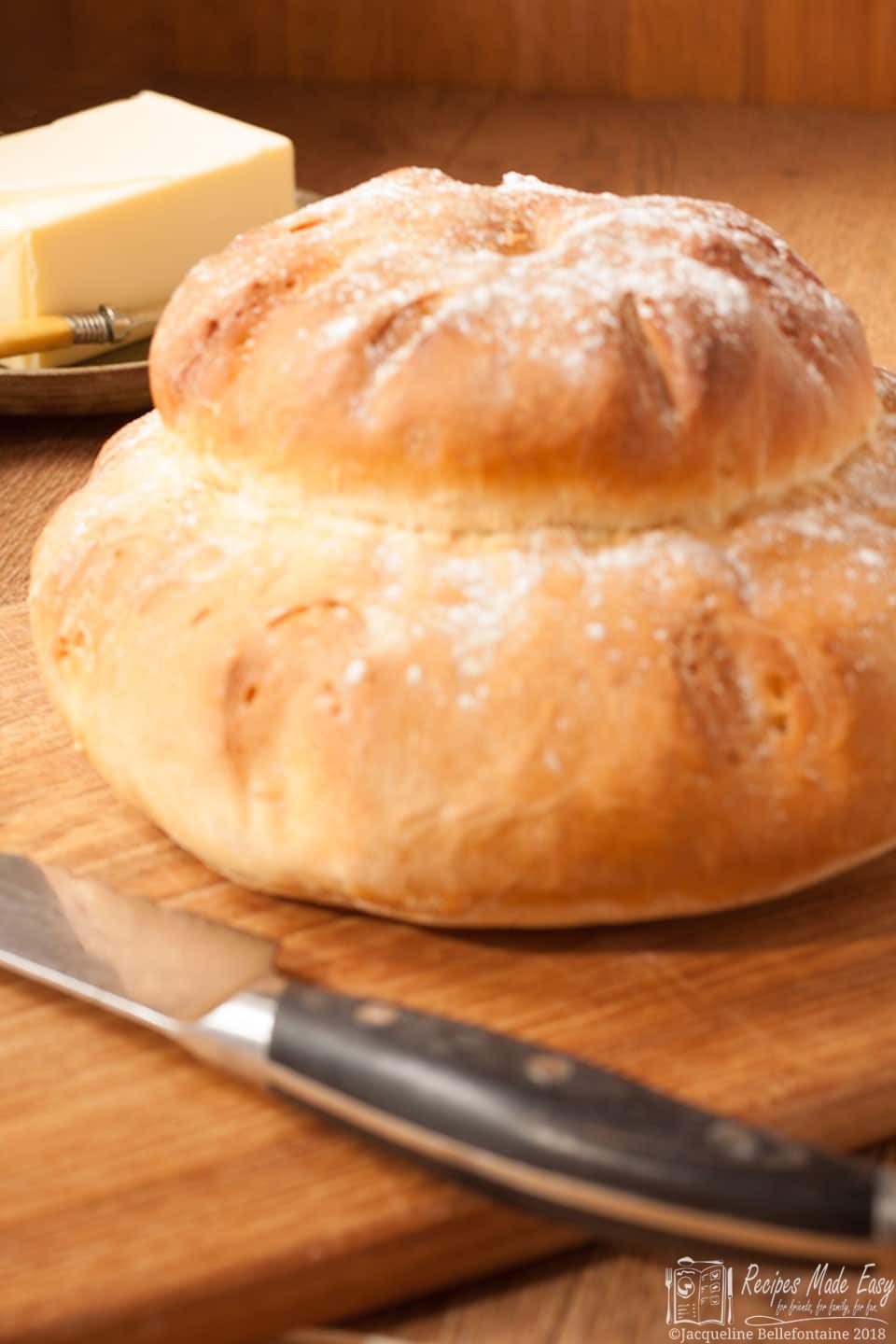 As a child, being the daughter of the baker and living over the shop, I used to wake every morning to the smell of fresh baked bread. It is one of my strongest and fondest memories of my childhood. Freshly baked bread smells quite simply divine! So for that reason alone it is worth making your own bread. It also tastes fantastic, much better than the average loaf you can buy. Sure, you can buy quality bread, but it often comes with a high price tag.
Sadly, I think too many people think making bread is too difficult or too hard. It really isn't. You have to allow time for the bread to rise, but the hands is really not that much. Not even when kneading the dough by hand. Yes, it takes a little skill to always shape and make the perfect loaf but who needs it to be perfect every time anyway.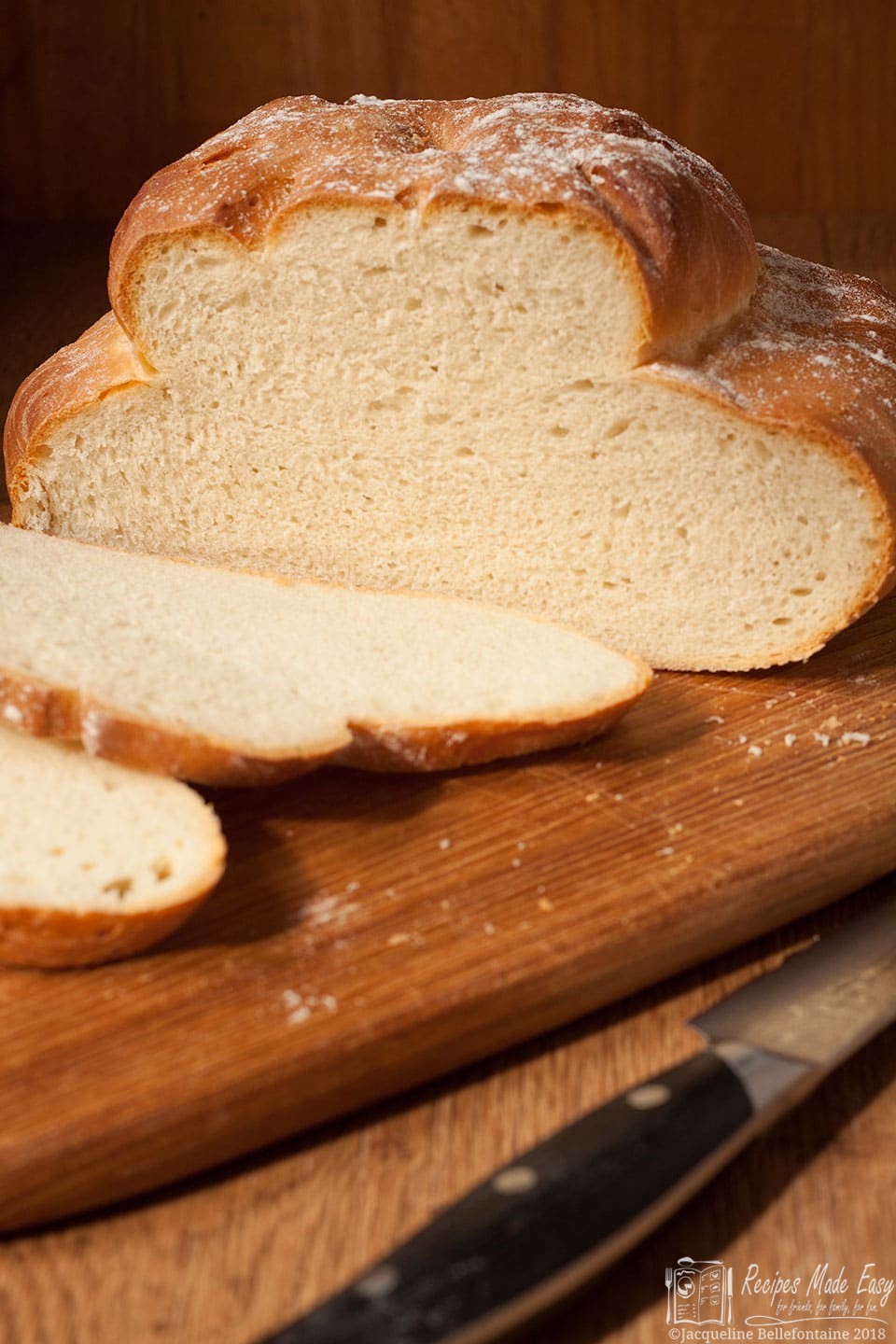 I make my own no-knead sourdough bread several times a week. As I work from home I can easily fit it into my daily routine but I appreciate that not everyone can. A basic white bread made with regular easy blend dried yeast takes less time to rise (unlike the 10 or so hours of a sourdough) and so you can make it in a much smaller time scale.
So when this week's Great British Bake Off made a cottage loaf for the technical challenge I thought to myself that now is as good a time as any to share a basic bread recipe on Recipes Made Easy. I can not believe I haven't done so already! You can then use this to make a cottage loaf (I love the shape of a cottage loaf). Don't be put off by any comments on the show about the difficulty in shaping this loaf - they are just there for dramatic effect. It is just basically two balls of dough one slightly larger than the other stacked on top of each other. Just make sure you really push down between the two to ensure they stick together.
If you don't fancy trying the cottage loaf you can make another shape or roll it into a log and place in a loaf tin. Or, if you prefer the idea of making bread rolls, divide the mixture into 12 and roll into balls. Bake them for just 15 minutes.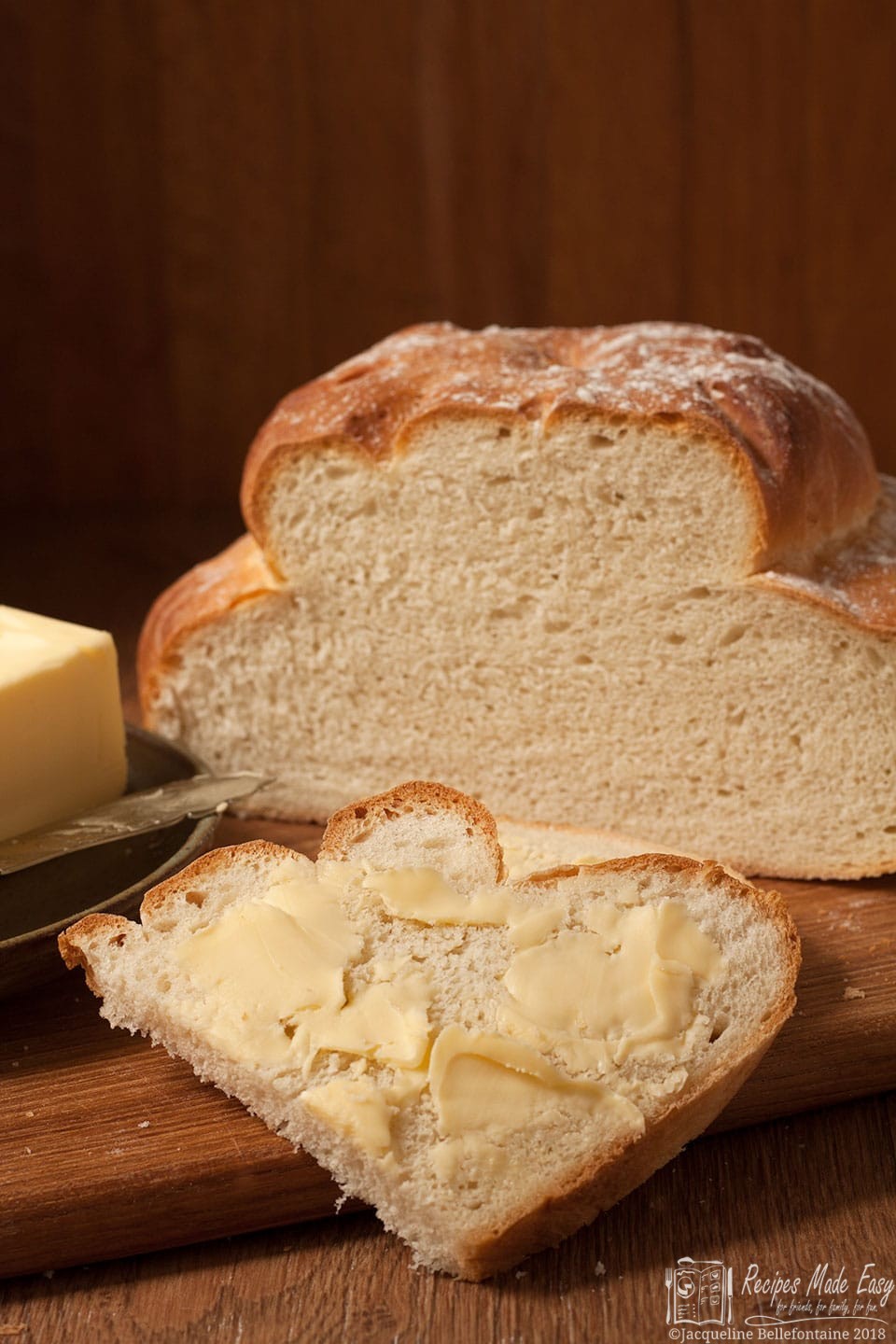 Cottage Loaf
Print Recipe
Pin Recipe
Save Recipe
Saved!
This recipe uses a basic white bread dough to form a traditional old English shaped loaf but you can bake in a loaf tin for a basic loaf shape or shape into rolls.
Ingredients
500

g

strong bread flour

25

g

butter

1

tsp

salt

1½

teaspoon

easy blend dried yeast

(or 7g sachet)

300

ml

water

oil for greasing
Instructions
Place the flour in a bowl and rub in the butter. Stir in the salt followed by the yeast. Add water and mix to form a slightly sticky soft dough.

Lightly oil the work surface and tip out the dough. Knead for 5 to 10 minutes until the the dough has lost its stickiness and is smooth and stretchy.

Alternatively mix the water into the flour mixture using the dough hook on a stand mixer and continue mixing for at least 5 minutes

Place the dough back into an oiled bowl. Cover and leave to rise until double in size about 1-1½ hours.

Knock back the dough and lightly knead again. Then shape as desired. For a cottage loaf roll about ⅔ of the dough into a tight ball and place on a baking sheet. Roll the remaining dough into another ball and place on top. Dip two fingers into flour and push down through both balls of dough to the the baking sheet. Cut slashes in the side of the loaf.

Cover loosely with a large plastic bag or slightly damp tea-towel and leave in a warm place until doubled in size.

Preheat the oven to 220℃ (200℃ fan)/450°F/gas mark 7. Bake the loaf for 30 minutes until risen and golden. When cooked the loaf will sound hollow if tapped on the bottom.

Transfer to a wire rack to cool before serving.
Nutrition
Serving:
1
loaf
|
Calories:
2003
kcal
|
Carbohydrates:
365
g
|
Protein:
62
g
|
Fat:
29
g
|
Saturated Fat:
14
g
|
Cholesterol:
53
mg
|
Sodium:
2532
mg
|
Potassium:
557
mg
|
Fiber:
13
g
|
Sugar:
1
g
|
Vitamin A:
625
IU
|
Calcium:
75
mg
|
Iron:
4.5
mg
Step by Step Cottage Loaf
Tips for success
The key to a good loaf is to develop the gluten which forms the structure of the bread. If making the bread by hand you will need to knead the dough for at least 5-10 minutes. My father always said you should think of it as your worst enemy at this stage and really pummel, stretch and pull the dough. If you have a stand mixer you can use a dough hook and let the machine do all the hard work but it can actually be very satisfying kneading it by hand.
After kneading place the bread in an oiled bowl. I put a drop of oil in the bowl, shape the dough onto a ball and then roll it in the bowl so that the dough is lightly coated in the oil and then cover and leave to rise until doubled in size.
With easy-blend yeast you can even skip the initial rise and make and shape your dough straight away but in my opinion you get a slightly better texture if you allow it to do an initial rising before shaping.
Once the dough has doubled in size, tip it out of the bowl and lightly knead again. This process is called knocking back and helps to distribute air bubbles evenly through the dough. Then shape as desired before leaving to rise again.
Bake in a hot preheated oven. A shallow tin with some water in the bottom of the oven will produce steam and helps to make the crust crustier.
The loaf is cooked when it sounds hollow when tapped on the bottom.