Just three ingredients are needed to make this easy rhubarb and elderflower jam. It uses elderflower cordial so you do not even need to go foraging for the elderflowers. The finished jam has a lovely, fresh sweet flavour with just a hint of elderflower. Perfect for breakfast or afternoon tea. Jam sandwiches anyone?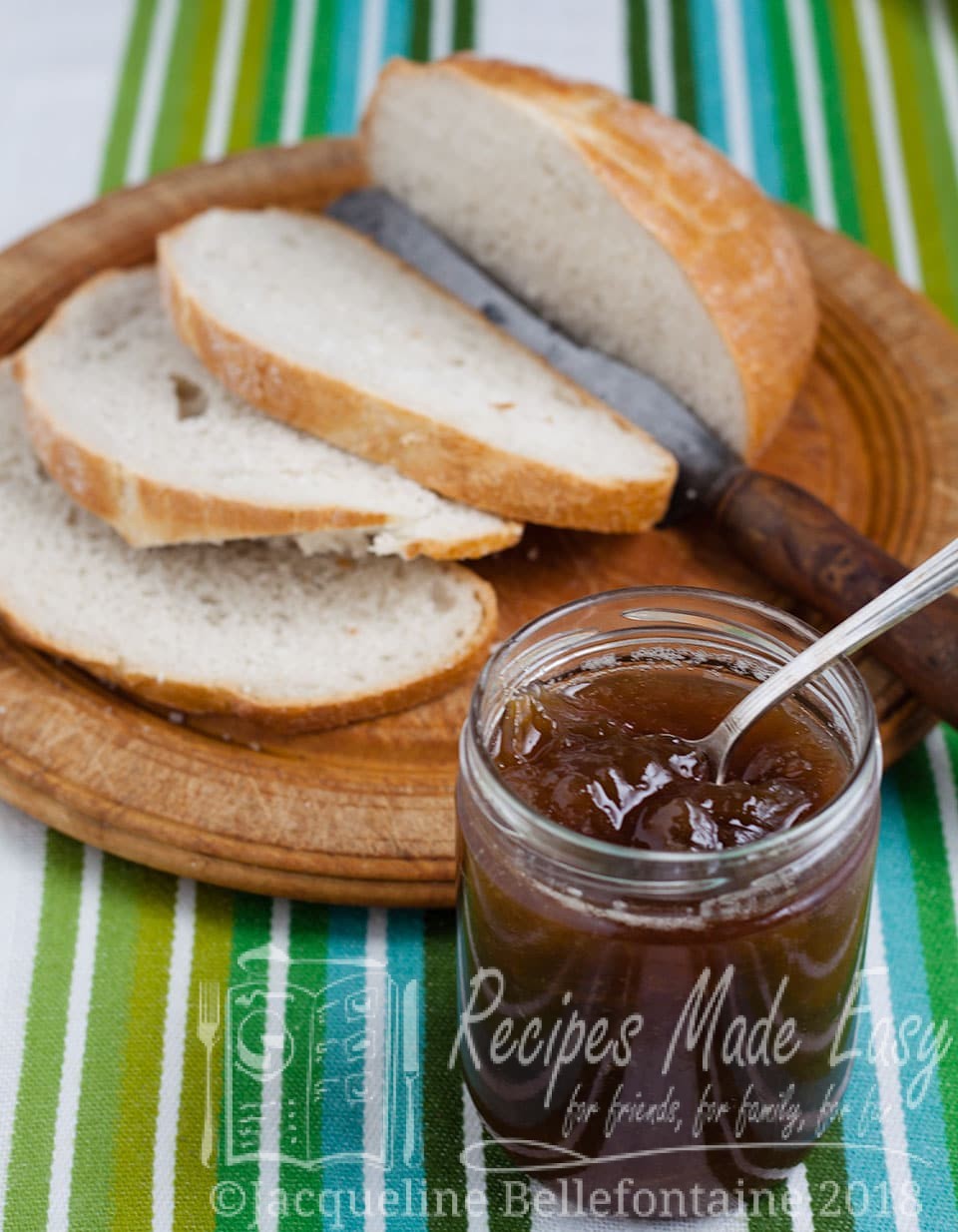 Easy
Sweet treat
Jams and preserves
Breakfast
Tea time treat
For a long time I wasn't a huge fan of rhubarb jam. Possibly because previously I had had rhubarb jams that had been boiled so much that most of the fresh rhubarb flavour had gone and they were set to a rock. Jams used to be made predominately to preserve fruits and the flavour was secondary. Most of us no longer preserve as a necessity, but just because we like to make our own. The trend with modern jam making is to make in smaller batches with a much softer set. The fruit is cooked for a shorter time and therefore retains more of its flavour. Although it may not keep for years, it will still keep for several months or even up to a year if stored in a cool place away from strong light but the flavour will be best the earlier it is eaten
Thinking back to a jam workshop I attended last year I remembered Mary Cadogan, who was leading the workshop, suggested making three jars of jam at a time. One to eat now, one as a gift or to eat a later and one to make ice cream – just add to whipped double cream and freeze. I haven't tried that last suggestion yet but I really should because it sounds so simple and I do love ice cream. I often add jam as a sweetener to fruit in fruit crumbles and pies though, and this one would work lovely mixed with some apples for an apple and rhubarb crumble. Anyway, taking her advise on board this recipe will make about 3 x 250g (9oz) jars. My jam jars are assorted sizes so I always sterilise 1 or 2 jars more than I think I am going to need just to be on the safe side.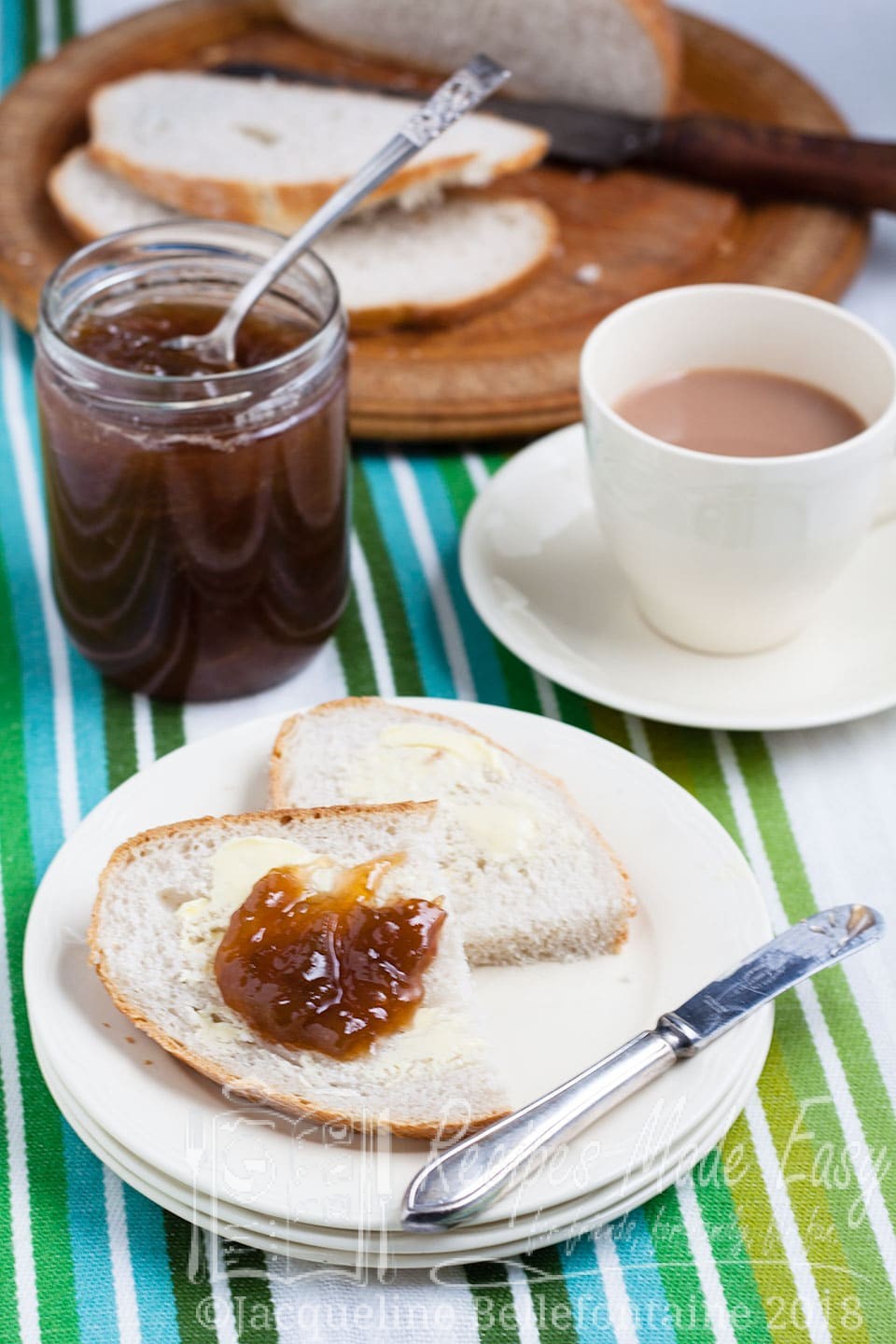 Rhubarb produces plenty of liquid once it starts to cook. To start the juices going, I mixed the rhubarb with the sugar and elderflower cordial which I think adds a nice hint of flavour to the finished jam. Leave it for an hour or so until the juices begin to weep from the rhubarb. This provides just enough liquid to help prevent the sugar from burning on the base of the pan. As the rhubarb cooks more and more juices are released and the sugar will dissolve. Do this over a low heat stirring constantly. You will know when all the sugar has dissolved as it will not feel gritty against the pan anymore as you stir it.
Because we want a soft set, you should find 8 minutes at a rolling boil sufficient – stir occasionally to prevent it burning on the base of the pan. Then test for set. Another couple of minutes won't hurt. If you don't think its done, test again but I would be very wary of boiling for more than 12 minutes. Trust me, you don't want to go back to jam set like a brick.
So while I was initially reluctant to make rhubarb jam again, I'm glad I did it, as I am blown away by the result. I love it I hope you do too.

Easy rhubarb and elderflower jam
Print Recipe
Pin Recipe
Save Recipe
Saved!
Just 3 ingredients are needed for this soft set, easy rhubarb jam with a hint of elderflower.
Ingredients
700

g

rhubarb

prepared weight

700

g

granulated sugar

4

tablespoon

elderflower cordial
Instructions
Wash the rhubarb, trim and cut into short lengths of about 2cm (1in) long.

Place rhubarb, sugar, elderflower cordial into a preserving pan or very large saucepan and stir together to mix. Leave to stand for an hour or so.

When you are ready to make the jam, put a couple of saucers in the freezer for testing the set and sterilise 3 large jars.

Place the pan over a very low heat and heat gently until the juices begin to run and the sugar has dissolved, stirring constantly. Try not to splash up the side of the pan too much during this stage.

Once the sugar has completely dissolved (you will not hear and gritty scraping noise as you stir) turn up the heat and bring to a rolling boil. Once it has reached a good rolling boil, set the timer and boil for 8 minutes.

Take the pan off the heat and test for set by placing a few drops of jam onto one of the chilled saucers and chilling for a minute or two. If the setting point has still not been reached, boil for another 2 minutes and test again. Repeat if necessary until you have a set.

Pour into the sterilised hot jars and seal immediately. Label and store in a cool place until required
Notes
Notes For more details on sterilising jars and testing for set read my How to here. Once open store the jam in the refrigerator for up to 3 months.
Nutrition information is approximate and is meant as a guideline only.
Nutrition
Serving:
2
tablespoon
|
Calories:
110
kcal
|
Carbohydrates:
28
g
|
Sodium:
1
mg
|
Potassium:
77
mg
|
Sugar:
27
g
|
Vitamin A:
25
IU
|
Vitamin C:
2.1
mg
|
Calcium:
23
mg
|
Iron:
0.1
mg