The pomegranate flavour in this Peach and Pomegranate Jam is subtle but oh so delicious. It is fast becoming my favourite flavoured jam. What's more, it is really easy to make.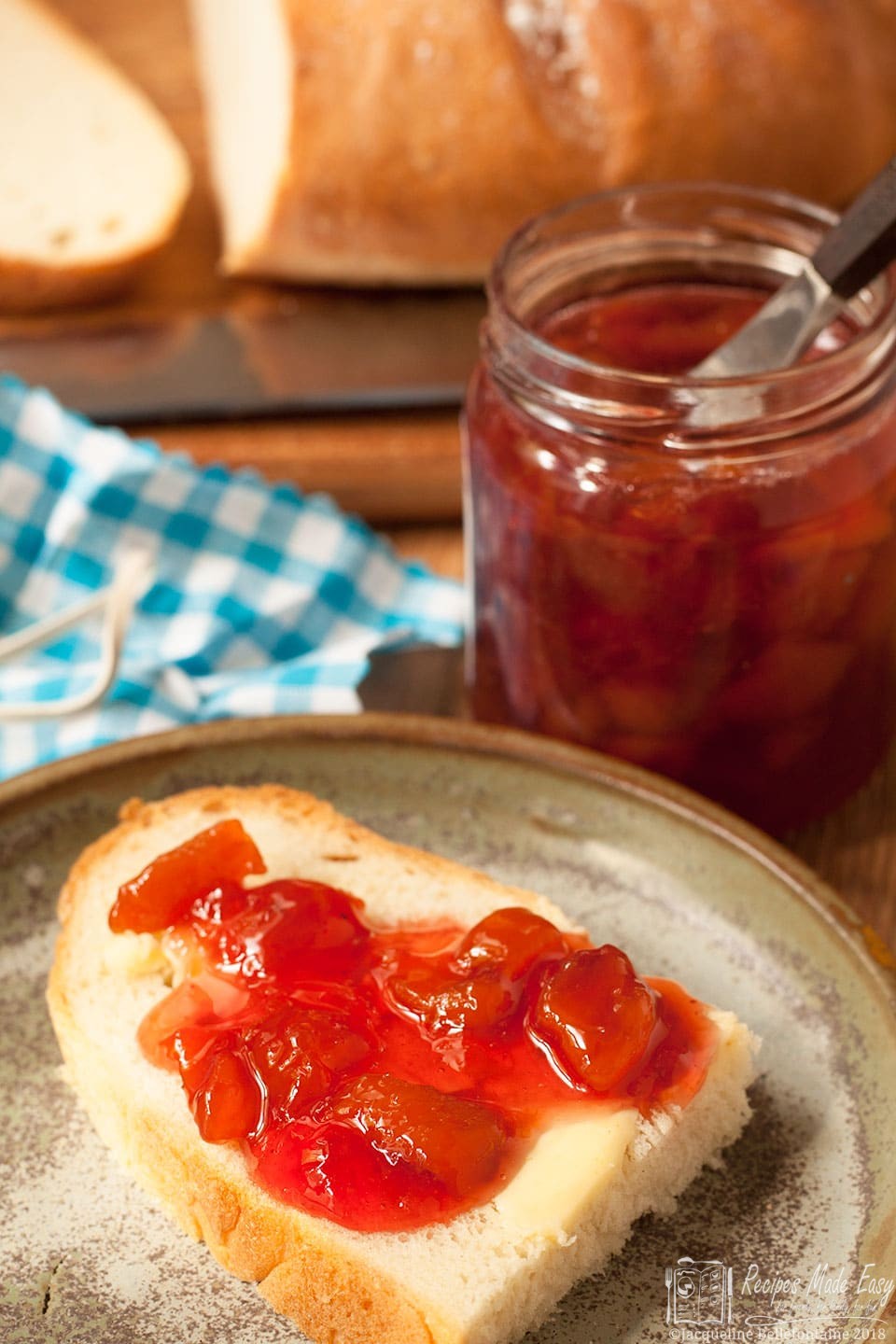 If you have been following Recipes Made Easy then you can not have failed to have noticed that this year I have really got the preserving bug. I have made jams for many years but less so recently and I was beginning to forget just how easy it was to make. However with my newish allotment really started to bear lots of fruit and not wanting any of my hard work to be wasted I've rediscovered a passion for making preserves. So last week when I was asked if I would like to go to a workshop on modern jam making, I couldn't say no!
It was hosted by the lovely people at Thermapen (who make the most accurate and reliable food thermometers - I should know, I have got through a fair few over the years until I discovered theirs, so I can't help but rave about them) and presented by well know food writer Mary Cadagon. So what is modern jam making? Mary explained how today's jam makers and consumers tend to like jam with a little less sugar and a softer set. They also like to play around with different flavours perhaps by adding unusual herbs and spices, a splash of booze or an unusual fruit combination. Her Greengage with bay jam, and peach, raspberry and lavender jams were sublime.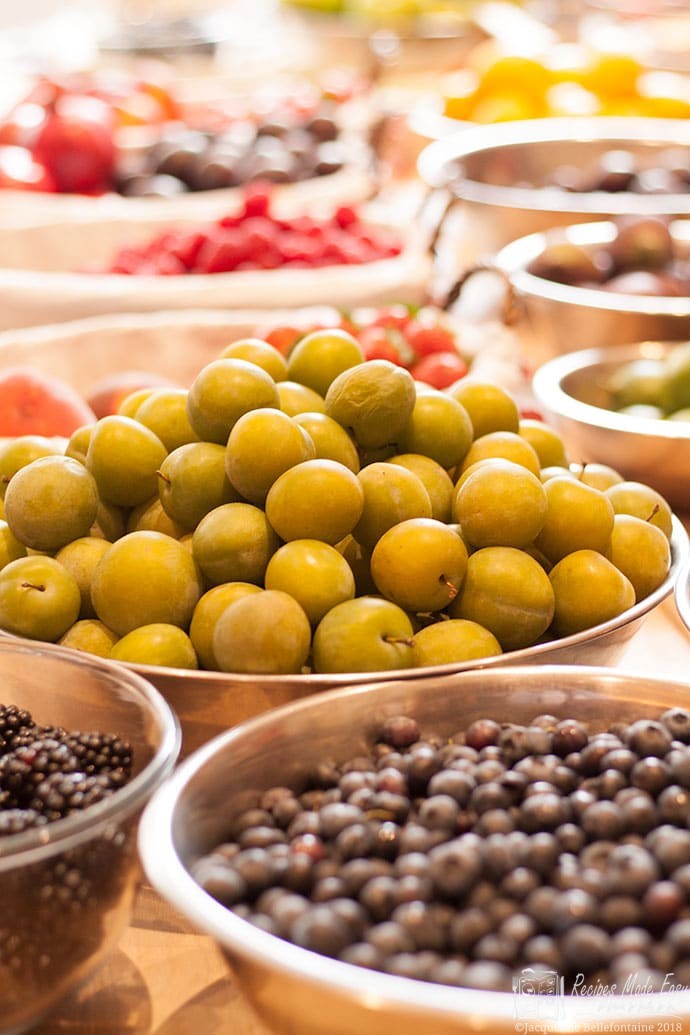 After the introduction, we set about in pairs making our own small batches of jam. Surrounded with some fabulous fruit and flavourings to choose from I was in my element. Partnered with an old friend Ann we set about making our peach and pomegranate jam. The flavour is subtle but delicious and a little lime gives it a little bit of acidity which helps balance the flavour. Cinnamon and cardamon completes the flavours.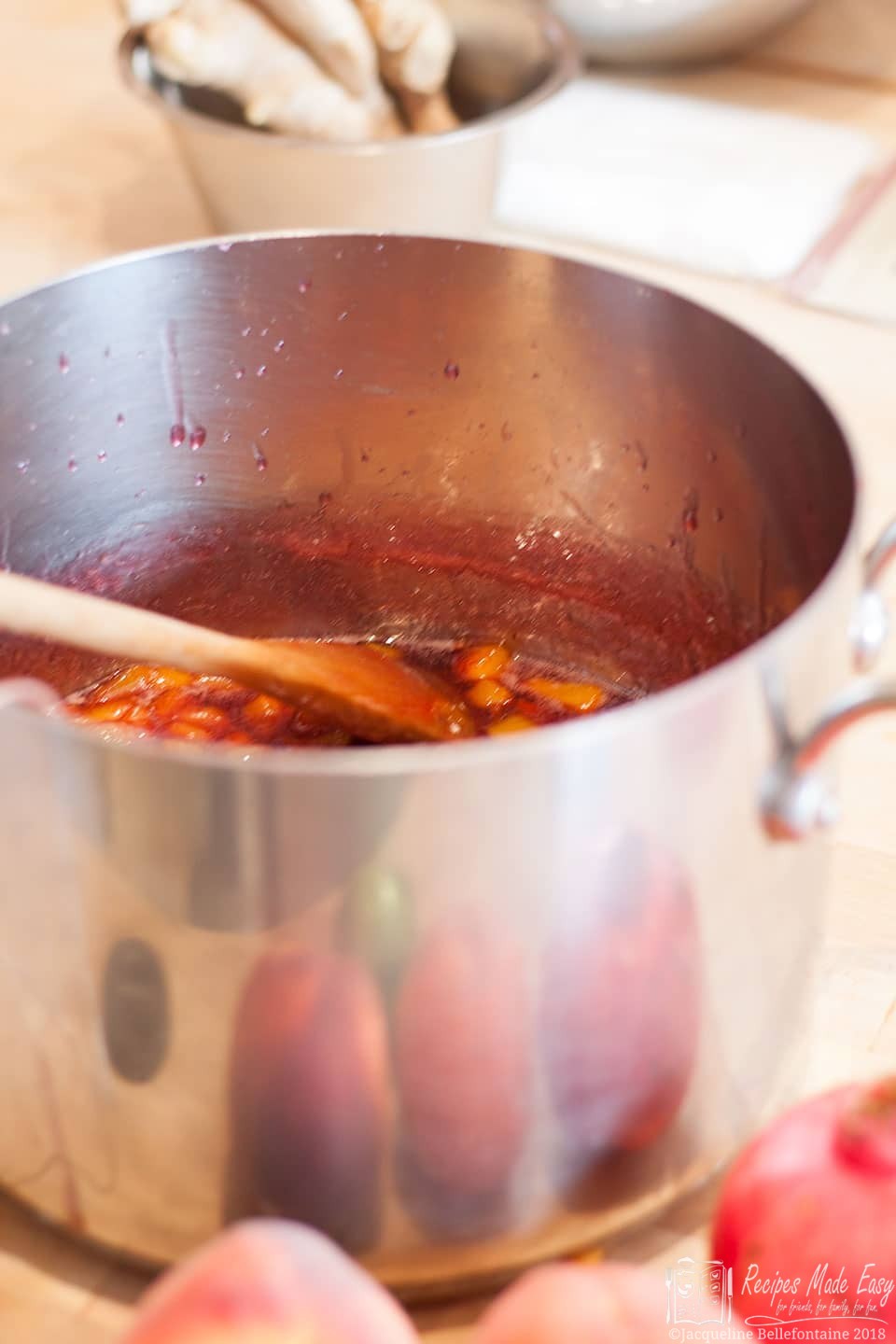 Being lower in sugar (traditionally sugar and fruit is added in equal quantities, we were using 750g to 1 kg of fruit) the jam will not keep quite as long and is best stored in a cool dark place, ideally the fridge, especially after opening. But who wants to eat jam that's years old anyway? By making it in smallish quantities of about 4-6 jars this is hardly a problem and has the advantage that the jam is quicker to cook saving time and giving it a fresher flavour than when made in large quantities. Mary suggested that from a batch of four jars you could eat one, keep one to enjoy a little later, give one to a friend and make a super easy ice cream by mixing one jar with some whipped cream and freezing (no churning required - I have to try that!).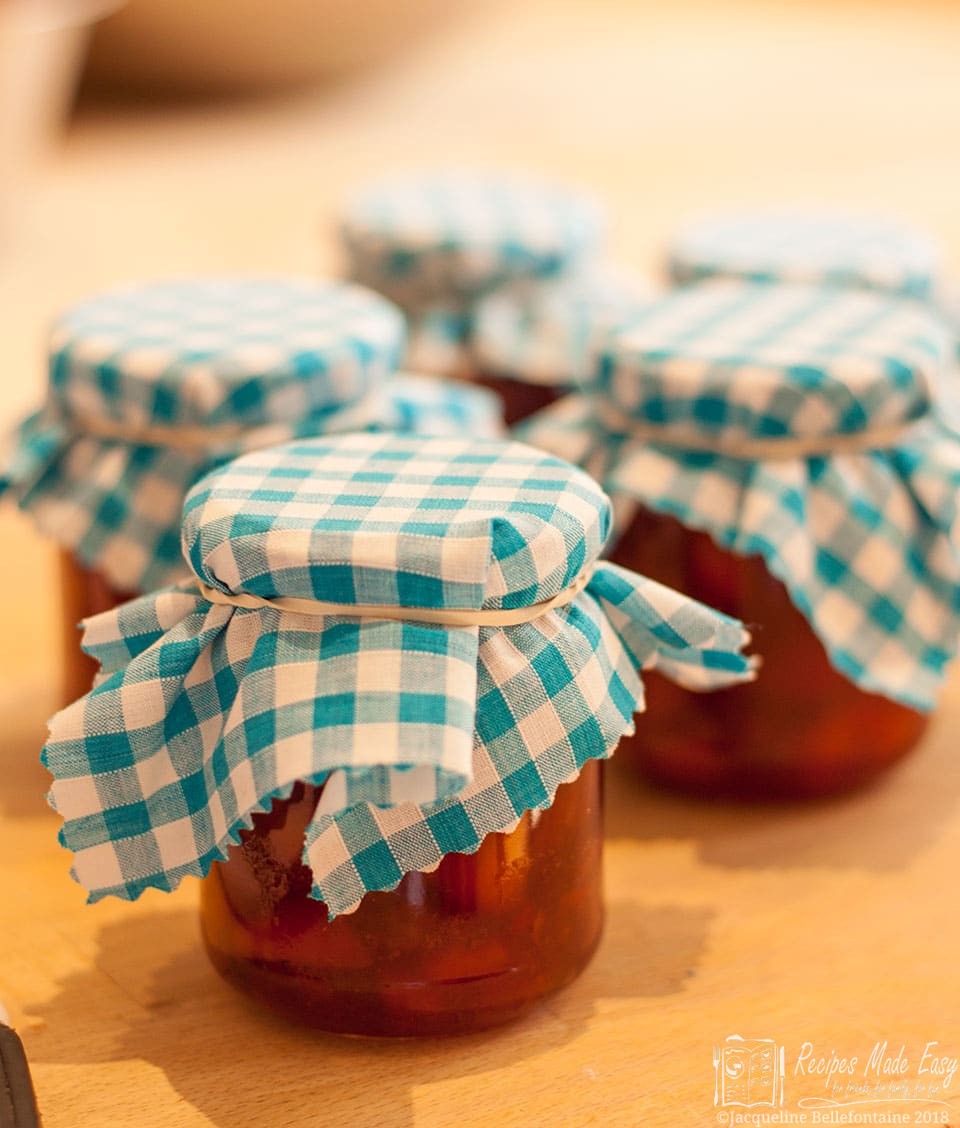 Peach and Pomegranate Jam
Print Recipe
Pin Recipe
Save Recipe
Saved!
The pomegranate in this unusual flavoured jam gives it a beautiful colour.
Ingredients
1

kg

peaches

1

large

pomegranate

5

cardamom pods

crushed

1

stick

cinnamon

2

limes

750

g

jam sugar

(sugar with added pectin
Instructions
Wash the jars in hot soapy water and either put in a roasting tin and sterilise in the oven at 160C/fan 140C/gas 3 for 10 mins, or put upside down in the top of the dishwasher and run a hot wash without detergent. The jars need to be warm when filled, so time this carefully.

Place the peaches in a bowl over a pan with boiling water and allow to stand for about 5 minutes. Remove from the water and remove the skin. Cut in half and discard the stone. Then chop the flesh into small pieces.

Place the chopped peaches into in a large heavy based pan. Line a sieve with a piece of muslin and place over the pan. Cut the pomegranate in half. Scoop out the seeds and juices and strain through the sieve. Once you have strained the juice gather up the muslin and squeeze out as much juice as possible. Open the bag of muslin and pop in the cardamon pods and cinnamon. Tie up with a piece of string and add to the pan.

Add the juice of one of the limes and the sugar to the pan. Heat gently, stirring until the sugar has dissolved. Then increase the heat and bring to the boil. Keep the jam at a good boil, stirring until setting point of 105℃/220°F is reached.

Skim off any excess scum from the surface of the jam using a slotted spoon. Stir in the juice from the remaining lime.

Cool the jam for 10-15 mins, then stir to distribute the fruit evenly and ladle into the warm jars, using a jam funnel if you have one. Add wax discs to the surface of the jam and screw on the lids.

When cool add a label with the type of jam and date made. Store your jam in a cool dry place.
Notes
Testing for set
There are various ways of checking your jam is set. The most reliable is using a digital thermometer as it takes the guesswork out of the process and ensures you don't overcook the jam and preserve all the fruity flavours.
If you don't have a thermometer another way to test is to put a couple of saucers in the freezer when you start your jam making. When you think the jam has set, remove it from the heat and spoon a teaspoonful onto a chilled saucer. Leave a minute, then push the jam with your finger, if it wrinkled the jam is ready, if not return to the heat and boil for a further 5 mins before retesting.
JAM SUGAR
This is large crystal sugar with added pectin for use with lower pectin fruits such as peaches. Not to be confused with preserving sugar which is large crystal sugar without pectin and is used with fruits that has high pectin content. Both these sugars produce clearer results with less scum than granulated sugar, though they are more expensive. Adding a knob of butter once a set has been reached will help to disperse any scrum.
Nutrition
Serving:
1
jar
|
Calories:
562
kcal
|
Carbohydrates:
144
g
|
Protein:
1
g
|
Sodium:
2
mg
|
Potassium:
358
mg
|
Fiber:
3
g
|
Sugar:
139
g
|
Vitamin A:
555
IU
|
Vitamin C:
17.8
mg
|
Calcium:
30
mg
|
Iron:
0.9
mg
More Jams Made Easy