Do you like making jams and preserves? Is chutney your thing? Follow my How To and Tips for Success. Here I explain how to sterilise jars, test for set, and pot and seal jars when making jams and preserves. Looking for some recipes to get you going , you could try making my Marmalade, Strawberry or Whitecurrant Jam or Apple jelly.

How to Test for Set

When making jams and preserves you will need to test to see if setting point has been reached. Some recipes will give you a temperature but this can still vary, so it is worth testing as well.
Before you start making your jam or preserve, place a couple of plates in the fridge to chill.

When you are ready to test for set,

drop a little of the preserve onto a chilled plate and return to the fridge for about 2 minutes. Gently push your finger into the mixture and see if it mounds and wrinkles. If so, the setting point has been reached.

If not, return the mixture to the boil for another 5 minutes and retest. Repeat again as necessary until setting point is reached.
Remember to turn the preserve off while you test for set.
How to sterilise Jars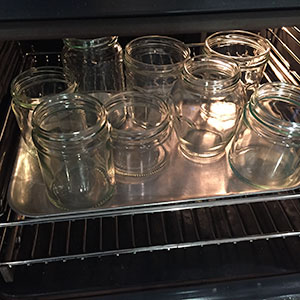 Wash the jars in warm soapy water and rinse well. Do not dry.
Place the wet jars on a tray, heat the oven to 140℃ (120℃

fan)/275°F /gas 1 and put the jars in the oven to dry completely.
Sterilise the lids (and rubber rings if using Kilner style jars) in a pan of boiling water for 5 minutes.
I always sterilise one or two more jars than I think I will need, to ensure I have enough.
Filling The Jars

Fill the jars while they are still hot.
Jellies and shredless marmalade can be potted immediately after setting point has been reached.
Jams with fruit pieces and marmalades with shreds should be allowed to cool slightly and stirred. This will evenly distribute the pieces and prevent them from rising to the top of the jar.
Use a wide funnel to make filling easier.
Fill almost to the rim to allow for shrinkage on cooling.
Pack chutneys and thicker preserves down well and try to exclude any air bubbles.
Sealing

Immediately each jar is filled, cover the top with a waxed disc (wax side down) or piece of parchment so that it lies flat on the surface and excludes any air. This will help to prevent mould forming in storage.
Then place the lid on the jar while the jam is still hot.
Jars can be sealed with cellophane secured over the jar with a rubber band. As the preserve cools the cellophane will tighten producing and airtight seal.
Storing
Remember to label and date your preserves before storing. Store in a cool dry place. Most preserves will keep for several years if stored well. Refrigerate after opening and use within a few months.
Do I need to use a water bath?
In some countries preserves, jams and jellies are further processed in a water bath. Traditional UK jams tend to have a higher sugar content so this additional step is not required. If the jam has reached setting point and the jars are sterilised and sealed properly the jam will still keep safely for up to 1 year.
If a preserve required this additional step the recipe should give instructions on how to carry out this process.