I made this semi-naked wedding cake for Ellie, the daughter of a good friend of mine. Each tier has a different flavour so that there is something for everyone and although not for the fainthearted, it really isn't as difficult to make as you might think.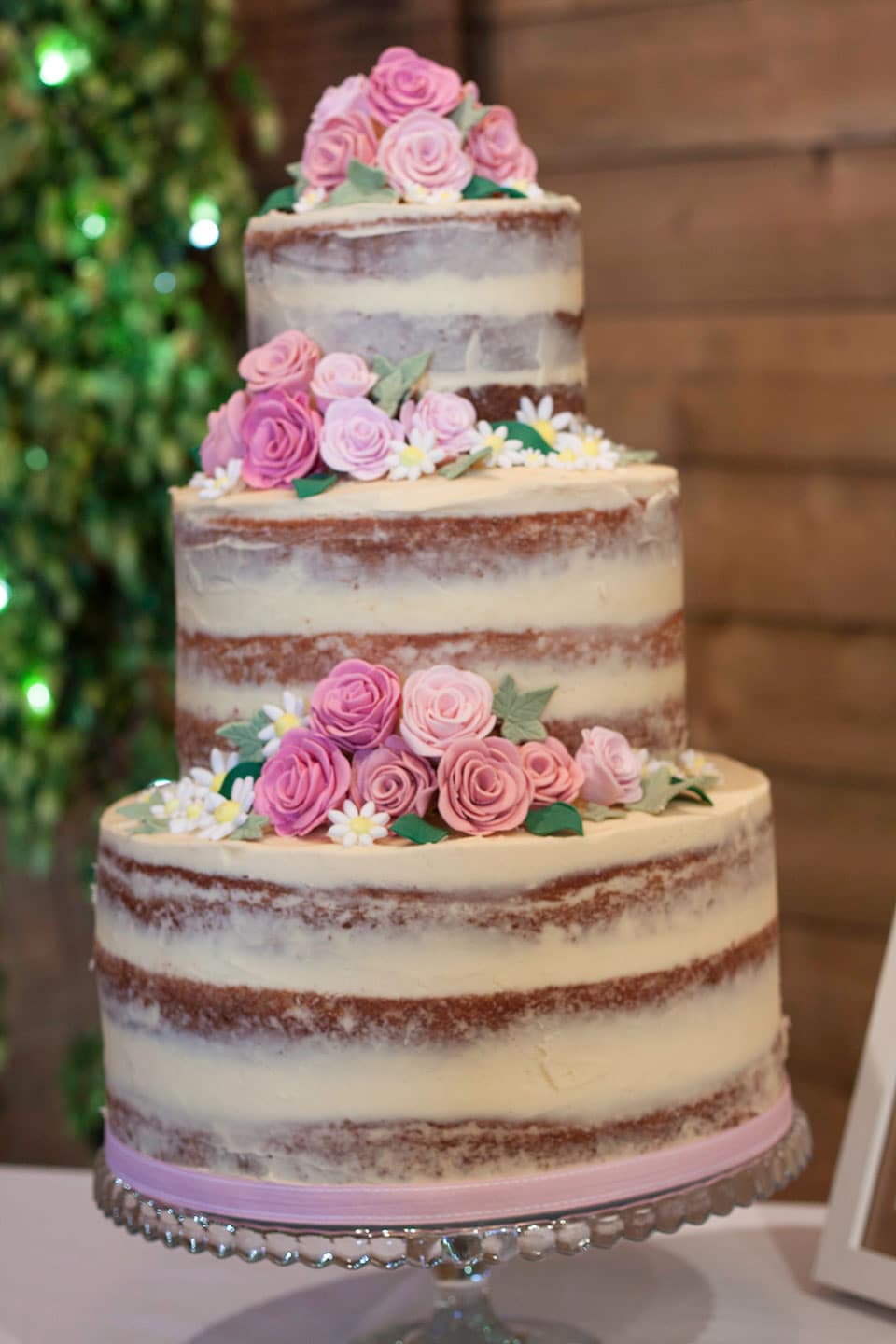 You may think a wedding cake is not an easy task to take on and you would be right. There is certainly a lot of work making it, plus the pre-planning, testing and organisation, and of course the stress of getting it right on the day, but, as you know, at Recipes Made Easy I like to make everything I share as easy as it possibly can be. So if you just think of it as just a stack of three individual sandwich cakes suddenly making this semi-naked wedding cake doesn't seem so hard after all.
A semi-naked Wedding Cake for Ellie
I made this semi-naked wedding cake last year for Ellie and I would be lying if I said I wasn't nervous about making it. Despite having made more cakes than I care to remember including some decorated cakes for special occasions, I had never made a wedding cake before. Well, actually, I did make a wedding cake once, but for someone else to decorate. That's because in the past wedding cakes tended to call for a degree of cake decorating skill which is way above my own.
However, with the current vogue for sponge cake with buttercream as the cake of choice, once you break it down into sections it really is not that difficult at all for anyone with a bit of baking experience under their belt. It is, after all, just a combination of several sandwich cakes stacked on top of each other. So I accepted the challenge.
Ellie wanted three tiers each a different flavour. For the bottom tier, she wanted something similar to a classic Victoria Sandwich. However, when baking a Victoria sandwich larger than about a 23cm (9in) it tends to dry out too much around the edges. We wanted a 30cm (12in) cake. I discovered this Vanilla Yogurt Cake from fellow food blogger Jo at Every Nook and Cranny which was ideal and used the following quantities to make a single layer. I baked the cake for 55-60 minutes until springy to the touch.
320g Softened butter
400g caster sugar
400g plain flour
1 tablespoon baking powder
½ teaspoon bicarbonate of soda
4 large eggs
1 tablespoon vanilla extract
320g Greek Yogurt
If you want all your cakes to be the same as this base cake check out Jo's post on making a Naked Wedding Cake. She has listed the quantities she uses for each different sized tiers. You will notice that she uses more for her 30cm (12in) tier than I have as I didn't want the layers to be quite so deep. Jo also has some fabulous tips on the page so it is well worth reading.
Because we were after different flavours in each layer I used my pistachio and lime cake recipe for the second tier and a coconut and raspberry cake (recipe below) for the third tier which, unlike the other two tiers, I baked as one cake and then cut into three layers.
Naked, Semi-naked or covered
I don't really like these terms, but they seem to be what everyone uses. If you are wondering what the difference is, this is my interpretation. A naked cake is one in which the cake has no outer covering of icing. It is simply a layered sandwich cake. Simple but effective.
A semi-naked cake has a thin layer of icing over the sides but you can still see some of the cake peeking through at the sides. Taking this a step further, I guess that a cake completely covered by the butter icing is called a covered cake.
When making a semi-naked or naked wedding cake I recommend that you buy or hire good quality tins to make the cake as these are less likely to stick and the cakes are less likely to burn or catch around the edges.
Obviously the amount of buttercream you require to create each of the effects is going to vary. Whichever style you opt for I would recommend you make more buttercream than you will need. Any leftover icing can be frozen for future use. I made double quantities to be on the safe side but half as much again should suffice. For the bottom tier. I used about 900g (2lb) butter and 1.8kg (4lb) icing sugar plus vanilla extract. Yes, it is a lot of buttercream but it serves a lot of people!
In addition to the buttercream I added a layer of strawberry jam in the bottom tier.
Before covering a semi-naked cake I would recommend popping the filled cake into the freezer for about 30 minutes- 1 hour or so to firm up the edges and so reduce crumbs spoiling the finish.
For a covered cake proceed as for the semi-naked cake and cover with a thin layer of buttercream first. This first layer is sometimes referred to as the crumb coat. Chill again before putting the finishing layer of buttercream.
Finishing the Cake
There are a number of ways you can finish the cake. For a summer wedding, fresh berries work really well with a naked wedding cake. I tried it with the semi-naked cake as pictured below and I wasn't so sure. To me it looked unfinished but it does work on a single layer cake - see my pistachio and lime cake. Some sprigs of redcurrants or white currents would also glam it up a bit more.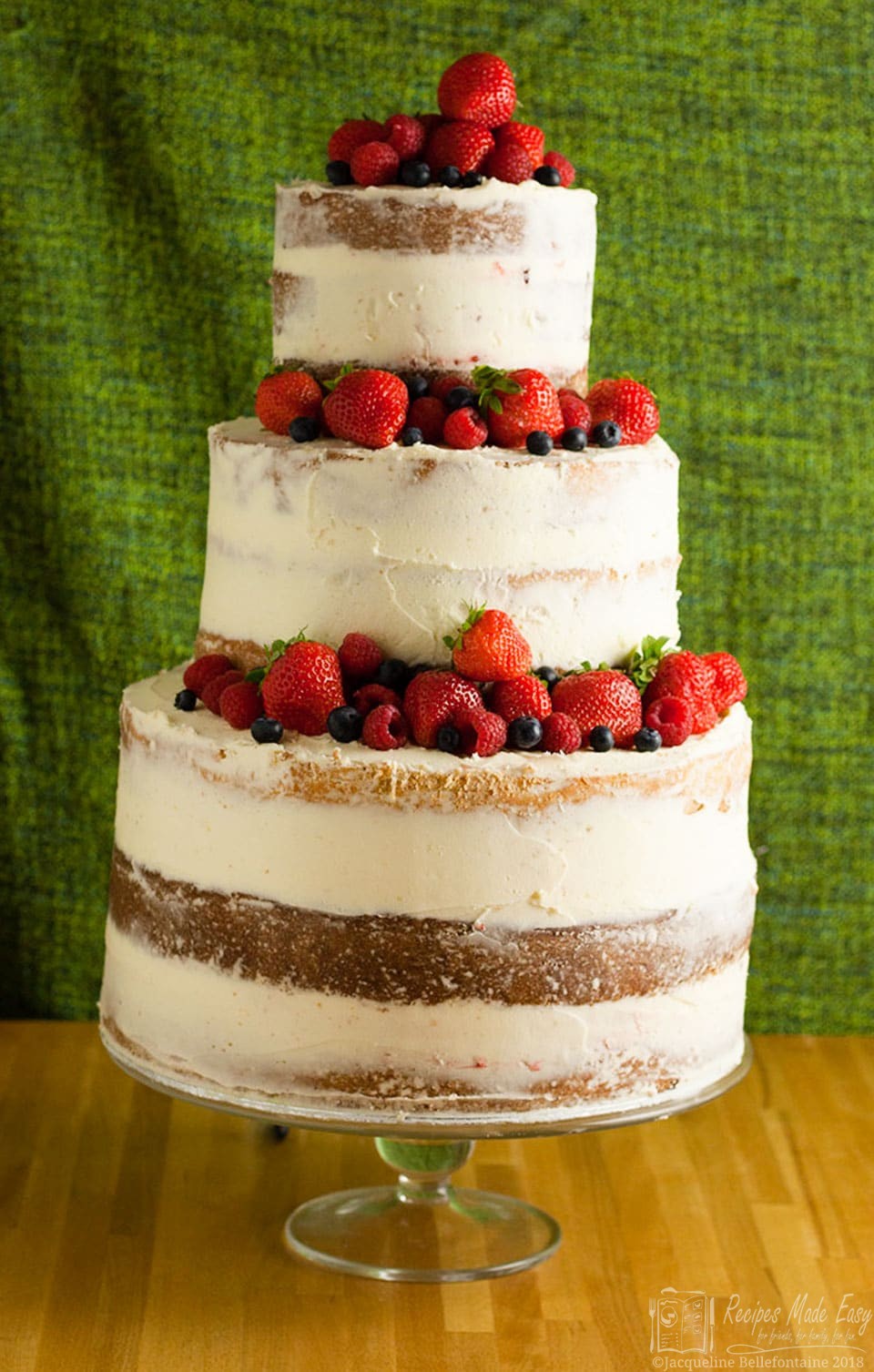 Fresh flowers work really well with all styles. For Ellie's cake I opted to make my own sugar paste flowers. As I have said I am no expert cake decorator but I found a simple tool for making sugar roses. They are easy and fairly quick and you can see how to make them in my how to make easy sugar roses guide. I then added some simple easy sugar daisy flowers. To finish off I used some leaf cutters to make sugar paste leaves.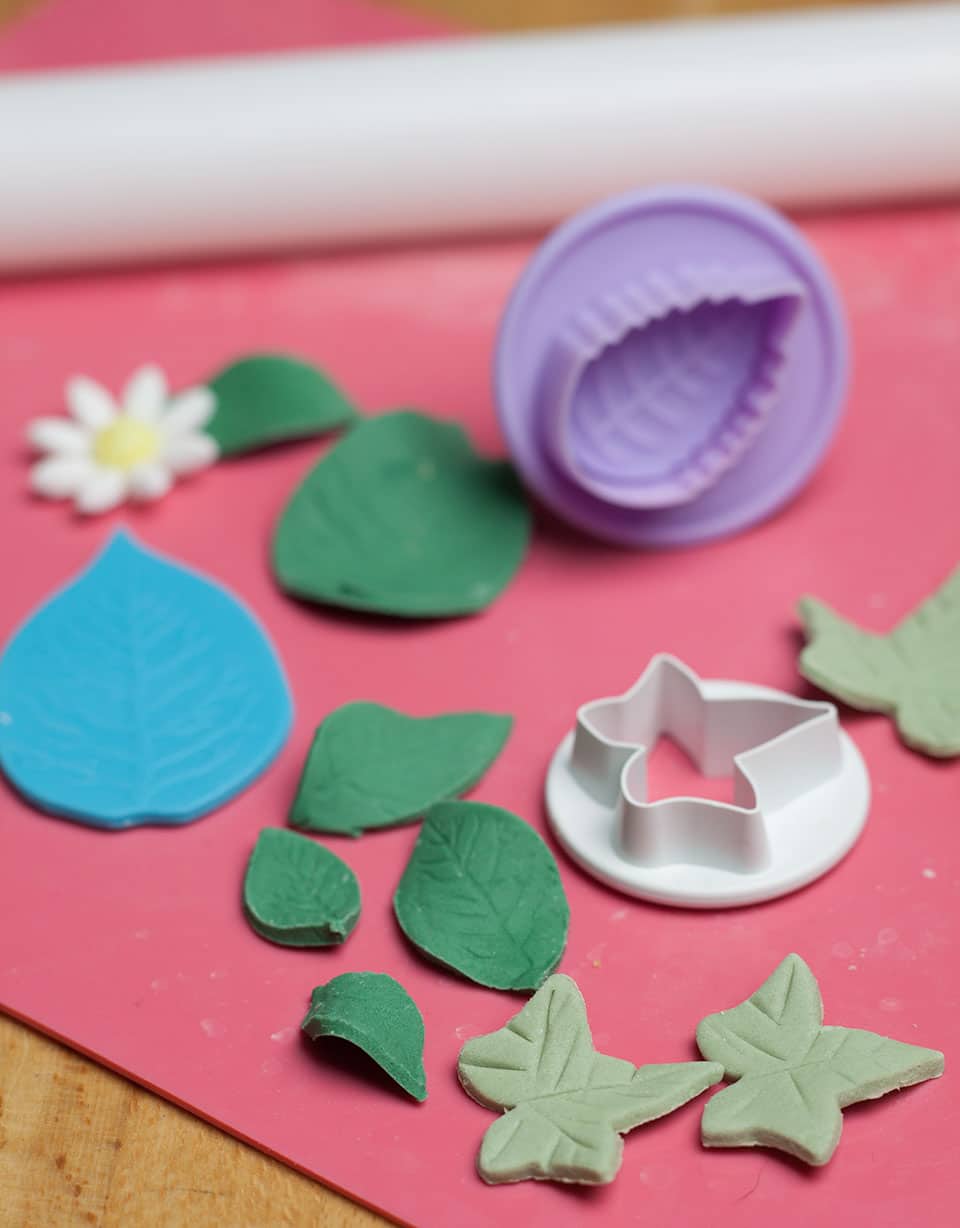 You could also buy a pretty cake toppers for the top tier if you like.
The cake will need to be assembled on the day. Read Jo's post for some great tips to avoid last minute complications. I put the top and middle tier on cake boards that were the same size as the cakes which were then hidden once the cake was decorated. The bottom tier was on a cake drum which I covered with a ribbon.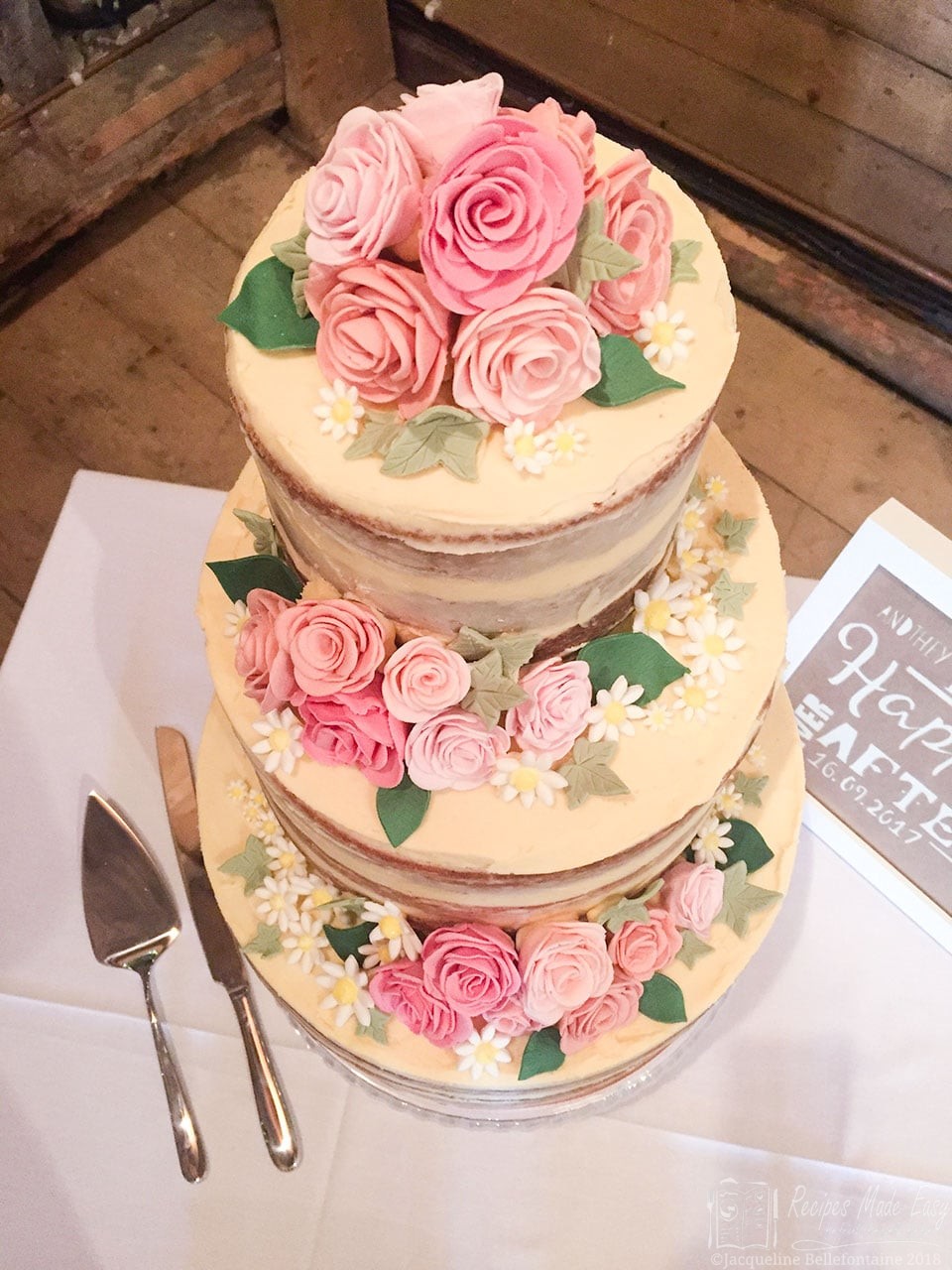 Each tier was supported on 4 wooden dowels pushed through the cake below and cut level with the top of the cake. To allow more room for the decoration the cake stacked slightly off centre. Once stacked in situ the fondant flowers and leaves were stuck in place with a little more buttercream.
Hints and tips
Three tiers will give you a large wedding cake with a good height, and will almost certainly be more than enough except for exceptionally large and grand affairs. If you want something a little more modest, you could use just two layers in each tier. Alternatively, opt for a two-tier cake.
Before the big day
Plan and make any decorations you require.
Allow at least one day for the baking of the cakes. If you need to start earlier, make the vanilla yogurt cake first as this cake is very moist and keeps well.
Make the buttercream in advance and store in airtight containers in the refrigerator for up to 1 week before using. Bring to room temperature before using.
Use a 18cm (6in) cake board for the top tier a 23cm (9in) cake board for the middle tier and a 30cm (12in) cake drum for the bottom tier. Secure the bottom layer of each tier to the cake boards/drum with a good dollop of buttercream, then layer and cover the cakes.
On the day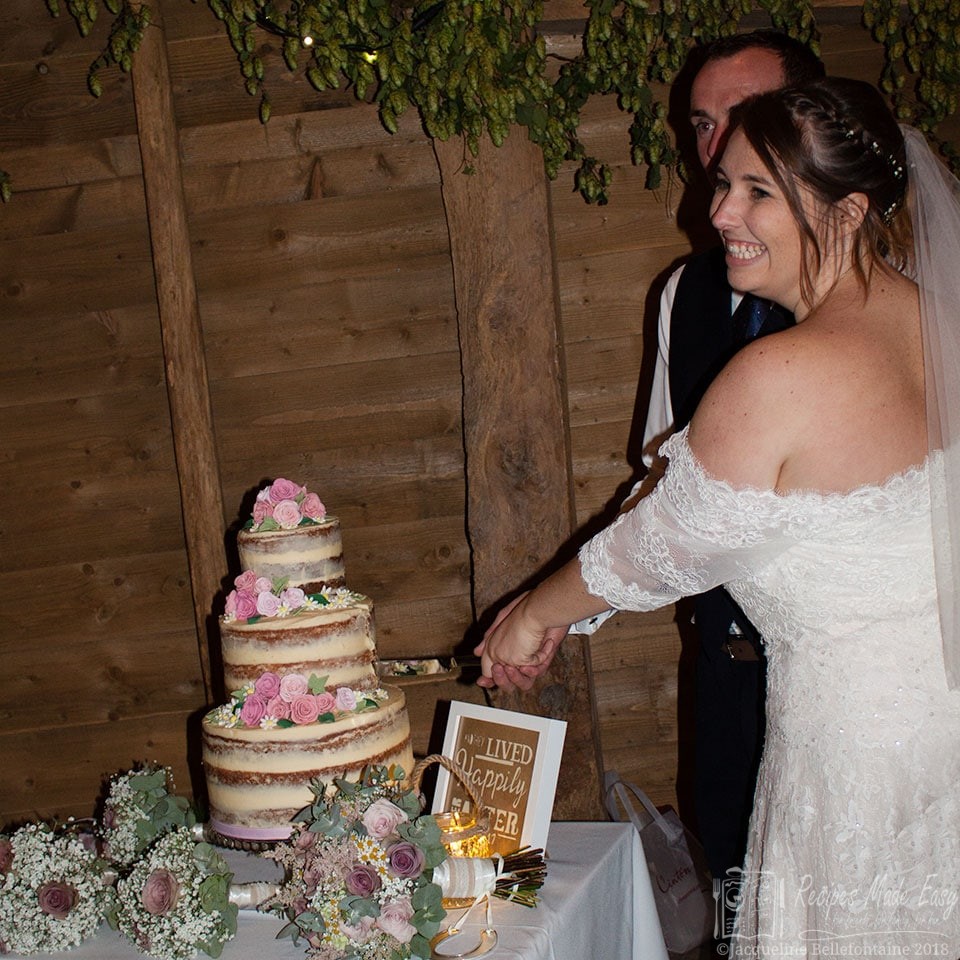 Assemble in situ. These cakes are very difficult to move once assembled
Use four dowels positioned at 12, 3, 6 and 9 o'clock approximately 3cm (11/2 in) in from the edge of each tier to support the cake above.
Stack the cakes and decorate as desired.

Raspberry and Coconut Layer Cake
Print Recipe
Pin Recipe
Save Recipe
Saved!
A three layered coconut cake filled with raspberry jam and buttercream
Ingredients
for the cake
200

g

butter

softened plus extra for greasing

200

g

caster sugar

3

large

eggs

200

g

self-raising flour

75

g

desiccated coconut
for the buttercream
175

g

butter

350

g

icing sugar

4

tablespoon

coconut milk
to complete
12

tablespoon

raspberry jam

fresh raspberries

(optional)
Instructions
Make the cake
Place a roasting tin in the bottom of the oven and fill with about 3cm (1in) water. Preheat the oven to 180℃ (160℃ fan)/350°F/gas mark 4. Grease and line a 18cm (6in) deep cake tin.


Beat the butter and sugar together until pale and fluffy. Add the eggs one at a time, beating well after each addition.

Sift in the flour and add the coconut. Carefully fold in. Spoon into the prepared tin and bake in the centre of the oven for about 1 hour to 1 hour 15 minutes until a skewer inserted into the centre comes out clean.

Allow to cool in the tin for about 15 minutes, then transfer to a wire rack to cool completely.
Make the buttercream
Beat the butter until pale, then add the icing sugar a third at a time and beat until combined. Add the coconut milk and beat until very fluffy.
To complete:
Trim the top of the cake level if required then carefully cut into three equal layers.

Spread about one third of the buttercream over one of the sponge layers. Place the next one on top and repeat with another third of the icing and the third layer.

Use the remaining buttercream to coat the top and sides of the cake. Pile raspberries on top and serve or use as the top tier of a wedding cake.
Nutrition
Calories:
587
kcal
|
Carbohydrates:
73
g
|
Protein:
4
g
|
Fat:
32
g
|
Saturated Fat:
21
g
|
Cholesterol:
114
mg
|
Sodium:
251
mg
|
Potassium:
102
mg
|
Fiber:
2
g
|
Sugar:
55
g
|
Vitamin A:
848
IU
|
Vitamin C:
2
mg
|
Calcium:
24
mg
|
Iron:
1
mg