Sourdough bread is gaining in popularity and this no-knead sourdough recipe is really easy to make and only requires a little hands on time. Its hard to believe that just flour salt and water can make such a tasty loaf.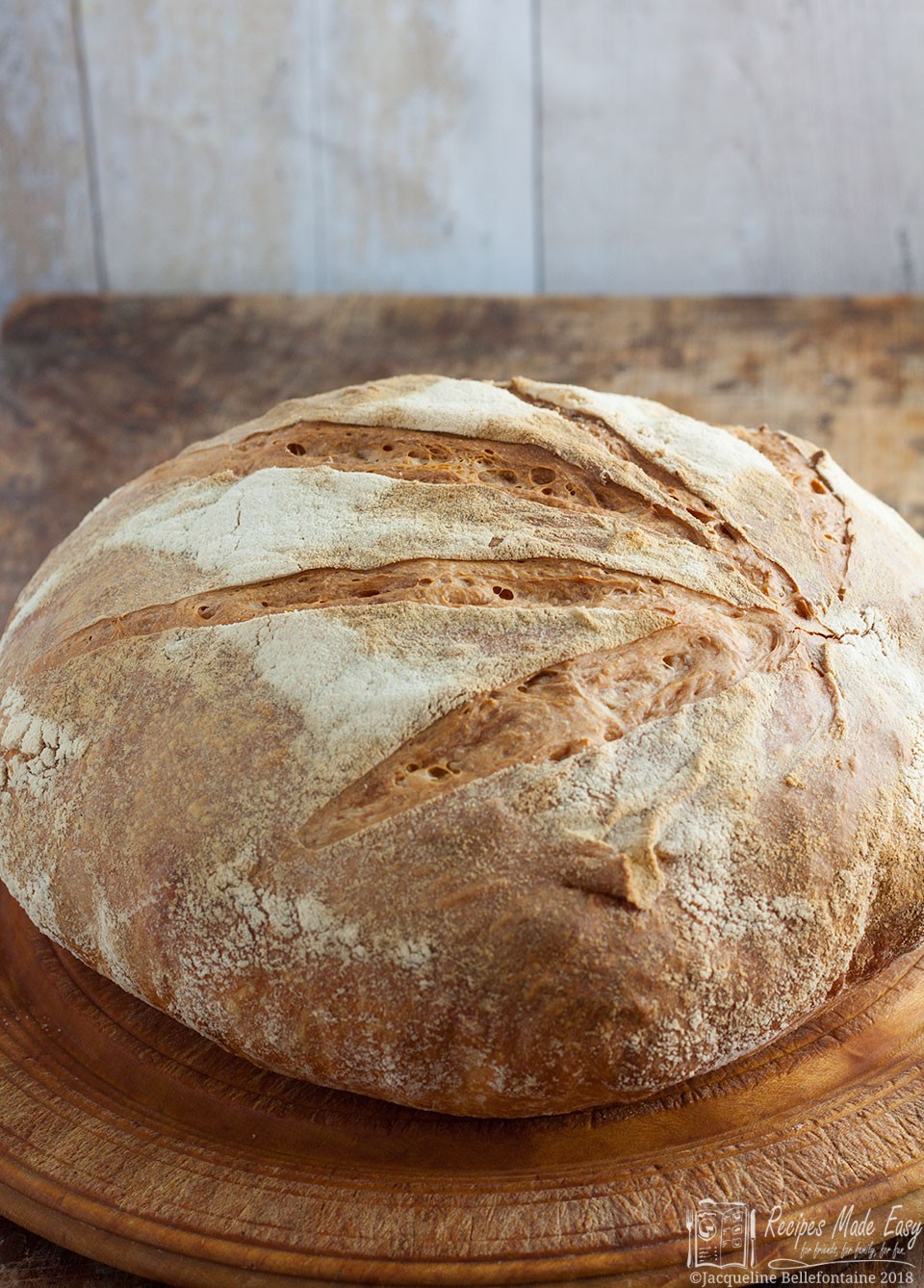 Regulars to my blog will know I like making bread. At home I have been making sourdough bread on a near daily basis for almost 3 years, and for many years before that on and off .
Over time, from reading many recipes and going to demos etc, I have finally developed my own no-knead sourdough loaf recipe which is about as easy as it is going to get. It will also make you wonder how three simple ingredients: flour; water; and salt can taste so good.
Before I started this blog a few friends had asked me for the recipe and are now making sourdough. So when I started the blog they suggested I share it on the blog too.
Until now I have been a little hesitant since it can be a bit tricky. There are so many more variables to consider - ambient temperature, humidity, how active the sourdough starter is and so on. That said, once you get the hang of it it really is very easy. With this week being National Real bread week, I felt I should hesitate no longer and finally share my recipe with you.
The actual hands on prep time is quick and takes no more than 10 minutes. After that it is just a case of letting the dough rise for several hours in two stages and then baking. Even when the no-knead sourdough loaf hasn't gone quite to plan, I have yet to end up with a loaf that is inedible.
It always tastes great, even though sometimes it looks not as good as I would like it to and with a bit of practice that happens less and less. So if you have ever thought of making sourdough but haven't tried it yet, then do give it a try. You will find soon be producing amazing bread and find a routine that works for you, and will wonder why you haven't done this earlier.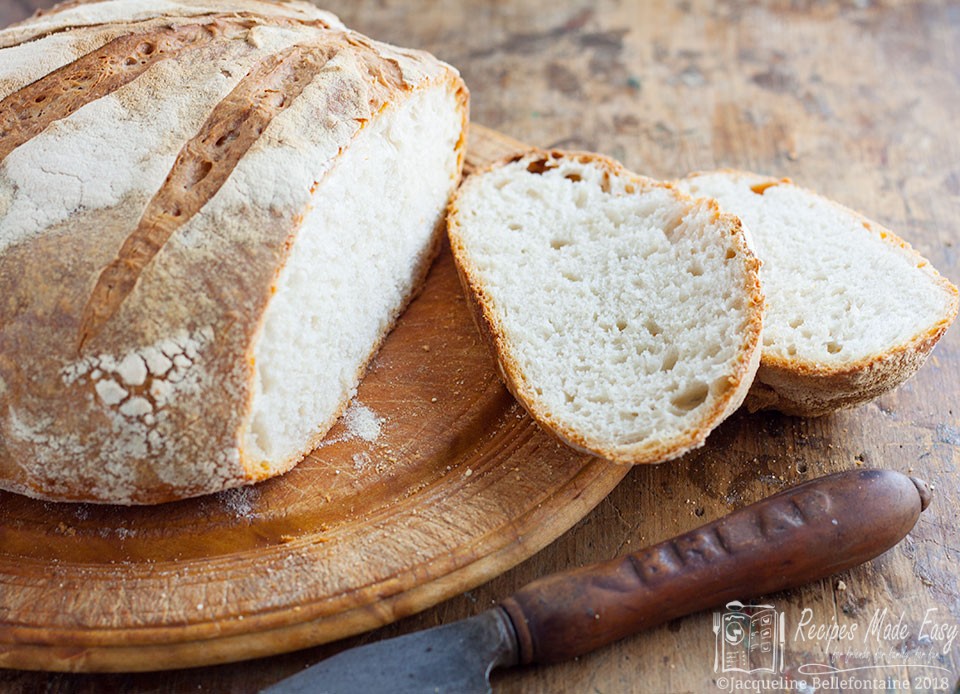 Getting a routine
I make up my dough just before going to bed at around 11pm (it takes less than 5 minutes to make). Mr B then shapes it in the morning at about 8am which also takes less than 5 minutes.
It is then left for its second rise, and I pop it in the oven about midday. If you are not home during the day this is obviously not going to work for you. However, you could make the dough before work in the morning, shape when you return home, and bake before bed. Or you can slow down the process by popping it in the fridge and bake in the morning.
Alternatively you could make in the morning, shape at lunchtime and bake early evening, if your day permits. The options are endless, as long as you bear in mind you need about 12 hours in all, with the first rising taking the longest 8–10 hours, and the second 4 – 6 hours. If it has a longer first rise the 2nd will be quicker and vice versa. – It all about finding what works for you.

The sourdough starter
Before you make a sourdough loaf you will need to have a sourdough starter. If you have a friend that makes sourdough you could ask them for a bit to get you started. If not you will have to make your own which will take a few days.
Day 1 – mix 3 tablespoon of organic bread flour with 3 tablespoon water.
Days 2 -4 – add another 3 tbsp bread flour and 3 tablespoon water to the starter each day.
Keep your starter in a sealable container. A word of warning though, for a year or so I kept one of my starters in a Kilner jar until one time when I was feeding it (the process of adding fresh flour and water) the bottom of the jar cracked open while I was stirring it. The result? One horrendous mess. In addition, I had to start all over again. Now I play it safe and use a tall plastic container with a clip on lid.
The starter needs to be left in a warm place to get started, so for the first few days keep it in a warm place about 20–30C but not in the full sun or it may become too hot and kill off the yeast. If your room is at the lower end of the range you can help the starter along by adding warm water (up to 35C). If it isn't warm enough the only thing that will happen is that the starter will just take a little longer to get going.
I like to make my no-knead sourdough loaf with organic flour, but this is not essential. It is, however, important to use organic flour to make the starter.
Use bottled spring water or filtered water since the chlorine in tap water will inhibit the starter. Once established you can use tap water if you like. Personally I prefer to use filtered water.
Once the starter is bubbly and active keep it in the refrigerator. If you are making bread everyday you can just keep it at room temperature as long as it is not really hot.
There is more than one way to make a starter. Paul Hollywood adds grated apple to the starter to get it going quickly. Others recommend using wholemeal flour as there are more natural yeasts on the outer bran of the wheat, although I have always found it to work perfectly fine to use just white flour. Alternatively you can buy dried wild yeast in a sachet on-line and use these as a fail safe way of making a starter. My current starter was made as above with stone ground flour from Woodbridge tide mill.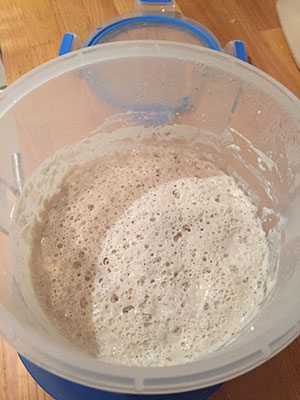 Using your starter
You may have heard a lot of talk about having to nurture and feed your starter. If that sound like a lot of faff, don't let that put you off, it isn't. Once you have a strong starter, it will be quite robust and can last months with out being used, and can be brought back to life by feeding with some fresh flour and water.
If you haven't used your starter for some time you may need to discard about half and add flour and water to replace it allowing a few hours at room temperature or a day in the the refrigerator until it is active again.
Don't worry if a rather ugly grey liquid forms on top, this just indicates your starter is hungry again. Simply stir in and add a little more flour and water. When it is active, it will look like the starter in the picture above.
If you make your no-knead sourdough every day or so you will not need to feed at all, as you will be replacing the starter that you use (and so in effect feeding it) as part of the baking process.
If you only bake once a week or so I would recommend mixing in a about 2-4 tablespoon flour and 2-4 tablespoon water and leaving it at room temperature for about an hour before using, just to get it really going again but it is not essential.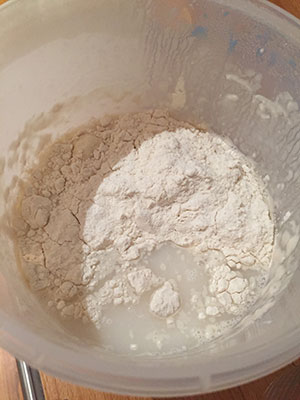 Making the no knead sourdough loaf, Step by step
That's an awful lot of words for me, and I hope I haven't put you off. In any case, if you have managed to get this far, hopefully you are willing to take the plunge. Now for the fun bit. You have an active starter and you know how to look after it, so you are all set to make bread.

I cover the bowl with a disposable shower cap which works for me as I can use it again and again but you can cover the bowl with cling film, a tea-towel or stick it inside a clean carrier bag.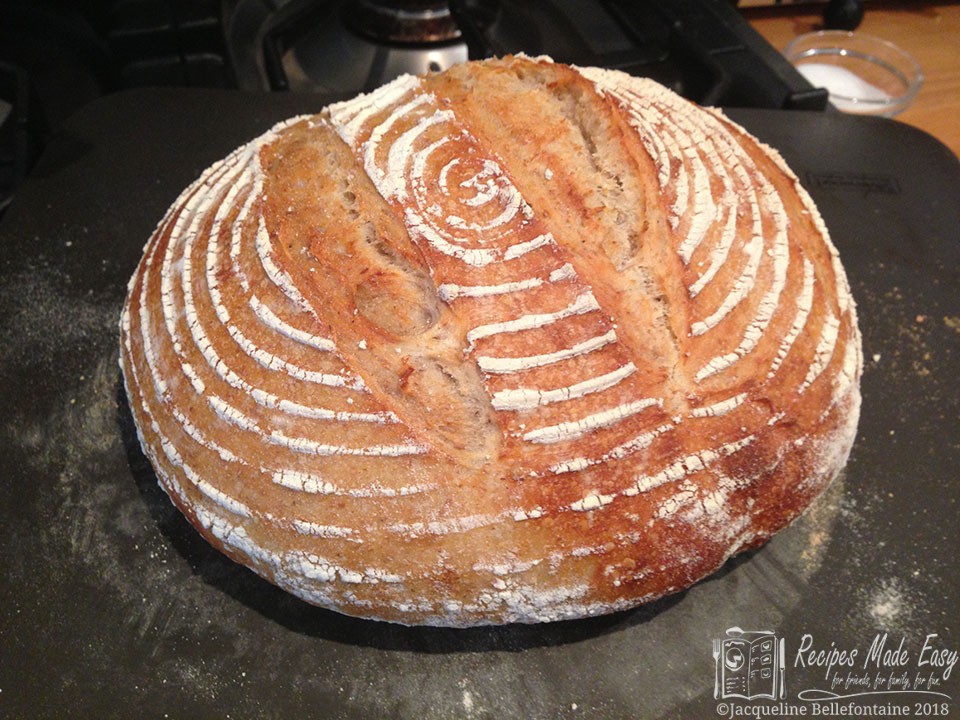 Once the dough has been shaped I place mine in a banneton . A banneton is a special basket in which to let your loaf rise, they cost about £8 and are readily available on line. I think they are worth getting if you intend to make the bread regularly because it gives such a pretty effect.
In the first instance though, a bowl lined with a well-floured clean tea towel works just as well. I used a 20cm wide bowl for the loaf in all the other pictures .
You will need a very sharp knife to slash the bread over the top. If you use a blunt knife you may find yourself pressing out the air. If your knife is not sharp enough, it's better to leave it un-cut and just let it tear as it bakes. It does look rather rustic that way.
I am a white crusty bread girl myself, but do sometimes substitute 100g of the white flour with wholemeal which works well. However, if you use more wholemeal flour you will have to start altering the water to flour ratio significantly, as yet I have not tested that enough to give reliable proportions.
As I have mentioned before, sourdough can tend to vary, so sometimes you will find the bread needs a little more or less water or flour, on some days it may rise quicker then on others. You will soon get to know how it should look and feel though.
Remember the warmer the environment is the less time the dough will need. Now my most common mistake is leaving the loaf for the second rise too long so that it over proves and collapses a little when turned out. Don't worry when that happens though, it will just end up a bit flat but still tastes fab .
If you have any questions or want any advise then do leave a comment below or send me an email via the contact page and I will do my best to answer them. I can also highly recommend the book Do/Sourdough/slow bread for busy lives by Andrew Whitley for further reading.
Phew that's enough from me. Lets get baking!

No-Knead Sourdough Loaf
Print Recipe
Pin Recipe
Save Recipe
Saved!
Just 3 ingredients are needed to make sourdough bread. This method is simple and has very little hands on time to make but you will need to allow plenty of time for the rise.
Ingredients
150

g

sourdough starter

(see body of post)

300

ml

water

500

g

strong white bread flour

(preferably organic)

plus extra flour to sprinkle and replenish the starter

1½

teaspoon

salt
Instructions
Place the sourdough starter in a large mixing bowl. (Remember to replenish the starter after you have made your dough, see below. ) Make up to 450g/1lb (2 cups) with water. Then add the bread flour and salt.

Mix to form a rough ball of slightly sticky dough. The dough does not require kneading just mixing until the flour and water is combined.

Leave in the bowl and loosely cover the bowl. Leave overnight or for about 8-10 hours depending on ambient temperature. The dough will have risen and increased in size.

Knock back the dough and shape into a ball, you can knead lightly if you like but it is not essential. Place smooth side down in a well floured banneton (special basket) or in a 20cm/9in wide mixing bowl, lined with a tea-towel and well floured.

Dust the top of the dough with a little more flour. Cover loosely and leave for a further 4 to 6 hours until risen again.

Turn out of the basket or bowl onto a lightly oiled baking sheet, and slash the top a few times with a very sharp knife. Bake at 220℃ (200℃(fan)/425°F/gas mark 6 for about

50 minutes

, until risen and golden. The loaf will sound hollow if you tap it on the bottom when cooked.

Transfer to a wire rack to cool.
Notes
Sourdough starter:Keep in the fridge.If it hasn't been used for a few days try to take out of fridge for about 1-2 hours before required. and add a little flour and water in equal quantities to get it going again.If you don't use it for a while occasionally discard about ¼ of the starter and replace with fresh flour and water.Replenishing your starter:Replace the starter you have used by adding 75g/3oz (½ cup) flour and 75ml/3floz (½ cup) water. Stir until mixed and return to the refrigerator.I use digital scales so I had my water by weight: 1ml water =1g water.
Nutrition information is approximate and is meant as a guideline only.
Nutrition
Serving:
1
loaf
|
Calories:
1941
kcal
|
Carbohydrates:
391
g
|
Protein:
63
g
|
Fat:
8
g
|
Saturated Fat:
1
g
|
Sodium:
3515
mg
|
Potassium:
500
mg
|
Fiber:
13
g
|
Sugar:
1
g
|
Calcium:
75
mg
|
Iron:
4.5
mg