The basil on my allotment is just beginning to go to flower, so not wanting to waste it, I've picked some and made a delicious pesto. The basil was originally from one of those pot you get from the supermarket, divided and planted into the ground. It's amazing how much more intense the flavour becomes once it has been in the ground for a few months and if your lucky one or two pots will last you all summer.
Homemade pesto is a doddle to make especially if you have a small food processor . You can also use one of the hand held stick blenders which works OK or even make it in a pestle and mortar by bound the ingredients together until blended but frankly that's just too much effort for me.

After washing the leaves, shake them dry. i find this easiest to do by placing them in a tea towel, gathering it up to enclose then shaking this. If the leaves are too wet it may make your pesto a little lack flavour.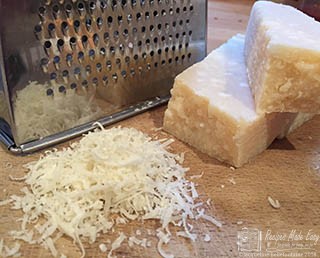 Grate the Parmesan finely

Place the washed basil leaves , cheese and toasted pinenut in the food processor.

Chop the basil finely. Do this in short bursts so that you do not over - process. The mixture should still have some texture. Add the oil and that's it

Print Recipe
Homemade pesto
A simple basil pesto that tastes so much better than the ready made pesto you buy in jars. Pesto is not only ideal for serving with pasta, It is also delicious served stirred through cold rice for a simple rice salad.
Ingredients
50

g

pinenuts

1

clove

garlic crushed

75

g

basil leaves

washed

30

g

Parmesan cheese

grated

about 125 ml olive oil extra virgin or

cold pressed rapeseed oil
Instructions
Toast the pine nuts in a dry frying pan until pale golden, shaking the pan frequently so that they do not burn. As soon as they are pale golden tip onto a plate and allow to cool.

Place the toasted pine nuts, garlic, lemon juice, basil and cheese in food processor and blitz until finely chopped.

Add the oil and blitz again briefly to blend. Season to taste with a little salt.

That's it the pesto is now ready to use, alternatively transfer to a sterilized jar, level the top and pour over a little extra oil to cover. Store in the refrigerator for up to 1 week.
Notes
You can use this basic recipe to make other flavoured pesto, such as rocket, watercress or coriander pesto, although this classic basil pesto remains my firm favourite.
Tried This Recipe?
I would love to know how you got on – Tag me on Instagram or Twitter @RecipeCrumbs or leave me a comment and rate the recipe below