Carrot top? Yes you heard it right! If you haven't tried it before you are going to have to trust me on this one. If you have you already know just how tasty Carrot Top Pesto can be.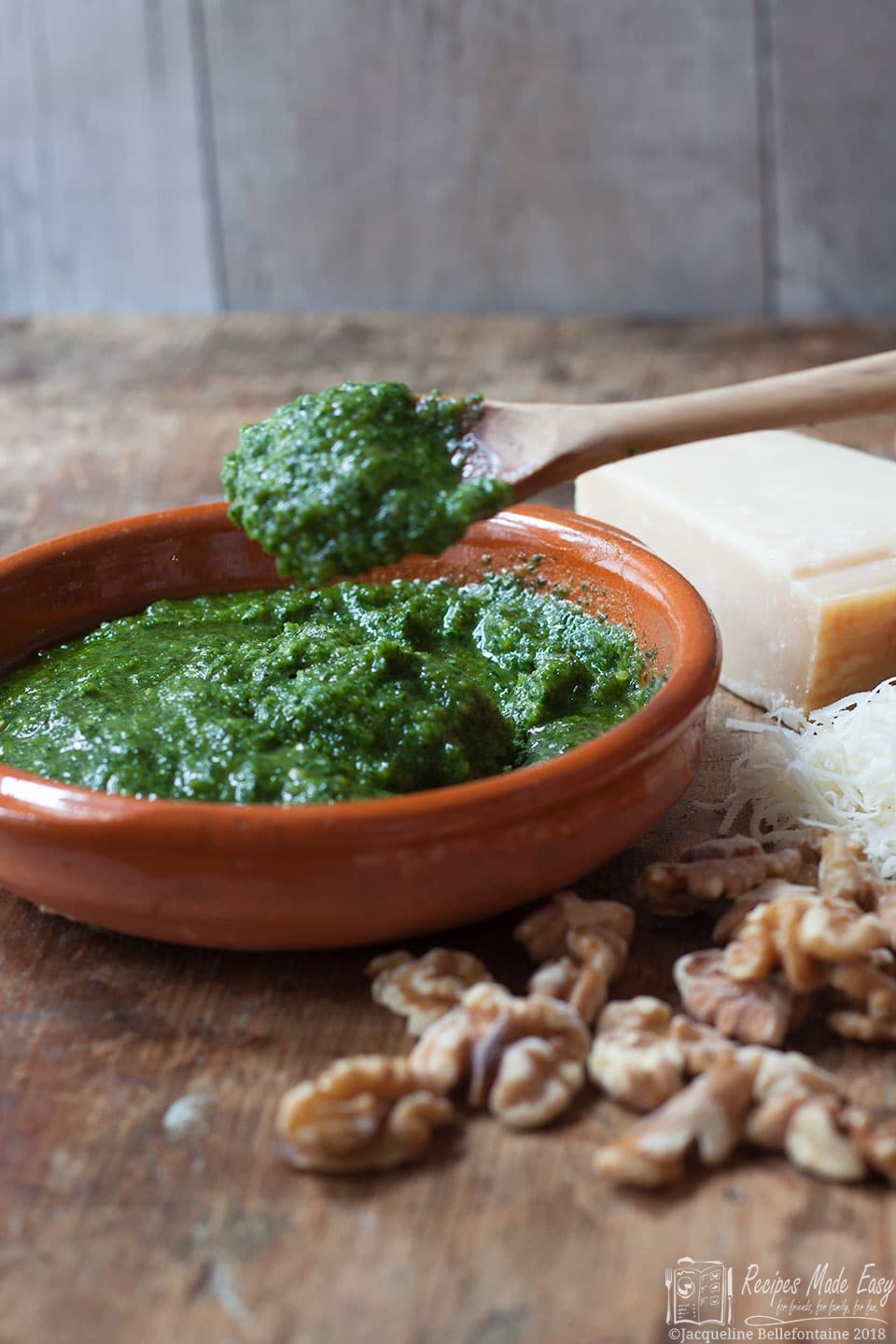 Carrot Top Pesto
Pesto is something you will nearly always find in my fridge. I use it very often. I add it to pasta for the quickest of easy meals. William, my youngest, is a student and virtually lives off pesto pasta. I add it to rice served cold as a simple, but delicious, salad side dish. I stir it into cooked vegetables to make them more interesting and that is to name just a few. In the summer I make my own Home-made Pesto as it is so easy and has such a lovely fresh flavour, especially if the basil has been growing outside for a few weeks first. So, when I first came across Carrot Top Pesto I was intrigued, if not slightly apprehensive to try it. Could you really make pesto from something that is usually just thrown away? The answers is a most definitely yes.
I first tasted carrot top pesto at a Guild of Food Writers event. We were fortunate enough to have been invited to visit Aspalls - of Aspalls cyder and vinegar fame. After a tour of the factory we were treated to a rather spectacular lunch featuring lots of fresh local Suffolk produce. The lunch was prepared by Peter Harrison who runs a supper club. I now so want to go to, His food is amazing and, lucky me, it's near my holiday cottage. But I digress. To start we had some oils and vinegars (naturally, we were at Aspalls after all) for dipping and some carrot top pesto served with local breads. Fast forward to last Monday when my regular Riverford organic box arrived with not only bunched carrots but a recipe for carrot top pesto so I just had to make it.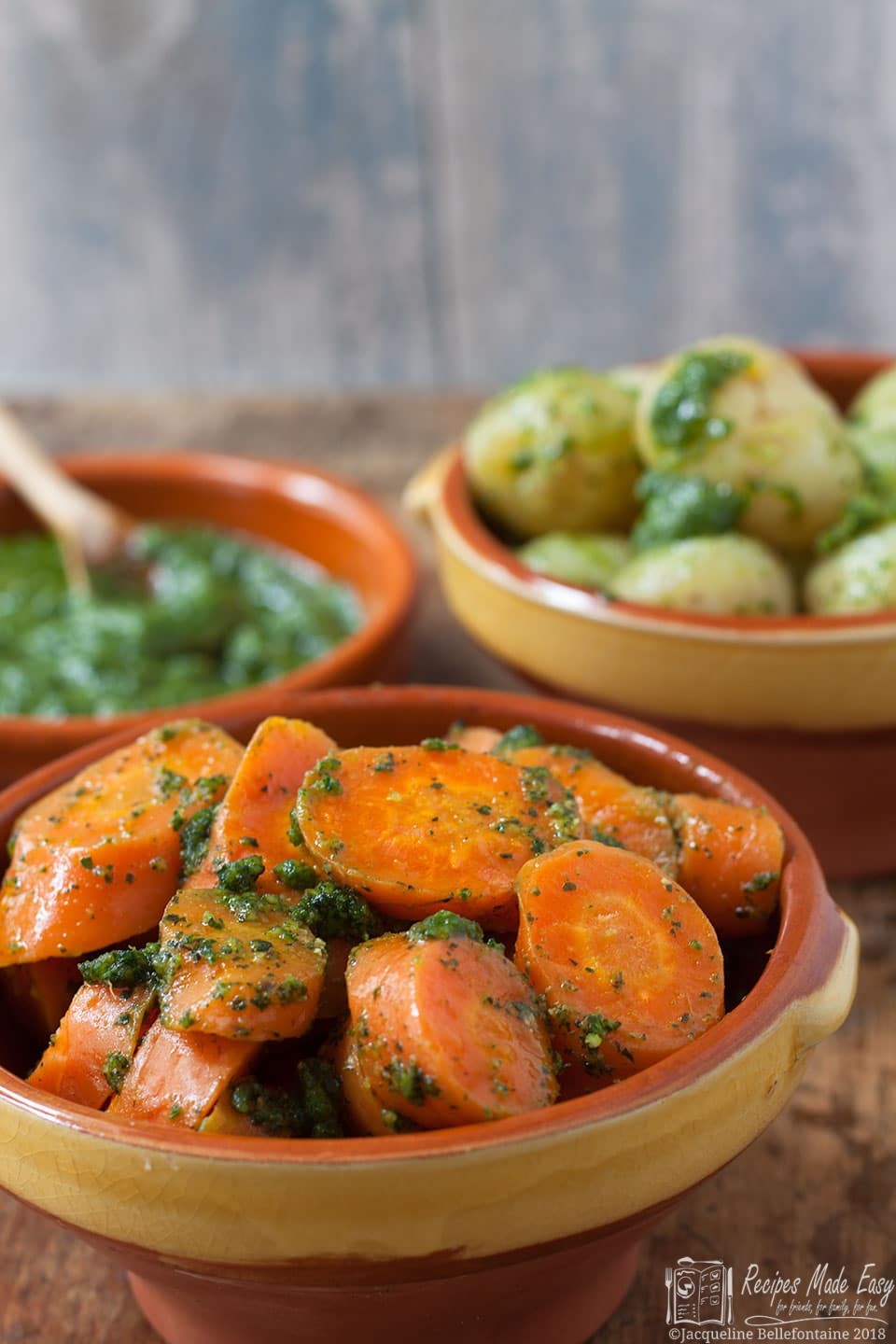 Cold pressed rapeseed oil
Of course I had to tweak the recipe a bit, and my most most significant change was to make mine with cold pressed rapeseed oil rather than olive oil. You might have noticed I use it quite a bit. Unlike some others that usually sold as vegetable oil, cold pressed rapeseed oil is not heavily refined. It is high in good oils, has a great flavour and, being produced in this country, unlike olive oil does not have huge food miles. My favourite is HillFarm Oil but that's mainly because it is produced locally to me in Suffolk and I like to support local producers. There are other good ones available, like olive oil, the taste varies from producer to producer so choose one you like.
Did my carrot top pesto taste as good as I remember the one Peter made had been? I think so, and therefore I had to share the recipe with you. Do let me know what you think.

Carrot Top pesto
Print Recipe
Pin Recipe
Save Recipe
Saved!
Don't waste the feather green tops from bunched carrots. It takes just minutes to make a delicious carrot top pesto instead. Serve in place of basil pesto
Ingredients
100

g

carrot tops

small

handful

parsley leaves

50

g

walnuts

25

g

parmesan cheese or vegetarian alternative

1

clove

garlic

chopped

100

ml

cold pressed rapeseed oil

salt and freshly ground black pepper

to taste
Instructions
Wash the carrot tops and shake dry. Remove the feathery leaves from the stems and discard the stems

Place the carrot top and parsley in a food processor and blitz briefly to chop.

Add the walnuts, cheese and garlic, and blitz again.

With the machine running add most of the oil. Season to taste, then add the

remaining oil if required to loosen the pesto.

Transfer to a serving dish or jar and chill until required.
Notes
The pesto will keep for several days, covered in an airtight container in the refrigerator. Use as required.
Not suitable for freezing.
Nutrition information is approximate and is meant as a guideline only. (It does not include seasoning with salt and pepper.)
Nutrition
Calories:
231
kcal
|
Carbohydrates:
3
g
|
Protein:
3
g
|
Fat:
23
g
|
Saturated Fat:
2
g
|
Cholesterol:
2
mg
|
Sodium:
67
mg
|
Potassium:
36
mg
|
Vitamin A:
35
IU
|
Vitamin C:
13.3
mg
|
Calcium:
114
mg
|
Iron:
1.7
mg
More Sauce Recipes Made Easy