This Easy Tomato Salad drizzled with a simple but tasty salad dressing is so easy it almost feels like cheating calling it a recipe. None the less it is too good to keep to myself and is a perfect side dish in the hot summer days.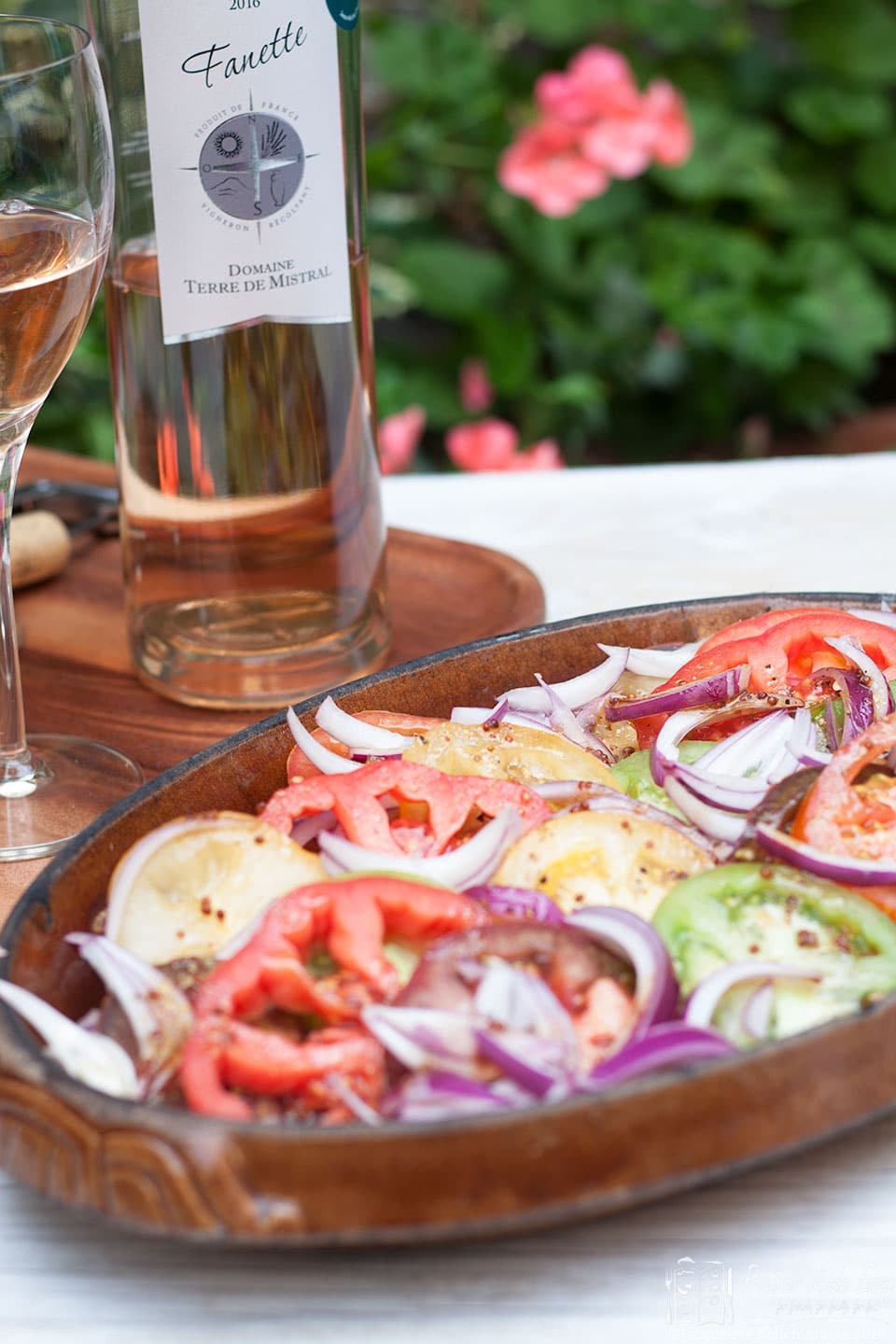 Le Petit Ballon - Subscription Boxes REVIEW
Anyone who knows me will know how much I enjoy a glass of wine. While I am no expert, I also love trying to pick wines to go with different dishes and deciding if it's a good match or not. To me it is all part and parcel of the fun of cooking and sharing a meal with friends. So when Le Petit Ballon offered me a chance to try one of their monthly wine subscription pboxes and asked me to share a recipe to go with the wine, it was an offer I just couldn't turn down.
I was sent a wine box from Le Petit Ballon Grape Expectations selection (£24.90 per month) . When the box arrive the two bottles were accompanied by "The Gazette" a newsletter filled with recipes, wine makers stories and a tasting guide for the two wines.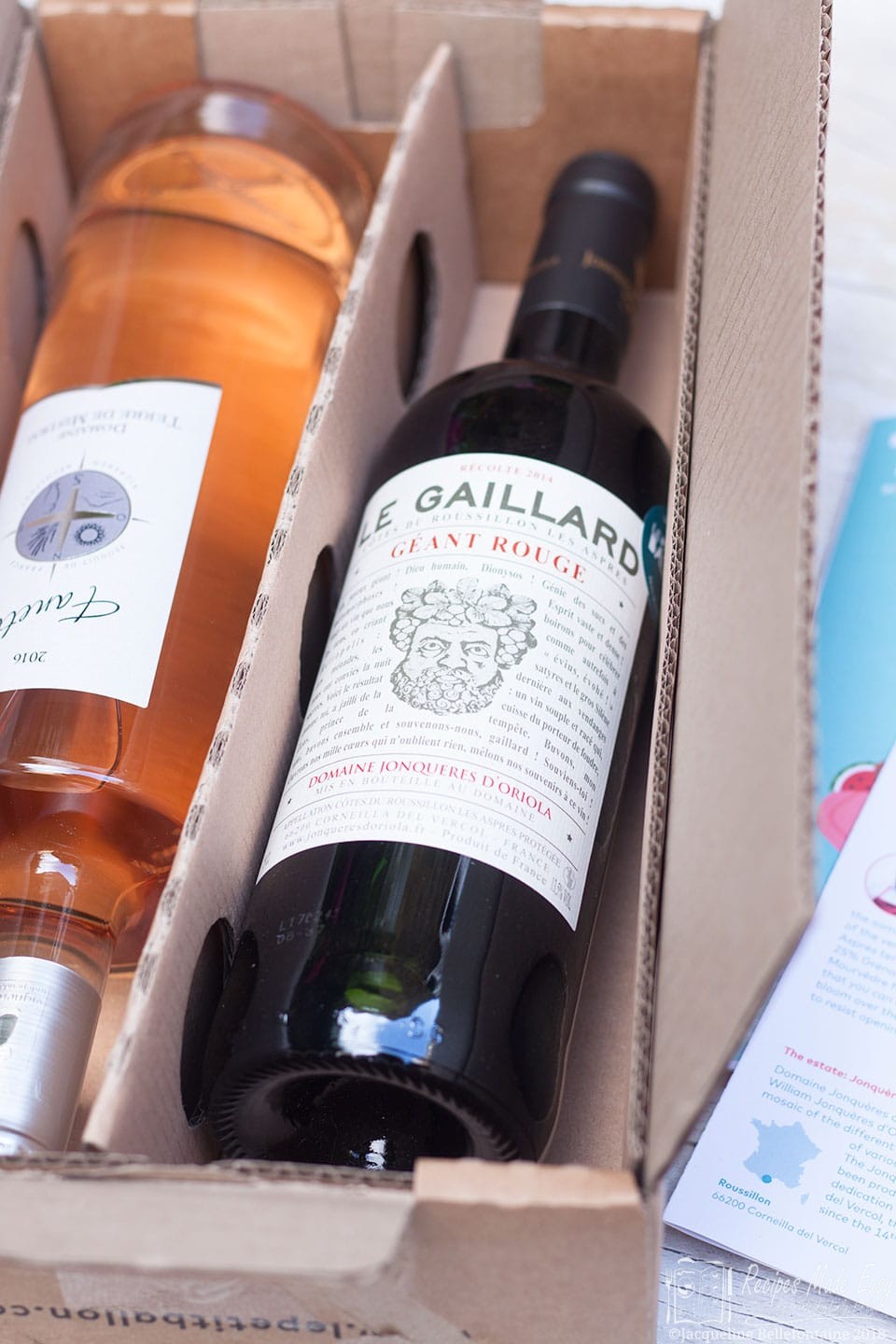 The wines
Terre de Mistral Fanette 2016
Given that they arrived in time for a spell of hot sunny weather the inclusion of a rosé could not have been timed better. 55% of all rosé is sold during the summer months -one quick fact gleaned from the newsletter.
The first thing you cannot fail to notice with this wine is it is a rather unusually shaped bottle. Like many I do enjoy a glass of rosé when the weather warms up but often struggle to find one that is to the same quality as equivalent reds and whites.
With this wine however, it was not just the bottle that shows an attention to detail, the wine had a perfect acidity for the hot weather, had a pale almost peachy colour, was light and refreshing with with the berry notes lingering on, and altogether far more interesting than some of the many mediocre rosê's that can be found on the supermarket shelf.
Jonquères d'Oriola Le Gaillard 2014
The second bottle was a spicy red. I am pants when it comes to describing wine and can get quite frustrated when I cannot nail the flavours down, but this one sang ripe plums to me with no hesitation. The bouquet is quite heady and strong. The wine was smooth, rich with just the right amount of soft tannins to give it a full body. Very definitely my type of wine. I have a glass of it next to the computer as I write this – well it would be rude not to!
Tasting Notes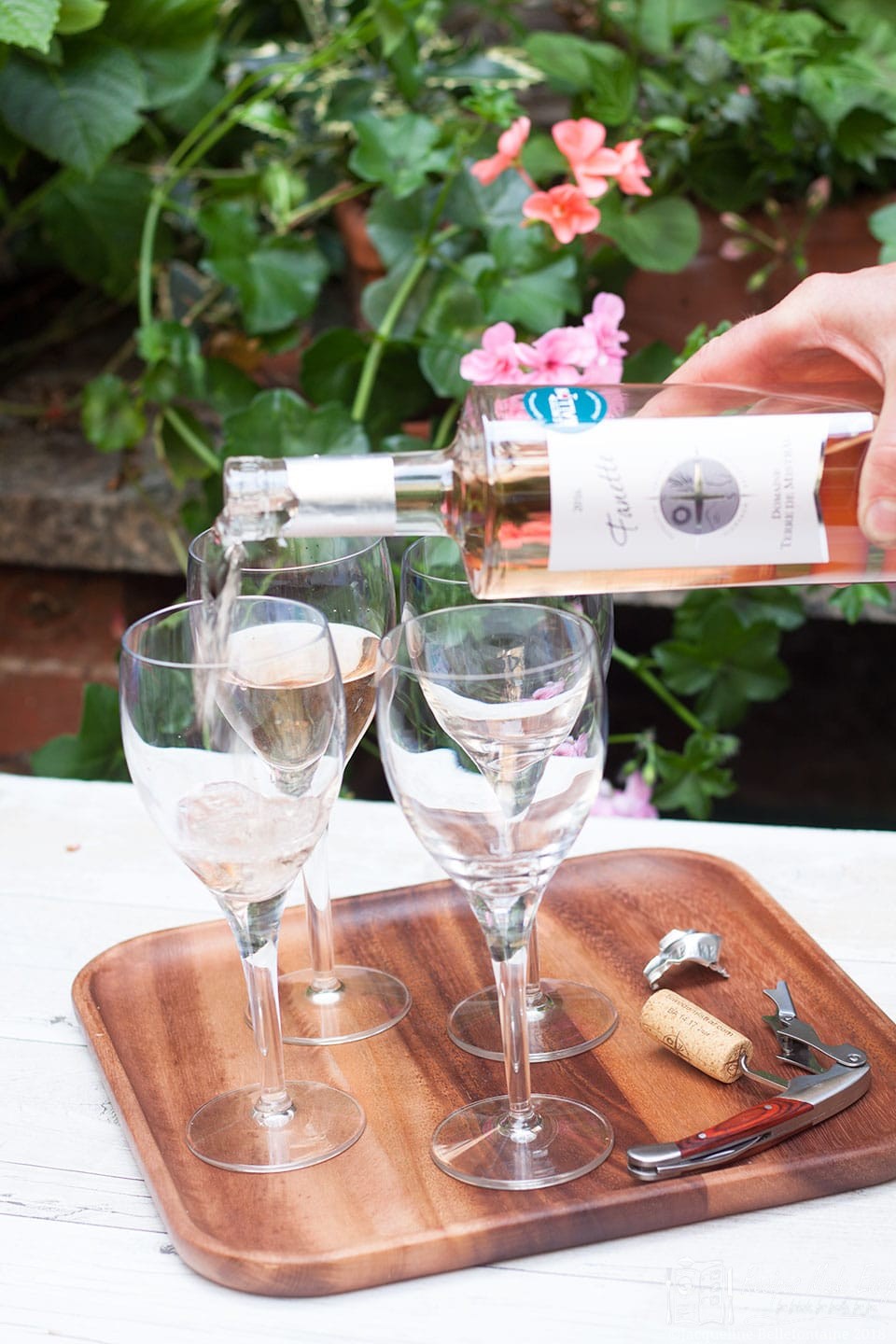 Even though I have done some wine tasting courses at the WSET (Wine and Spirit Education Trust) in the past, that was some considerable time ago. A lot of what I learnt has slipped away, and so I found the tasting notes that come with wines really useful. Unlike many of the wines on the shop shelves from all over the world, French wines seldom show the grape variety on the label, so unless you know your wine regions it is very easy to gloss over them and instead pick a wine by grape variety because you know you have liked that variety in the past. Written in an easy to read and non pretentious way, the tasting notes that accompany these wines not only tell you what grape variety the wine is made from but also details of how to serve it at it's best. You will also find a bit about what to expect from the wine and about the wine makers, as well as its keeping potential, I for one never know which wines will mature nicely if kept. Basically a quick read of these notes and you will be able to talk about the wines as if you were an expert, as well as being able enjoying them at their best.
Food and wine Pairing
If like me you are keen to match the wine with the food you are serving, there are suggestions of foods that go with the wines as well as dish suggested as the perfect partner. In this case roast chicken with bacon for the red and grilled chicken in a tomato sauce for the rosé.
When it came to coming up with a recipe to go with the wines, I decided I would put the rosé suggestion to the test and decided on grilled chicken served with a tomato salad. The weather was just too hot to want to make a tomato sauce.
Tomatoes is an ingredient that can be a little difficult to pick the perfect wine to go with, but I found the rosé had just the right degree of sweetness to counteract the acidity of the tomatoes and the overall flavour of the wine stood up well to the grilled chicken. A definite success. As for the red, although we drank this on it own another day, I think the perfect dish for this wine would be a spaghetti bolognese (or lasagne) which was also one of their suggestions.
Taking out a subscription to Le Petit Ballon, you receive two bottles of specially selected wines each month which you can skip a month or cancel at anytime. I love the idea of trying wines I might not otherwise find and with the handy notes I would enjoy learning about them as I go. I certainly wouldn't say no if anyone wanted to buy me a gift subscription, Just hinting MR B!
Easy Tomato Salad with grilled Chicken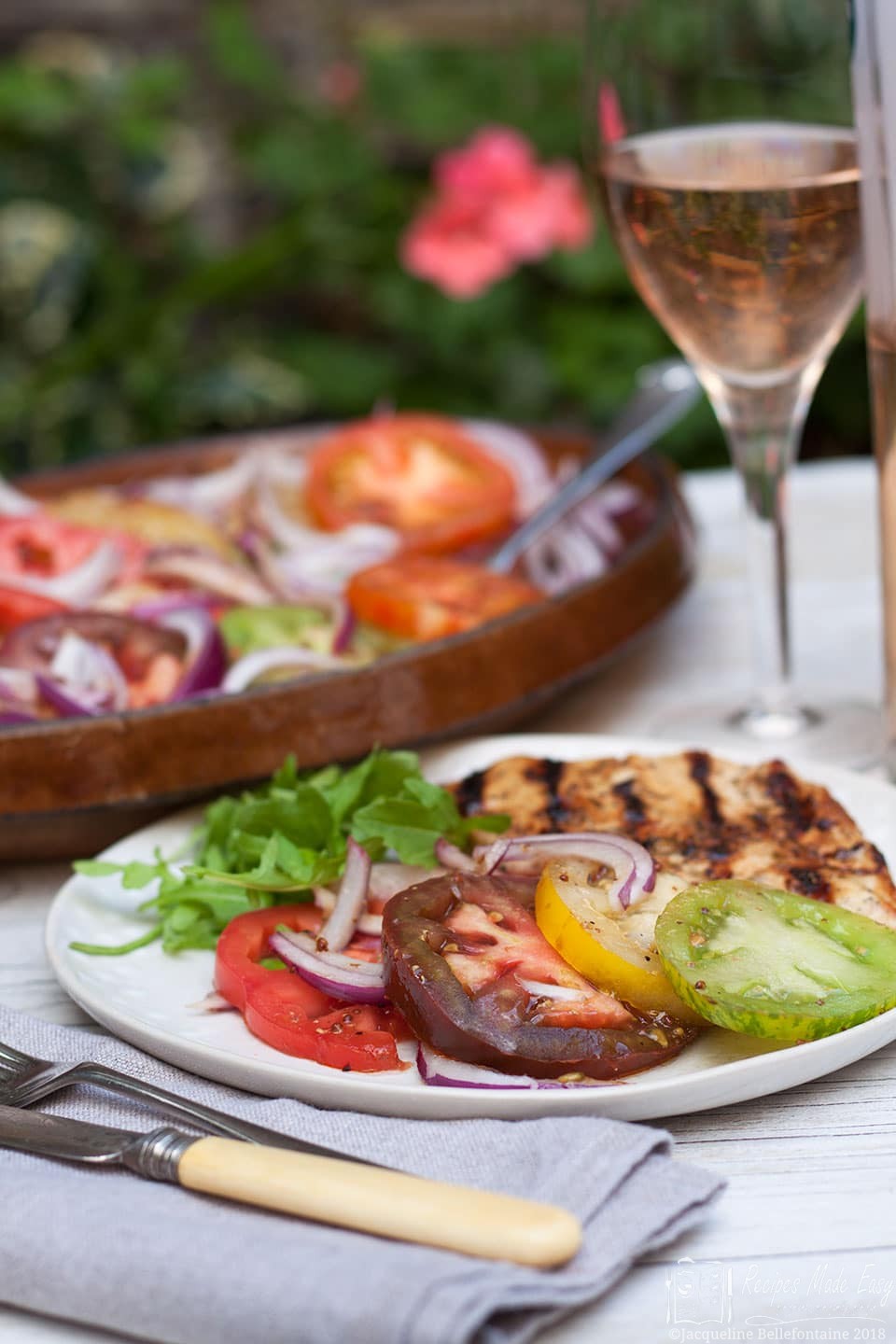 Grilled Chicken
Use chicken breast and flatten between two sheets of parchment or cling film ( use the flat side of a meat mallet or a rolling pin). Grill until cooked through and the juices run clear when pierced with the tip of a skewer. Use a thermometer if you have one- The chicken should reach 75℃/165°F in the centre.
I usually cook my chicken on a griddle pan but you can also cook it under a preheated hot grill or on a barbecue.
To add flavour I made a simple baste similar to the salad dressing from 1 tablespoon olive oil, 1 teaspoon red wine vinegar. 1 teaspoon whole grain mustard and 1 teaspoon honey beaten together and brushed this onto each side of the chicken before grilling.
On hot days when we tend to want to eat lighter meals I find all that is needed to complete the dish is handful of rocket or salad leaves. For a more substantial meal serve with some boiled new potatoes or some chunks of crusty bread.
Easy Tomato Salad
With this recipe there is no place for poor ingredients to hide. Use the tastiest, ripe tomatoes you can find. I used a selection of heritage varieties of tomatoes as they look so pretty and colourful. Any variety will do so long as it has lots of flavour. Remember that tomatoes will have the best flavour if served at room temperature. Use a good quality extra virgin olive oil and a good vinegar.

Easy Tomato Salad
Print Recipe
Pin Recipe
Save Recipe
Saved!
Use the best flavoured tomatoes you can get for this tasty summer salad
Ingredients
750g

tomatoes

1

small

red onion
Dressing:
4

tablespoon

extra virgin olive oil

1

tablespoon

sherry or red wine vinegar

1

teaspoon

whole grain mustard

2

teaspoon

runny honey

salt and freshly ground black pepper
Instructions
Slice the tomatoes and arrange in a serving dish.

Thinly slice the red onion and scatter over the tomatoes.

Combine all the ingredients for the dressing in a small bowl with a fork.

Drizzle over the salad. Serve immediately or chill until required.
Notes
If making in advance, remove from the refrigerator at least 30 minutes before serving to allow the salad to come up to room temperature.
Nutrition information is approximate and is meant as a guideline only. (It does not include seasoning with salt and pepper.)
Nutrition
Calories:
169
kcal
|
Carbohydrates:
10
g
|
Protein:
1
g
|
Fat:
14
g
|
Saturated Fat:
1
g
|
Sodium:
24
mg
|
Potassium:
444
mg
|
Fiber:
2
g
|
Sugar:
7
g
|
Vitamin A:
1560
IU
|
Vitamin C:
25.7
mg
|
Calcium:
19
mg
|
Iron:
0.6
mg
More Recipes Made Easy to Match the wines
I was given this wine subscription box for the purpose of reviewing.
As always, all opinions expressed are my own and I will only ever review products I would try myself and that I think are a good fit with Recipes Made Easy.