This tuna and bean salad is just so nutritious, packed with protein, fibre and vitamins and best of all it is delicious. Serve with a chunk of crusty bread and you have a fantastic main meal, perfect for a summer day lunch or supper. Who would have thought eating healthily could taste so good.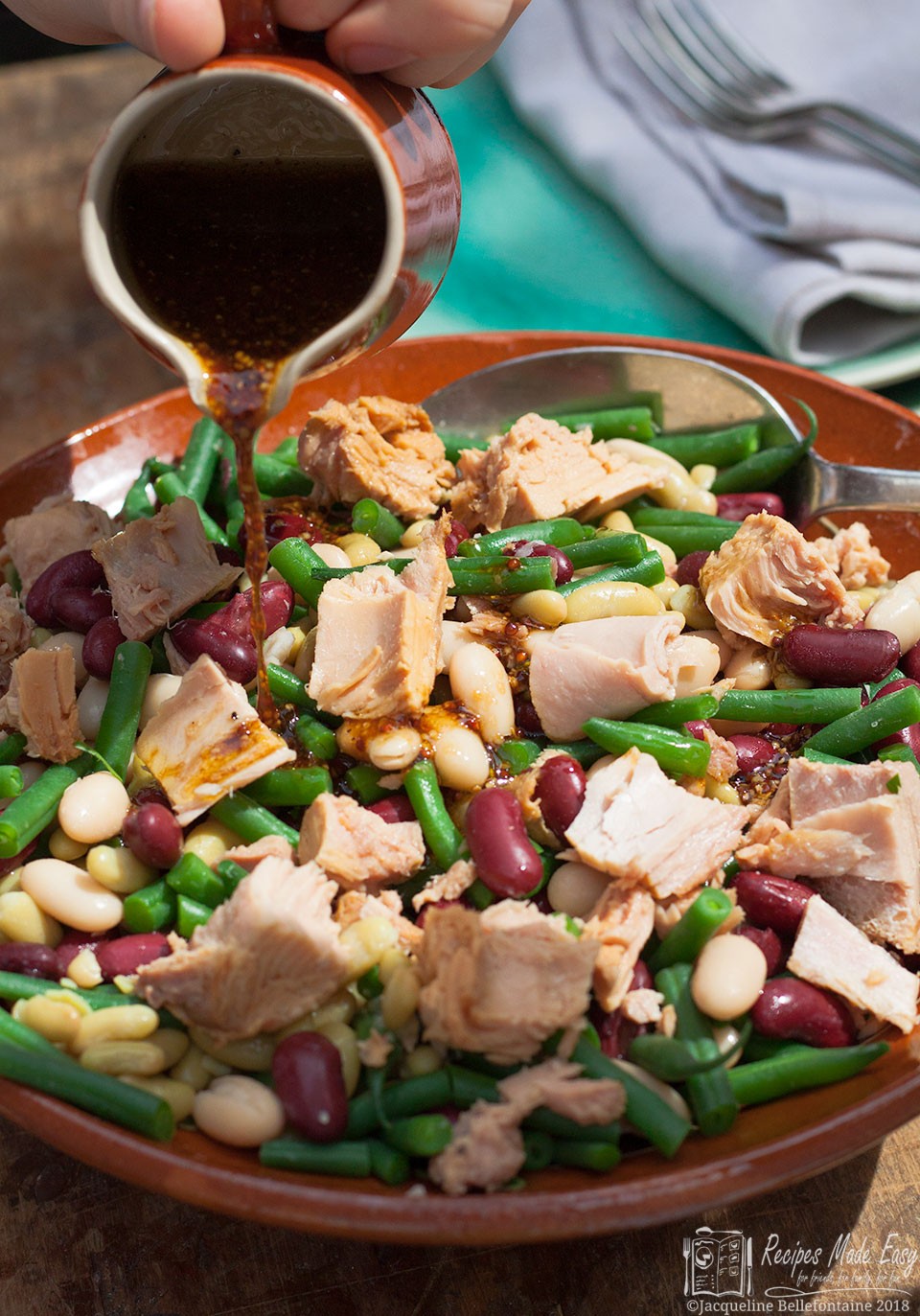 I original wrote a recipe for Tuna and bean salad, when I was deputy cookery editor on Woman's Realm many moons ago and have chopped and changed it a few times over the years, but the basics have stayed and it has stood the test of time. As with most salads this takes very little time to prepare, I've included my usual step pictures but really you are not going to need them. There is no cooking – I don't count the blanching of the green beans. The kitchen doesn't get hot and you can have a filling meal on the table in around 10-15 minutes. Now that's what I call a Perfect summer meal.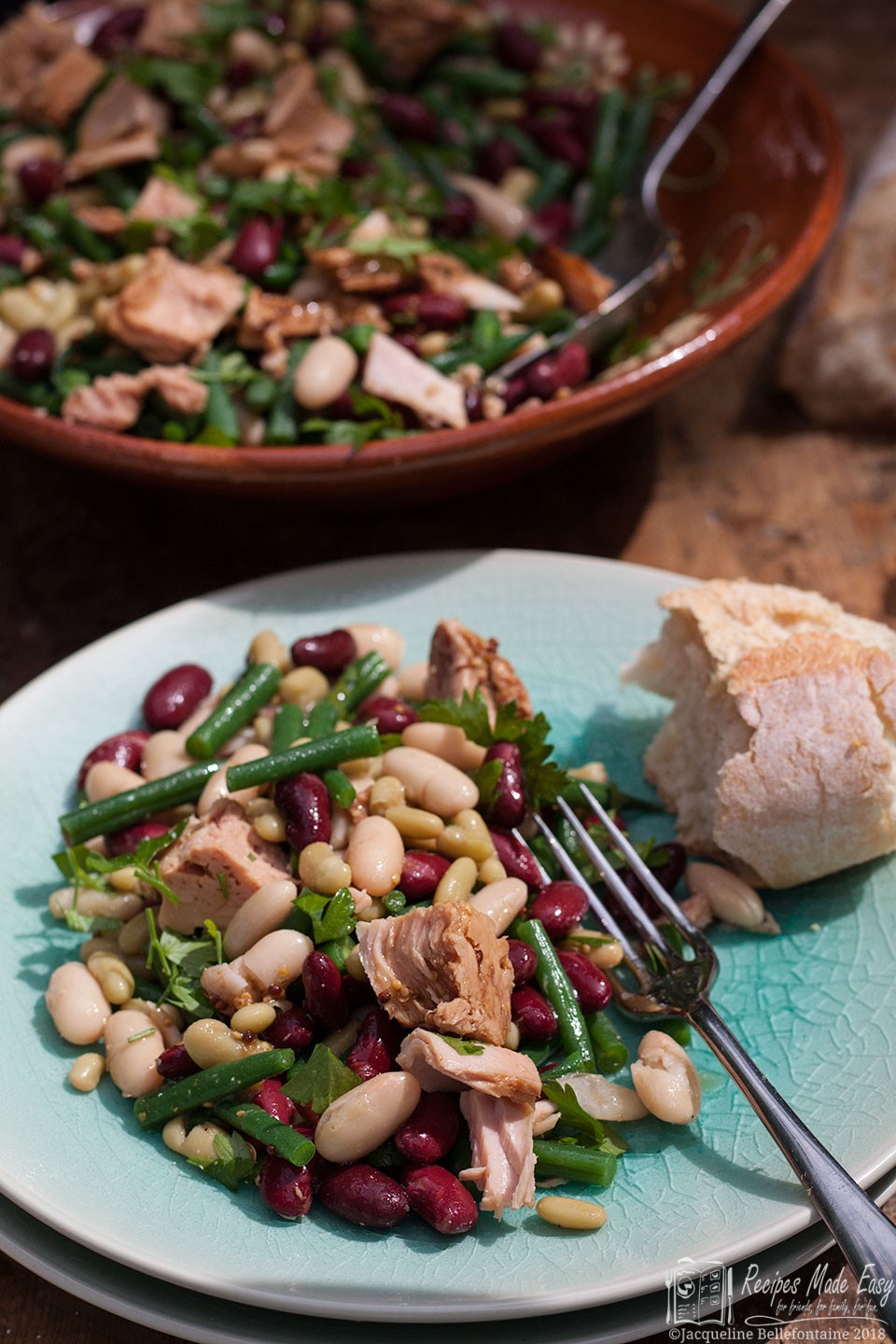 Step by Step Tuna and bean salad

Tuna and bean salad
Print Recipe
Pin Recipe
Save Recipe
Saved!
A healthy and nutritious salad packed with flavour. Serve with crusty bread for a delicious main meal. This recipe is also perfect as part of a buffet table spread.
Ingredients
225

g

green beans

topped and tailed

400

g

can red kidney beans

400

g

cannellini beans

400

g

flageolet beans

1

small red onion or 2 shallots

thinly sliced

2

x 185g can tuna in water

drained
for the dressing
2

tablespoon

extra virgin olive oil

3

tablespoon

sherry vinegar

1

teaspoon

whole grain mustard

salt and freshly ground black pepper
Instructions
Bring a pan of lightly salted water to the boil and add the green beans. Cook (blanch) for 3 minutes, then drain and refresh under running cold water. Drain again and cut into short lengths.

Drain and rinse the canned beans and place in a large serving bowl with the green beans and onions, then toss until well combined.

Break the tuna into chunks and place on top of the beans.

Place all the ingredients for the dressing in a small bowl or jug and whisk with a fork to combine. Pour over the salad and toss lightly before serving taking care not to break up the tuna too much.
Notes
Freeze: Not suitable
The salad will keep in the refrigerator, covered for up to 24 hours.
Hints, tips and variations
I have chosen the three different canned beans so that you get a good mix of colours and textures but you can vary the combination to what you have . I find the variety of beans available varies depending on where you shop. Butter beans, broad beans, haricot or even chick peas work well.
I like onion and tend to add it to most of my savoury dishes. There are no onions in the pictures, I would like to say that was deliberate but I'm going to be honest, I forgot to add them. – Well no-one is perfect! but I have put them into the recipe.
I've used sherry vinegar but you could also use red wine, white wine or cider vinegar. I would not suggest balsamic as I think it rather stains the tuna and spoils the look of the dish, but again that is up to you.
If you want to spice it up a bit you could always add a little chopped fresh chilli to the dressing. Some chopped capers or gherkins would also make it a bit more piquant.