These delicate wafer thin Rosemary tuiles are a biscuit that impresses. Shaped in a curve they resemble tiles from where they got their name. While they are delicious on their own they are also ideal for serving with home made creamy desserts.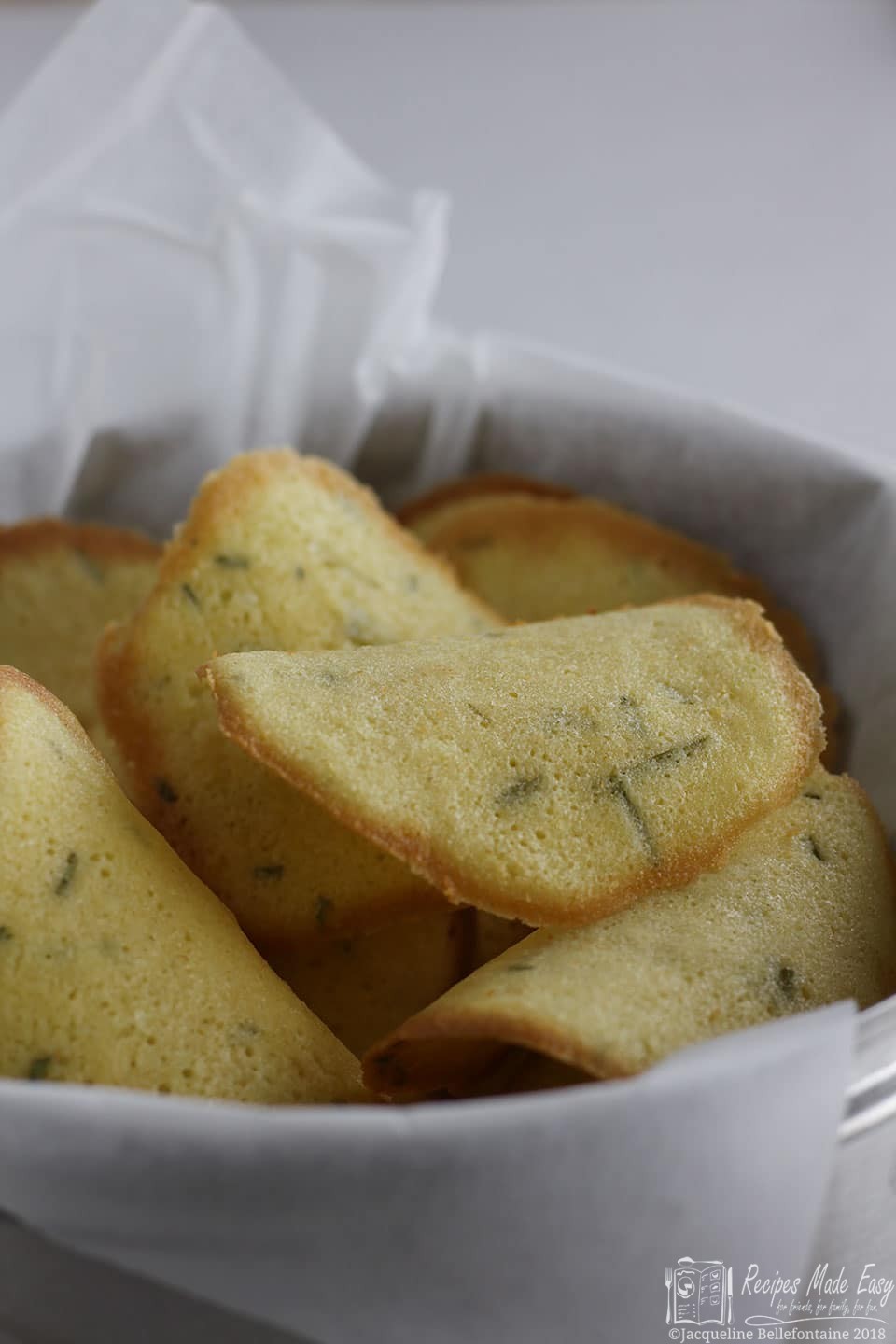 Rosemary Tuiles - better late than never
Last August I shared my recipe for Raspberry Mousse and over the last month it has been one of my most viewed pages. I have no idea why it is suddenly getting so many views, perhaps because readers are beginning to think of warmer days ahead. At the time of posting that recipe, I had intended sharing my recipe for rosemary tuiles almost straight away, as they went so well with the mousse. I even shot the mousse with the rosemary tuiles on the side. For one reason or another, I have only just had a chance to share the tuiles with you, which is at least better late than never!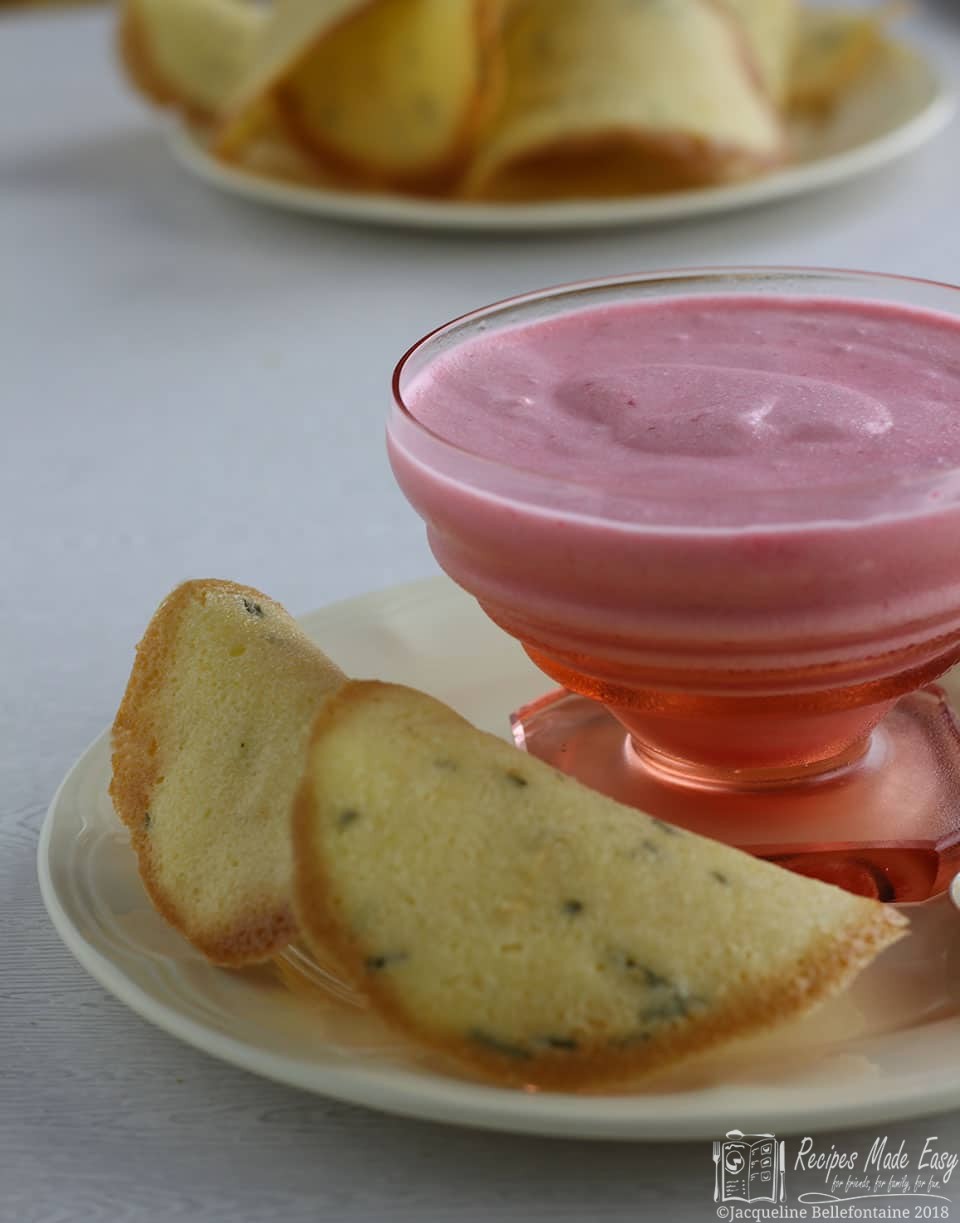 Not as hard as you might think
Now some people think tuiles are tricky to make, and I guess compared to some biscuits they are. But fear not as they are not that hard. There are just two areas that are a little tricky but if you take them into account you will not go wrong.
Cooking time - These are very thin biscuits so they can turn from not being ready to overcooked very quickly. Ovens vary, some ovens are hotter than others even at the set temperature, so timings can only really be a guide. If a recipe has a long cooking time then an extra 5 minutes is not going to make a difference. However with recipes such as these rosemary tuiles, with very short cooking times, an extra few minutes can mean the difference between success and failure. So keep a close watch on the oven while they bake. If you don't know if your oven is fast or not I would suggest you just bake 2 or 3 cookies in the first batch which will give you a chance to gauge it.
Shaping - These biscuits are easy to shape, they are draped over a rolling pin or bottle where they quickly cool and harden into the set shape. Once they have hardened enough to hold their shape they can be transferred to a wire rack to cool completely. But they need to be shaped while they are still warm, so you need to work quickly. Do not cook too many biscuits at a time especially if this is the first time you have made them.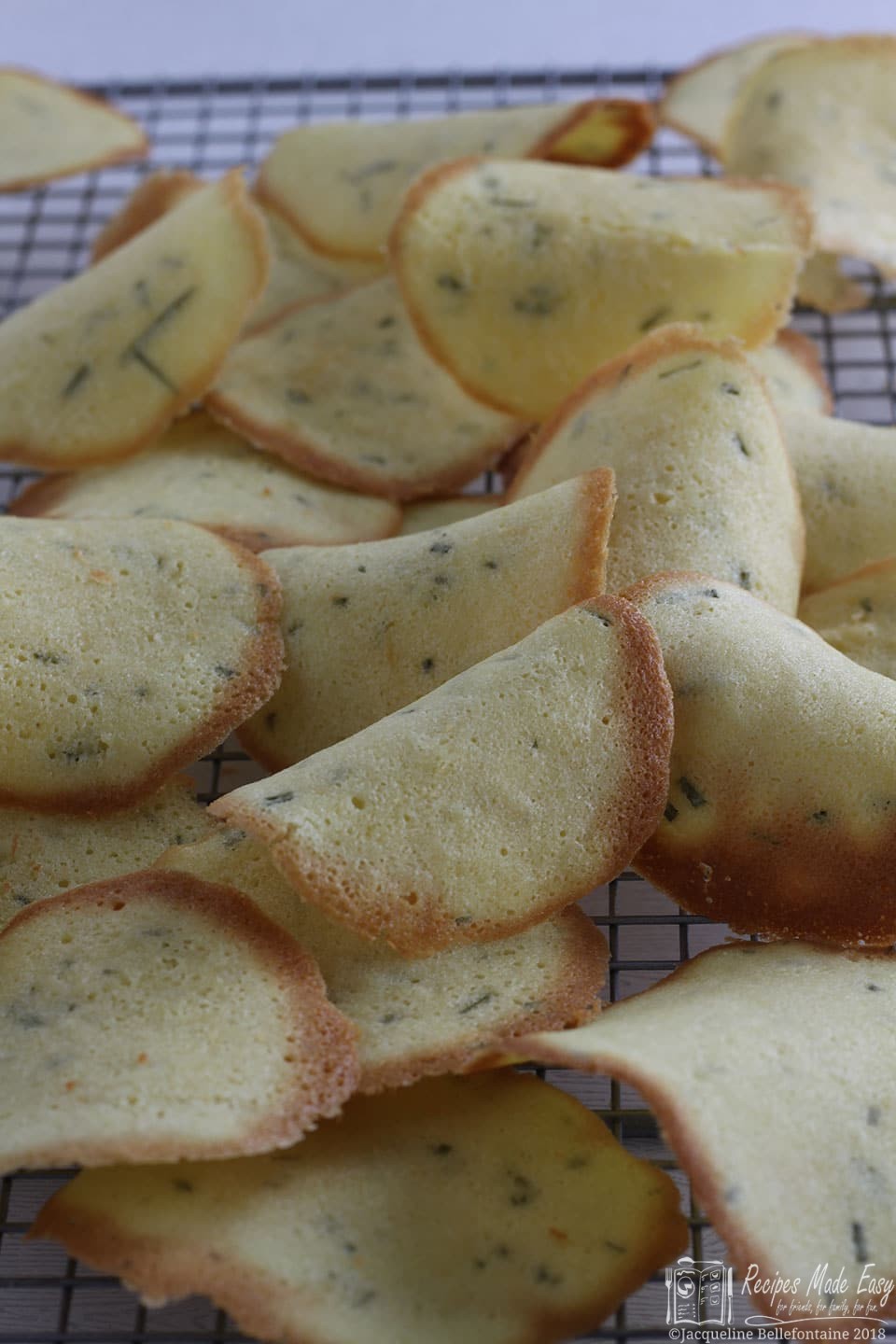 Rosemary Tuiles
Print Recipe
Pin Recipe
Save Recipe
Saved!
Follow a few simple watchpoints and these wafer thin biscuits are really quite easy to make. I like to serve them with cream desserts
Ingredients
50

g

butter

50

g

golden caster sugar

1

egg

4

tablespoon

double cream

50

g

plain flour

1

teaspoon

chopped fresh rosemary
Instructions
Preheat the oven to 190℃ (170℃ fan) /375°F / gas mark 5. Lightly grease two baking sheets.

Beat the butter and sugar together until pale and fluffy, then add the egg and beat well. Stir in the cream then sift in the flour and fold in.

Place 4-6 small spoonfuls of the mixture (i used a teaspoon) well spaced on a baking sheet and spread the mixture out to form 5cm/2in circles.

Bake for about

5 minutes

until golden around the edges and pale in the centre.

Working quickly remove the biscuits from the baking sheet with a palette knife and drop over a rolling pin to make a curved shape. Allow to cool.

Repeat with the remaining batter alternating the baking sheets to allow them to cool a little, to make about 10-12 tuiles.
Notes
Once completely cold the tuiles will keep for several days if stored in an airtight container in a cool dry place.
Nutrition
Calories:
62
kcal
|
Carbohydrates:
7
g
|
Protein:
1
g
|
Fat:
5
g
|
Saturated Fat:
3
g
|
Cholesterol:
29
mg
|
Sodium:
36
mg
|
Potassium:
13
mg
|
Sugar:
4
g
|
Vitamin A:
195
IU
|
Calcium:
6
mg
|
Iron:
0.3
mg
Step by Step Rosemary Tuiles
Have I tempted you?
I hope I have tempted you to give them ago. Not only do they go well with the Raspberry Mousse they would also go well with my Blackberry Sorbet, Basil Ice cream, coconut pana cotta with spice pineapple or any creamy dessert. In fact I think your biggest problem when making these Rosemary Tuiles is going to be deciding what desserts to serve them with. Of course, you could just eat them on their own!