French Macarons, those lovely little almond biscuits with a crisp shell and slightly chewy centre and filled with a ganache look so pretty as well as taste amazing. Macarons have a bit of a reputation for being tricky to make, so I ask my friend Eva who is a bit of a Macaron Star Baker to share her recipe and tips with Recipes Made Easy.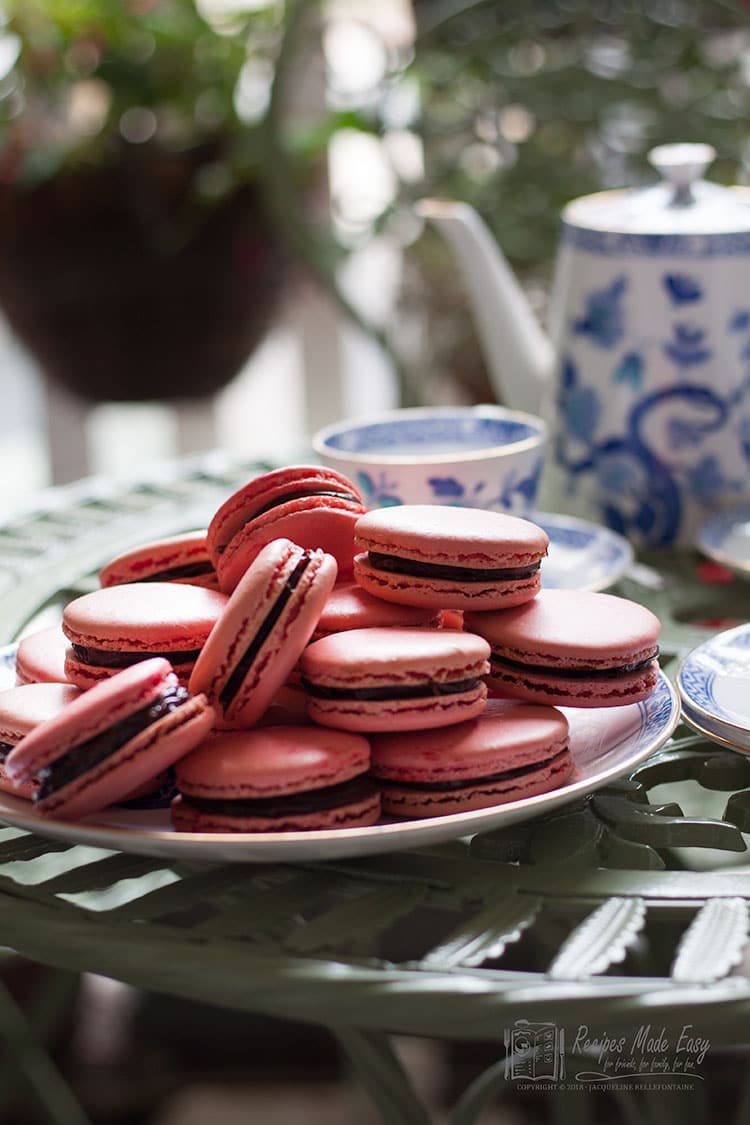 Eva became the Macaron queen after first being given a Macaron masterclass as a present from her sister. Then one evening after several glasses of wine she found herself volunteering to make enough Macarons for 70 people at her friends 40th Birthday party.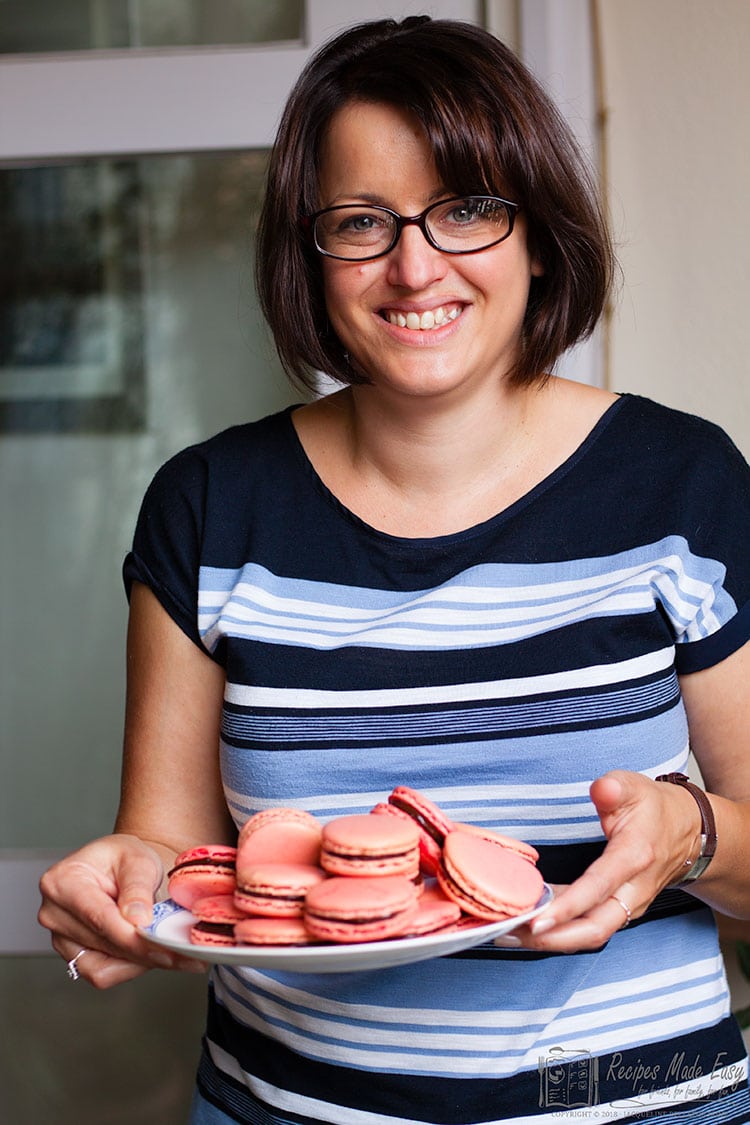 On realsing what she had offered to do a bit of panic set in and she decided to make lots of practise batches until she had really got the knack of making them. Needless to say, the mass baking for the party went off without a hitch after all that practise and Eva has now gone on to teach her own mini masterclass to a bunch of local foodie friends.
Eva's foodie talents do not stop there, apart from being an excellent cook she also writes the blog Lardy Ladies which began as a group of friends-of-friends who all love to eat - and all became friends in the process of eating their way around London! They set up a blog to share it all, and Eva took over the writing a few years ago. As she says it's a great excuse for trying new restaurants!
How to Make Eva's Macarons
When I arrive at Eva's to shoot this post, she was already making the ganache for the filling. Eva uses Bournville chocolate which has about 52% cocoa solids "No need to buy fancy stuff" she says. With the ganache chilling she starts the macaron shells.
First separate your eggs very carefully, and measure out the white. It's important to weigh the ingredients accurately for Macarons. Lightly beat the eggs a little to break them up so you can get the exact amount. "Old egg whites are better than very fresh ones".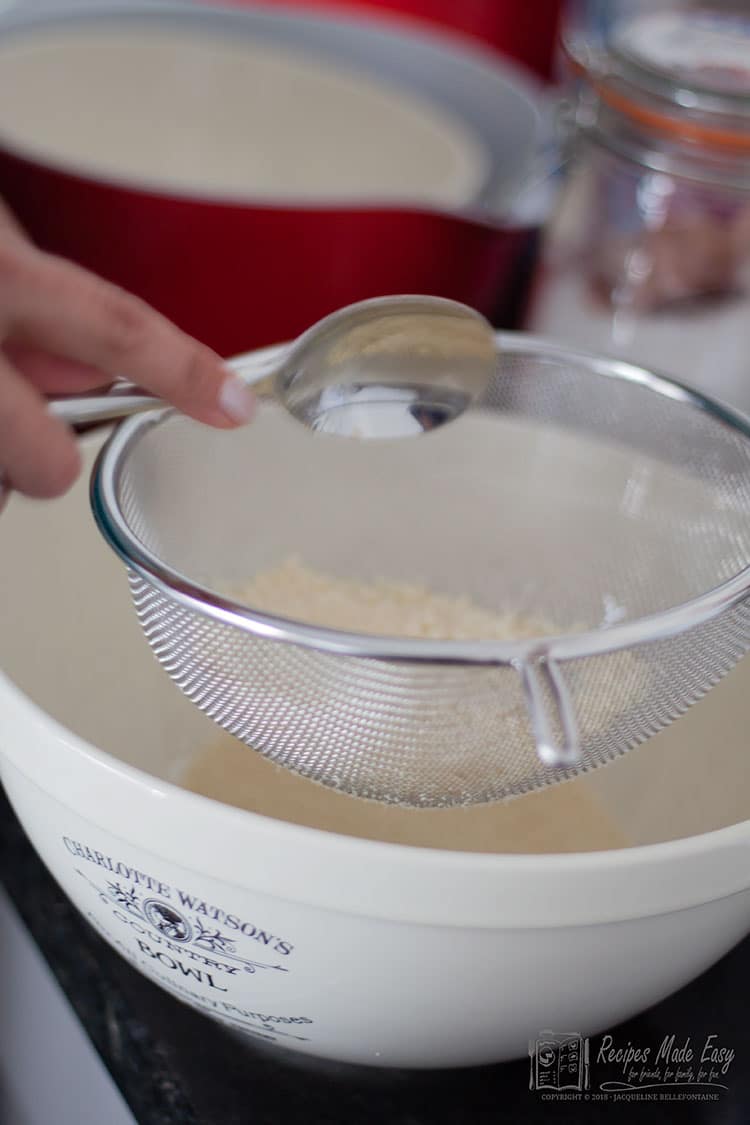 Next sieve the ground almonds and icing sugar. – "If the almonds seem very coarse, you can blend them with some of the sugar first she advises and don't worry about the leftover small bits of very coarse almonds – just chuck them out. If you have lots, top up with a similar amount from the bag so that you maintain the correct amount."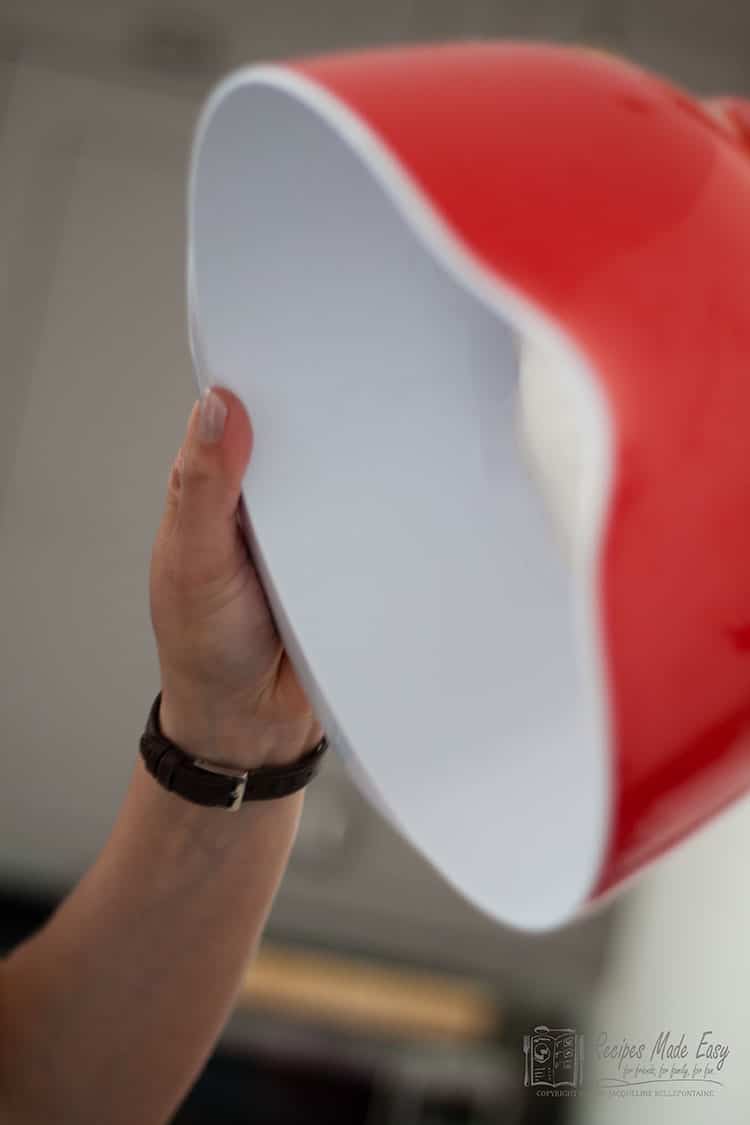 Then in a clean bowl, beat the egg whites with an electric beater until they form stiff peaks "If you can hold the bowl upside down and they stay in, then they're done" . She shows me holding the bowl upside down. It's a tip I was taught at college when making meringues. Before they reach the right consistency they slip around the bowl and will slide out. If you're brave you can hold the bowl above your head.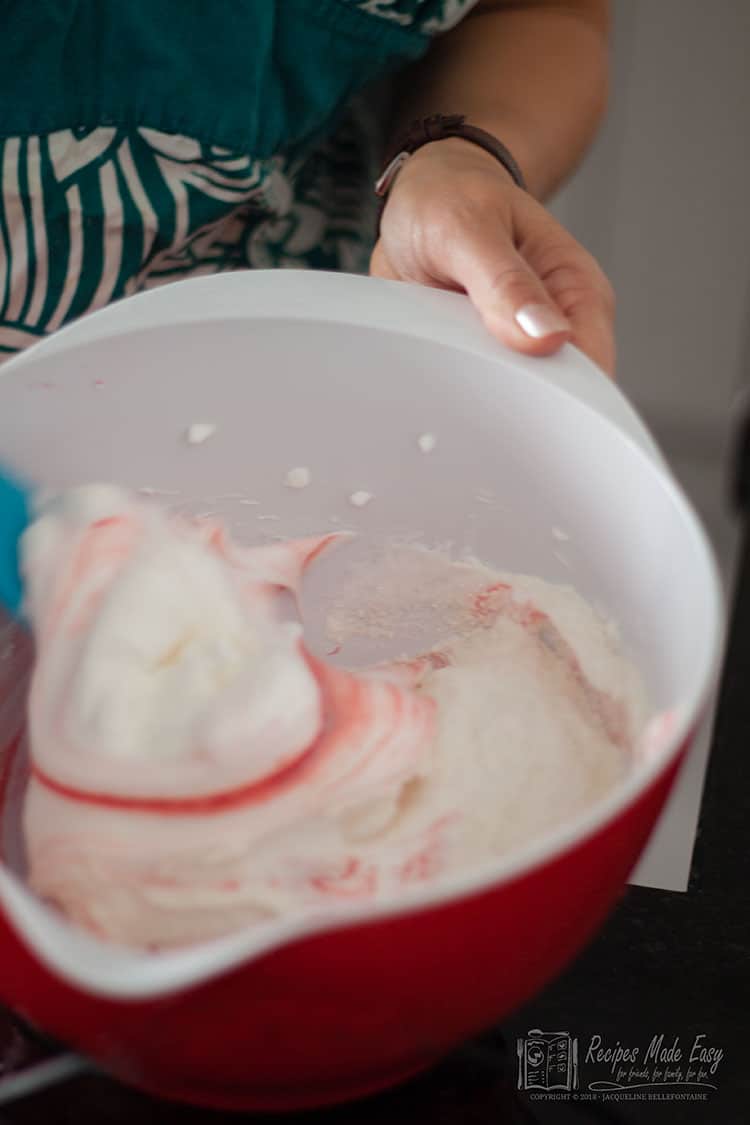 Next beat in the caster sugar, third at a time. "If I remember I add the food colour with the third batch. If you add it later it's hard to get it mixed in, but you can always add more with the almonds if you decide the colour is bland."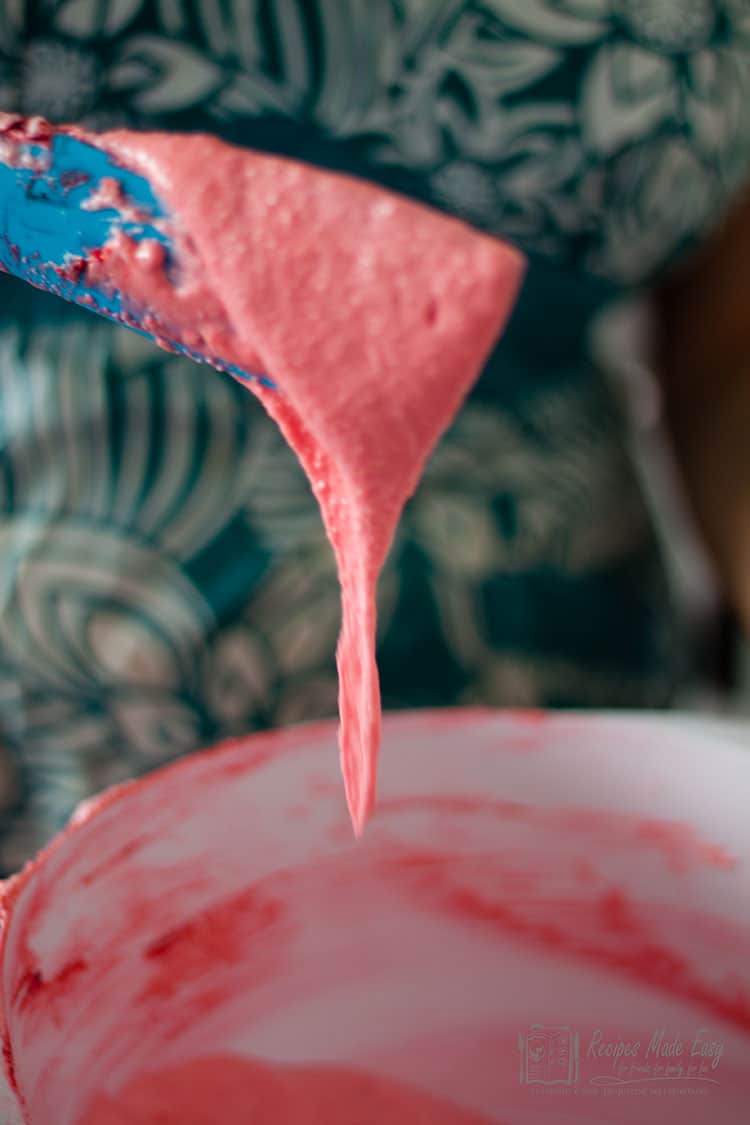 Carefully add the almond/icing sugar mix to the meringue mix, a quarter at a time. "I add it at the side of the bowl, and then fold it in - the 'macaronage'. You can be much less careful than you would think: if you don't mix it enough, your macarons will not pipe well and will have nipples. So mix it well until it is a smooth but thick batter, and when you drop in a spoonful, it eventually sinks back into the rest. But don't get carried away and make it too liquid, or they won't rise and you will have thin shells."
Pipe onto baking parchment that you have first stuck to a tray with some blobs of the mixture. "I use a pizza tray (with holes in the base). Remember that they will spread, so leave room around them, and don't pipe a blob quite as big as you want the macaron to be."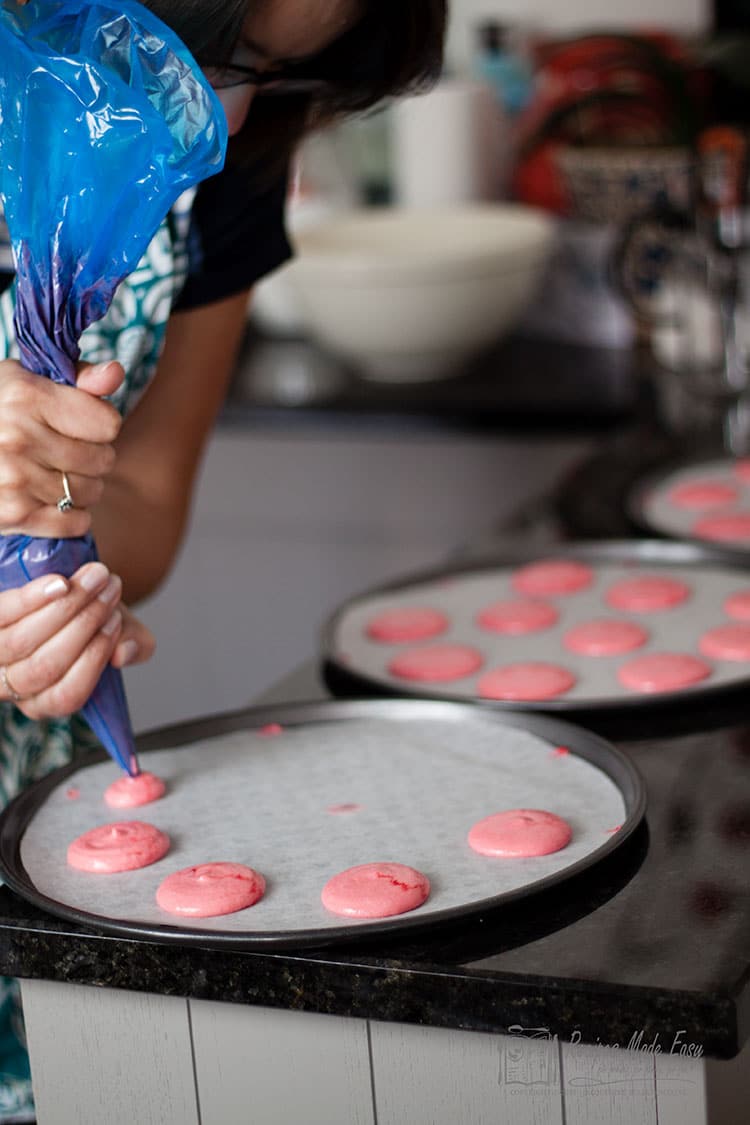 Lift the trays just off the surface and let them drop down again to remove air bubbles. Then leave to rest, "the piped macarons will first absorb their nipples (from the piping) and become smooth and shiny, and then lose the shine and develop a skin in 15 or so minutes. Test by gently touching the edge – if it's firm-ish and no macaron batter comes away on your fingertip, then it's ready."
Then Bake. When cooked there should be no movement between the macaron top and the foot when it's ready (open the oven door but don't take out the sheet, gently grasp a macaron between your fingers and see if there's any 'wibble' between the top and the foot – if there is, close it up again, as it isn't ready).
Once ready take them out and slide the macarons still on the parchment onto a wire cooling rack. Leave them to cool completely.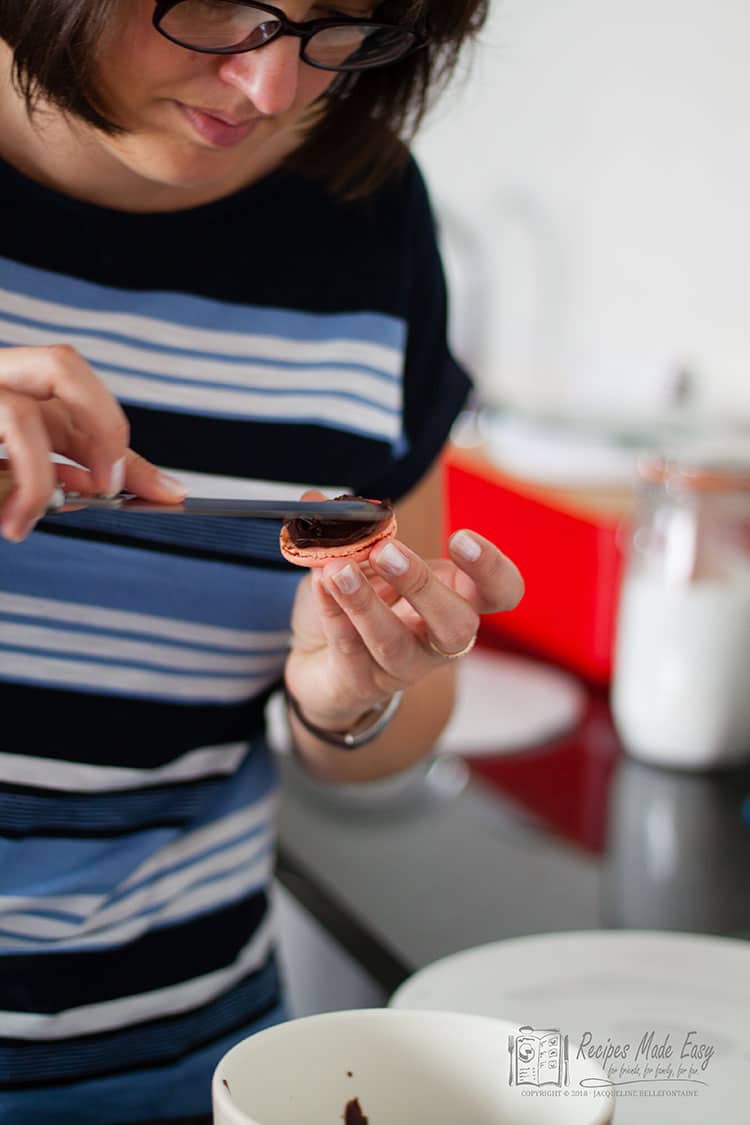 When cool, fill them matching the similar sized shells together if there is some variation.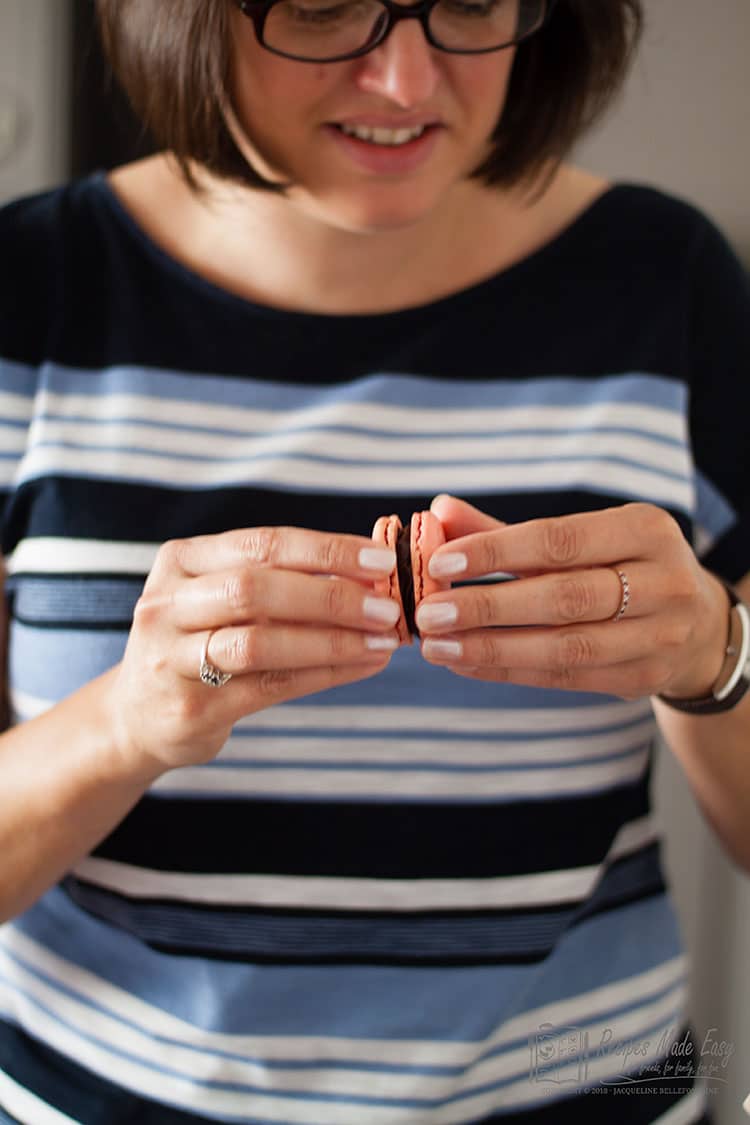 "You should then leave them in the fridge for at least 24 hours. I always sneak one or two at this point, but they are a bit too crunchy" she says. I'm so glad she said that because I have to confess I am the same. After 24 hours the macarons will absorb some moisture from the filling, to give you that slightly chewy texture in the middle.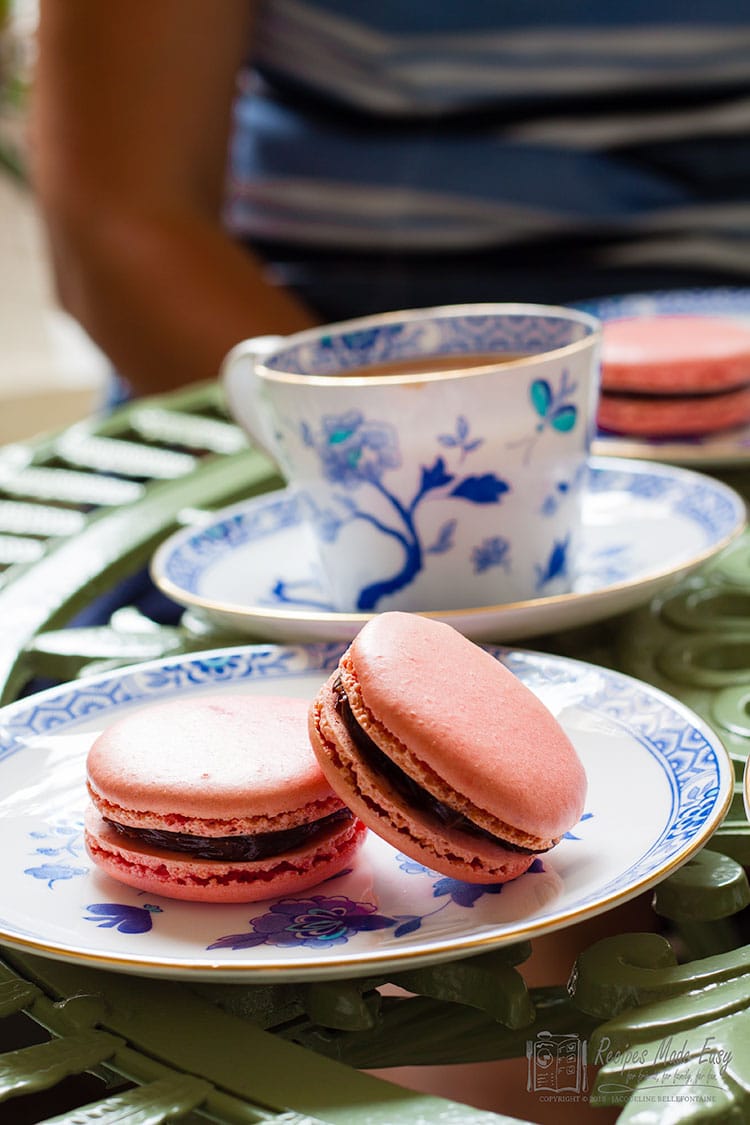 So there you have it all Eva's tips for making perfect Macarons, so with a little practice you too could be making them like a pro. Macarons are the perfect treat ideal to share with friends at afternoon tea, parties or wedding. They also make a fabulous gift.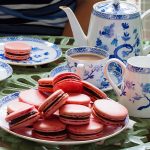 Eva's Macarons
Print Recipe
Pin Recipe
Save Recipe
Saved!
Delicate almond biscuits with a chocolate ganache filling.
Ingredients
For the ganache
125

ml

double cream

6

green cardamom pods

125

g

plain chocolate about 52% cocoa solids

15

g

butter

2

teaspoon

golden syrup
For the macarons
175

g

icing sugar

125

g

ground almonds

107

g

egg white

at room temperature

75

g

caster sugar

Food colouring gel

gel doesn't interfere with the consistency
Instructions
To make the ganache
Place the cream in a saucepan with the seeds from the cardamon pods. Heat gently until just bubbling around the edge of the pan, then remove from the heat.

Leave to infuse for 20 minutes or so. Strain to remove the seeds if desired.

Gently reheat the cream, then remove from the heat and stir in the chocolate. Stir constantly until the chocolate has melted.

Then stir in the butter and golden syrup until combined. Refrigerate until required.
To make the macarons
Sieve the ground almonds and icing sugar together. Discard any bits of almond that remain in the sieve. If you have lots, top up with a similar amount of extra ground almonds.

In a clean bowl, beat the egg whites with an electric beater until they form stiff peaks. Beat in the caster sugar, a third at a time, adding the food colour with the third batch.

Then carefully fold in the almond/icing sugar mix, a quarter at a time. Mix it well until it is a smooth but thick batter, and when you drop in a spoonful, it eventually sinks back in to the rest.

Line several baking or pizza trays with parchment. Spoon the mixture into a large piping bag fitted with a 1cm (½ in) wide plain nozzle (or snip off the end off a disposable piping bag).

Gently lift the trays just off the surface and drop down again to remove air bubbles and allow to stand for about 15 minutes.

Preheat the oven to 150°C (140°C/300°F/gas mark 2) and bake in the oven for

15 minutes

or until firm. The macarons should lift off the parchment when ready.

Remove from the oven, slide the parchment off the baking tray and leave the macarons to cool.

When cool, sandwich the macarons together with the ganache.
Notes
Store in an airtight container in a cool dry place for up to 3 days.
Nutrition information is calculated using an online nutrition database - is approximate and is meant as a guideline only.
Nutrition
Calories:
127
kcal
|
Carbohydrates:
15
g
|
Protein:
2
g
|
Fat:
7
g
|
Saturated Fat:
2
g
|
Cholesterol:
8
mg
|
Sodium:
14
mg
|
Potassium:
40
mg
|
Sugar:
13
g
|
Vitamin A:
95
IU
|
Calcium:
18
mg
|
Iron:
0.5
mg
I'm linking this post to #CookBlogShare

and Baking Crumbs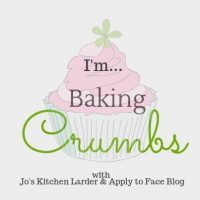 hosted by Apply to Face Blog And Jo Kitchen Larder