A Gingerbread house is fun to make in the run up to the big day and it tastes fabulous too. Just perfect for the young and young at heart.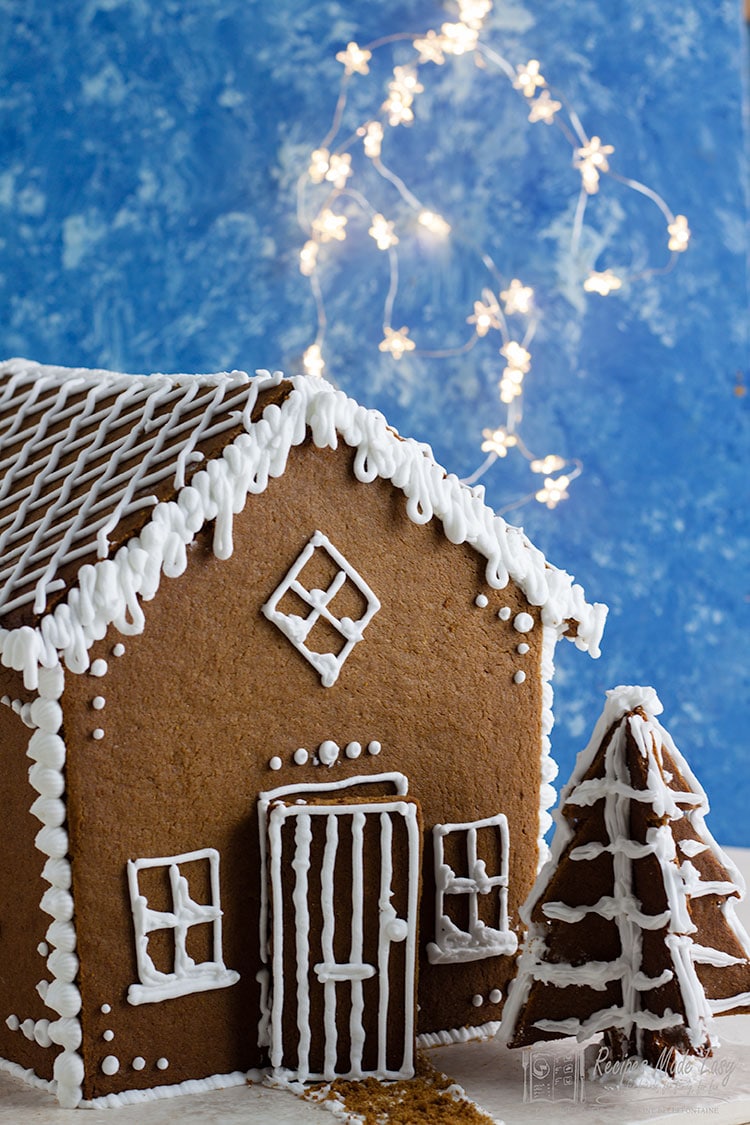 Have you made a gingerbread house before? Me neither! At least that was the case until a couple of weeks ago. I love gingerbread but I'd never made a gingerbread house so when I was invited to a bloggers gingerbread house Bake Off hosted by Neff at L'atelier des Chefs a little cooking school in the city near St.Pauls, it sounded too good to pass up. A chance to meet some new bloggers and have a bit of fun in the run-up to Christmas which turned out to be enormous fun. Why had I not made a gingerbread house before? I have been missing out!
When we first arrived with a glass of something red and warming we were given a brief talk from one the Neff Home Economistswho told us all about the Neff Slide and Hide ovens we would be using to bake the gingerbread. You know the ones where the door nifty slides under the oven as you open it. What a handy feature allowing you to get closer to the food you are cooking (and making it easier to get in and clean the oven too). What can I say, - when it came to baking our gingerbread houses, they baked them perfectly.
So for the next step of the evening we divided into three groups for the Bake off to begin. This being an evening of Bloggers from different genres I had not meet anyone before. No need to worry about that I was soon to make friends with those on my team. That's the lovely thing about food it really does bring people together.
Provided with the dough ready made, we proceeded with cutting out and baking our houses which as I alluded to before, baked perfectly. Then a quick trim and it was time to start assembling and decorating our house. Somehow I seemed to get landed with the task of assembling but with lots of help and guidance from the others, our house quickly took shape as lots of hands made light work. Did I mention we were up against the clock?
Well no problem, my creative team jumped straight into brainstorming decorating ideas and within no time our own very unique gingerbread house was created.
Time up and it was time for the houses to be judged. Did we win? No, this one did.
I have to say I love the creeper up the back of the house and so many creative little touches. But I think we held our own. At least it didn't collapse like the third team's house. Not that that phased them, they simply propped up the house up with a clear tub and presented it as a post modern gingerbread house with open plan features and a glass wall!
Gingerbread has been a part of the Christmas and Winter Feasts in Europe since medieval times, and in recent years gingerbread houses have had a resurgence of popularity. Perhaps in the UK, this is partly down to them making Mary Berrys Gingerbread House on the popular TV show Bake Off in 2013 and various incarnations of the task since then. Despite their growing popularity with my lads no longer small, making one myself never really came on the radar until this fabulous event more here. Many thanks to Neff for inviting me to take part.
How to Make a Gingerbread House
Having discovered how much fun they were to make, I feel this being Recipes Made Easy I must share a recipe with you. I even made another just to prove it was not a fluke and they really are not that hard to make.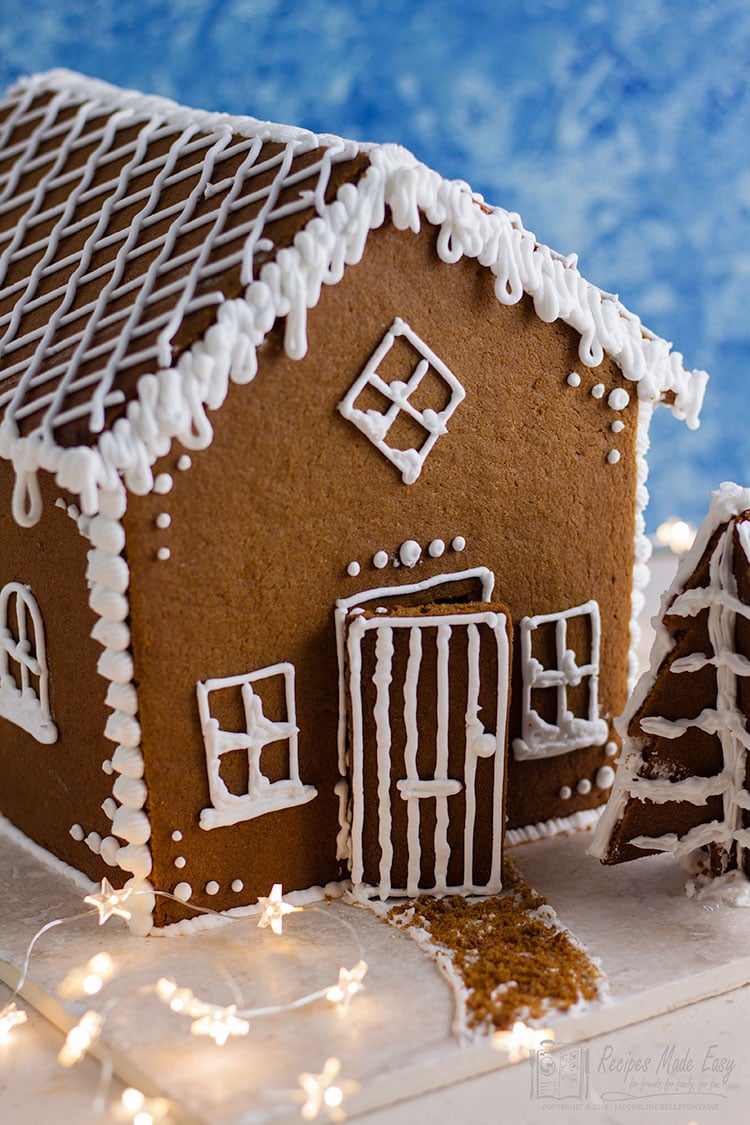 Mr B very kindly drew up the template which you can Recipes Made Easy Gingerbread House Template. Make sure that you have your print setting to actual size when you print it at A4. Cut out and you are ready to go. You will need to cut two of each of the main house pieces plus 4 Christmas tree pieces.
For my house, I used my Christmas Gingerbread recipe. It's quite big so I have trebled the recipe which you can make in one big batch but to be honest that's a lot of dough and it is probably easier to make it in three batches. I have been quite generous with the amount of dough as the last thing you want to happen is not quite have enough The extra dough that is left over can be rolled out and made into more cookies.
The dough needs to be really cold when you cut it out. I rolled mine out, chilled it, then cut out the pieces and chilled again before baking. After baking for 15 minutes the gingerbread will have spread slightly, so quickly place the template on top again and recut while the dough is still warm. Then pop the pieces back into the oven upside down for a further 5 minutes. Allow to cool then let the fun begin.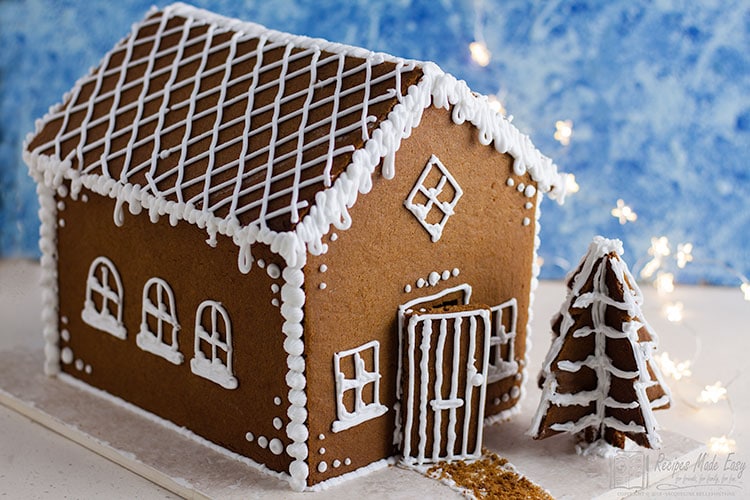 Make a batch of royal icing, or if you want to avoid using raw egg white you can buy packs of Royal icing, and make as directed on the packet. Again I have been quite generous with the quantities as it is easier to have some spare. Leftover icing will keep for several days if closely covered. Assemble the sides of the house first, you will need to get someone to help you at this point, but its more fun with help anyway. Then stick on the roof and assemble the tree. Don't worry about splodges of icing down the sides of the wall a lot can be hidden under "icing snow". I assemble mine on a large tile but a tray, wooden board or cake board is fine and decorate as desired.
During the bake off we assembled the house and then decorated due to our time restrictions. In the more leisurely pace of my own kitchen, I did some of the piping before assembling as it was easier to pipe the windows while the pieces were flat on the table. I also piped the roof details but in retrospect, it would have been easier to do that after the roof had been fixed in place as I knocked the piping when putting it on and had to do a little patching up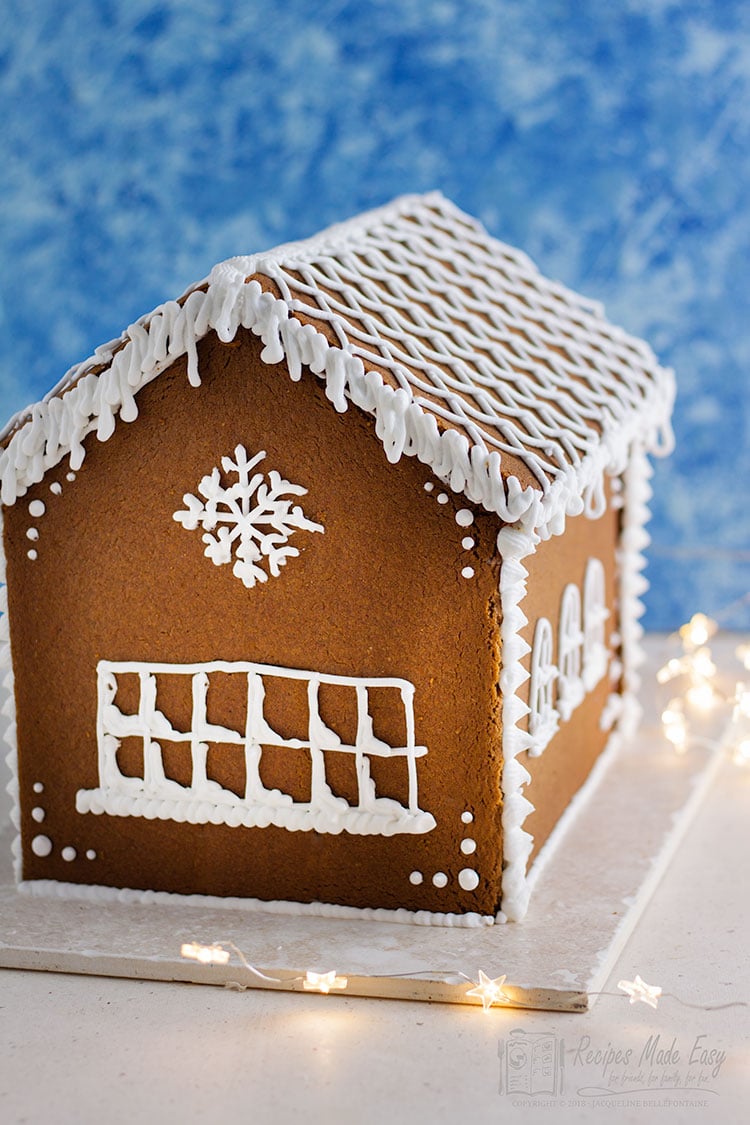 You can go the whole bells and whistle route with lots of coloured icing and sweets to decorate as we did on the bake off or try my more minimal look made with just the white icing. And one final note. Even though my lads are now grown, ever since I assembled mine Will at home from uni has been pestering me to eat it. Which just goes to show gingerbread houses are for big kids too.

Print Recipe
Gingerbread House
Gingerbread has been a part of the Christmas and Winter Feasts in Europe since medieval times, and in recent years gingerbread houses have had a resurgence of popularity.
Servings:
1
gingerbread house
Ingredients
1

kg

plain flour

1

tbsp

bicarbonate of soda

2

tbsp

ground ginger

1

tsp

ground cinnamon

450

g

butter

cut into dice

500

g

light muscovado sugar

6

tbsp

black treacle

6

tbsp

golden syrup

3

large

free range eggs

glacé or royal icing to decorate

(optional)
To complete
500

g

icing sugar

2

large

egg whites

juice of ½ a lemon

selection of sweets

(optional)
Instructions
Preheat the oven to 200℃ (180℃ fan)/400°F/gas mark 6. sift the flour, bicarbonate of soda and spices into a large mixing bowl. Add the butter and rub in until the mixture resembles fine breadcrumbs. Stir in the muscovado sugar.


Beat the treacle, golden syrup and egg together and add to the bowl. Mix to form a smooth dough.


Divide the dough into pieces and roll out to about 7mm (⅓in) thick between two sheets of baking parchment. Chill for 20 minutes. Using the template as a guide cut out the gingerbread house pieces. Chill again.


Bake the biscuits in the centre of the oven for

15 minutes

. Remove from the oven and while still hot, cut out the pieces again using the template as a guide. Turn over and return to the oven for

5 minutes

.

Allow to cool for a few minutes before transferring to a wire rack to cool completely.
To complete
Make the royal icing. Whisk the egg whites in a mixer until frothy.

Add the icing sugar and mix on

a low

speed until combined. Then add

the lemon juice, increase the speed and beat well for a minute or two.

If desired, split the mix and add food colouring of your choice. I kept mine white and divided between two bags, one fitted with a plain writing nozzle and the other a small star nozzle.

Cement the walls together with the icing. This is best done on while on the board you are going to serve it on. You may find it easier to pipe your windows before assembling.

Next, pipe a thick line of icing along the top of the walls and place the roof in position. Using a star nozzle pipe a thick line of icing along the ridge of the roof. You may need to prop the roof in place for a few minutes for the icing to go off.

Once the house has set it is a good idea to pipe it into position along the base of the house with a little more icing. Decorate as desired.
Notes
Nutrition information is calculated using an online nutrition database - is approximate and is meant as a guideline only and really should have no place on gingerbread house!
Nutrition
Serving:
1
house
|
Calories:
8257
kcal
|
Carbohydrates:
1296
g
|
Protein:
99
g
|
Fat:
301
g
|
Saturated Fat:
184
g
|
Cholesterol:
1124
mg
|
Sodium:
6100
mg
|
Potassium:
2881
mg
|
Fiber:
23
g
|
Sugar:
708
g
|
Vitamin A:
9285
IU
|
Calcium:
981
mg
|
Iron:
52.5
mg
Tried This Recipe?
I would love to know how you got on – Tag me on Instagram or Twitter @RecipeCrumbs or leave me a comment and rate the recipe below
I am sharing this recipe on Bake of the Week hosted at Mummy Mishaps