Piccalilli is a classic English pickle that is perfect with cold meats, a ploughman's, or pork pie. Lightly pickled vegetables in a spicy aromatic sauce, Homemade Piccalilli is easy to make and tastes far superior to any commercially made piccalilli.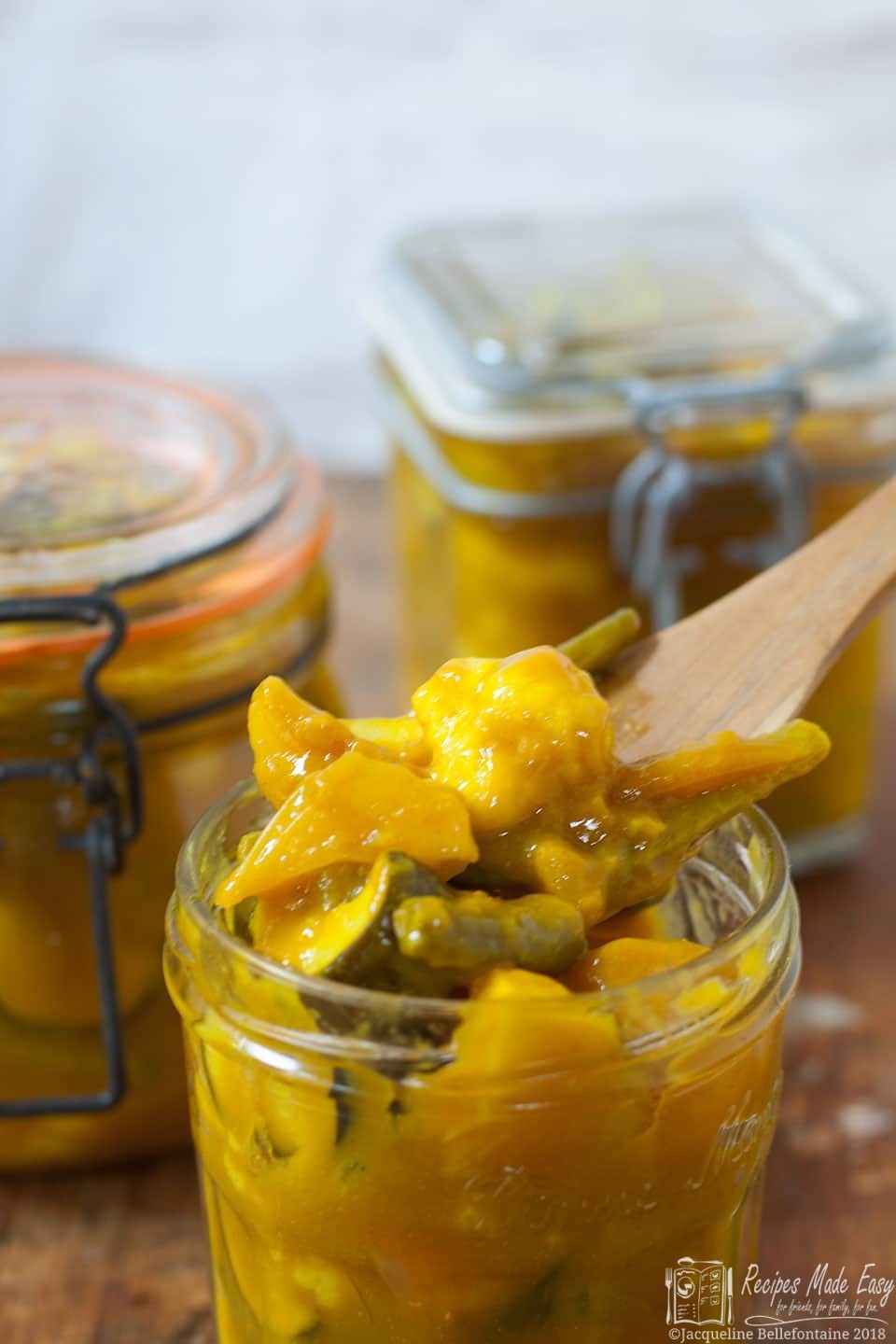 When I posted my recipe for Ham Hock Terrine, one of my readers got in touch with me and asked me for a recipe for Piccalilli to go with it. How could I refuse, it's a perfect partner to the terrine.
Homemade Piccalilli also makes a great edible gift so, with the festive season fast approaching, now is a really good time to make it as it takes a little time to mature. I would allow at least a month, although this recipe does taste surprisingly good straight away.
It will keep if stored in a cool dark place for up to 18 months, unopened. Once opened, store in the refrigerator and consume within 4 weeks - although it is likely to disappear long before that as it tastes so good.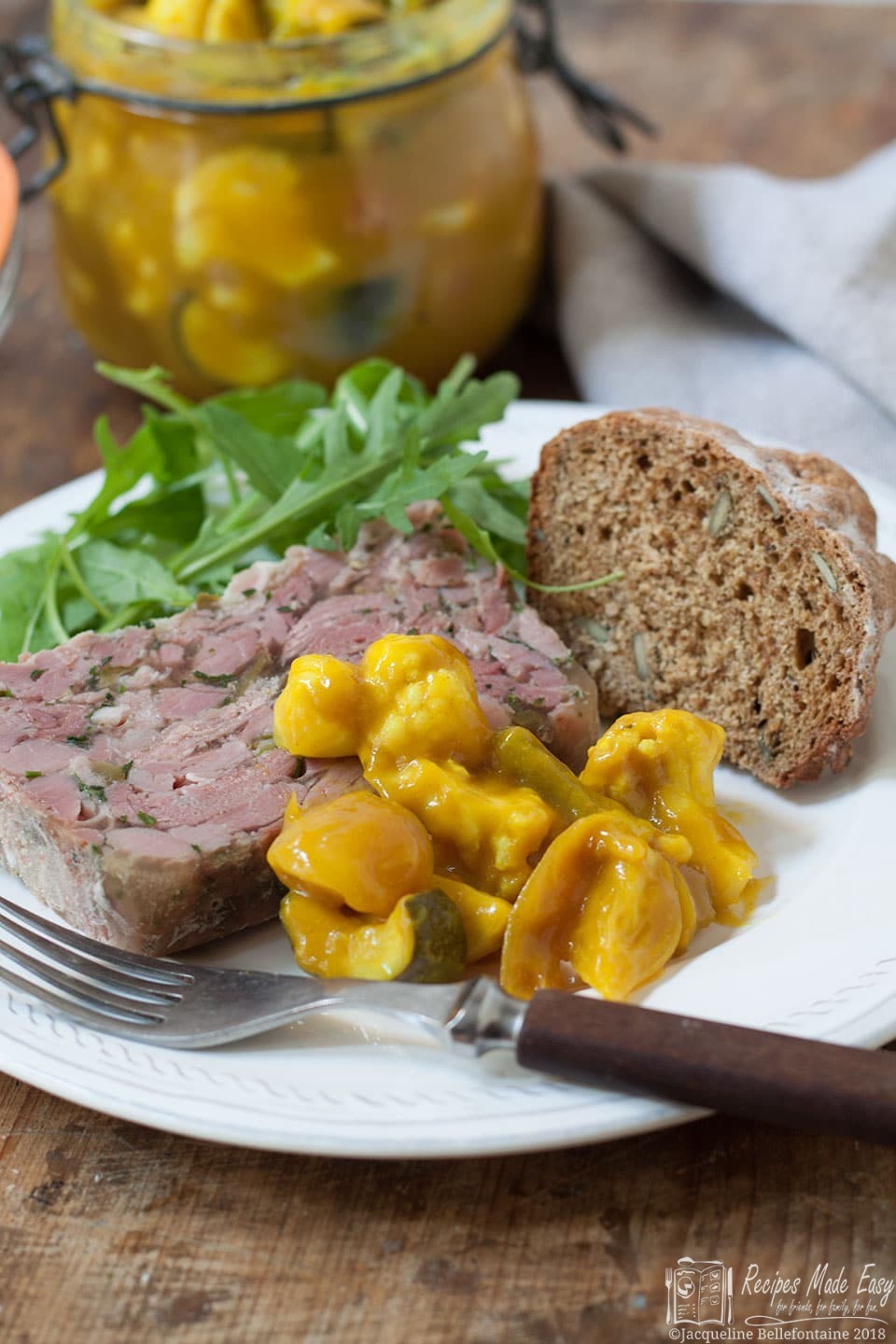 Having said that, it is only relatively recently that I have grown to love pickles. Previously I only liked pickled onions and beetroot. I think this change has come about because in recent years there has been a move to much lighter style pickles where the vegetables still have plenty of crunch and flavour.
While looking at other recipes for piccalilli I found some in my older books that cooked the vegetables for 20 minutes or more. No wonder they tasted all mushy and horrible. Nowadays a piccalilli recipe is more likely to cook the vegetables for just a few minutes or not at all.
My preferred option is to just lightly cook them, but do time carefully as it is essential that they retain some crunch. I have also kept my piccalilli fairly chunky as I prefer it that way and I think it looks prettier in larger pieces. Having said that, by all means, cut the vegetable smaller if you prefer.
You will need to start the day before as the vegetables need to be tossed with salt to draw out some of the moisture in them. It will not make it too salty as the salt is then rinsed off.
I wouldn't recommend skipping this step as it is another way of ensuring your Piccallili has plenty of bite. One thing is for certain, once you have made your own you will never buy it again.

Homemade Piccalilli
Print Recipe
Pin Recipe
Save Recipe
Saved!
A classic English pickle of mixed vegetables in an aromatic mustard flavour sauce.
Start the day before. Allow to mature for 1 month before serving.
Ingredients
300

g

cauliflower florets

150

g

French beans

250

g

shallots or small pickling onions

250

g

courgettes or cucumber

75

g

sea salt

4

tablespoon

plain flour

75

g

granulated sugar

1

teaspoon

turmeric

1

tablespoon

mustard powder

1

teaspoon

ground ginger

500

ml

malt vinegar
Instructions
Prepare the vegetables. Break the cauliflower into small florets, trim the beans and cut into short lengths. Peel and quarter the shallots or onions. Cut the courgettes into half or quarters lengthways then thickly slice. If using cucumber cut in half lengthwise, scoop out and discard the seeds then cut in half again and slice.

Layer the vegetables in a bowl sprinkling with the salt as you layer them. Toss together to coat with the salt. Cover and allow to stand for 24 hours.

Drain the vegetables and rinse very well in cold water. Drain and allow to dry.

Mix the flour, sugar, mustard powder, turmeric and ginger together in a pan with a little of the vinegar to form a smooth paste. Make sure that you get the mixture lump free at this stage.

Gradually stir in the remaining vinegar. Cook over a low heat stirring until the mixture comes to the boil and thickens.

Add the vegetables and cook gently for

2-3 minutes

. Spoon into hot sterilised jars and seal.
Notes
Click here for how to sterilise jars
The flavour of piccalilli improves with storing and should ideally be left to mature for at least 1 month. Once opened consume within 4 weeks. Unopen jars should keep for up to 18 months in a cool dry place.
Nutrition
Serving:
1
jar
|
Calories:
211
kcal
|
Carbohydrates:
43
g
|
Protein:
5
g
|
Sodium:
2462
mg
|
Potassium:
689
mg
|
Fiber:
5
g
|
Sugar:
27
g
|
Vitamin A:
385
IU
|
Vitamin C:
56.9
mg
|
Calcium:
71
mg
|
Iron:
2.3
mg
I'm linking this post to #CookBlogShare
More Preserves Made Easy