Thin strips of fish coated in the ligtest of batter, this fusion style dish of fish tempura with watercress mayo, makes a delcious starter, or a light main dish.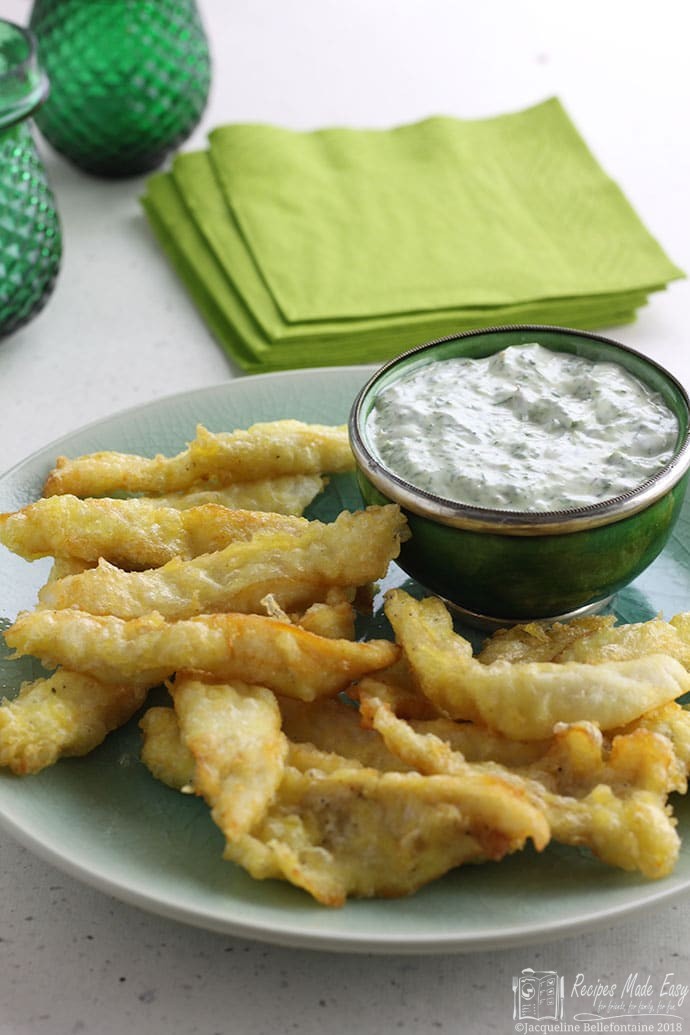 To Deep Fat Fry or Not
This week there was a little bit of controversy in the UK when the matriarch star of The Great British BakeOff Mary Berry announced that no household should own a deep fat fryer. This in turn was denounced by Greg Wallace from Masterchef who called it an attack on our way of life.
Normally I would tend to side with Mary Berry any day over Greg Wallace. However, while Greg is being quite ridiculous saying it is an attack on our way of life, I don't see anything wrong with owning a deep fat fryer and occasionally deep fat frying food.
This dish is one such delicious occasion. The batter is so very light and crispy, it would be a shame not to treat yourself once in a while. What's more it's really easy to prepare and only takes a short time to cook. I think it makes a fabulous starter and I have also served them with drinks at parties and with pre dinner drinks.
In later justifying her condemnation of deep fat frying, Mary also point out that deep fat frying is one of the main causes of house fires and although that was certainly true in the past, I'm not sure if that still holds true now that deep fat fryers are relatively cheap and common. So if you deep fry it is probably best to invest in a fryer and eliminate the risk of the oil overheating and catching fire.
Although I own a deep fat fryer, I rarely use it as it takes 2 litres of oil, so I only use it when I am frying large items such as doughnuts. For this recipe I fry the fish in a wok. I am only cooking a small quantity, and not only does this use much less oil, it's also quicker. But for safety sake, make sure that you give the frying 100% attention. It's only for a few minutes, so better to be safe than sorry.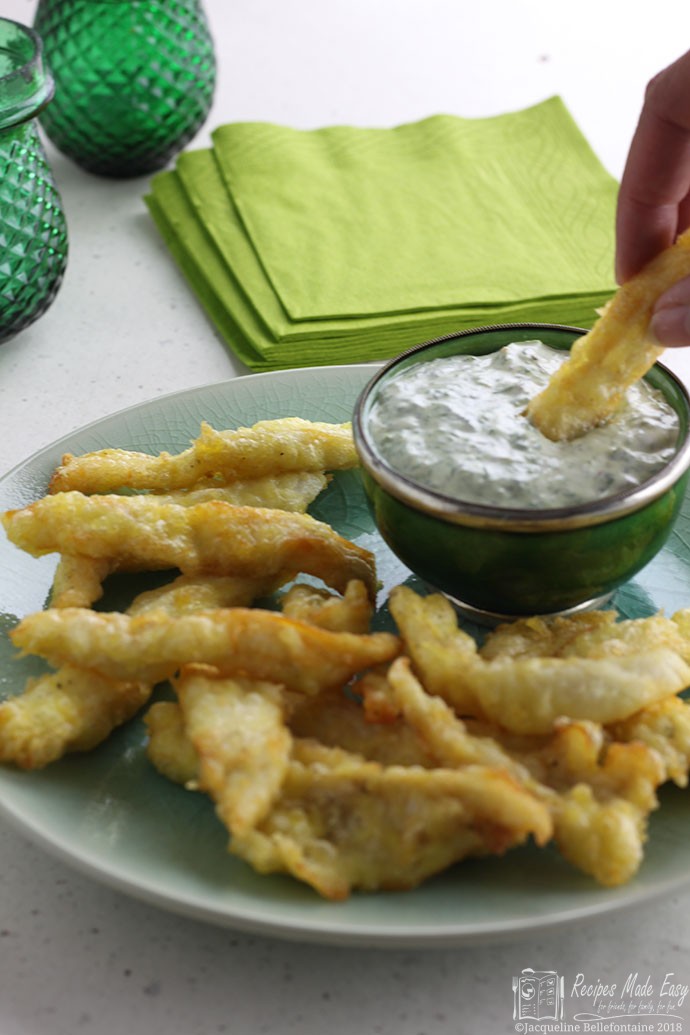 Step by step fish tempura with watercress mayo

Fish Tempura with watercress mayo
Print Recipe
Pin Recipe
Save Recipe
Saved!
Ingredients
for the watercress mayo
50

g

watercress

1

clove

garlic

crushed

100

ml

good quality mayonnaise

1

teaspoon

lemon juice
for the fish tempura
350

g

white fish fillets - I used plaice

100

g

plain flour

1

medium egg

225

ml

soda water

oil for deep frying

salt and freshly ground black pepper
Instructions
to make the mayo
Place all the ingredients in a food processor or liquidizer and process until smooth. Spoon into a serving dish and chill until required.
to make the fish tempura
Skin the fish and cut into 1cm/½2 thick strips, season with salt and pepper.

Place the flour in a bowl and make a well in the centre. Drop in the egg and add half of the soda water, beat until smooth. Next gradually beat in the remaining water to produce a thin smooth batter.

Heat the oil in a wok or deep fat fryer to 180℃.

Dip the fish into the batter and deep fry in batches for 2 minutes until crisp and golden.

Serve with the watercress mayo.
Hint's, Tips and variations
Make the mayo first and chill until required. It can be made up to 24 hours in advance if required.
Use rocket instead of watercress as a tasty alternative.
If you don't have a food processor you could very finely chop the watercress by hand.
The batter is really thin and it is tempting to want to add some flour to thicken it, but try to resist! Unlike the thick batter we have when we make fish and chips, this batter should be very light and barely there.
Its the soda water that helps to give the batter its crisp texture don't be tempted to use tap or mineral water.
You will have quite a bit of batter left over. It is hard to reduce the quantity as it requires one egg but if you have use for left over egg you could reduce by half and add half a beaten egg.
Alternatively consider making some vegetable tempura. Courgettes works well and go nicely with the fish.
Or make some sweet fritters for dessert by using to the batter to coat slices of apple, banana or other fruits
Do you deep fry? Do you have a deep fat fryer? What are your favourite deep fried dishes? I do love to know how and what you like to cook and read your feed back, so do drop me a comment. I try to reply as soon as I can and I always read each and everyone.