This chicken noodle salad is a fresh tasting salad with noodles and strips of chargrilled chicken tossed in a sweet chilli dressing. I'm still dreaming of summer and hoping it's not far away. So far we seem to be having a rather wet albeit mild spring and I really can't wait to see more sun and start tucking into more light salad style dishes. I can't do anything about the sunshine but this noodle salad is a step in the right direction as far as food goes. The fresh tasting flavours certainly put me in a better frame of mind.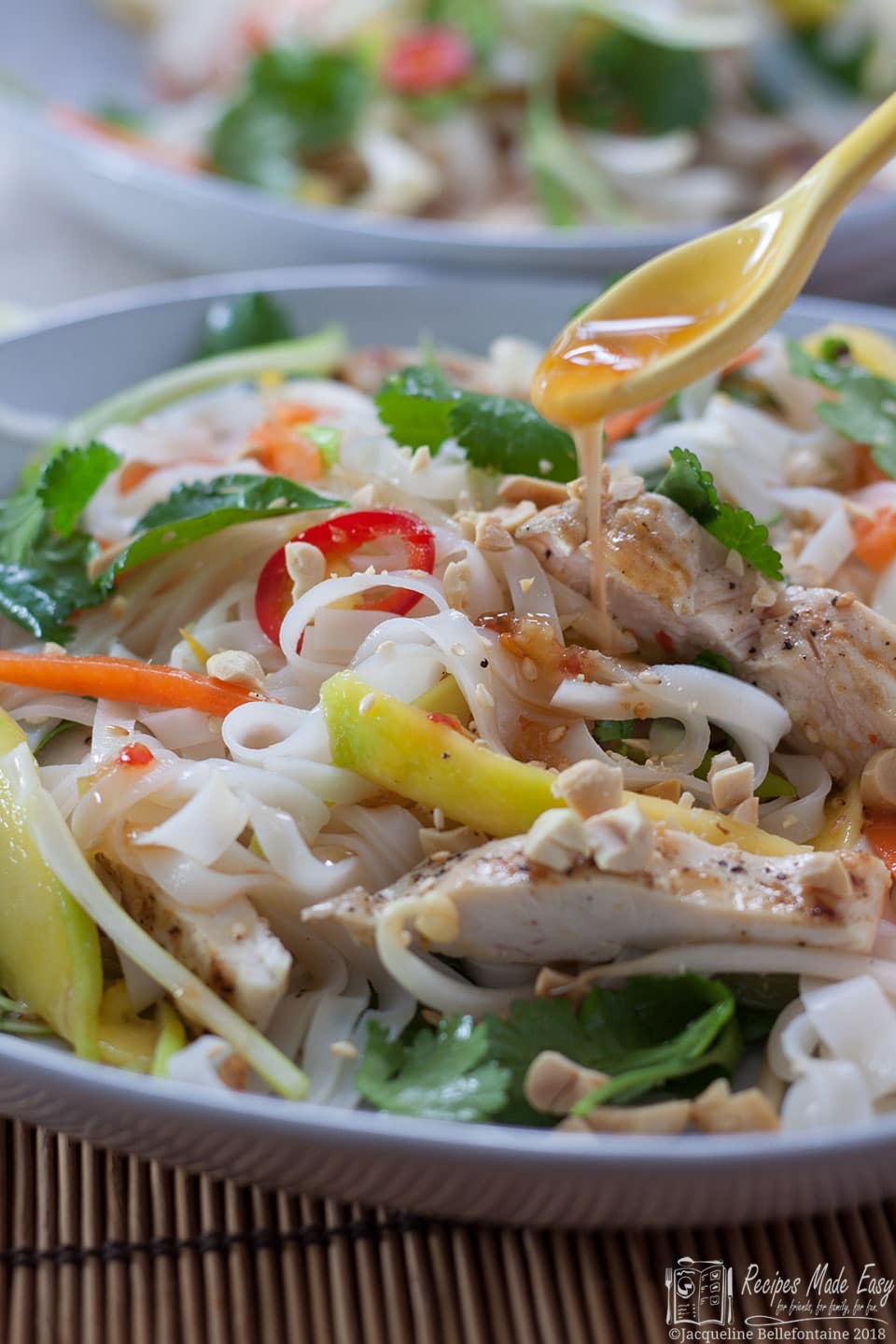 I have made this chicken noodle salad with chargrilled chicken. Chargrilled is just a fancy name for food cooked using a griddle pan or on a barbecue. If you don't have a griddle pan, a regular frying pan or a grill will do just fine, although you won't get the pretty grill lines. Bashing the chicken out flat first may seem a bit faffy (ok, so that's not a real word but you know what I mean) but it does reduce the cooking time quite a bit, and you are less likely to have undercooked chicken this way. Overall I think it saves time, so I often cook my chicken this way. Admittedly, I can be a bit impatient!
To make the salad, I gather together all the ingredients for the salad together and prepare them as directed in the ingredient list (a good practise to get into). I put the chicken on to cook, and then soak the noodles. That way, once the chicken and noodles are ready, all that remains to be done is tossing ingredients together, drizzling with the dressing and it's good to go. Although you could leave the chicken breast whole, I tend to prefer cutting it into strips and then tossing it together with the other salad ingredients as it nicley mixes the flavours.
You can serve the salad warm or cold, personally I like it both ways. To serve warm simply, cook, assemble and eat straight away. If you are preparing it in advance to eat cold later drain the noodles, then rinse in cold water and drain again, to cool them quickly and stop them from becoming too soft. Allow the chicken to cool before combining with the salad and do not dress the salad until just before you serve it.
A squeeze of lime juice just before eating will really make the flavours zing.
If you want, you could us pan-fried fish or stir-fried strips of beef steak instead of chicken.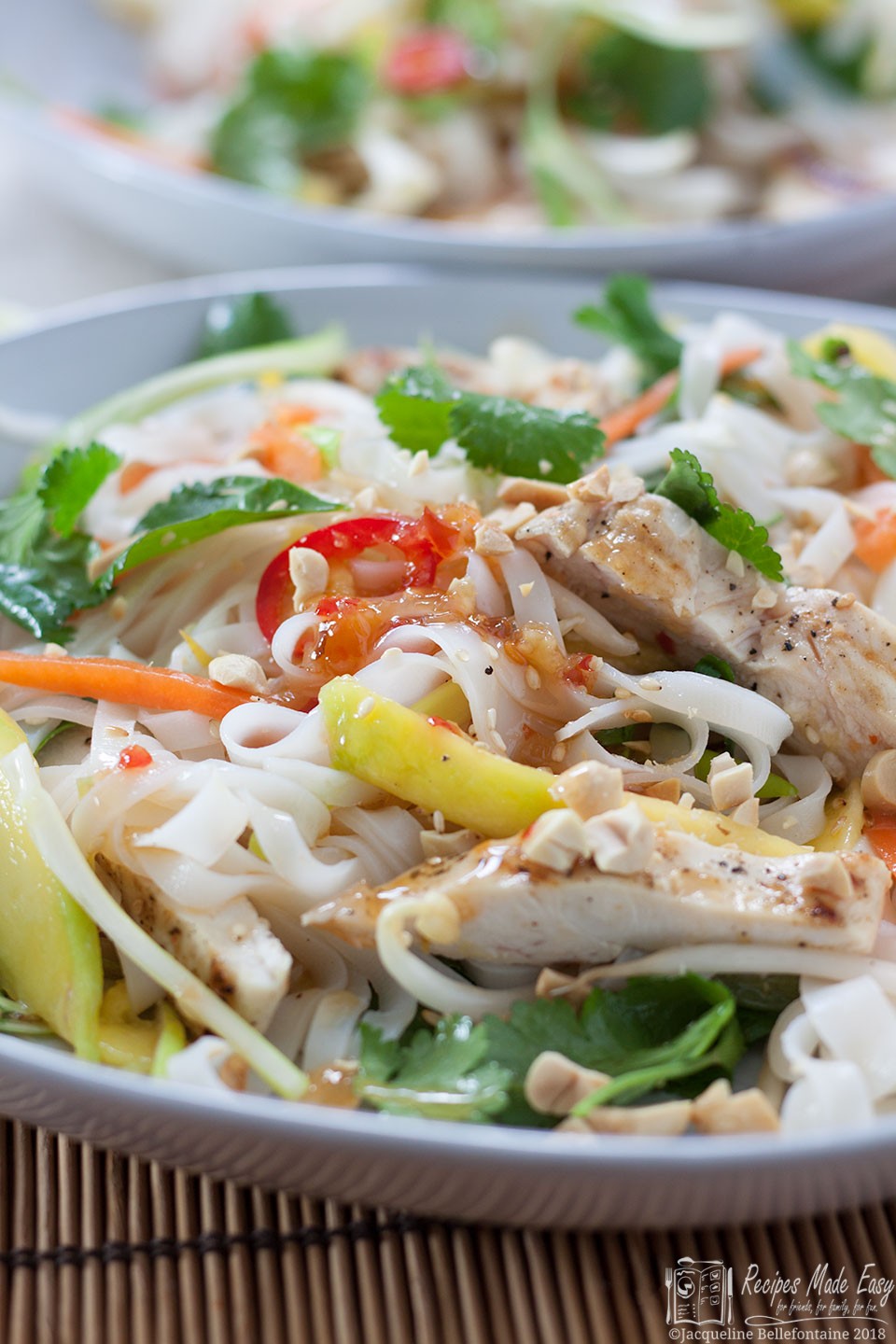 Chicken noodle salad with sweet chilli dressing
Print Recipe
Pin Recipe
Save Recipe
Saved!
Ingredients
2

chicken breasts

skinned and boned

salt and freshly ground black pepper
for the noodle salad
125

g

rice noodles

4oz

½

mango

stoned peeled and sliced

75

g

beansprouts

3oz

2

spring onions

shredded

1

carrot

finely shredded

1

red chilli

seeded and sliced

15

g

coriander leaves

½oz

2

tablespoon

chopped toasted peanuts

1

tablespoon

toasted sesame seed
for the dressing
1

tablespoon

rice wine vinegar

2

tablespoon

sesame oil

lime wedges

to serve
Instructions
Place the chicken between two sheets of cling film and bash to flatten with a rolling pin or the flat side of a meat mallet. Season with salt and pepper.

Heat a griddle pan until very hot and cook the chicken over a high heat for 3-4 minutes each side, until cooked through (the juices will run clear when pierced with a skewer or the top of a knife).

Meanwhile prepare the salad and dressing. Place the noodles in a heat-proof bowl and cover with boiling water. stir and allow to stand for 4 minutes or until just tender. Drain and keep warm.

Combine the remaining ingredients for the salad and set aside.
Step by step chicken noodle salad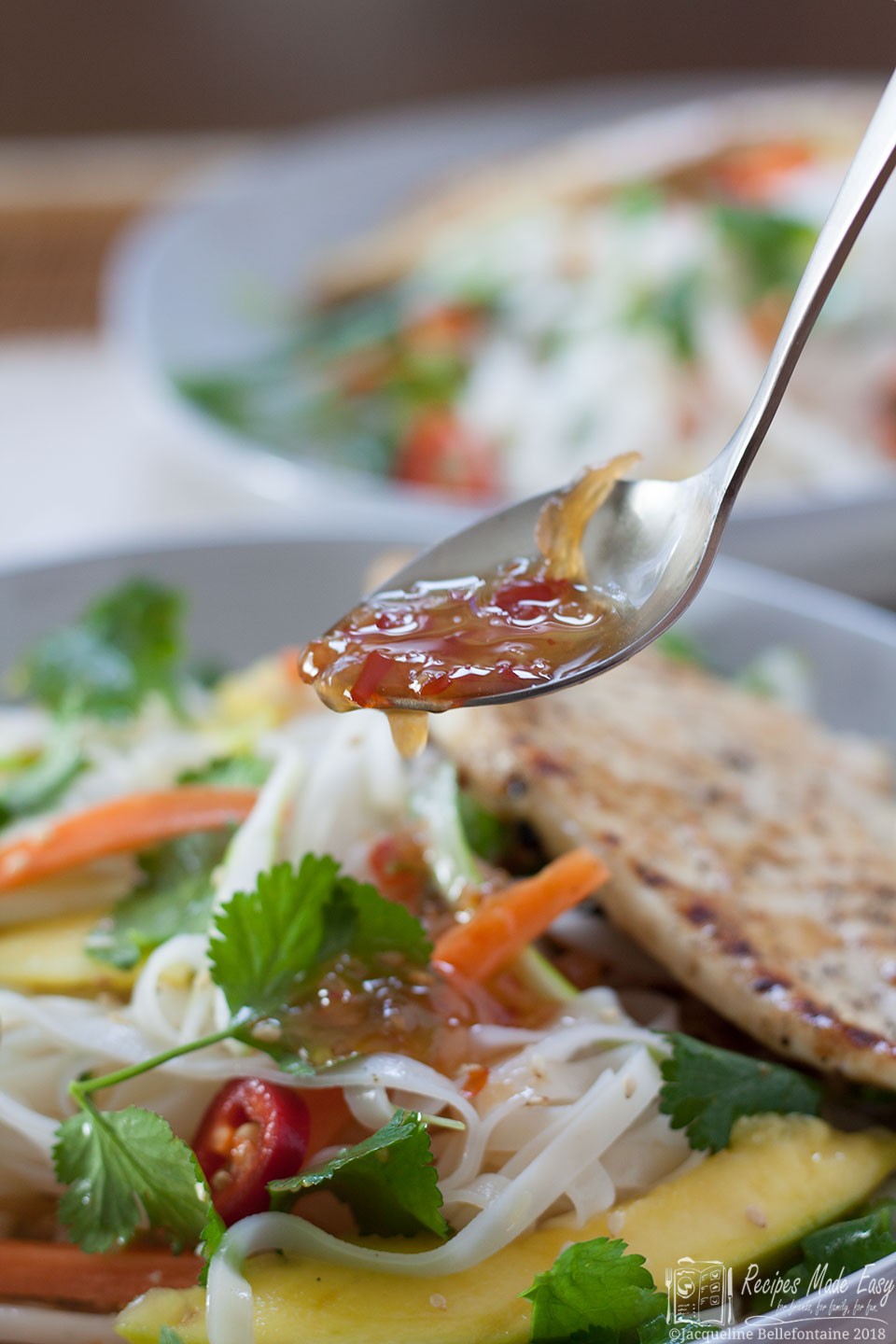 If you try the recipe do pop back and let me know what you think. I do love receiving your comments.
Save