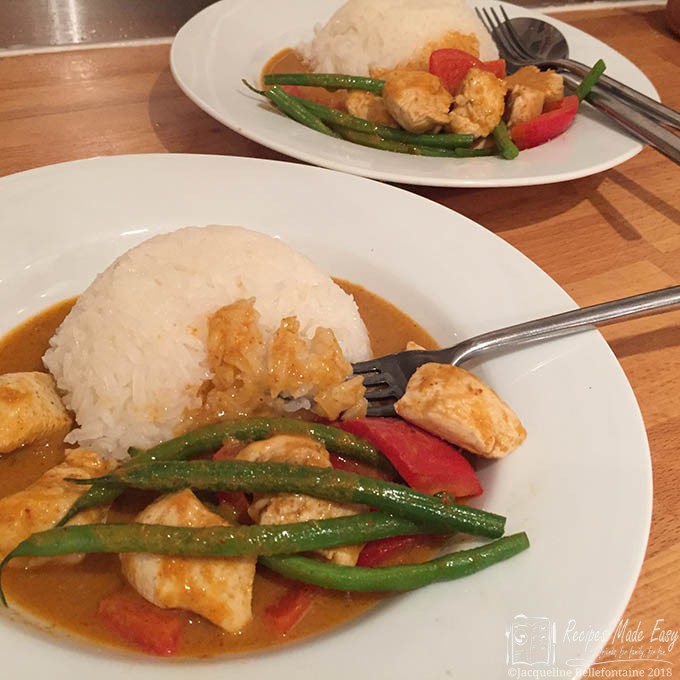 Twenty years (GULP) ago, I wrote The great Thai cookbook, published by Simon & Schuster . To be honest I haven't cooked a huge amount of Thai dishes since then, I'm not sure why. Perhaps it is because I'm a chilli wimp and, lets face it, proper Thai food is pretty darn hot! or maybe it is because Thai food is now so popular that there are plenty of Thai resterants to go to and it is very tempting to eat Thai out rather than in.

That said, there are a couple of dishes that are so simple and quick to make that they do appear on the family table fairly frequently. Thai red or green curry is one of them. When I started writing the book, it was very difficult to find Thai curry pastes in the shops so I included Thai curry paste recipes in the book. By the time the book was published Thai cooking had really escalated in popularity, so much so that it was possible to buy the pastes in the larger main stream supermarkets and it has been available in the supermarkets ever since.
You can use ready made curry pastes, as I have in this recipe, but if you want to make your own pastes. Here are the recipes from my book. While not necessary, your efforts will be rewarded with a superior tasting dish. If, like I usually do for convenience, you opt to use shop bought pastes it's worth trying different makes as I find they do vary. Which one is best is really just a matter of personal tastes.
Red curry paste
12 small red chillies, chopped
3 cloves garlic, crushed
1 stem lemon grass, chopped
1 small onion, chopped
1 teaspoon grated root ginger
2 teaspoon chopped corinader stems and roots
large pinch cumin
1 teaspoon shrimp paste
2 tablespoon rapeseed oil
Green curry paste
16 green Serrano or other small chillies
3 cloves garlic, crushed
2 stems lemon grass, chopped
3 spring onions, chopped
1 teaspoon grated root ginger
1 teaspoon coriander seeds
1 teaspoon caraway seeds
4 whole cloves
1 teaspoon ground nutmeg
1 teaspoon shrimp paste
3 tablespoon rapeseed oil
To make the pastes, place the chillies, garlic and onion in a pestle and mortar and pound together until they begin to blend together. Next add all the remaining ingredients except the oil and continue to pound until a paste is formed, then gradually blend in the oil. Alternatively blitz all the ingredients together in a mini food processor. Store in an airtight jar in the refrigerator for up to 1 month.
As with many recipes I make I will adapt to what I have in the kitchen at the time and I encourage you to do the same. If you don't have green beans use sugar snap peas or mangetout instead. I've added red peppers for some colour, but you could use green or leave them out if you don't have them. If I have a tin of bamboo shoots in the cupboard I will often add these as I like the crunch they add. You could, of course, use beef or prawns instead of the chicken. If you add beef, cut into thin strips across the grain and simmer a few minutes longer - add a splash of water if it needs it. If using prawns make sure they are cooked well and piping hot but take care not to over cook as they will become tough.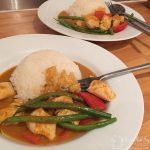 Thai chicken curry
Print Recipe
Pin Recipe
Save Recipe
Saved!
Quick and easy to make this Thai chicken curry makes a great after work meal as it can be cooked and on the table in about 30 minutes. I've used chicken breasts but for a more economical variation could use skinned and boned chicken thighs.
Ingredients
1

tablespoon

rapeseed oil

3-4

tablespoon

red or green curry paste

400

ml

coconut milk

300

g

boneless skinless chicken breasts

cut into bite size pieces

1

tablespoon

fish sauce

1

teaspoon

light muscovado sugar

3

dried kaffir lime leaves

optional, shredded

120

g

bamboo shoots

drained weight

1

red pepper

seeded and cut into chunks

150

g

green beans

trimmed

Rice

to serve
Instructions
Heat the oil in a wok or large non-stick frying pan and add the curry paste and cook stirring constantly for 1 minute or until the aromas are released.

Stir in half the coconut milk and cook over a high heat for 2–3 minutes stirring frequently until reduced and thickened slightly.

Add the chicken and cook for a few minutes until he chicken is no longer pink.

Stir in the fish sauce, sugar, lime leaves and the remaining coconut milk and bring to a gentle simmer.

Add the beans, peppers and bamboo shoots and cook for about 5 minutes until the beans are just tender.

Serve with rice.
Notes
Not suitable for freezing.