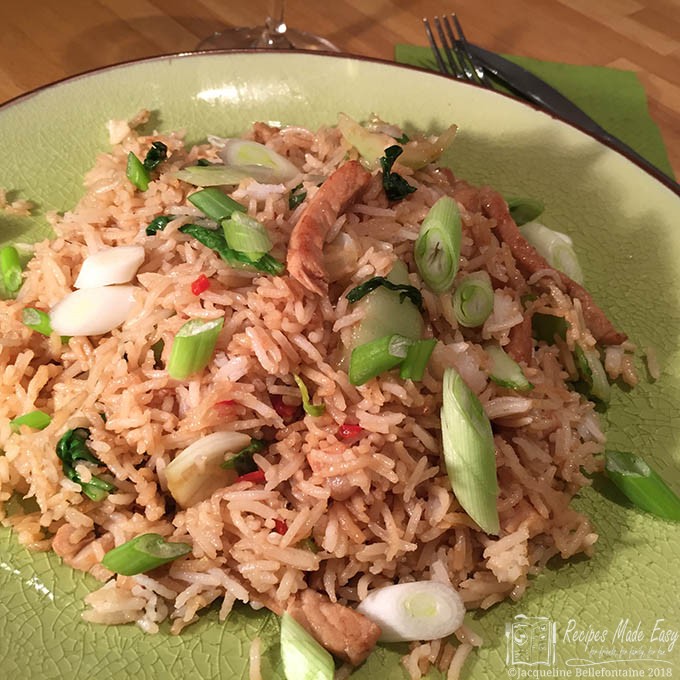 Ever cooked far too much rice and had a load left over? I have, more than once. This is a great recipe for using up leftover rice, and if you have some you can literally knock this recipe up in a few minutes, but even if you don't it still worth making. If you put the rice on to cook first it will be almost done by the time you have got the remaining ingredients together and prepared them. This is a really simple recipe and is packed full of flavour. I cooked this the first time for the blog but this is one I am certainly going to be making again and again, its delicious with just the right amount of spiciness to make the recipe zing.
If you don't have left over rice, you could use packs of ready cooked rice but to be honest I don't think they are worth it. Let's face it, you are only going to save about 15 minutes at the most, unless you use brown rice. I cook my rice by the absorption method. It's really easy to find out how click here.
A word of warning, reheated rice is a major cause of food poisoning. To avoid this, never keep left over rice for more than 24 hours. Cover and chill in the refrigerator as soon as possible after cooking. When reheating make sure the rice is piping hot before serving. And if you use left over rice for this dish, do not save any to reheat again later.

Spicy pork rice with pak choi
Print Recipe
Pin Recipe
Save Recipe
Saved!
Spicy pork rice with pak choi This spicy pork rice recipe is simple, quick, not too many ingredients and really, really tasty! My idea of a perfect recipe.
Ingredients
250

g

lean pork

rapeseed oil

1

teaspoon

grated root ginger

1

clove

garlic

1

red chilli

seeded and chopped

1

tablespoon

soy sauce

200

g

pak choi

500

g

cooked rice

4

spring onions

sliced diagonally
Instructions
Cut the pork into thin strips. Heat the oil and fry the pork until browned

Add the ginger garlic and chilli and fry for 1 minute.

Add the pak choi, a couple of tablespoons of water, and the soy sauce and stir fry for 2-3 minutes until wilted and just tender.

Add the rice and toss over the heat until piping hot.

Serve sprinkled with spring onions

Not suitable for freezing.
Notes
Not suitable for freezing.
Incidentally, when I was testing this dish, I had a some wine left over from the night before – that doesn't happen often! It was Sancere which I had bought to go with a delicate fish dish so I wasn't expecting it to go well with this but it would have been a waste not to drink it. Well, it was a very pleasant surprise and worked very well. So I shall have to try that with a spicy dish again just to see if it was a one off. Trying different wines with different foods is always a fun past-time.