Ideal for casual dining or a family meal, tasty Spiced Chicken and Corn Cakes are quick and easy to make.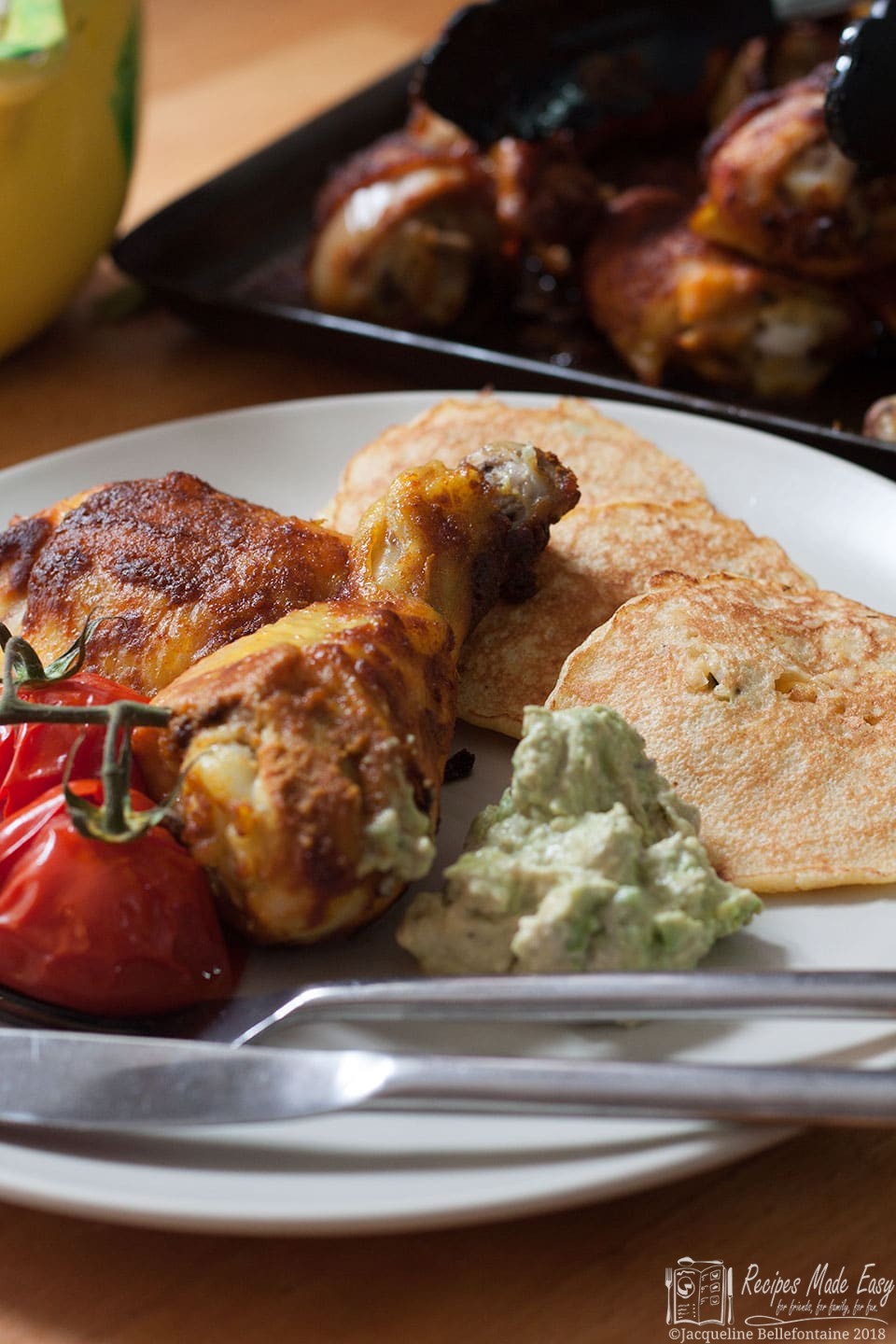 Perfect Dinner Club Sunday Lunch Dish
I most recently made this dish for a local dinner party club I belong to. They are perfect for informal dining with friends. The club was started back in February 2009 when a few of us arranged to meet up via a local internet forum. All of us loved cooking (or eating) but many of us did not necessarily know many local people. As a result the SE1 Dinner Club was born.
With 12 members to begin with, we met once a month in groups of 6 which is a good number. Firstly, because most people can seat 6 and secondly, this way each person can either make a course (starter, main, desert) or bring the wine for a given course. This group of 6 would change each month so that no two dinners were with exactly the same group of people. Over the 8 and ½ years since it started many people have come and gone and at one time we had as many as 4 groups meeting each month. A few of the originals still remain and I have made some wonderful long lasting friendships, all as a result of cooking and eating together.

The Main Course - Spiced Chicken and Corn Cakes
Like most people, we all have busy lives so this is a perfect solution for having a dinner party. Not only is the work shared, the cost are too, which is handy when times are tight. A couple of weekends ago it was my time to host and cook the main course. It was a Sunday lunch and I didn't want to do a traditional roast but wanted something that was easy and packed full of flavour. Spiced Chicken and Corn Cakes was inspired by a recipe from Diana Henry's Cook Book A Bird in the Hand (Mitchell Beazley 2015). As usual I couldn't quite follow the recipe to letter. Tweaking the flavours a little and making the a few changes to the method to make it easier - not that it is a difficult recipe in the first place .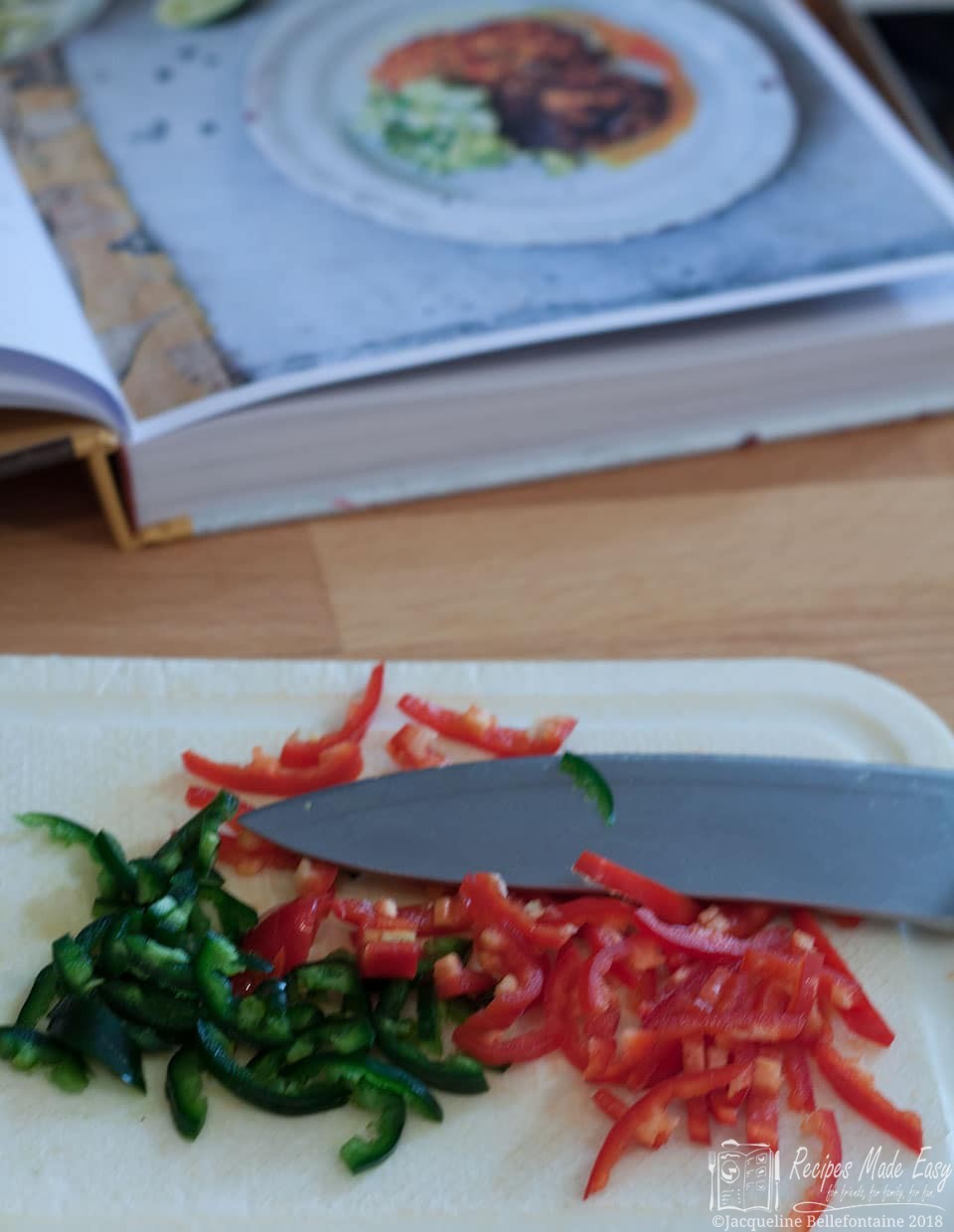 All in all it was the ideal dish for entertaining. Most of the prep can be done in advance. The batter for the corn cakes can be made several hours ahead. I cooked the corn cakes as they were required, but you could cook them in advance and reheat. The chicken can also be prepared several hours in advance then popped into the oven when required but don't make the cream avocado until just before you serve it as it will discolour.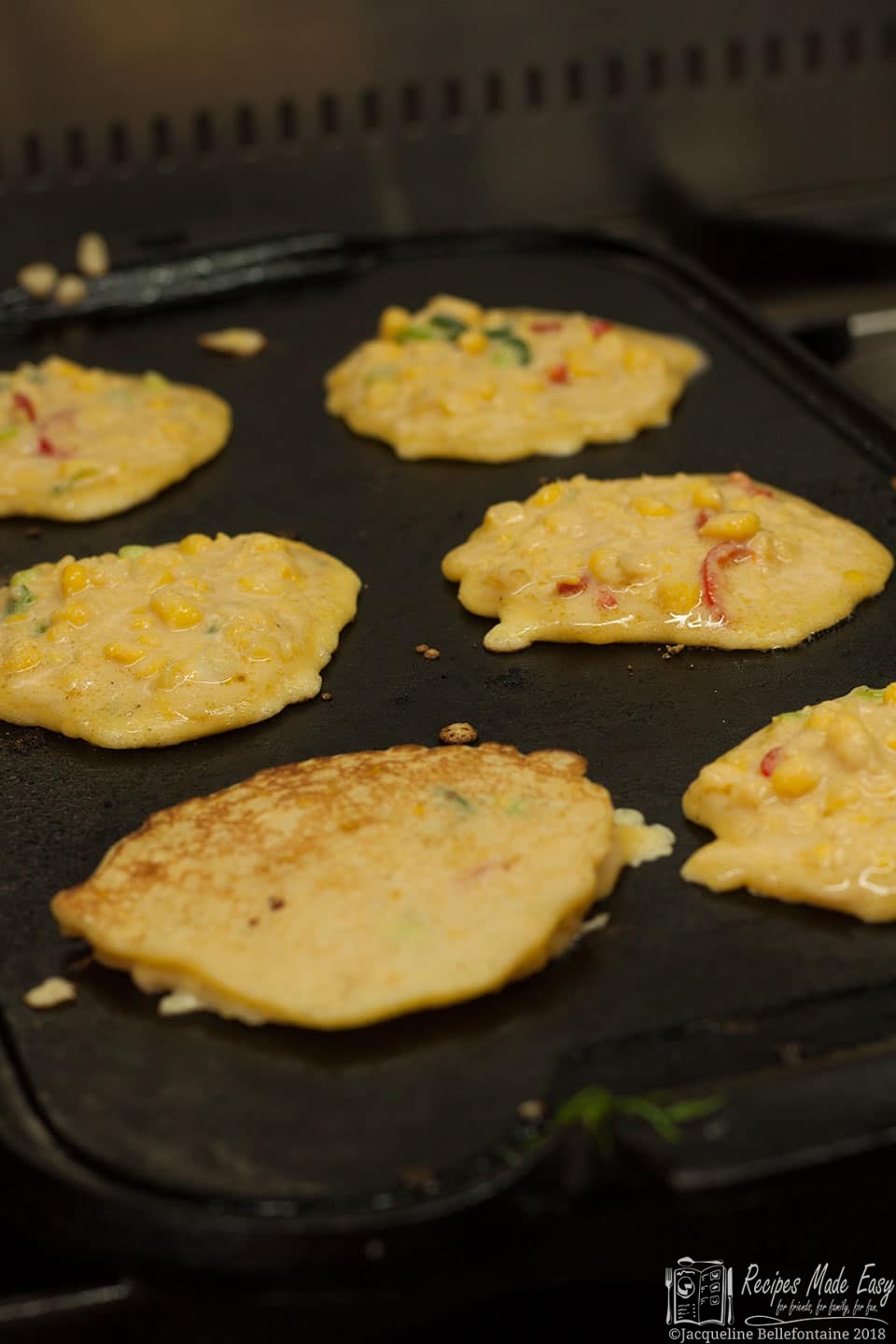 Even using quality free range chicken portions, I found the chicken produced a fair bit of moisture which I poured off about 10 minutes before the end of cooking. Rather than waste this, I left it to cool and then removed the fat leaving a thick jellied stock which I froze and added to some chicken stock in a risotto later that week. Even so, the skin could have been crisper so in future I would remove the skin and spread the paste straight onto the chicken flesh as I didn't feel it benefited much from keeping the skins on. As most of the fat in chicken is just under the skin it also makes it a lower fat option..
To complete the meal I served it with some roasted tomatoes and pepper which I put into the oven along with the chicken for about 20 minutes.

Spiced Chicken with Corn Cakes
Print Recipe
Pin Recipe
Save Recipe
Saved!
Spicy chicken portions served with corn cakes and creamy avocado.
Ingredients
for the chicken
2

tablespoon

turmeric

2

tablespoon

hot smoked paprika

1

tbsp

ground cumin

1

tbsp

light muscovado sugar

1

tbsp

mustard

2

tablespoon

rapeseed oil

6

chicken thighs

skinned if desired

6

chicken drumsticks

skinned if desired
for the corn cakes
100

g

fine cornmeal or polenta

75

g

plain flour (all purpose flour)

4

eggs

375

g

sweetcorn kernels

6

spring onions (scallions)

thinly sliced

1

red chilli

seeded and thinly sliced

1

green chilli

seeded and thinly sliced

salt and freshly ground black pepper

rapeseed oil to fry
to serve
3

ripe avocados

3

tablespoon

lemon or lime juice

4

tablespoon

double cream (heavy cream)
Instructions
Mix together the turmeric, paprika, cumin, sugar, mustard and oil to form a thick paste.

Spread the paste thickly over the chicken and place in a single layer on a shallow baking tin. Cover and keep chilled until required.

To make the corn cakes, place the cornmeal or polenta, flour, eggs, seasoning and about half of the sweetcorn into a food processor. Blitz in bursts until well combined.

Stir in the chilli, spring onions and remaining sweetcorn. Set aside until required.

Preheat the oven to 190℃ (180℃ fan)/375°F/gas mark 5. Bake for

40 minutes

or until the juices run clear when pierced with a skewer (or until 75

℃/167

°F in the centre of the thickest part)

Meanwhile, halve the avocado and remove the stone. Scoop the flesh into a bowl and add the lemon and lime juice, and the cream. Season with salt and pepper. Mash well with a fork and transfer to a serving bowl.

To cook the corn cakes. Heat a large griddle or heavy based frying pan and lightly oil. Place large spoonfuls of the corn cake mixture into the pan and cook until the underside is set and just starting to colour, then flip over and cook the other side. Keep warm while cooking the remaining corn cakes. Grease the pan with a little more oil as required

Serve the chicken with the corn cakes, and with the avocado cream on the side
Notes
Nutritional information does not include seasoning as the amount added varies from cook to cook. Therefore sodium levels in the finished dish will be higher than those stated.
Nutrition
Calories:
798
kcal
|
Carbohydrates:
40
g
|
Protein:
42
g
|
Fat:
54
g
|
Saturated Fat:
13
g
|
Cholesterol:
303
mg
|
Sodium:
287
mg
|
Potassium:
1318
mg
|
Fiber:
11
g
|
Sugar:
8
g
|
Vitamin A:
1925
IU
|
Vitamin C:
29.5
mg
|
Calcium:
70
mg
|
Iron:
5.3
mg
Dinner Party Fun
With the meal prepared and some wine in the chilling, the fun could begin. We chose a Alsace Gewurztraminer wine to go with this dish. This slightly sweet and distinct flavoured wine works very well with spicy food and was a hit.