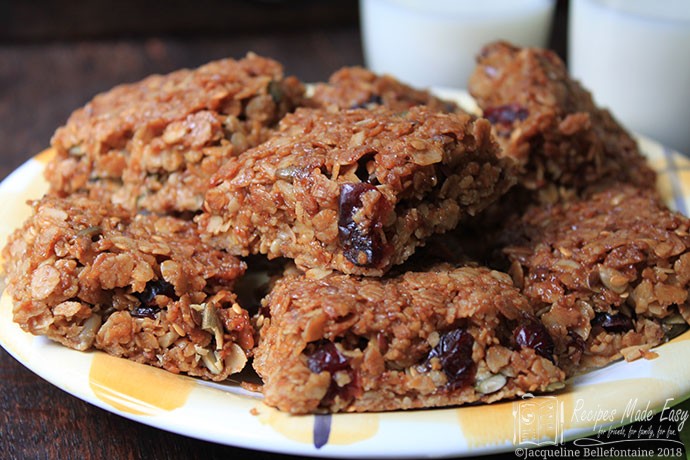 These crumbly flapjacks will keep for a couple of weeks - well, if you are able to resist them. Which I don't think you can! Easy to make, so you can knock up a batch of these in just a few minutes. I've made them a little more special by adding some mixed seeds and some dried fruit.
Mixed seeds
These flapjacks are seriously moreish. Just so that I feel a little less guilty when I have that extra flapjack, I decided to add something to their nutritional value. Seeds contain good fats that are often missing from our diet. The first time I made this variation was at my holiday cottage in Suffolk. While I have a fairly well equipped kitchen there, I do not keep too much food in stock, so for the sake of convenience I bought a packet of mixed seeds containing sunflower seeds, pumpkin seeds, pinenuts and linseed seeds. Although convenient, it is generally a more expensive way of buying seeds, and it may be quite a bit cheaper to buy packets of individual seeds and make up your own mix. When kept sealed they keep well in the refrigerator or freezer. I keep a jar of mixed seeds in the fridge at home and often sprinkle them on a salad. Whichever blend of seeds you use, I would recommend to include some pumpkin seeds. They gave a lovely extra crunch.
Dried fruit
I also like to add a little dried fruit to a flapjack to give them more flavour. Chopped dried apricots work well. Recently I have had a bit of a thing for dried cranberries - I frequently add them to cakes and biscuits, so decided to try them with flapjacks too. I like both variations equally. You don't have to stop there though - sultanas, dried cherries, dried blueberries, etc - all would work well. If you try one of those instead, do tell me what you think, and why not rate the recipe while you are at it.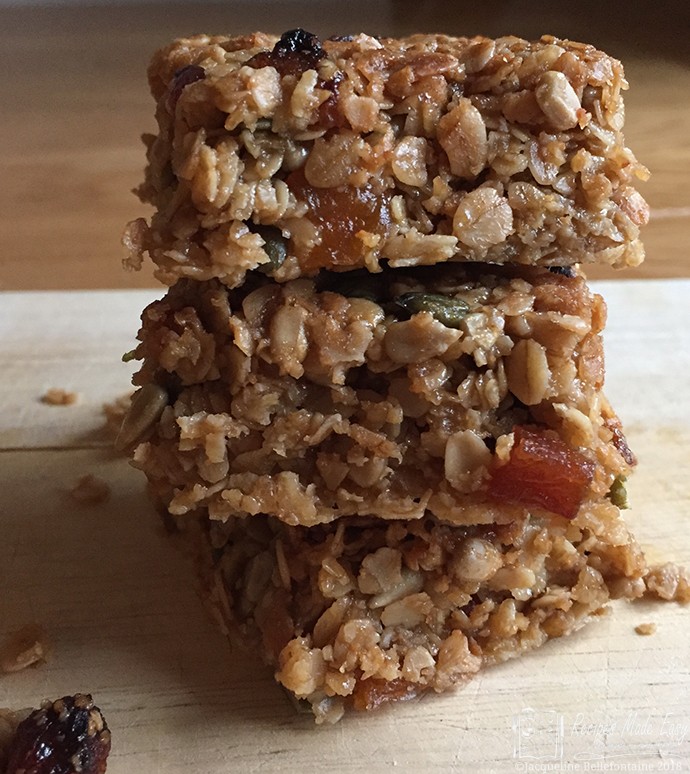 Step by step flapjacks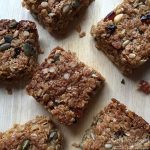 Seedy fruit flapjacks
Print Recipe
Pin Recipe
Save Recipe
Saved!
These crumbly flapjacks will keep for a couple of weeks - well, as long as you are able to resist them, which I think you might find quite difficult.
Ingredients
125

g

butter

125

g

light muscovado sugar

2

tablespoon

golden syrup

250

g

rolled oats

50

g

mixed seeds

50

g

dried apricots

chopped, dried cranberries or sultanas
Instructions
Preheat the oven to 180℃/170℃ fan/gas mark 4. Place the butter, sugar and golden syrup in a large saucepan and heat gently over a low heat. Stir until the the butter has melted and combined with the sugar.

Add the oats, seeds and dried fruit. Mix well. Tip into a greased and lined 20cm square cake tin and press level with the back of a spoon.

Bake for 25-30 minutes until golden. Remove from the oven and mark into squares.

Allow to cool slightly. Remove from the tin and cut into squares before the flapjacks have cooled completely.
Notes
Flapjacks will keep in an airtight container for up to 2 weeks, but not in my house 😉
Cutting into squares
Flapjacks need to be cut into squares while still warm. If you enjoy baking then I really recommend that you invest in some decent tins. Good quality tins will not buckle in the oven and will bake more evenly. If looked after they will last a lifetime, so in my opinion cheap tins are a false economy. Never cut in your tins with a metal knife as this will scratch and damage the surface causes bakes to stick. For cakes I often use a plastic "lettuce" knife (apparently they cut lettuce without bruising but who on earth would buy a knife just to cut lettuce!!!) but for cutting cakes such as tray bakes in the tin they are ideal I got mine from Lakeland. Flapjacks need a sharper knife so I mark mine as soon as they come out of the oven. Then allow the mix to cool for a few minutes before lifting out of the tin and cutting completely on board. Judging when to cut them is probably the hardest bit of the recipe. Too hot and the mixture sticks to the knife making it hard to make another cut, too cold and the flap jacks fall apart, but lets face it, it hardly matters if they are not cut into perfect squares, they still taste scrummy.