Roasted red peppers with mushrooms, spinach and feta is a simple vegetarian dish packed with flavour. The sweetness of the red peppers contrasts well with the salty tangy taste of feta cheese. The spinach and mushrooms stuffing transforms the peppers into a main meal and a few chopped hazelnuts add a bit of crunch.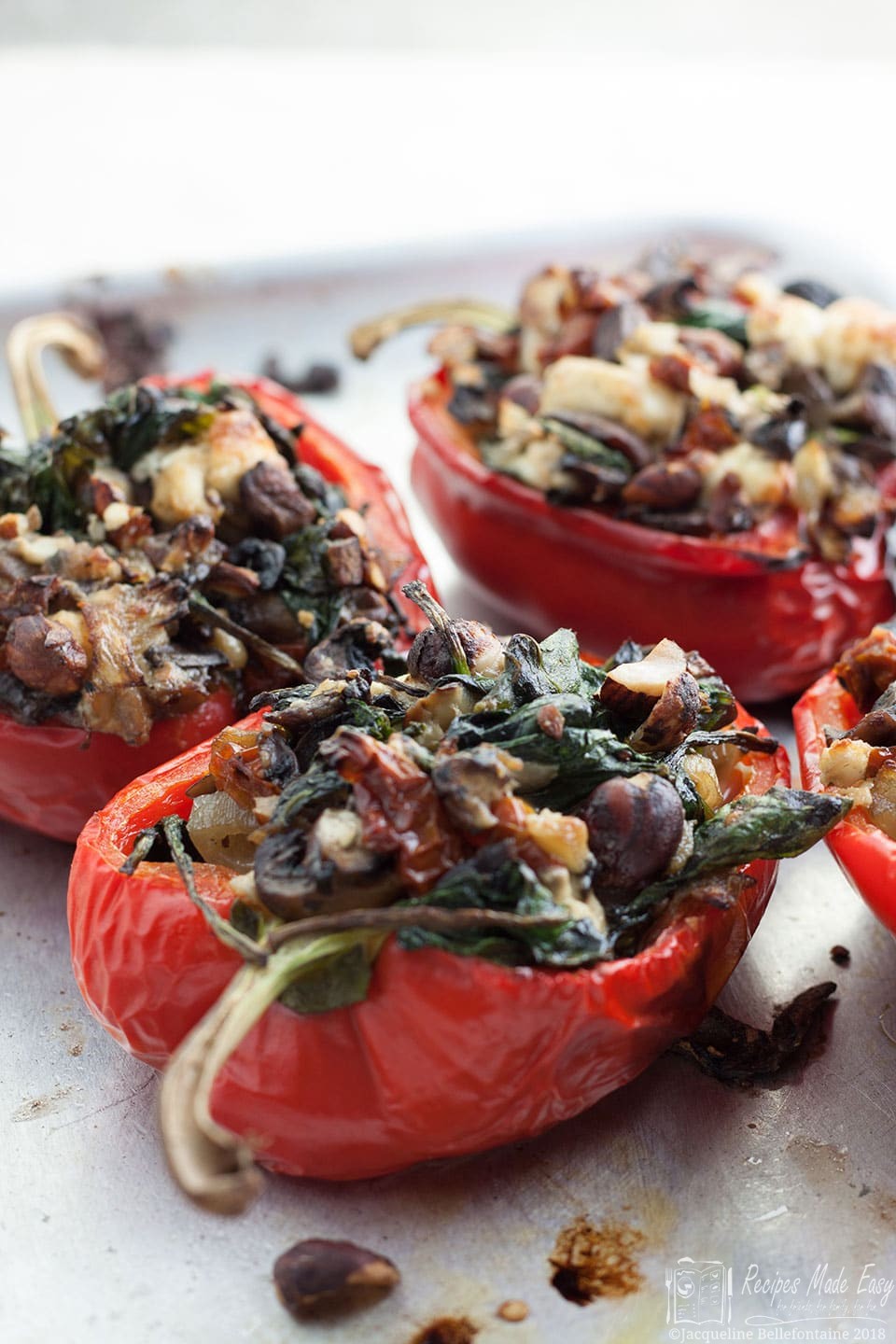 Vegetables can be turned into fabulous main meal dishes by stuffing them with other ingredients. This week I am including two of my favourite recipes for stuffed vegetables on Recipes Made Easy. Starting today with this vegetarian dish. I love the way a few ingredients combined together make a tasty meal. I like to add some nuts to the stuffing to add texture as well as flavour and often use un-blanched hazelnuts (which do not only give added fibre but are usually cheaper, so win win). Unbleached nuts can look a bit dark and admittedly I wish I'd used blanched ones for the photographs. Instead of hazelnuts you can use almonds, walnuts or pecan, all of which work well. Pine nuts - that are actually not a nut - work well too.

In this recipe I've used shallots instead of onions. I like to have some in my fridge as they are ideal when you want to add just a bit of "onion" flavour to a dish. Small onions tend to have a much stronger flavour than larger ones whereas shallots have a mild flavour. Rather than use just a part of a large onion (and then sometimes waste the rest) I use shallots instead. If you don't have any you could use a few spring onions.
Serving suggestions
Serve the roasted red peppers with mushroom spinach and feta on their own with a side salad. If you want a more substantial meal add some rice or couscous.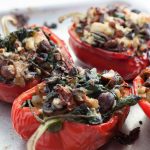 Roasted red peppers with mushrooms, spinach and feta
Print Recipe
Pin Recipe
Save Recipe
Saved!
Serve these delicious stuffed peppers as a main meal for two or a starter for four.
Ingredients
2

red peppers

1

tablespoon

olive or rapeseed oil

a knob of butter

2

shallots

chopped

1

clove

garlic

chopped

150

g

mushrooms

diced

4

sun-dried tomato pieces in oil

drained and chopped

100

g

young spinach leaves

30

g

hazelnuts

coarsely chopped

150

g

feta cheese

crumbled into small pieces
Instructions
Preheat the oven to 200℃/180℃ fan/gas mark 6.

Cut the peppers in half, cutting through the stems ( you can't eat them but they look pretty). Cut out and discard the core and seeds. Place cut side up on a baking tray.

Heat the oil and butter in a frying pan and add the shallots. Sauté for 2 to 3 minutes until softened then add the garlic.

Add the mushrooms and sauté for 3-4 minutes until softened then add the sun-dried tomatoes and spinach. Stir over the heat until the spinach wilts.

Remove from the heat and add the nuts and crumble in the feta.

Mix well and pile into the peppers. Bake for 35-40 minutes until tender.
Notes
Freeze:not suitable for freezing
step by step Roasted red peppers with mushrooms, spinach and feta