Remember Ratatouille? There was a time when I made it almost every week, but it has since fallen by the wayside. It's funny, but since starting this blog I have been reminded of many recipes that I used to make a lot but have not made recently. For some there may well be good reason for that, but many more of them are great stock recipes and it's a shame if they get forgotten.
Nigel Slater
This dish sprung to mind because I had some courgettes to use up. There were some in the organic veg box I have delivered and also managed to grow some on the allotment. It's been so long since I made ratatouille that I had to check I remembered correctly how to. Which is when I found this article in which Nigel Slater laments "When did ratatouille disappear? I can't remember the last time I saw it here, but in France it can still be found on many a menu." So I am not alone in thinking that it's a pity this dish has fallen out of favour, at least in the UK.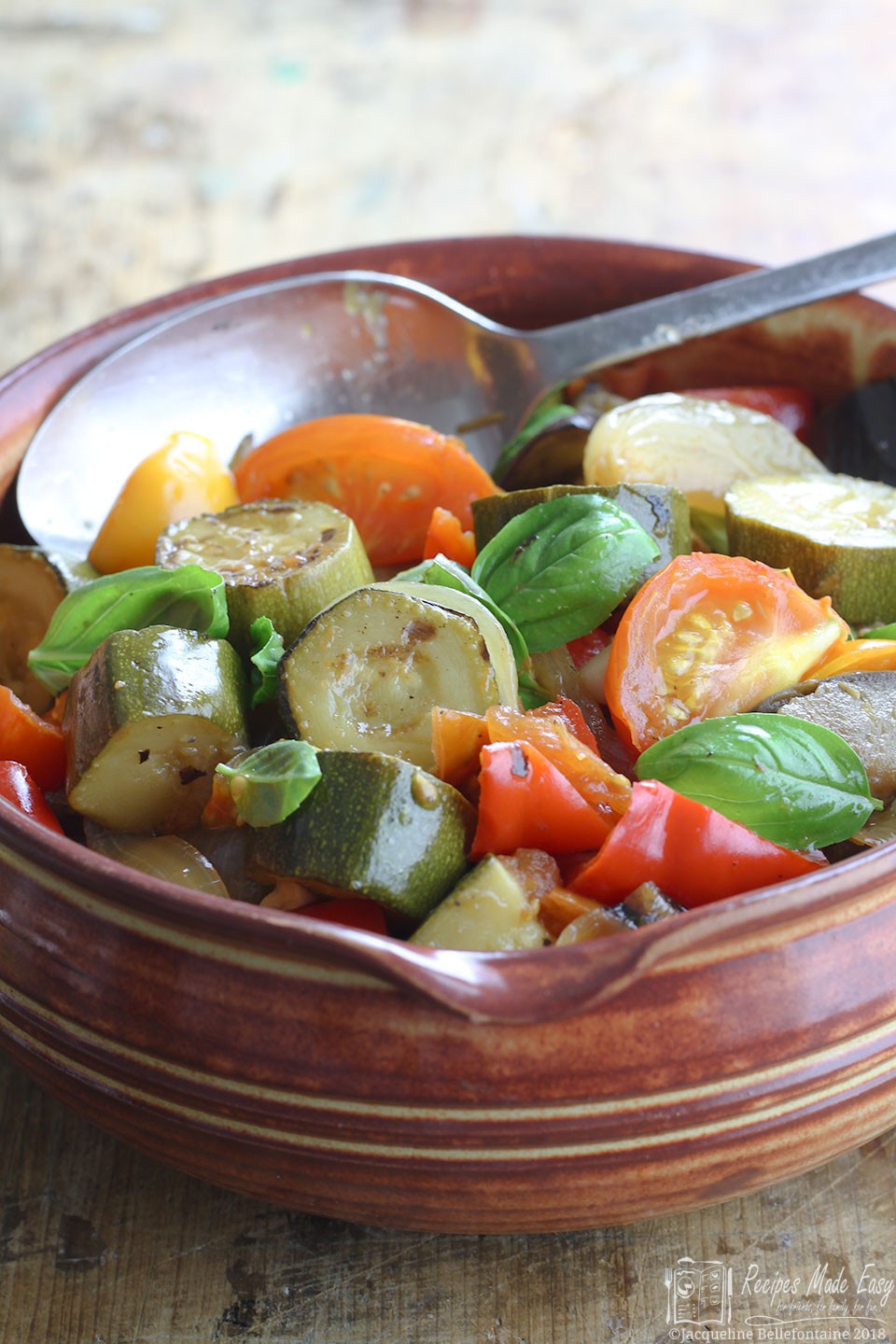 A Ratatouille - a versatile dish
Apart from being easy to make, ratatouille is also a really versatile dish. As a student I used to serve it as a pasta sauce - cheap and cheerful. But you could just as easily serve it as a main casserole dish with a few chunks of crusty bread or spooned over creamy mashed potatoes - Yum. Ratatouille also makes a great side dish with cooked meat or fish - a tasty change to the usual veg.

Step by step Ratatouille

Ratatouille
Print Recipe
Pin Recipe
Save Recipe
Saved!
A delicious stew of soft Mediterranean vegetables. Serve hot as a main or side dish. Ratatouille is also delicious served at room temperature.
Ingredients
about 4 tablespoon olive or rapeseed oil

2

onions

peeled and cut into thin wedges

4

– 6 cloves garlic

sliced

2

small or 1 large aubergine

cut into bite sized chunks

4

courgettes

sliced

3

red or yellow peppers

seeded and cut into chunks

12

fresh tomatoes

cut into wedges

sea salt and freshly ground black pepper

handful of fresh basil leaves
Instructions
Heat 2 tablespoons of oil in a large pan and sauté the onions over a medium heat until softened and beginning to colour, about 5 minutes.

Add the garlic to the pan, then add the aubergine and courgettes. Drizzle with a little more oil and continue to cook for 5 to 10 minutes, stirring frequently until they have softened slightly.

Add the peppers and cook for 5 minutes, stirring frequently.

Add the tomatoes, season with salt and pepper, then stir to combine. Cover and cook over a low heat for 30 minutes stirring occasionally until all the vegetables are tender.

Taste and add more salt and pepper if required. Tear the basil leaves into pieces and stir into the ratatouille. Serve from the pan or transfer to a warm serving dish and scatter a few small whole basil leaves on top.
Notes
Basil has a delicate flavour and is best added to the dish at the end of cooking. If the basil is young and has soft stems, these can be chopped and added to the dish earlier for extra flavour.
If you use other herbs add with the tomatoes.
Freeze:
Ratatouille freezes well for up to 6 months.Nutrition information is approximate and is meant as a guideline only. (It does not include seasoning with salt and pepper.)
Nutrition
Calories:
223
kcal
|
Carbohydrates:
30
g
|
Protein:
6
g
|
Fat:
10
g
|
Sodium:
29
mg
|
Potassium:
1460
mg
|
Fiber:
10
g
|
Sugar:
19
g
|
Vitamin A:
4210
IU
|
Vitamin C:
139.8
mg
|
Calcium:
75
mg
|
Iron:
1.9
mg
Hints, tips and variations
At the moment fresh tomatoes are cheap so I have used them in this recipe. When they are more expensive, I would use a tin or two of plum tomatoes instead. Although I think it changes the character of the dish slightly, they are both good. Fresh tomatoes make for a lighter, fresher tasting dish, whereas tinned tomatoes make it more casserole-like, thus perfect for serving with pasta.
You can vary the quantity of vegetable to suit what you have. I have often omitted the aubergine and just used courgettes instead. Perfect if you have a lot of courgettes to use up.
Fresh basil is delicious - tomato and basil is such a good combination - but you could use other fresh herbs such as thyme and oregano, or pop in a bay leaf or two. I have even added dried mixed herbs when I don't have any fresh ones to hand.