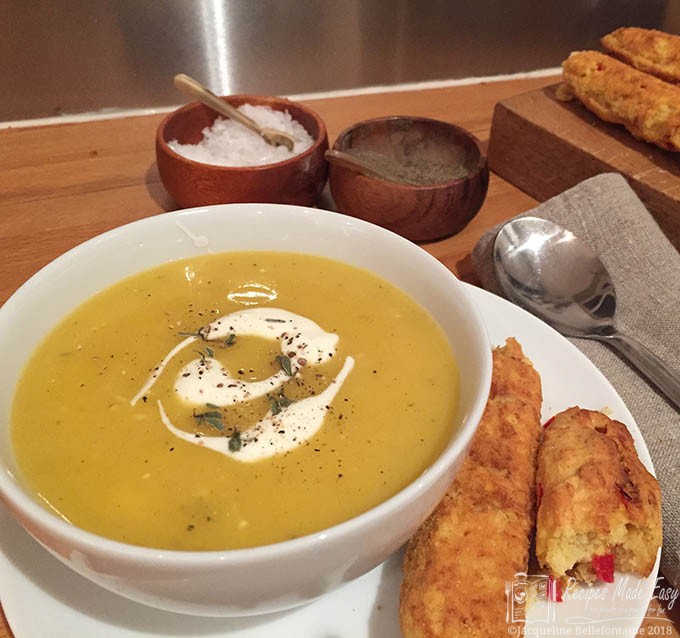 As the days turn colder there is nothing quite like a bowl of hot steaming home-made soup to warm you up. I have to confess that every time I make soup, I wonder why I don't make them every week! Most soups are a doddle to make, cheap and very, very tasty and yet I don't make them nearly often enough. It really is something I must rectify at least during the coming colder months.
Pumpkin soup
What better time to start than with Halloween approaching? Now, the pumpkins that are piled high in the shops at the moment might not be my first choice for cooking. They can be a bit pappy and don't have the best flavour but if, like me, you like to hollow them out to make Jack o' lanterns, it seems a criminal waste not to use the flesh. In fact, in the UK alone 10 million pumpkins were sold last year at Halloween and only 5% were used for cooking. That amounts to 18,000 tons of food waste!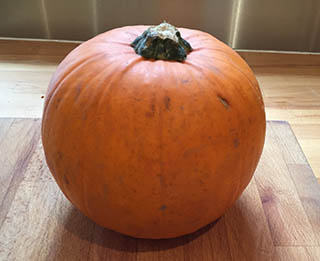 Although not my first choice for cooking, these pumpkins can still be used to make a great winter soup. If you are just making soup and have no interest in the shell, then I would recommend opting for a different variety of winter squash or pumpkin. At this time of the year you should be able to find several different varieties, each with their own slightly different flavour. Experiment and see which you like best and don't forget the butternut squash which is available all year and really does make a fabulously soup. I've shown pumpkin soup mine served with cornbread which is a brilliant alternative to our more familar crusty bread. I was hoping to post my recipe for that today too but I'm not quite happy with it so it needs a few tweaks. Watch this space, it will be up as soon as possible.

Preparing the pumpkin flesh

Cut the top off the pumpkin and set aside. Scoop out the the seeds. You can wash and toast the seeds of some pumpkins, but with this variety I would not bother, they really are not that nice.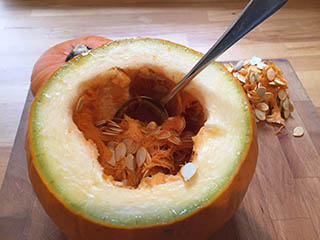 Continue to scoop out as much of the flesh as possible.

Roughly chop the flesh and you are ready to go.

Soup Terrine
If you're serving the soup at a Halloween or Bonfire party you could use the hollowed out pumpkin shell as a fun soup terrine in which to serve the soup as I have done here.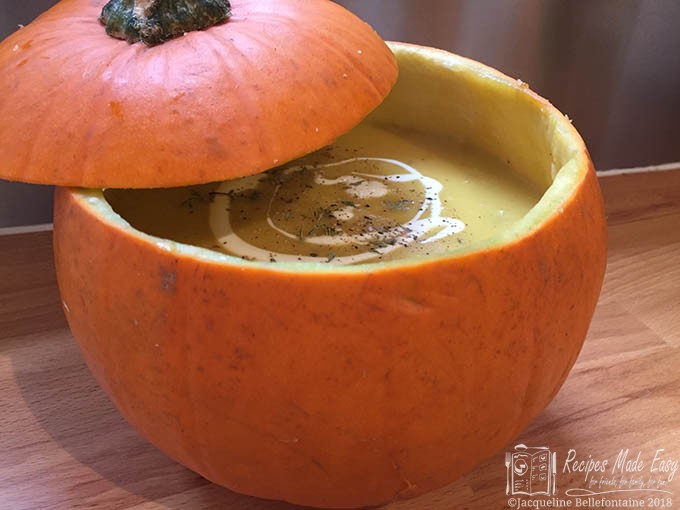 Jack O' Lantern
I also could not resist making a Lantern - doesn't he look grand! He might just have to go on the garden table.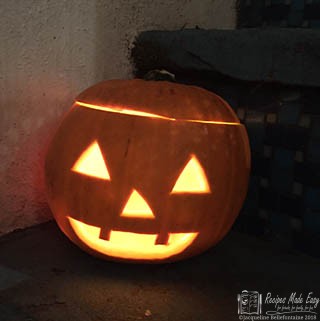 Freeze for up to 6 months.

Pumpkin soup
Print Recipe
Pin Recipe
Save Recipe
Saved!
A rich and warming winter soup. Serve with crusty bread.
Ingredients
25

g

butter

1

tablespoon

rapeseed oil

1

large onion

chopped

1

clove

garlic

chopped

900

g

pumpkin flesh

cut into cubes or roughly chopped

600

ml

vegetable stock

few sprigs fresh thyme or ½ teaspoon dried thyme

a little double cream and fresh thyme to garnish

optional
Instructions
Heat the oil and butter in a large saucepan and add the chopped onion. Cook gently for 3-4 minutes until the onion begins to soften, then stir in the garlic.

Add the pumpkin and cook gently for 10 minutes, stirring frequently. Add the stock and thyme and bring to the boil.

Reduce the heat, cover and simmer gently for 30 minutes.

Remove and discard the thyme sprigs, if used, and blitz the soup in a liquidizser or with a hand blender until smooth.

Season to taste with salt and pepper and serve with a swirl of cream and a sprig of thyme to garnish, if desired.