Creamy pumpkin risotto with gruyere cheese and sage butter is utterly delicious. Don't let tales of risotto being hard to make put you off. They just are not true. Risotto is easy to make and you can have a bowl of filling risotto on the table in about an hour from start to finish. Quicker and even more fool-proof if you have a pressure cooker. Risotto is comfort food at its best.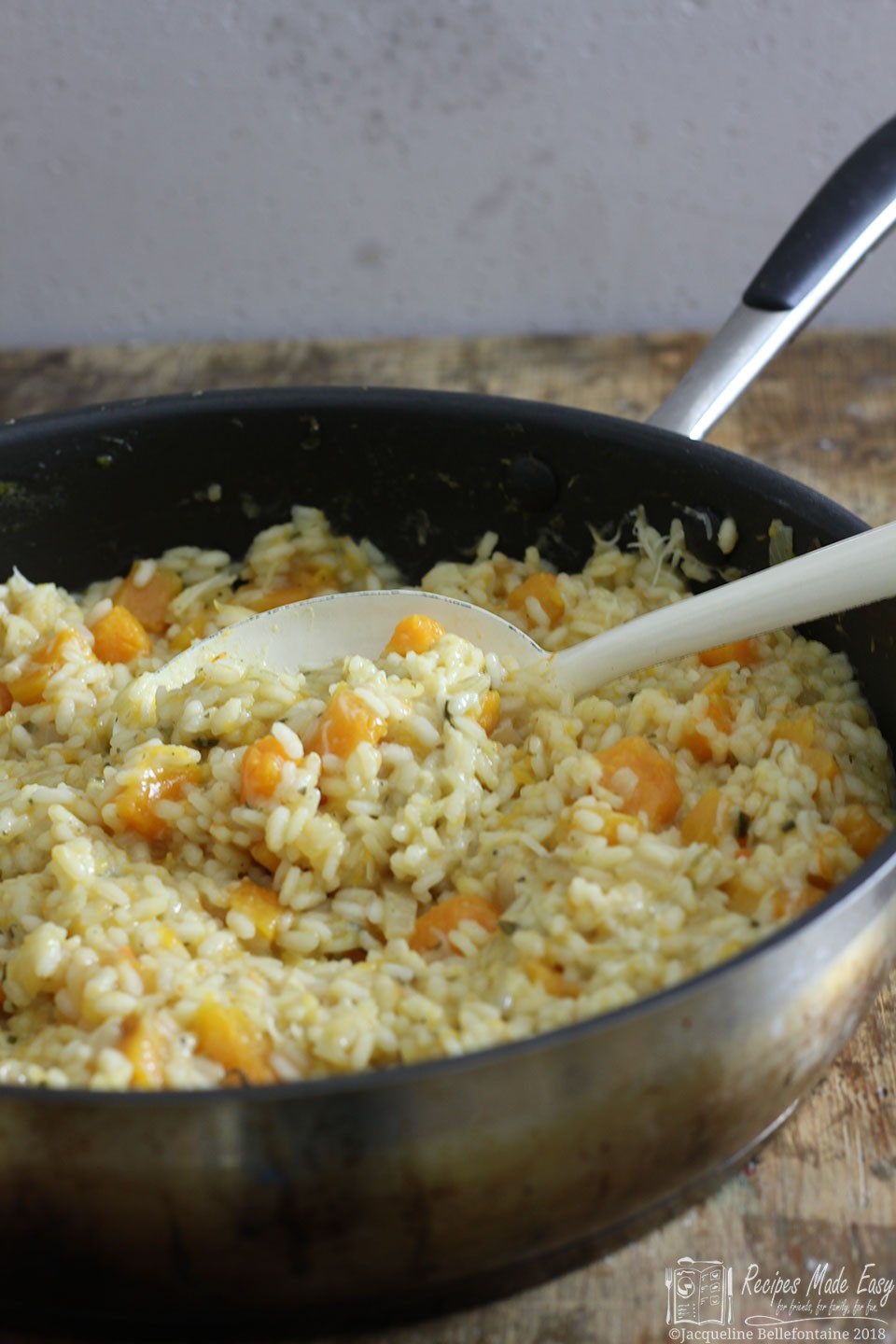 I almost started this post by saying I love risotto but I resisted. Let's face it, I love lots of food and it would get a bit repetitive. I love trifle, I love Cheesecake, I love roast pork, the list goes on and on. That said, I do love risotto! Not just because it tastes so darn good but because it is easy to make, cheap and filling. A perfect family meal. Pumpkin is one of my favourite flavours in risotto especially when teamed with sage, as I have done here.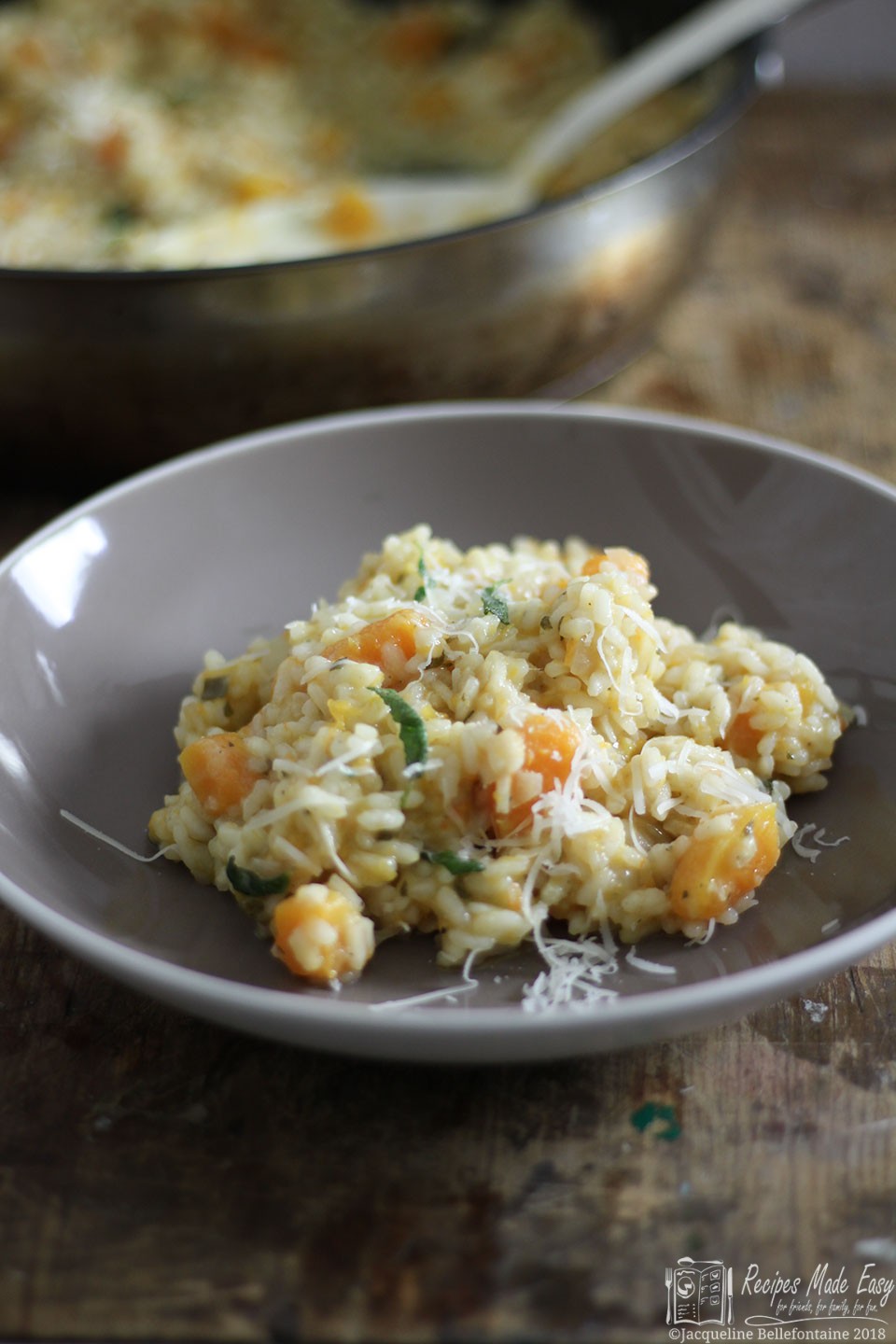 The pumpkins that you buy for making Jack 0'lanterns do not have the best flavour or texture for cooking. So I would recommend using a smaller, tastier variety or even a butternut squash to make this risotto. However, if you have hollowed out a pumpkin, there is no need to waste the flesh. Just add some extra seasoning and perhaps a little more cheese to help make up for its inferior flavour. The pumpkin is sautéd until just tender before adding the rice. It is hard to say how long this stage will take as it will vary according to the variety you use but, as a guide, should take anywhere between 5 and 15 minutes.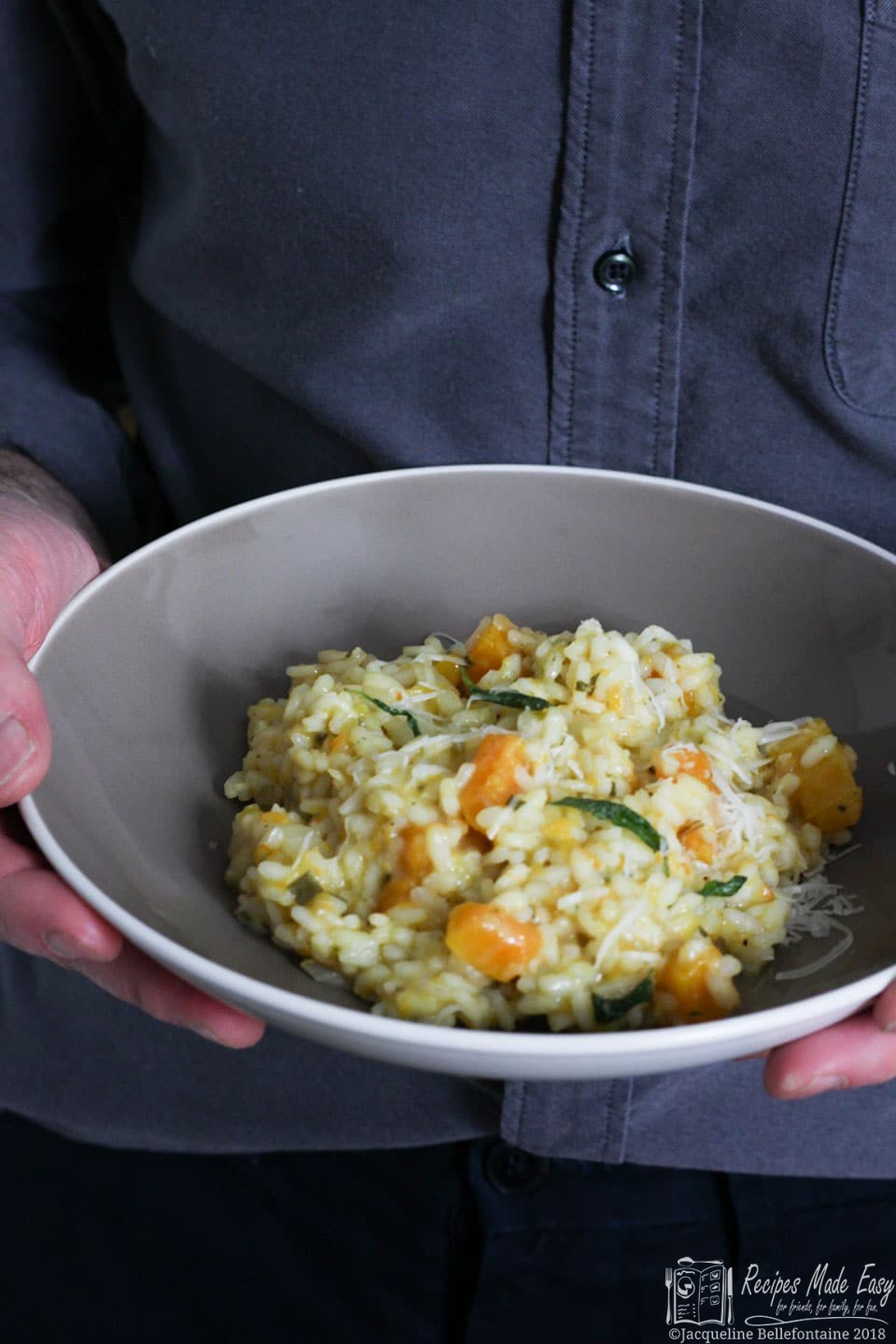 Save time stirring
The only draw back of a risotto that I can see is that you do need to spend a fair bit of the time stirring the pan. It needs to be stirred constantly at the beginning and frequently towards the end. So you can not just walk away completely while it cooks. Unless you have a pressure cooker. I have to confess that when I make risotto for dinner I tend to use the pressure cooker. It's quicker and easier and, in my opinion, you would have to be a bit of a risotto expert to tell the difference.
I am aware that not all my readers have a pressure cooker, so I have written this recipe to be made the conventional way. However, to make sure everyone can have a go at making this fabulous dish the way they choose I have added timings and quantities for making it in a pressure cooker too.
Step by step Pumpkin Risotto

Pumpkin Risotto
Print Recipe
Pin Recipe
Save Recipe
Saved!
Creamy pumpkin risotto is easy to make and tastes utterly delicious. It makes a perfect vegetarian midweek meal for all the family.
Ingredients
50

g

butter

1

medium onion

chopped

450

g

pumpkin flesh

cut into 1cm cubes

2

tablespoon

chopped fresh sage or 2 teaspoon dried sage

about 1 ¼ litres vegetable stock

300

g

arborio rice

150

ml

white wine

few fresh sage leaves

50

g

gruyere cheese

grated

salt and freshly ground black pepper
Instructions
Melt half the butter in a large open pan and sauté the onion for about 5 minutes until softened.

Stir in the pumpkin and continue to sauté over a low heat until the pumpkin is just tender about 5 –15 minutes, depending on which variety of pumpkin you use. Stir in the chopped sage.

Heat the stock in another pan and keep warm.

Add the rice to the pumpkin and cook stirring for a minute or two and then add the white wine. Stir until the the wine has been adsorbed.

Now add the stock a ladleful at a time. Cook stirring until the stock has been absorbed before adding another ladleful. Continue cooking until you have added all the stock and the rice is just tender. Add a little more liquid if required.

Meanwhile heat the remaining butter gently to melt and add the sage leaves cook until the sage leaves are crisp, then remove from the heat and set aside.

Once the rice is tender, remove from the heat. Stir in most of the cheese. taste and season with salt and pepper as required.

Drizzle the sage butter over the risotto and sprinkle with the remaining cheese before serving.
Notes
Freeze: For up to 2 months
To cook in the pressure cooker follow the above method adding 750ml stock all in one go. Then Bring the cooker up to high pressure and cook for 7 minutes. Release pressure quickly. Stir in most of the cheese and allow to stand for 5 minutes. Drizzle over the sage butter and sprinkle with the remaining cheese before serving.
Like Pumpkin? Then why not try my Pumpkin soup or Roast Pumpkin with Chilli and Sage