Pork tenderloin with a mushroom and chestnut stuffing encased in puff pastry. Pork and Chestnut Wellington is an economical and delicious twist on a classic Beef wellington.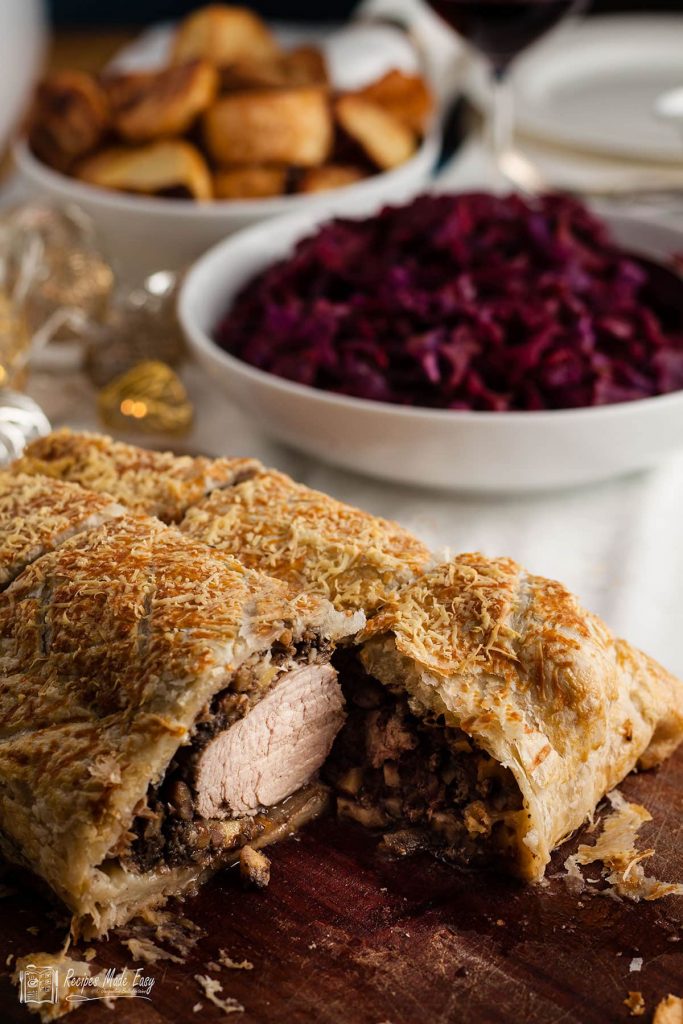 This post may contain affiliate links meaning I will earn a little commission made through these links at no additional cost to you but helping me to bring you all these recipes for free! Please refer to my Disclosures Page for more details.
Beef Wellington is one of our all-time favourite dishes and is often requested for special occasion meals but let's face it, it's made with beef fillet so not exactly economical.
This Pork and Chestnut Wellington is a good alternative substituting pork fillet (tenderloin) for the beef fillet.
Pork fillet is the long thin part of the loin muscle found on the inside of the ribcage and runs along the back of the pig from the shoulder to the rear. Like beef fillet it is a very lean and tender has a mild flavour and requires quick cooking. It makes an ideal substitute for beef fillet recipes
If overcooked pork fillet can quickly become rather dry. When cooking any meat I really recommend using a thermometer to check the internal temperature of the meat. It is the best way to ensure your meat is cooked without overcooking.
I love my Thermapen which I have had for several years and which I use all the time. It's a little pricier than others but very fast accurate and robust. But even a cheaper thermometer which can be picked up for around £10, will be a great improvement than relying on timings.
For this recipe aim for an internal temperature over 63°C (145°F). Which is medium and yes it is okay to have a little bit of pinkness to the meat. If you prefer well cooked you need an internal temperature of 71°C (160°F). I keep a handy chart on the fridge to remind me of the temperatures required.
Chestnut and Mushroom Stuffing
The traditional stuffing for a wellington is mushroom. When I first made this recipe it was during the Christmas festivities, so I decided to give the dish a bit of festive twist with the addition of chestnuts.
The resultant stuffing is light and not too highly flavoured so it doesn't "fight" with the pork. For me it was a double win as one of my boys doesn't really like mushrooms and yet still enjoyed this stuffing.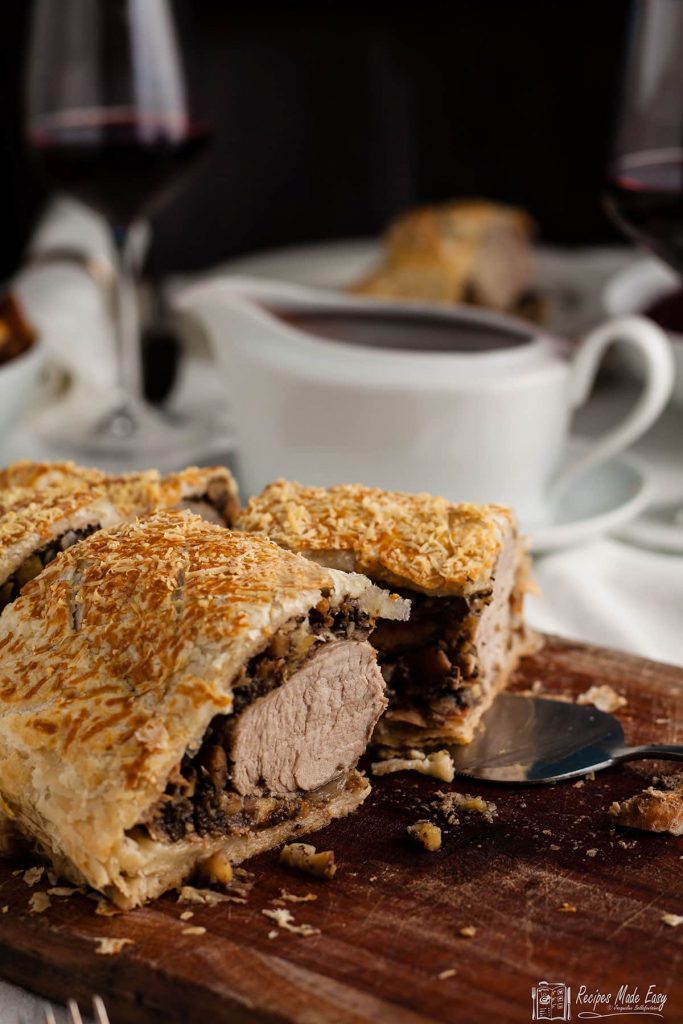 I don't often make puff pastry from scratch and tend to buy ready made. I like to use an all-butter puff pastry, this is a dish for special occasions after all, as I think the flavour is superior.
If I'm feeling extra lazy I even go for ready rolled, actually I more often or not go for this as my local store doesn't sell it in a block. But of course, you can roll your own It should be about the thickness of a £1 coin. (3mm/ ⅛in)
When folding up the pastry to enclose the meat I find that you can end up with several thicknesses of pastry at each end. To avoid this I first brush the pastry all over with egg, then cut away some of the excess pastry at each end.
You can use these trimming to bridge the gap if your pastry rectangle isn't quite big enough to meet in the middle. Or to make some decoration of the top of the wellington if you have a surplus. Make sure you press the pastry together so it sticks brushing with a bit more egg if required and place seam side down on a greased baking sheet.
To get a lovely golden finish, brush the pastry parcel all over with egg and sprinkle with some parmesan cheese. I lightly scored the pastry to give it a little pattern. Take care not to cut through the pastry if you do this.
To serve Pork and Chestnut Wellington
Serve cut down the middle lengthways between the two fillets, then cut each half into 3- 4 portions.
Serve the Pork Wellington with a Red Wine Jus, a vegetable of your choice I have served it with my Braised Red Cabbage Recipe and some potatoes. This time I've gone for my perfect roast potatoes.
Step by Step Pork and Chestnut Wellington


Pork and Chestnut Wellington
Print Recipe
Pin Recipe
Save Recipe
Saved!
Pork tenderloin surrounded with a chestnut and mushroom stuffing encased in pastry. This Pork and chestnut wellington makes a great dinner party dish.
Ingredients
800

g

pork fillet

(tenderloin)

1

tablespoon

olive oil

15

g

butter

1

small

onion

finely chopped

2

cloves

garlic

200

g

chestnut mushrooms

finely chopped

1

tablespoon

brandy

(optional)

1

teaspoon

dried sage

150

g

cooked chestnuts

finely chopped

5

slices

Parma ham

320

g

ready rolled puff pastry

1

egg

beaten

2

tablespoon

Parmesan cheese

grated

salt and freshly ground black pepper
Instructions
Season the 800g (1lb 12oz) pork fillets with salt and pepper. Heat 1 tablespoon oil in a frying pan and fry the pork fillets until browned on all sides, turning frequently. Set aside to cool.

Add 15g (½oz) butter to the pan and fry one chopped onion until softened. Then stir in 2 chopped cloves of garlic and cook for another minute.

While the onion is cooking blitz 200g (7oz) mushrooms in a food processor until very finely chopped. Add to the pan. Stir in 1 tablespoon brandy (or water if preferred) and cook the mushrooms for about 8-10 minutes until softened and any liquid has evaporated.

Season the mushrooms well with salt and pepper. Add 1 teaspoon dried sage, then mix in 150g (5oz) finely chopped chestnuts. Allow to cool.

Lay a large sheet of baking parchment on a work surface and place the 5 slices of Parma ham in the middle overlapping slightly to form a large rectangle.

Spread the chestnut and mushroom mixture over the ham. Place the pork fillet on top then use the parchment to roll the ham tightly around the pork.

Unroll the puff pastry and brush the surface with beaten egg. Carefully transfer the pork to the centre of the pastry. Wrap the pork in the pastry, Trimming away excess and using to patch up the pastry to completely enclose the pork if required.

Place seam side down on a greased baking sheet. Chill until ready to bake.

Preheat the oven to 200℃ (180℃ fan)/400°F/gas mark 6. Brush the surface of the pastry with beaten egg and sprinkle with Parmesan cheese. Bake for 30-40 minutes until the pastry is risen and golden borwn.
Notes
Nutrition information is calculated using an online nutrition database - is approximate and is meant as a guideline only. (It does not include seasoning with salt and pepper.)
Nutrition
Calories:
557
kcal
|
Carbohydrates:
27
g
|
Protein:
35
g
|
Fat:
33
g
|
Saturated Fat:
10
g
|
Cholesterol:
125
mg
|
Sodium:
304
mg
|
Potassium:
746
mg
|
Fiber:
1
g
|
Sugar:
2
g
|
Vitamin A:
115
IU
|
Vitamin C:
1
mg
|
Calcium:
48
mg
|
Iron:
3
mg