Penne tossed with peas, spinach, a little crème fraîche, and a handful of cheese makes a delicious vegetarian dish. Ready in under 20 minutes this really is a pasta recipe made easy.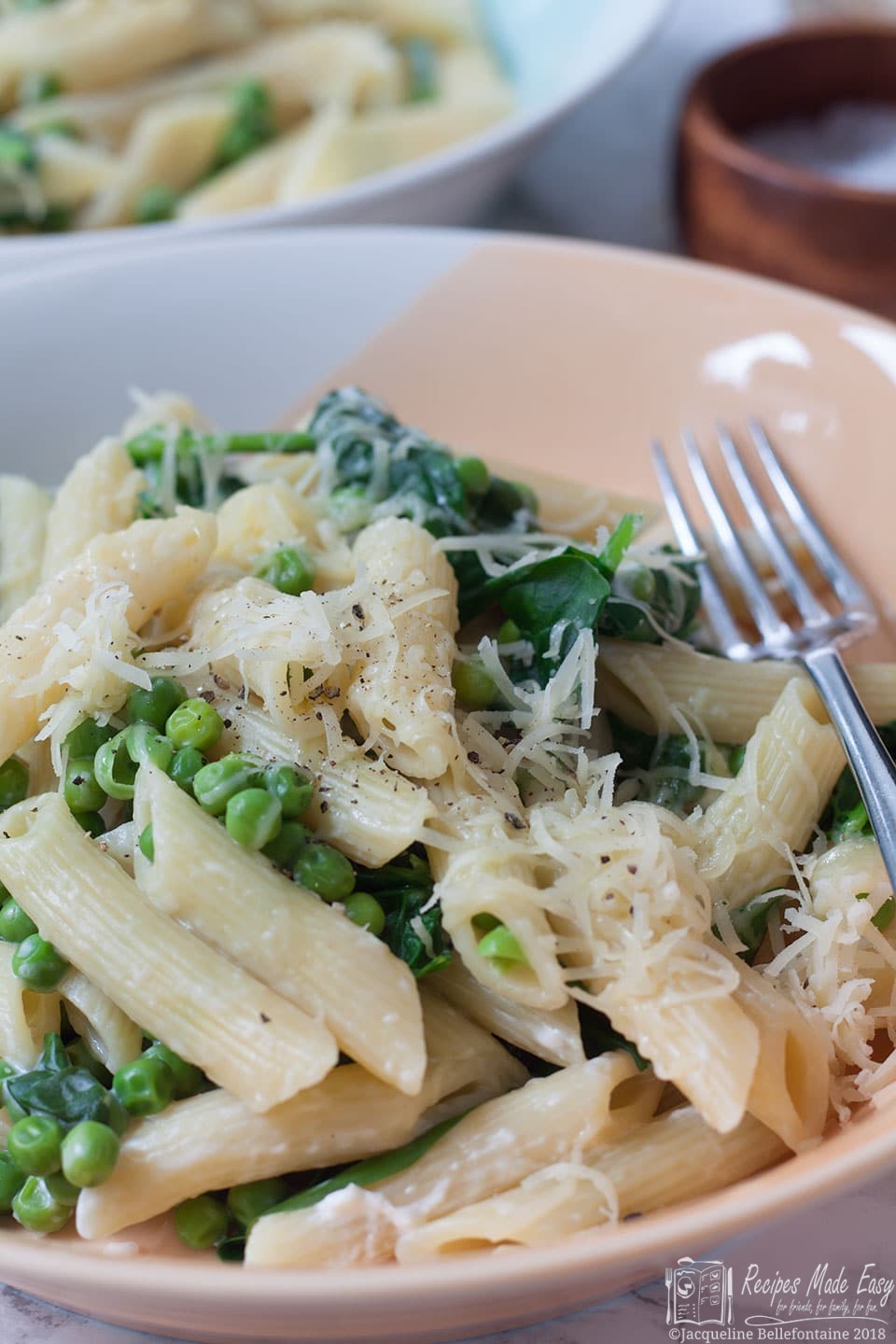 Penne with Peas and Spinach
National Vegetarian Week
This week is National Vegetarian week so it would be remiss of me not to publish a vegetarian dish. Many of us who eat meat could probably do with eating a little less, so if this week isn't as good a time as any to post some delicious vegetarian dishes then I do not know when is.
Given how much pasta we eat as a family it surprises me how few pasta recipes I have posted on Recipes Made Easy. All the more surprising given I have also written a book of 100 Great Pasta Recipes (no longer in print). Still, I can easily put that right, starting with today's vegetarian pasta dish.
Pasta Dishes Made Easy
The great thing about pasta - actually there are quite a lot of great things about pasta - is that it is easy to cook. Penne with Peas and Spinach is no exception. When I was developing this recipe for the blog I was going to throw in some cherry tomatoes to add a bit extra of colour. Which I subsequently completely forgot. I'm now secretly glad I forgot since it really doesn't need it for flavour, nor for colour for that matter. So many pasta recipes include tomatoes so it makes a change not to have them.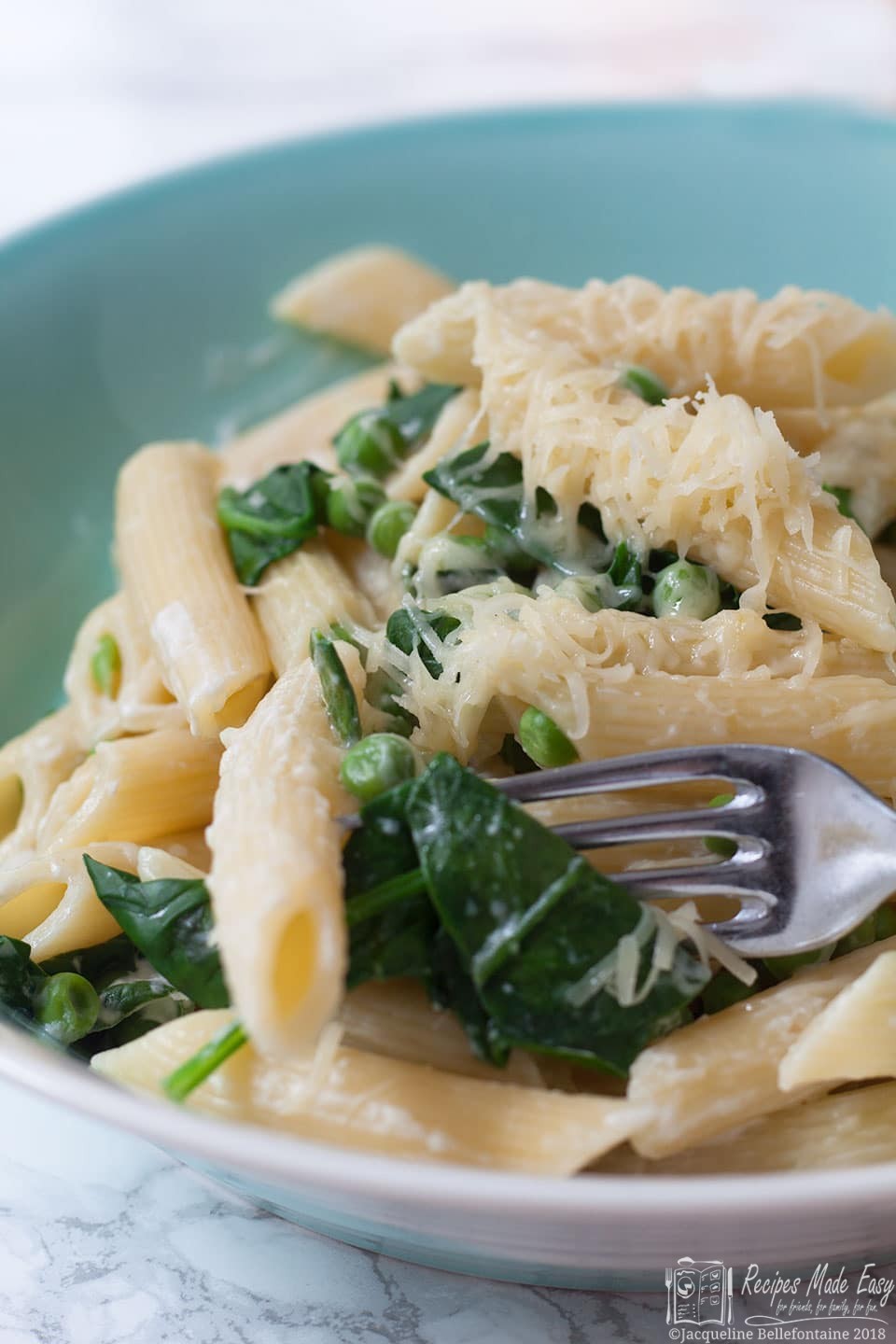 I used a low fat crème fraîche for the sauce but you could also use full fat crème Fraîche. Cream cheese or ricotta cheese, double or single cream would all work equally as well. It doesn't need much, just enough to moisten the dish. If you don't have any of these to hand a little milk and a knob of butter would suffice.
As I'm not a vegetarian,I added gruyere cheese. I like the flavour and the stretchiness of the cheese once melted. If you are vegetarian on ethical grounds, or make it as a dish for someone who is, make sure to use a suitable cheese made without animal rennet. Gruyere can be made with or without animal rennet so you need to check the label and look out for the logo indicating Vegetarian Society Approval. Of course you could also use any other grated cheese you like, choose your favourite.
Step by Step Penne with Peas and Spinach

Penne with peas and Spinach
Print Recipe
Pin Recipe
Save Recipe
Saved!
Ready in under 20 minutes and just 5 ingredients. This delicious pasta dish is simplicity itself to make. Perfect for a midweek meal.
Ingredients
400

g

penne

225

g

peas

100

g

baby spinach leaves

8

tablespoon

crème fraîche

salted and freshly ground black pepper

gruyere or any vegetarian cheese, to serve
Instructions
Cook the penne according to packet, until just cooked. Usually about

10 minutes.

As soon as the pasta is just tender add the peas to the water and bring back to the boil.

Drain the pasta and peas. Reserve a few tablespoons of the cooking water. Return to the hot pan.

Add the spinach, crème fraîche and seasoning and toss together until combined. Add a little of the starchy cooking water to help moisten the pasta.

Serve sprinkled with cheese.
Notes
Freeze: not suitable.
Nutrition information is approximate and is meant as a guideline only. (It does not include seasoning with salt and pepper.)
Nutrition
Calories:
575
kcal
|
Protein:
24
g
|
Fat:
11
g
|
Saturated Fat:
8
g
|
Sugar:
7
g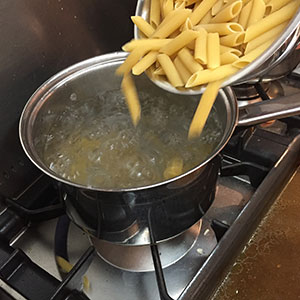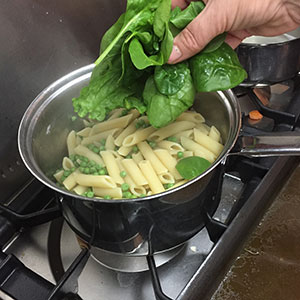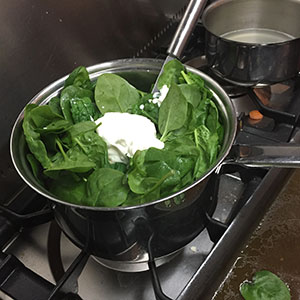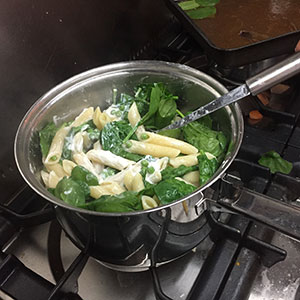 More Vegetarian Dishes Made Easy