Not only is Paul's sweet and sour slow cooked pork simplicity itself to make, it tastes fantastic. Cooked in a slow cooker, this recipe is ideal for summer since it removes the need to use the oven and doesn't heat up the kitchen. Having said that, you can, of course, cook it in the oven too if you don't have a slow cooker. Prepare it in the morning, go out and enjoy the sunshine, and have a meal ready for you at the end of the day.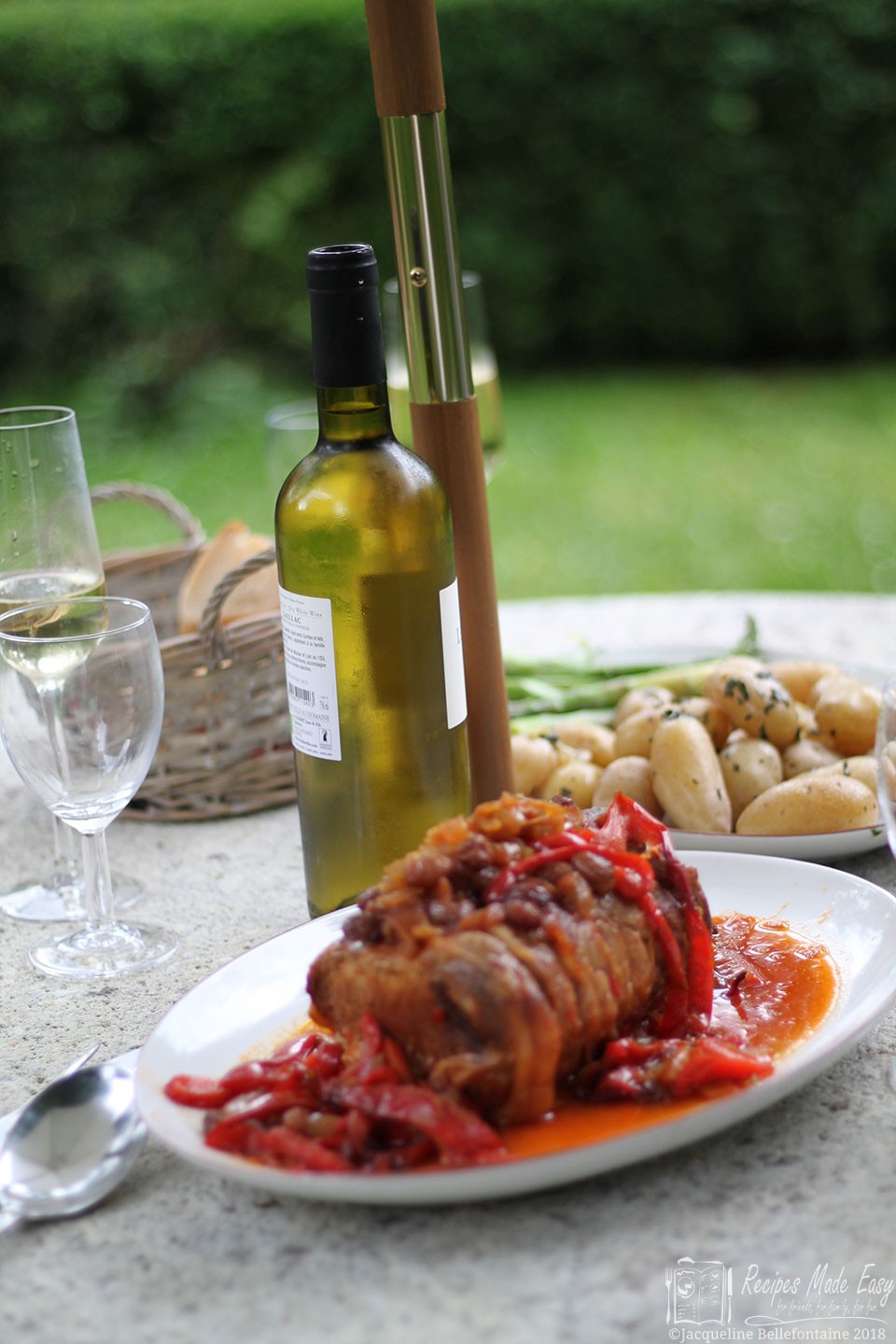 Mr B and I recently drove down to the South of Spain for our holiday - well, he drove and I just went along for the ride. Traveling down in our little 2 seater convertible (the joy of having grown-up kids), we had the most fantastic time. There were many beautiful town and cities on the way, starting with St. Antonin de Noble Val at the wonderful Maison Belmont, where we stayed for 2 days.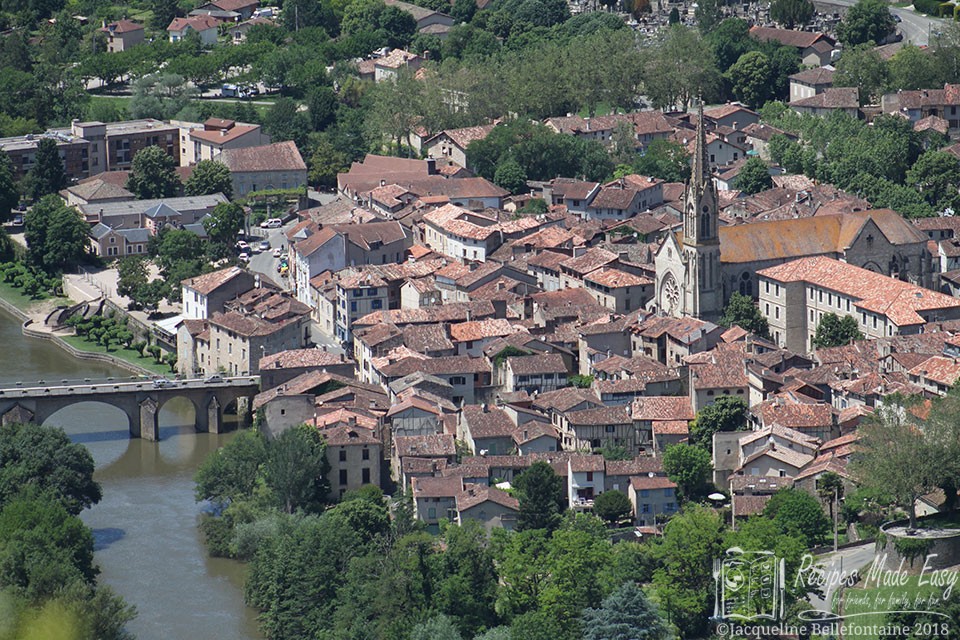 Maison Belmont
Maison Belmont is a bed and breakfast run by Paul and Mark, a couple of good friends of ours. They left England just over a year ago to follow their dream of running a luxury bed and breakfast in France. The house is beautiful and they made us and the other guests feel really welcome. They are such fabulous hosts and we throughly recommend a stay there, not just because they are friends. There is no doubt in my mind that they will make a great success of Maison Belmont, and St. Antonin is a beautiful medieval town well worth a visit.
Paul's Sweet and sour slow cooked pork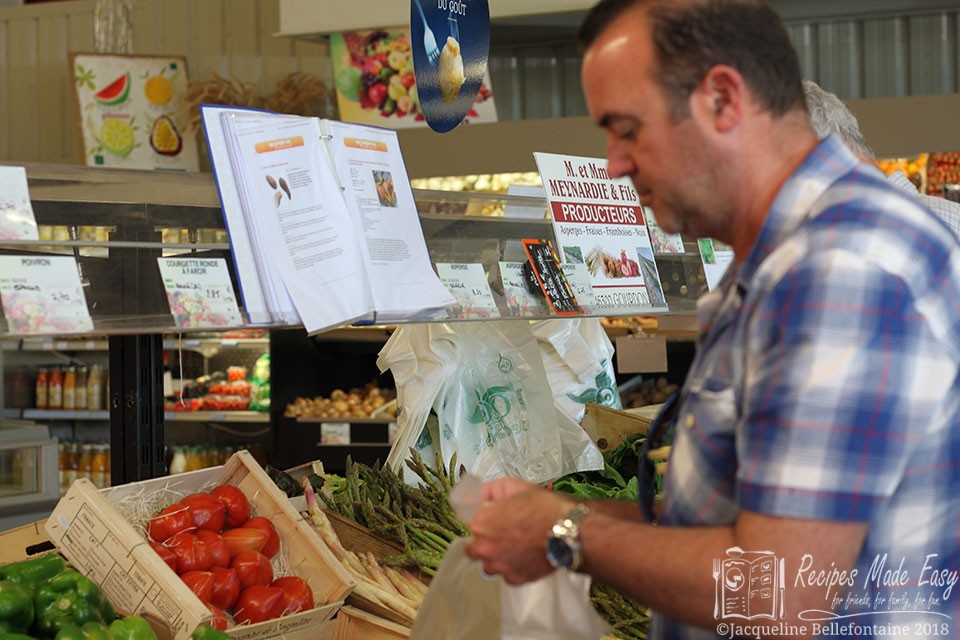 We first met Paul and Mark several years ago, when they joined our local (London) dinner party club. Paul in particular loves cooking, so while we were over in France visiting them I thought it would be a fun idea if Paul cooked a dish that I could share on the blog.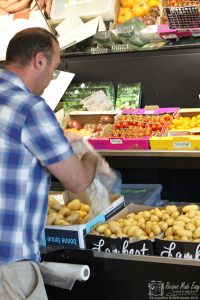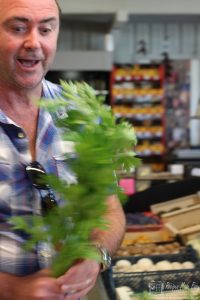 On the first day of our visit, Paul and I went off to buy the ingredients for our evening meal. (Disclaimer: at this point in time they are not yet offering evening meals, but they are considering starting this in future. You have to trust me when I say that once they do it would be yet another reason for staying with them - as if you need one!)
When we got back Paul started preparing the food while I kept myself busy taking pictures. Once everything was put into the slow cooker we went off to explore the pretty town.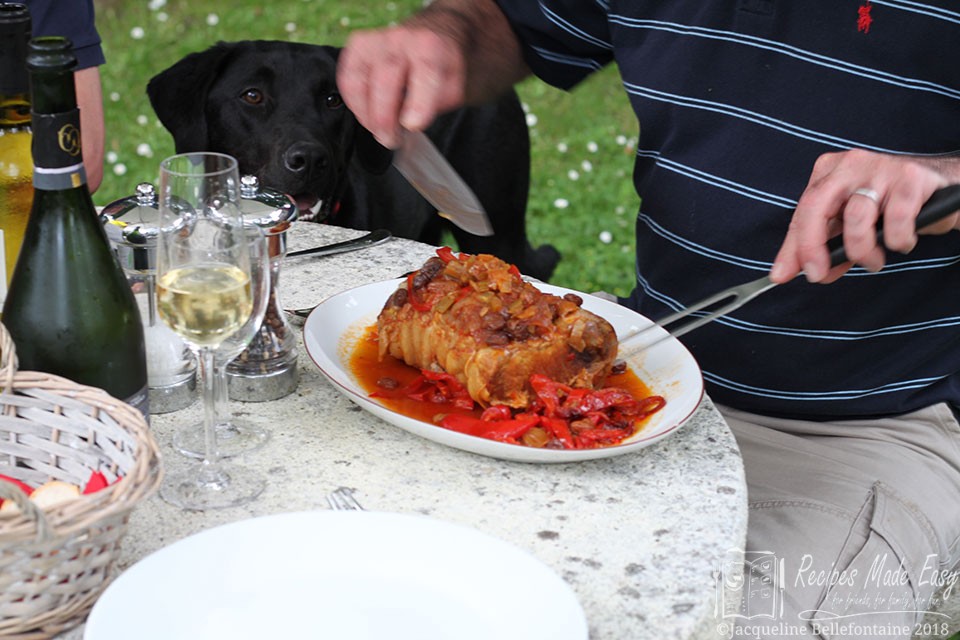 Back from our exploring in the evening the pork was ready and Paul proceeded to cook some potatoes and seasonal vegetables to go with it. We then retired to the beautiful garden to have our dinner. Under the watchful eye of Toby the dog we shot the final pictures and tucked in. It was the most delicious meal!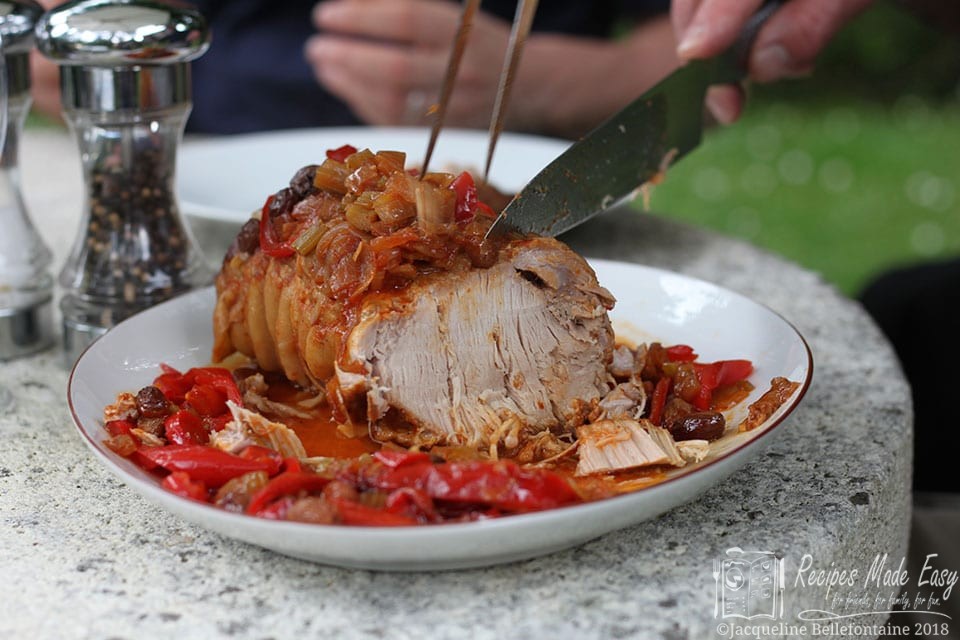 Step by Step Paul's Sweet and Sour slow cooked pork

Paul's sweet and sour slow cooked pork
Print Recipe
Pin Recipe
Save Recipe
Saved!
Cooked in a slow cooker or in the oven this recipe is quick and easy to prepare and tastes fantastic.
Ingredients
olive oil

1.2-1.5

kg

lean pork loin

rolled

2

sticks celery

chopped

1

onion

chopped

2

cloves

garlic

chopped

175

ml

red wine vinegar

175

ml

stock

50

g

sugar

2-3

tablespoon

tom puree

25

g

sultanas

2

red peppers

seeded and spiced
Instructions
Set the slow cooker on low

Heat a little oil in a large heavy based frying pan and brown the meat on all sides. Place in The slow cooker.

Heat about 2tbsp oil in the pan and add the celery and onions. Saute gently for 3 to 4 minutes until softened then add the garlic and cook for 1 minute.

Stir in the sugar, red wine vinegar, tomato puree and stock and bring to the boil. Reuse heat and simmer for a minute or so then pour over the pork.

Add the sultanas and peppers, cover and cook for 8 hours.

Remove the meat from the pot and transfer to a board or serving plate.

Skim off any excess fat from the sauce and serve the sauce separately or poured over the pork.

Serve with minted new pots and fresh seasonal veggies.
Notes
The pork loin we used in France had only a thin layer of fat and no skin. If you use a butcher you can ask him to prepare the meat this way for you. I tested mine with a classic English rolled loin joint including skin which worked well but did produce a lot of fat, but this can easily be skimmed off before serving. The skin made it harder to carve so It is easiest to remove the skin t before caving.
To cook in a conventional oven Prepare as above and place in a casserole with a tight fitting lid. Cook in a preheated oven 180℃/ 160℃ fan/gas mark 4 for 2 - 3 hours.
Friends in the kitchen
I hope you enjoy Paul's recipes for sweet and sour slow cooked pork as much as we did. I also enjoyed doing this post so much that I have decided to make this a new feature of the blog. So once a month I will be featuring a favourite recipe of a friend cooked in their own kitchen. Friends you have been warned!