Natalie's Dutch Apple Tart is really good. A melt in the mouth pastry case filled to the brim with sliced apples, lightly spiced with cinnamon and topped with a crumble mix. Natalie would be the first to admit it's also really easy to make!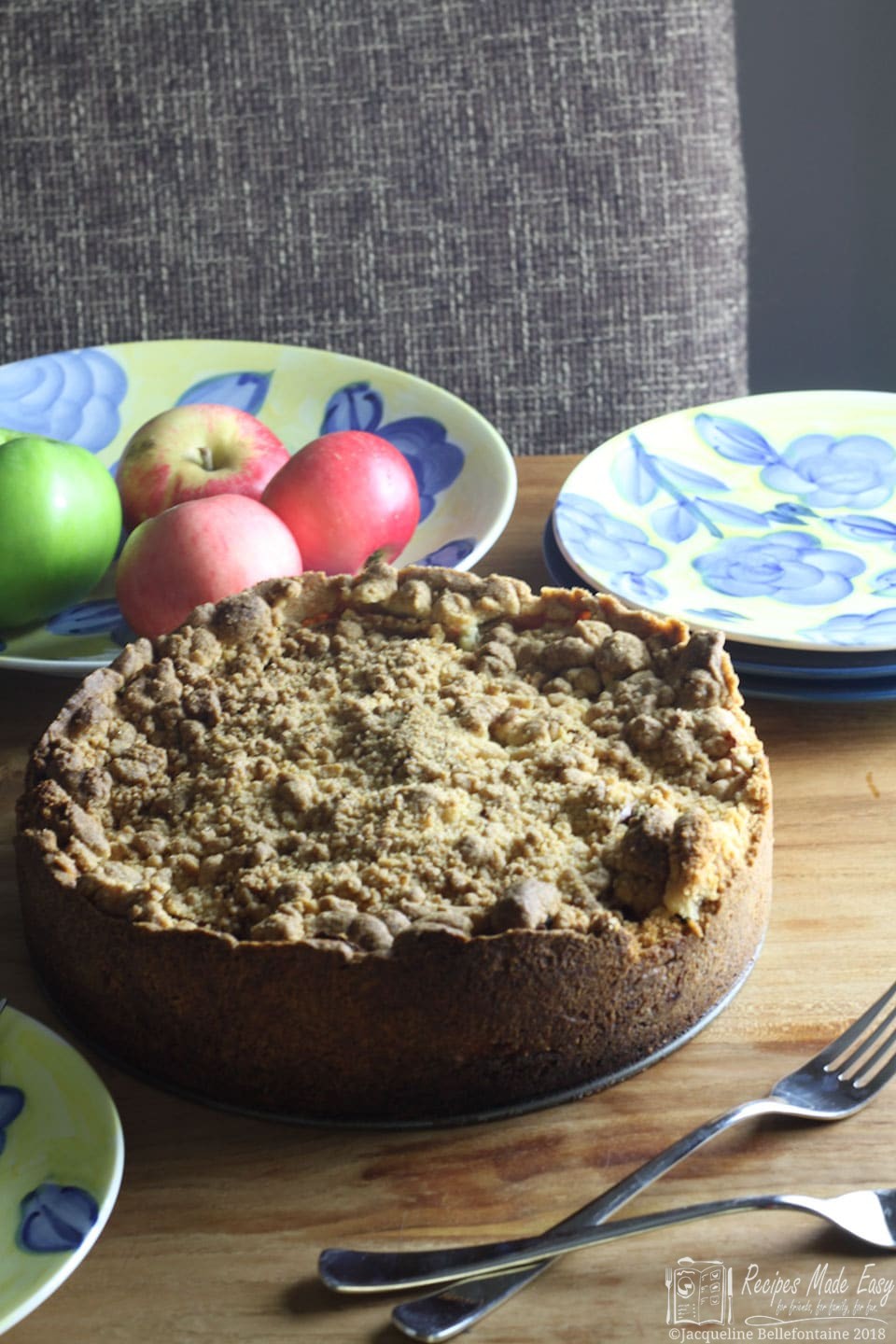 Welcome to the second of my Friends in the Kitchen post. Like most of my friends, Natalie really likes food even though she is the first to admit she in not a natural cook. Even so, she still cooks regularly at home for herself and her partner Basil as well as for friends. But she's always happy to let others cook for her (aren't we all), and proof reads my blog in return for the occasional supper or two. Win-win really.
Natalie grew up in the South of Holland and English is not her first language. You might think this would not make her an ideal proof reader but she has lived in England for 12 years and her English is pretty darn good (she is also very clever). She picks up on lesser known cookery terms that I assume everyone knows, and things I may not have explained properly. She is also far better at spotting spelling, grammatical or punctation errors than me. I tend to see what I expect to see, not necessarily what is on the screen - spelling mistakes or missing full stops seem to hide from me.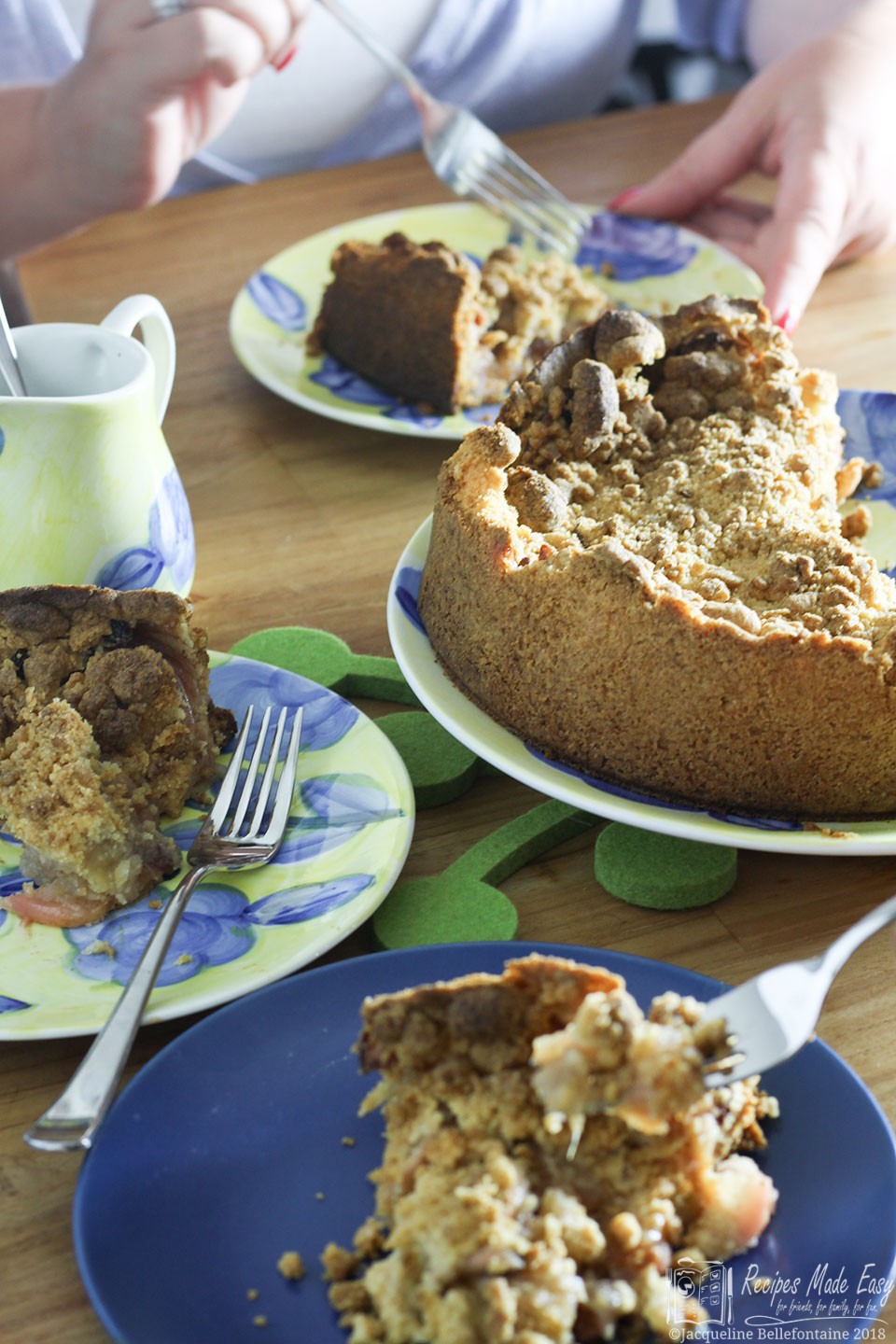 Natalie's Dutch Apple Tart
Since Natalie helps so much with the blog it seemed only natural to ask her to be one of my first Friends in the kitchen. I just love the Dutch apple tart she makes, so have specifically requested that one for her to share with you. The recipe is based on one from an old Dutch cookery book of her mum's circa 1958, and I popped round to her flat one afternoon this week to watch her make it. Of course we had eat some of it at the end of the day to make sure it tasted good.
As I watched her prepare the tart, I noticed she breaks all the rules for making pastry. Both the butter and the kitchen were warm, and she handled the dough quite roughly. But, because the dough is like a cookie dough with a high fat to flour ratio, it doesn't matter much. So, if you struggle making pastry, this one could be ideal for you to try.
The dough was hard to roll out and tended to break up but Natalie just picks it up and patches it together in the tin. To make it a little easier, you could try rolling the dough between two sheets of parchment or cling film which you can then use to help you lift the dough into the tin. Mean as I am, I didn't suggest this until after she had lined the tin with the pastry. Actually that's not quite true, I wanted to see her to do it her way - it is her recipe after all.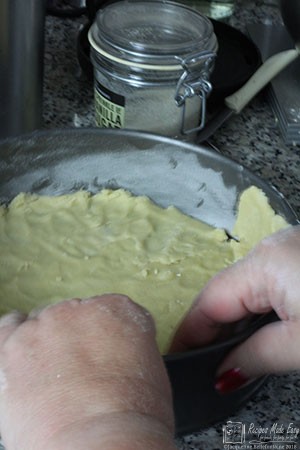 After lining the tin the tart is filled with apple slices tossed with a little sugar, cinnamon and some raisins.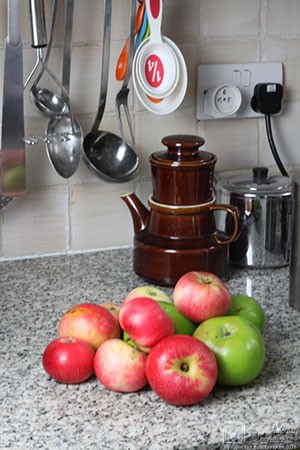 Because she can't find the apples she would use in Holland, Natalie uses an equal mixture of cooking and dessert apples to get a similar taste. She peels and cores the cooking apples but leaves the skin on the dessert apples. I stop to admire her apple corer which is much smaller than the ones we get here, and is ideal for dessert apples. Being unable to resist a new kitchen gadget, I had to ask her to get me one next time she goes back to Holland.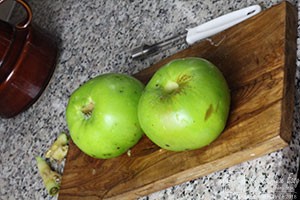 The original recipe calls for the tart to be topped with a lattice made from rolled out strips made with the remaining pastry but Natalie has found an easier solution. She crumbles the pastry into small pieces and spreads these over the top.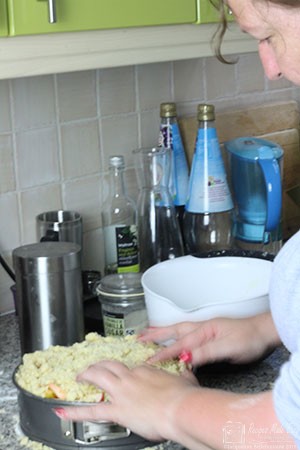 It's then popped in the oven to bake for about 75 minutes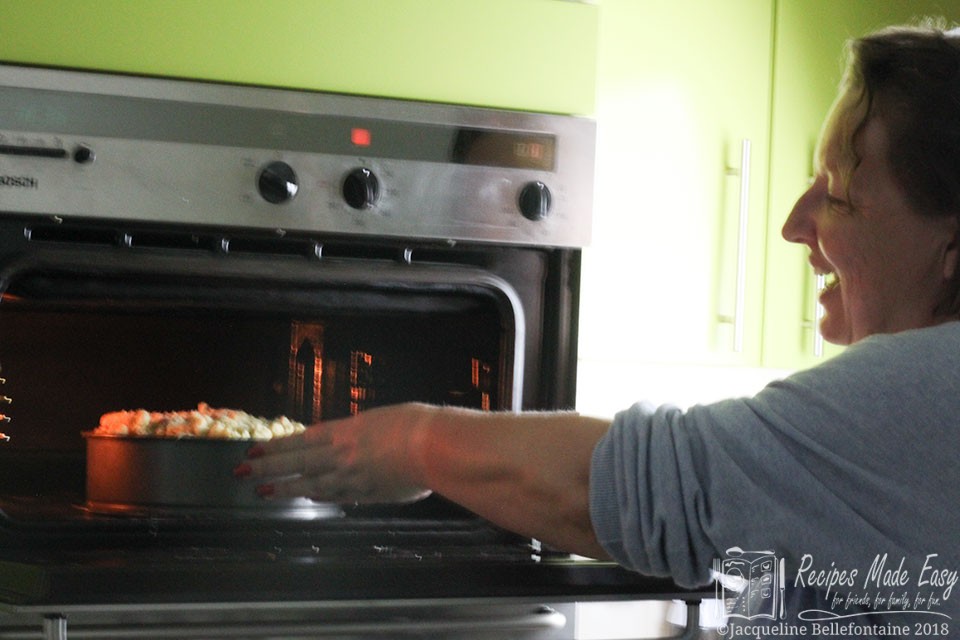 Natalie's Dutch Apple Tart
Print Recipe
Pin Recipe
Save Recipe
Saved!
Delicious served hot or cold. Serve on it's own or with a little cream or ice cream
Ingredients
For the dough
350

g

self raising flour

250

g

butter

cut into cubes

175

g

caster sugar

pinch of salt
For the filling
350

g

Bramley cooking apples

peeled, cored and thinly sliced

350

g

dessert apples

cored and sliced

50

g

caster sugar

1

teaspoon

ground cinnamon

50

g

raisins
Instructions
Place the flour in a bowl and stir in the sugar. Add the butter and rub into the flour, then knead the mixture gently until the mixture forms a dough. Chill for 30 minutes.

Place the apple slices in a large bowl and add the sugar, raisins and cinnamon. Toss together until well combined.

Preheat the oven to 180℃/165℃ Fan/ gas mark 4.

Using about ¾ of the dough use to line the base and side of a lightly buttered 24cm spring form or loose bottomed cake tin. Don't worry if the dough breaks up a bit you can patch it together.

Tip the apples into the pastry case. Crumble the remaining pastry into small pieces and scatter over the top of the tart.

Bake in the oven for 1 hr to 1 hr 15 minutes until the apple is under and the pastry is golden.

Allow to cool in the tin for at least 30 minutes before serving.
Notes
Freeze for up to 3 months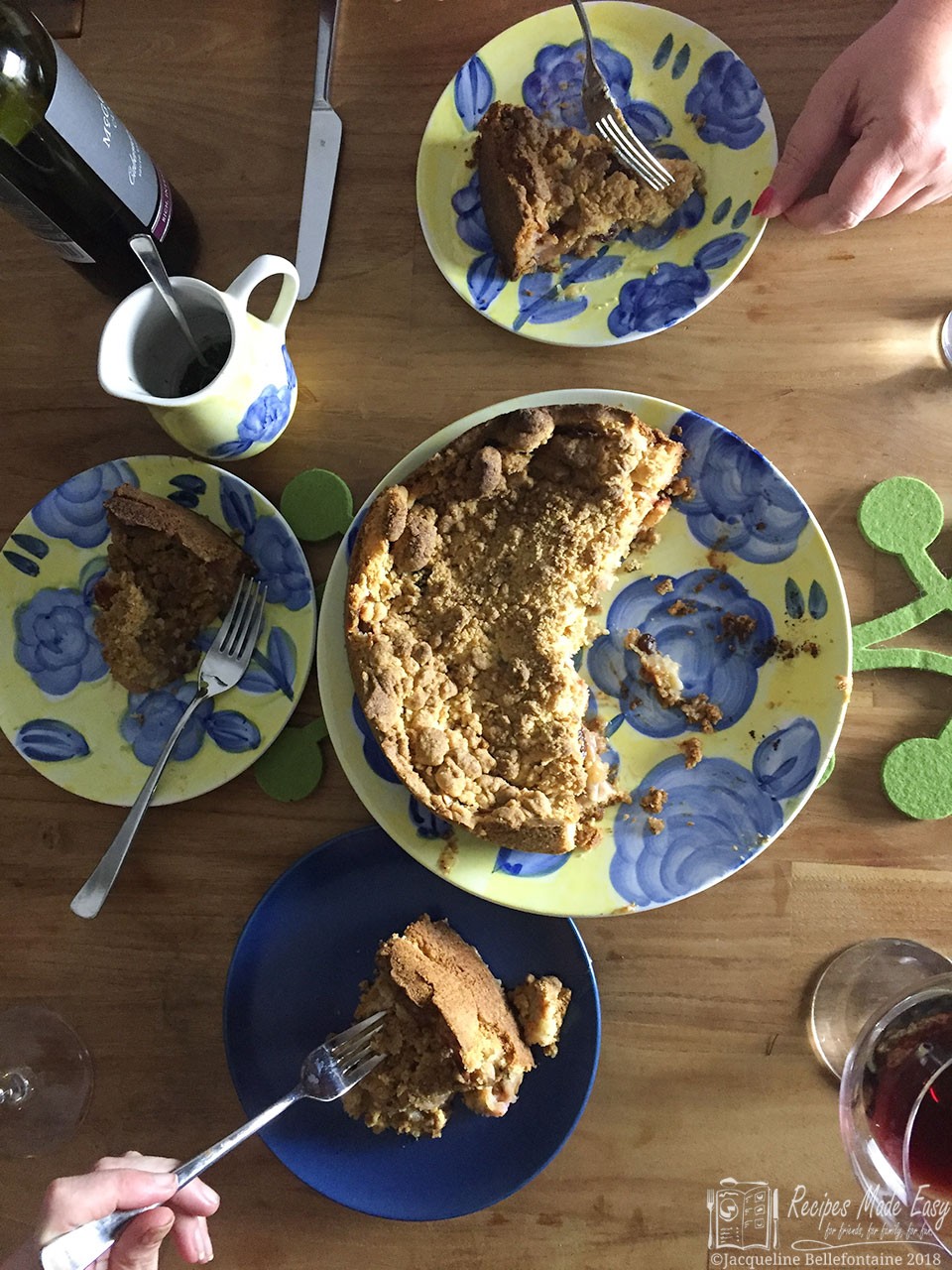 Cooking might not be Natalie's passion but this might give you a clue to what it is.