GREAT BLOGGERS BAKE OFF 2016 – WEEK 5 –PASTRY
We are now half way through Bake Off and this week was pastry week and the challenges were Danish pastries, a Bakewell tart, and filo pastry. So, for this week's Bloggers Bake Off post I'm sharing my recipe for Marmalade Danish Pastries made easy. Made easy because I use a simpler method to make my pastry. The butter is rubbed in the dough until evenly distributed but still in largish pieces. Then fold you just fold and roll the pastry to produce the layers. It's easier, and the butter is much less likely to run out, as is prone to happen when you make them the traditional way (unless you are very, very careful). I've flavoured mine with orange and cardamon and filled them with marmalade. English marmalade meets Danish pastry and I for one think it's a great combination!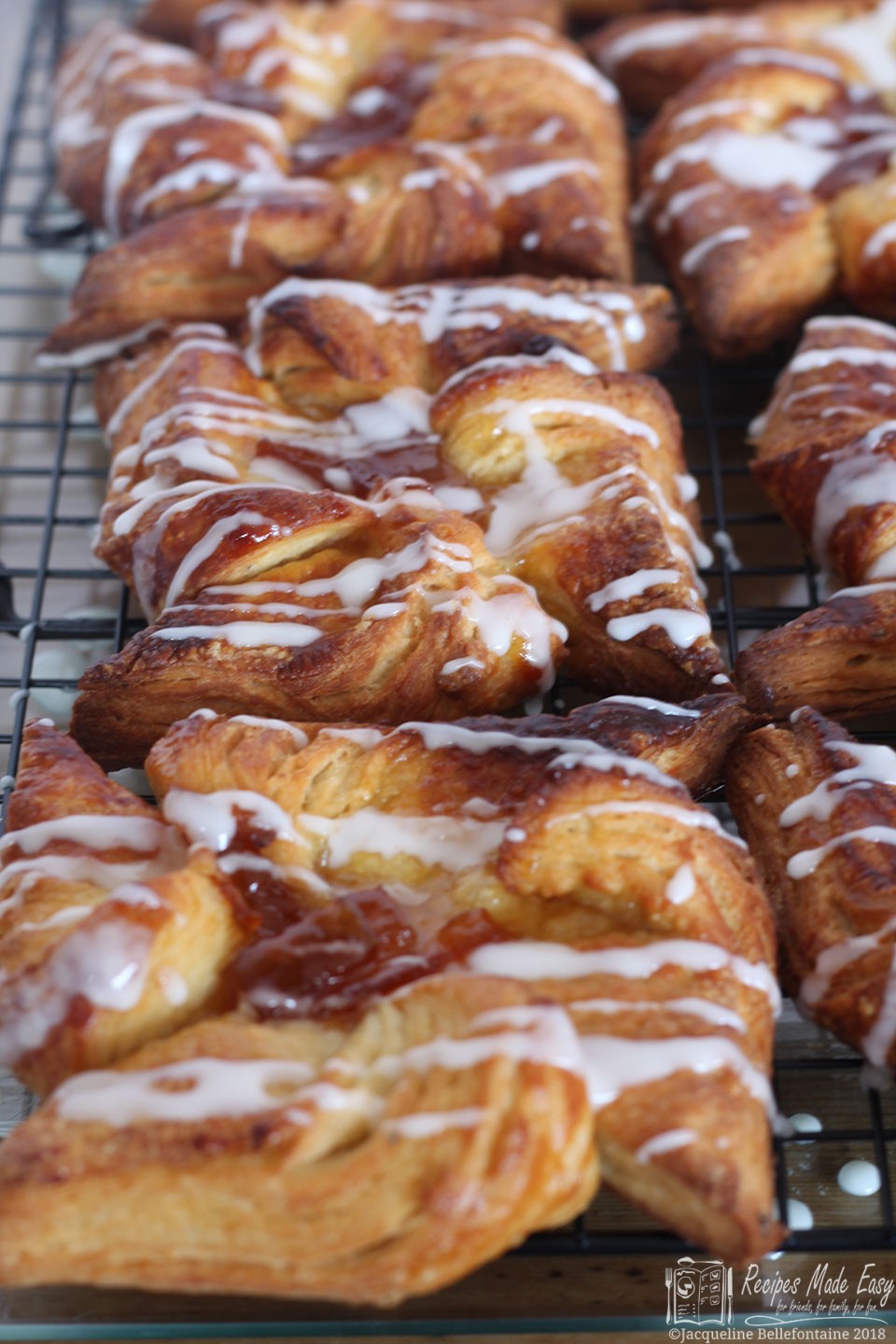 I was really looking forward to pastry week but, for some reason, was left rather uninspired to begin with. Unlike other weeks, I really had no idea what recipe to share. I do love Bakewell tart but honestly prefer to finish mine with just a brush of apricot glaze rather than the feather iced top that contestants had to make for the technical Challenge. I've made filo pastry and there's no getting away from it: it's tricky; takes time (and patience); and it makes a mess. I can make it but frankly, why bother? It certainly doesn't fit in with Recipes Made Easy. Of course I could have come up with recipes made with bought filo but that just seemed a bit of a cop out.
Then I remembered a recipe for Danish pastry I wrote quite a while ago which has an easier method. A little digging later, here it is. You still have to fold, roll and chill several times, so you will need to set aside enough time, but the results are worth it. Homemade pastries are so much more satisfying than the store bought ones, which are often overly sweet and rather light and airy. All I needed was to come up with a flavour and new variation. In the tent the task was described as making breakfast pastries and that was the inspiration I needed. Marmalade!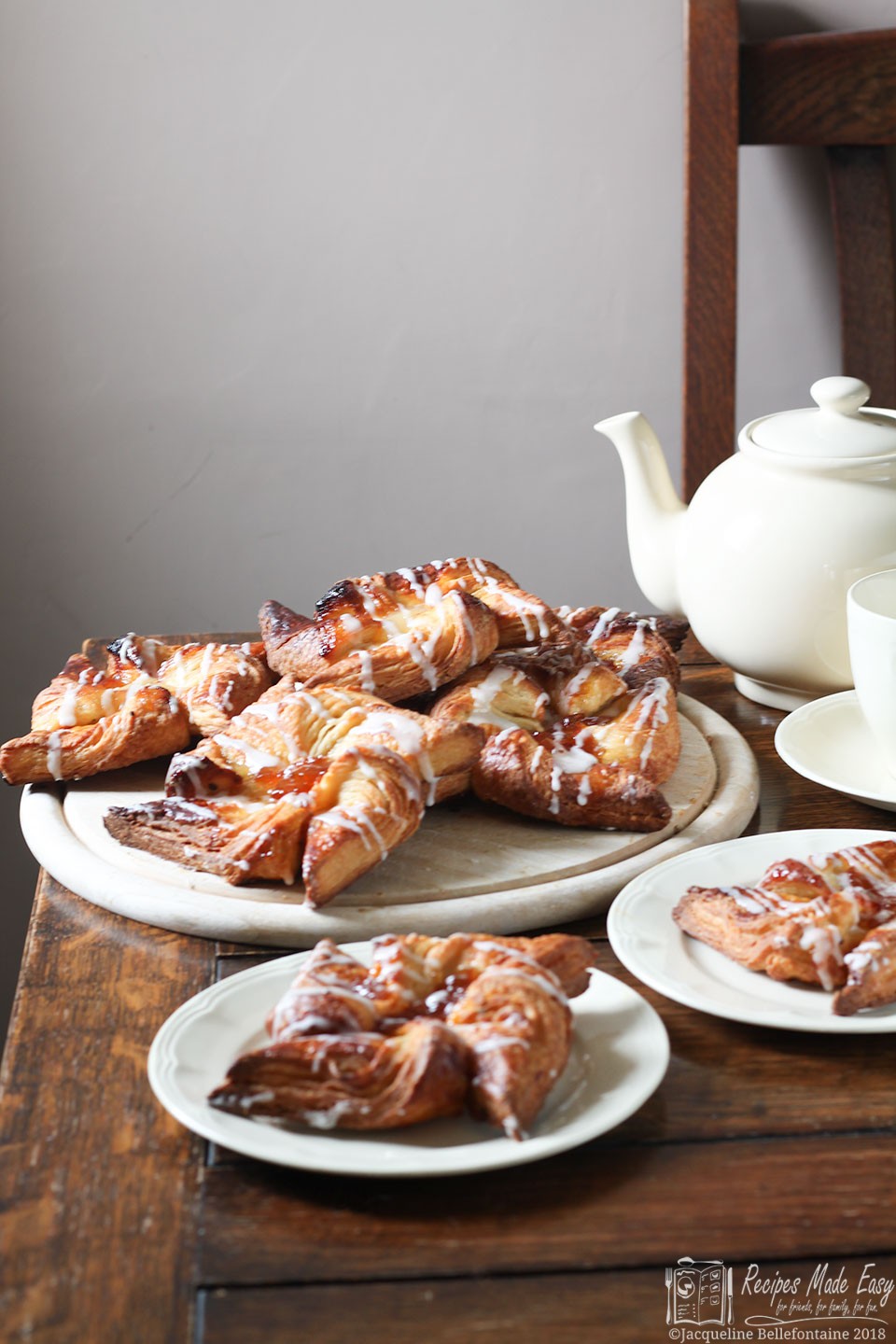 Step by Step Marmalade Danish Pastries Made Easy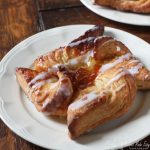 Marmalade Danish Pastries Made Easy
Print Recipe
Pin Recipe
Save Recipe
Saved!
English Marmalade meets Danish pastry in these Marmalade Danish Pastries. Flavoured with orange and cardamon they taste delicious and are easy to make, just allow enough time for the rolling, folding and chilling.
Ingredients
for the dough
7

g

sachet easy-blend yeast

1

teaspoon

salt

60

g

golden caster sugar

175

ml

milk

at room temperature

1

egg

at room temperature

450

g

plain flour

plus extra to dust

6

cardamon pods

seeds removed and crushed

zest of ½ orange

250

g

cold butter

cubed
to complete
beaten egg

about 100g marmalade

75

g

icing sugar

1-2

tablespoon

orange juice
Instructions
Place the flour in a large mixing bowl, stir in the yeast , cardamon and orange zest. Rub in the butter so that it is evenly distributed but still with fairly large pieces of butter throughout.

Stir in the salt and sugar. Whisk the eggs and milk together with a fork, then pour into the flour and mix together to form a dough. Cover the bowl and refrigerate for 2–3 hours or overnight.

Roll it out to a rectangle about 25cm x 50cm. With the short side towards you fold up one-third of the pastry, then fold the top third down so that you have 3 layers. Chill for 15 minutes.

Repeat the rolling and folding twice more, chilling for 15 minutes each time.

Then roll and fold one more time, wrap and chill for at least 30 minutes before proceeding further.

Divide the pastry in half and rollout each piece to a 26cm square, then cut each into 4 equal squares. Brush with beaten egg. Cut each square diagonally from the corners halfway to the centre. Bring each of the four corners into the centre like a windmill and press into the centre.

Transfer to lightly greased baking sheets. Spoon a teaspoon of marmalade into the centre of each and leave in a warm place for 30 minutes.

Preheat the oven to 200℃/180℃ fan/gas mark 6. Brush the top of the pastry with beaten egg and bake for 20-25 minutes until risen and golden. Cool on the baking sheets for a few minutes, then transfer to a wire rack to cool.

To decorate, sift the icing sugar into a bowl and beat in just enough orange juice to form a smooth, thick coating consistency. Drizzle the icing over the pastries and allow to set before serving.
Hint's, tips and variations
I have added extra flavour to the pastry with orange zest and some crushed cardamons but you can leave the pastry plain if you prefer.
Don't spoon on to much marmalade before baking as it may run off and burn if you over fill them. If you like, you can spoon on a little extra as soon as they are out of the oven.
The pastries can be decorated while still slightly warm. I do this as they are particularly delicious if served while they are still slightly warm.
I find they are best served on the day they are made but you can "refresh" them by popping them in the microwave for a few seconds.
Use lemon curd for a simple variation. Use lemon zest in the pastry and lemon juice in the icing.
Lemon and Cardamon Danish

As with my previous Bake Off Posts, I'm linking to The Great Bloggers Bake Off Hosted by Jenny at Mummy mishaps Dopop over and see what other bloggers have been posting. There are already several scrummy looking recipes for Bakewell Tart with some interesting variations.