Malt vinegar baked chicken served with crushed roasted whole potatoes makes a perfect midweek meal. The vinegar flavoured marinade gives the chicken a delicious sweet and sour flavour and helps to keep the chicken succulent and tender during baking.

Malt Vinegar Baked Chicken
Hands up who has a bottle of malt vinegar in their cupboard. If you are from the UK then there's a pretty good chance your hand went straight up, and there is a very good chance that it is Sarson's. Although these days it is predominantly used to sprinkle on chips, vinegar is a preservative. Originally it was used mainly used as such and even today it is still used to pickle today. I currently have several jars of Picallili maturing ready to serve with the Ham Hock Terrine I am going to make at Christmas this year. I often use malt vinegar to make mint sauce, pickled onions and various chutneys but after a recent visit to the Sarson's factory in Manchester, I decided I would look for a recipe I could share with you which would showcase this fabulous traditional British product to its full.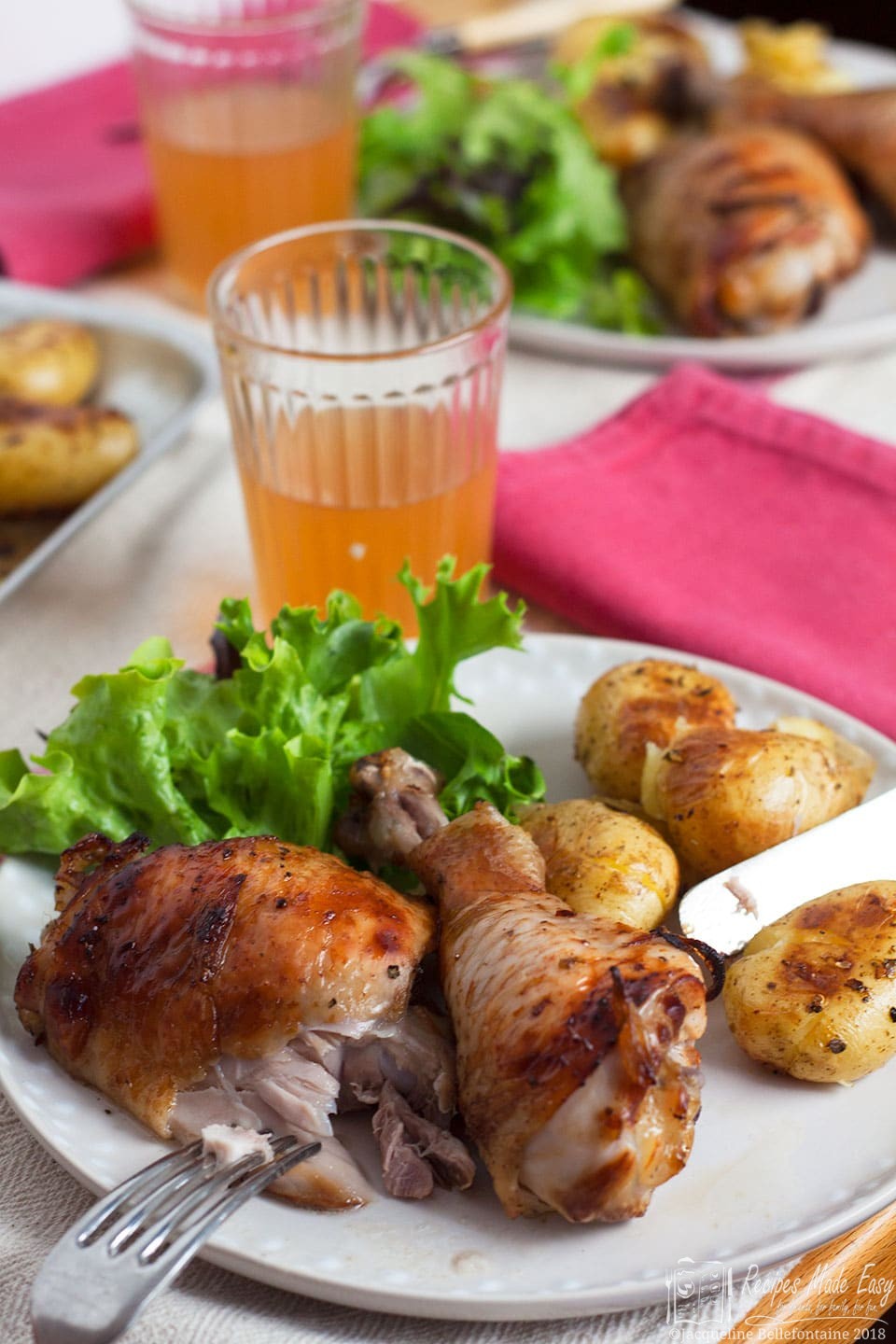 Malt Vinegar Baked Chicken seemed ideal. It is actually quite a classic use for vinegar and while researching I found several variations on the net, as well as in my old cookery books. I've kept mine simple as that's what I like to do for Recipes Made Easy (so long as flavour isn't compromised). Many recipes use a marinade and then make a glaze, though I have found it works very well just marinating the chicken in the vinegar overnight. The chicken is then transferred to a baking dish and drizzled with just a little of the marinade. The marinade will then mingle with the cooking juices during the cooking to produce a delicious juicy dish with a slight sweet-sour flavour and just the right degree of acidity to really make the flavour of the chicken zing.
The crushed whole baby potatoes are cooked in the oven at the same time and are delicious with an extra splash of vinegar sprinkled over them at the table.
Sarson's Malt Vinegar
As a food writer I love to go see how our food is produced and over the years have been on a fair few factory tours. So, when Sarson's asked me if I would like to see what makes Sarson's special I jumped at the chance. Sarson's have been making vinegar since 1794. That's over 200 years ! It is a product that I know and love and a brand that I have grown up with. I knew a little of their history in London as the original Sarson's factory by the river Thames is only a few minutes from where I live, but I have to confess I had no real idea of how it was made nor what made Sarson's vinegar special.
Now all Sarson's vinegar is produced in their factory in Manchester, which has been producing vinegar since 1905. It is brewed and matured in large wooden vats some of which are more than 100 years old. Sarson's are quite rightly very proud of their heritage and the quality of the product.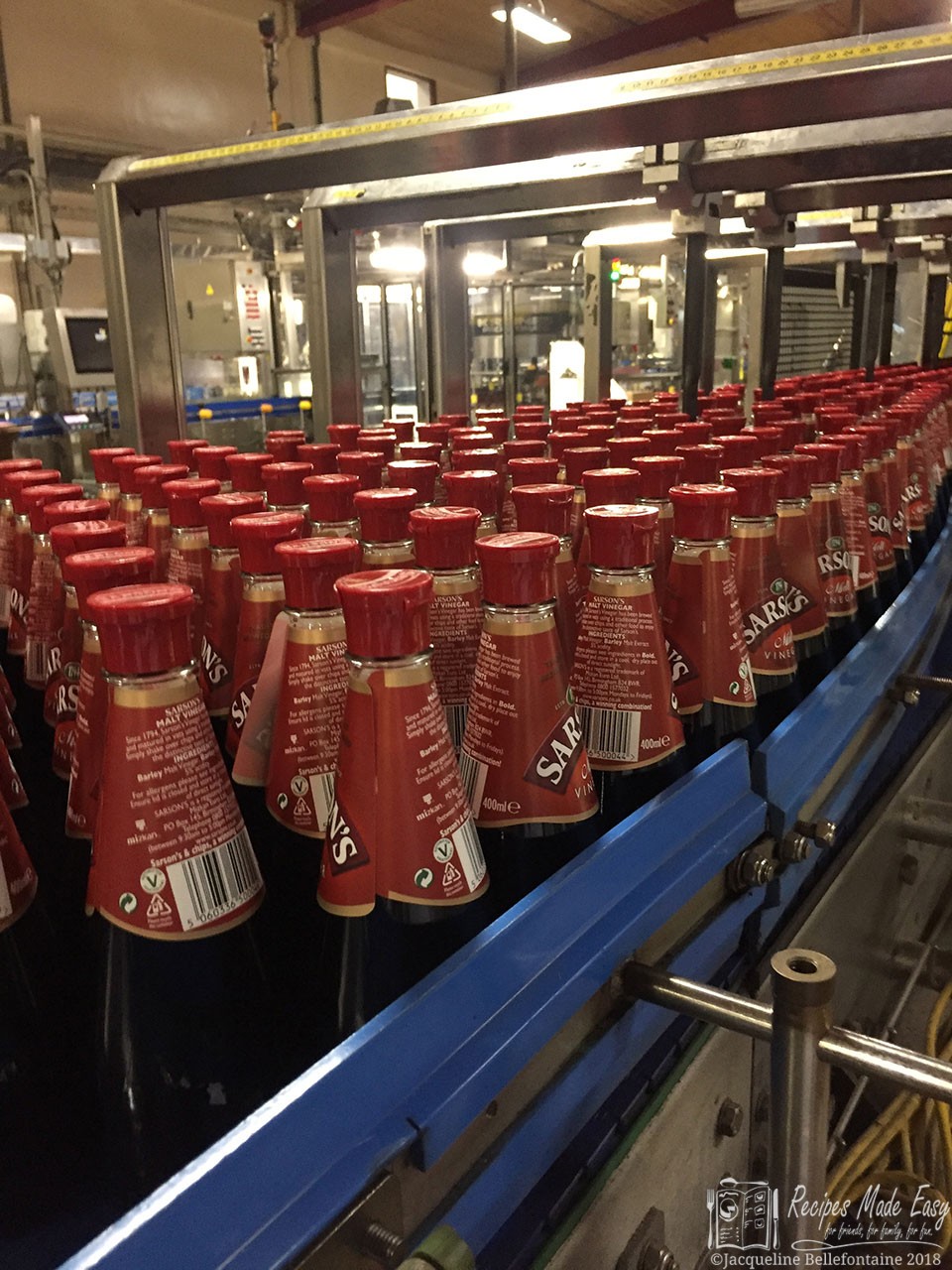 What is Vinegar (and what is not!)
Incidentally don't get vinegar confused with a product that sometimes masquerades as vinegar - non brewed condiment! To be vinegar it has to be brewed from an agricultural source and twice fermented. Non brewed condiment is a cheap and, I think nasty vinegar substitute made from manufactured acetic acid, diluted, coloured and flavoured, and is found on the counter of many a chip shop. But I for one, certainly prefer to stick to the real thing.
Sarson's Quality
But what makes Sarson's Malt Vinegar special today? Sarson's still make vinegar in the same unique way they did when they started, matured for seven days in large wooden barrels (most non-branded vinegars, on the other hand, are produced in 24 hours). This traditional method of making vinegar produces a vinegar with a depth of flavour that just doesn't have the time to develop when produced more quickly in stainless steel tanks. The unique Sarson's flavour comes from both the method of production and the wooden vats in which it is brewed and matured.
How Sarson's Vinegar is made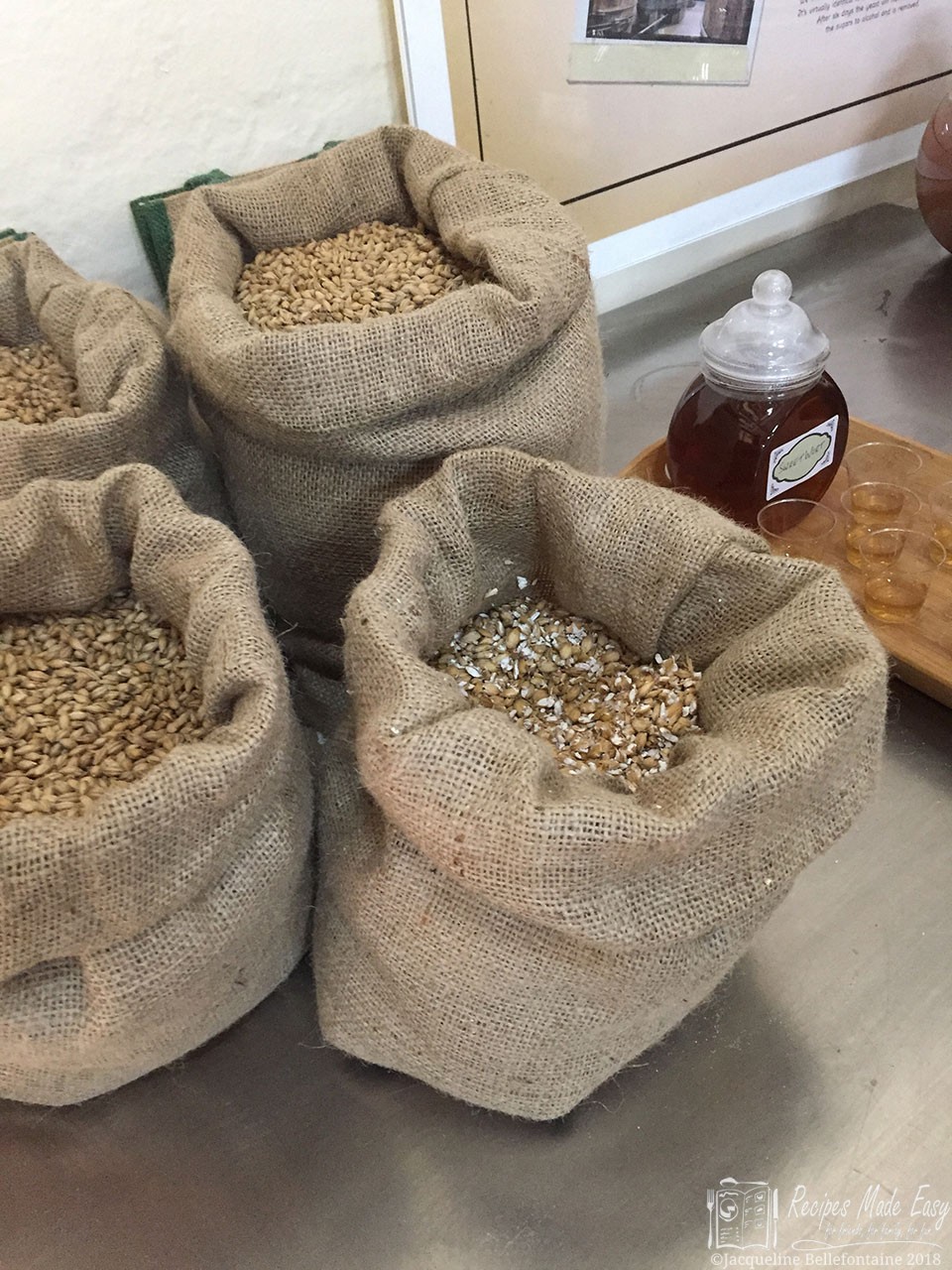 Malt Vinegar is made with Barley. The malted barley is "cracked" in the mill to break down the husk of the grain and expose the starch and then mixed with hot water, to produce a "mash". The natural enzymes present in the malted barley start to break down the starch into sugars, then hot water is passed through the grain mash which is collected into vessels for the next stage.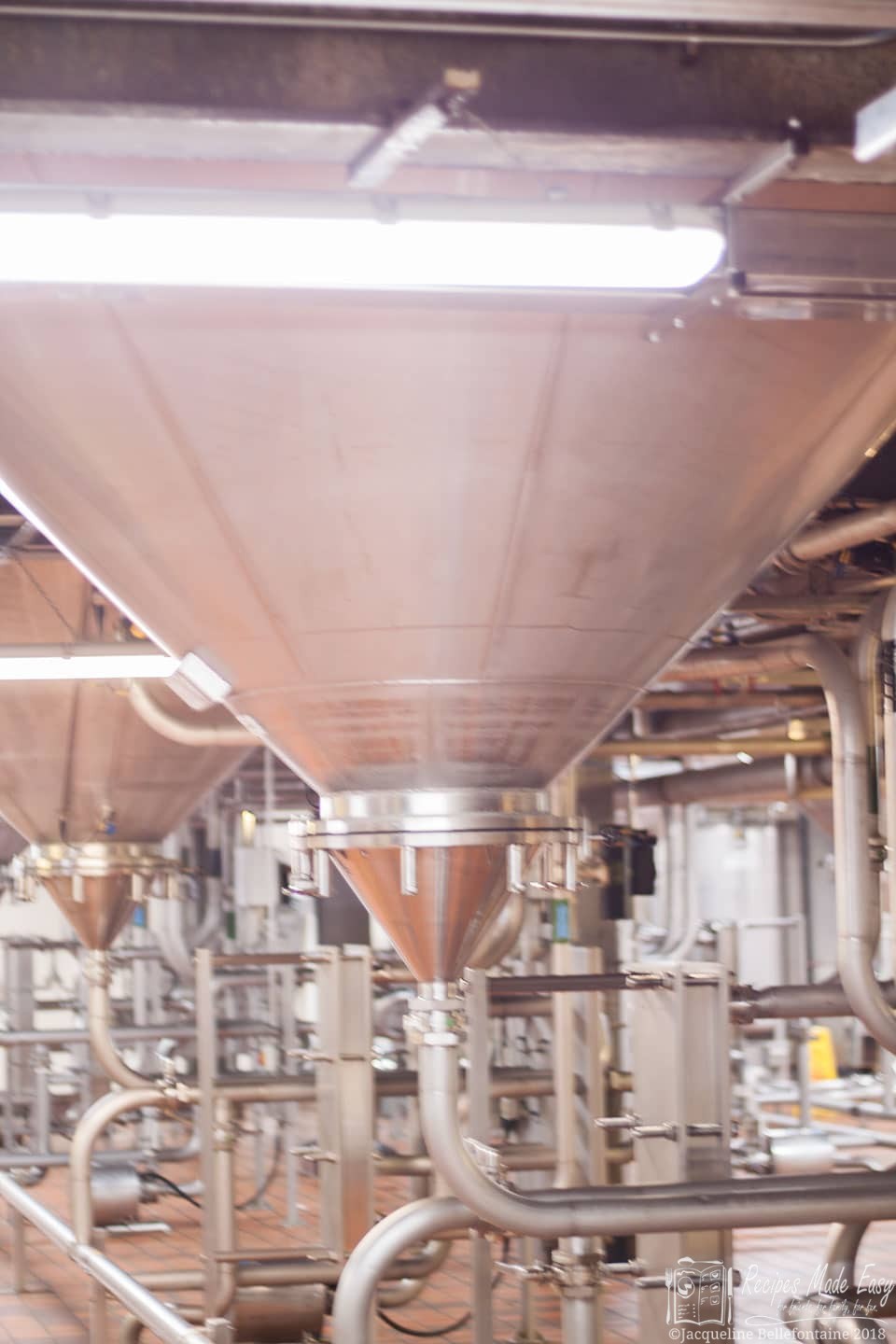 The liquid, called sweet wort, is then cooled down and yeast is added to it in a fermenter. This process is almost identical to the brewing process behind beer and after six days the yeast will have converted the sugars to alcohol. The yeast is then separated from the liquid which is now known as "bright wort".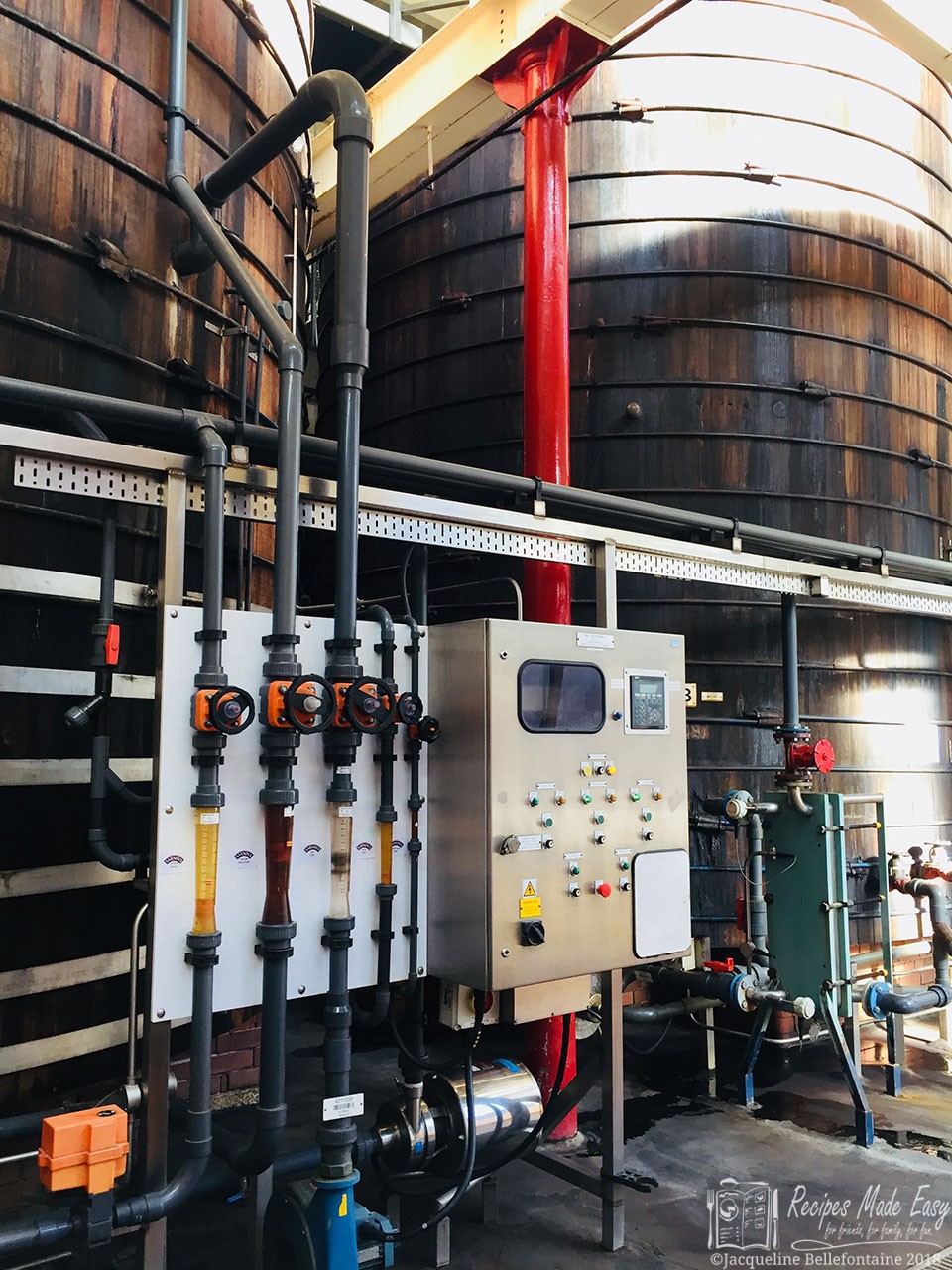 A natural "good" bacteria called acetobacter is added to the "bright wort" in giant pine and oak vats called acetifiers. Here the bacteria turns the alcohol into acetic acid producing vinegar.
The acetifiers are one-third full of wood wool, which is made from larch trees from the Vale of Evesham. The addition of wood wool is unique to Sarson's, and it is another factor that gives Sarson's vinegar its distinctive flavour.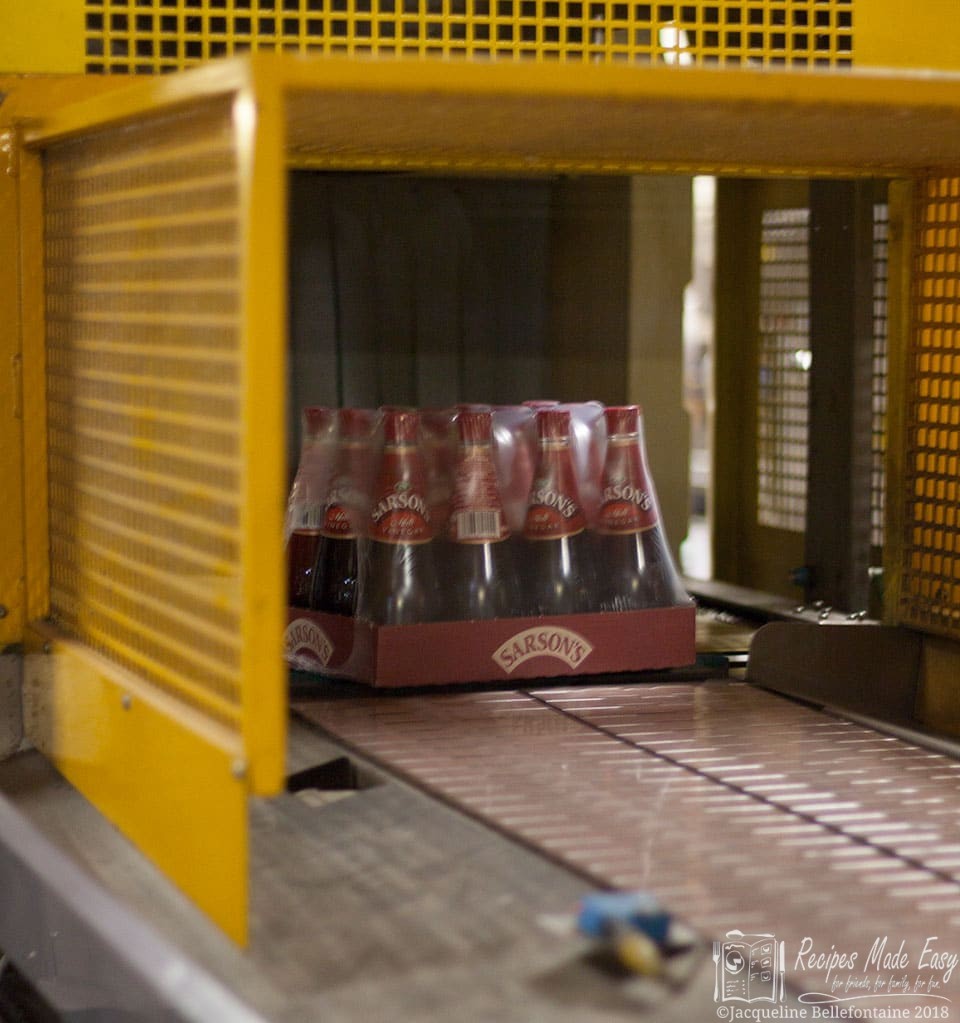 Finally, the vinegar is then standardised to 5% acid (the British standard for vinegar) and pasteurised before being bottled and packed.
Did you notice that the bottle of vinegar in my first photograph is a little unusual? Sarson's Vinegar is bottled in a unique iconic tear shaped bottle, so you may not have noticed, but the one I have used to prop my photograph is a personalised bottle given to me as a memento of my visit to the factory. How cool is that! Thank you Sarson's.

Malt Vinegar Baked Chicken
Print Recipe
Pin Recipe
Save Recipe
Saved!
Marinated in malt vinegar and cider, this Malt Vinegar Baked Chicken is moist and tender with a delicious light sweet-sour flavour.
Allow at least 2 hours to marinate or up to 24 hours.
Ingredients
Malt Vinegar Baked Chicken
4

chicken drumsticks

4

chicken thighs

150

ml

Sarson's malt vinegar

100

ml

dry cider, apple juice or white wine

2

shallots,

thinly sliced

2

tablespoon

dark brown sugar

¼

teaspoon

dried chilli flakes

2

teaspoon

dried oregano or mixed herbs

salt and freshly ground black pepper
Crushed Potatoes
750

g

baby potatoes

2

teaspoon

rapeseed oil

pinch

of

dried chilli flakes

1

teaspoon

dried oregano or mixed herbs

Sarson's malt vinegar,

to serve
Instructions
For the chicken
Skin the chicken if desired. If you do not skin the chicken prick a few times with a skewer, this helps to help the marinade flavour penetrate the flesh better. Season with salt and pepper and place in a shallow non-metallic dish.

Combine all the remaining ingredients for the chicken in a small pan and heat gently stirring until combined. Simmer gently for 2 minutes, then allow to cool.

Pour over the chicken and turn the chicken so that it is well coated in the marinade. Cover and allow to marinate in the refrigerator for at least 4 hours or up to 24 hours. Turn the chicken over in the marinade once or twice during the marinating time if possible.
for the potatoes
When ready to cook the chicken, preheat the oven to 200℃ (190℃ fan)/400°F /gas mark6. Place the potatoes on a baking tray and drizzle with the oil. Sprinkle over the chilli flakes and herbs and roll the potatoes around so that they are fully coated with the oil and herbs. Season with a little salt and pepper.

Transfer the chicken to a baking dish and spoon over about 4tablespoon of the marinade. Place the chicken in the oven on a rack above the potatoes and the roast for

30 minutes

basting the chicken with the juices once or twice during the cooking time. The chicken is cooked when the juices run clear when the tip of a knife is inserted into the thickest part.

Allow the chicken to stand for 10 minutes before serving. Lightly crush each potato with the back of a spoon until it just splits. Serve alongside the chicken with some extra Sarson's vinegar to sprinkle over the potatoes.
Notes
Serve with a salad or a green vegetable.
Nutritional Information:
Is calculated without seasoning (salt and pepper) as the amount added will vary from cook to cook. Sodium content will, therefore, be higher than stated.
Nutrition
Calories:
583
kcal
|
Carbohydrates:
42
g
|
Protein:
35
g
|
Fat:
28
g
|
Saturated Fat:
7
g
|
Cholesterol:
180
mg
|
Sodium:
184
mg
|
Potassium:
1231
mg
|
Fiber:
4
g
|
Sugar:
8
g
|
Vitamin A:
160
IU
|
Vitamin C:
38
mg
|
Calcium:
61
mg
|
Iron:
3.1
mg
Thank you to Sarson's for sponsoring this post and letting me visit their factory. As always all thoughts and opinions are my own.
Visit Sarson's website for more information on Sarson's production and heritage, as well as plenty more vinegar recipe ideas