I was recently reminded just how good a glass of homemade lemon and limeade could be on a hot day. We were on holiday in Spain and had just arrived at our hotel in Granada after a long drive and the temperature was 42℃. In the hotel guest lounge was a flask of ice cold homemade lemonade for guests to help themselves to. It tasted so good!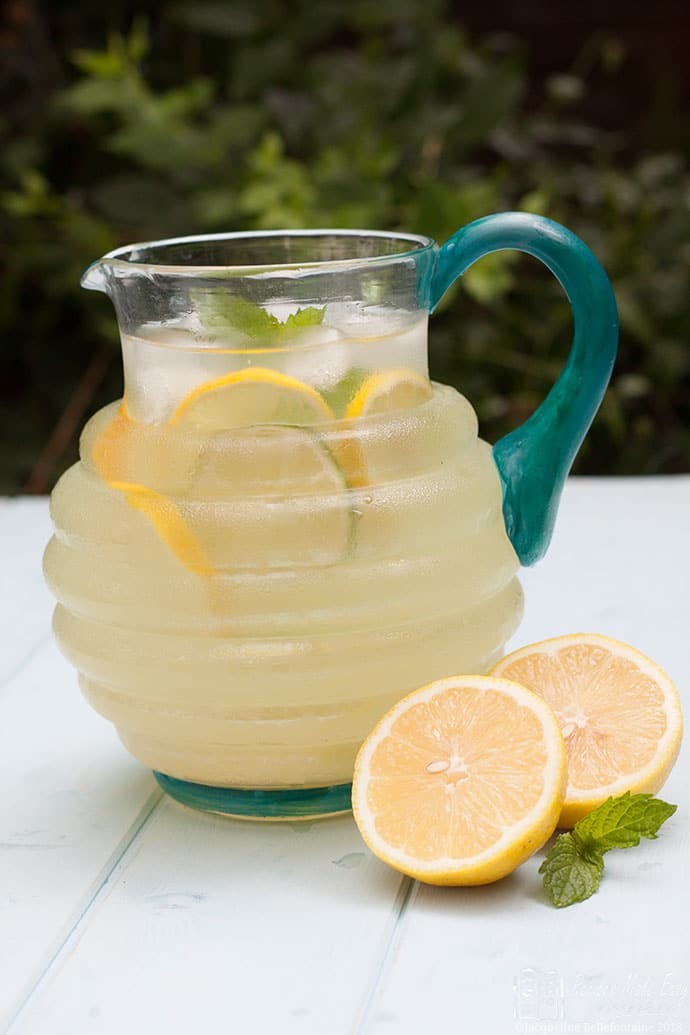 The perfect thirst quencher
Delicious ice cold Homemade lemon and limeade is a perfect drink for a hot summer day. Thirst quenching and delicious, it is one of those things I used to make but had somehow forgotten about. That day in Granada reminded me of how good it is and prompted me to share the recipe on my blog. So here I am.
I'm still wondering how I could have forgotten both the taste and how easy it is to make. I remember making it at college or possibly even school, infusing the zest in a little sugar syrup, adding the juice and diluting to taste with water. In Granada we were served lemonade but I thought I'd jazz it up a bit by adding some lime. For some reason I have developed a bit of a thing for limes at the moment and am sneaking them in here and there in my cooking. I also like to add a hint of mint to my lemon and limeade.
Do you remember making or drinking homemade lemonade as a child? If you want to try just lemonade you may like to check out this old fashion lemonade by fellow food blogger Camilla from Fab food for all, who also remembers making at school .

Step by step lemon and limeade

Homemade Lemon and Limeade
Print Recipe
Pin Recipe
Save Recipe
Saved!
Ingredients
4

lemons

2

limes

125

g

caster sugar

water

few sprigs of mint

ice

lemon and lime slices, to serve
Instructions
Wash the fruit. Pare the zest from 2 of the lemons and 1 lime taking care not to include too much white pith. Place in a saucepan with the caster sugar and 500ml water.

Heat gently stirring until the sugar dissolves, then remove from the heat.

Squeeze the juice from the lemons and limes (you should have about 250ml) and stir into the pan.

Allow to infuse for at least 30 minutes. Remove the lemon zest with a draining spoon and discard. Pour the lemon and lime mixture into a large serving jug. Add a few sprigs of mint and top up with 750ml of cold water.

Chill well. Serve over ice with extra lemon and lime slices if desired.
Notes
If your fruit does not yield very much juice then reduce the additional water you add to the syrup accordingly. If you have a lot more juice dilute to taste.
Hints, tip and variation
Wash the fruit well to remove any wax coating or use unwaxed fruit.
Take care to remove the zest without including too much white pit which will make the lemon and limeade bitter. I use a potato peeler as I find it easiest but you could use a small sharp knife.
When diluting the lemon and limeade, take into account that if you add ice this will dilute it further as it melts.
For plain lemonade replace the two limes with an additional lemon.
Try adding a sprig of rosemary instead of mint in the syrup for an interesting additional flavour.
The amount of juice you get when you squeeze the lemons and limes will vary according to the variety. You should aim to get about 250ml of juice from the fruit.
Fancy something a little alcoholic but sill perfect for a hot day? – Try my Sangria
Save
Save