Homemade cordials are easy to make and are packed full of flavour with no nasty artificial sweeteners or preservatives. Totally refreshing and totally delicious!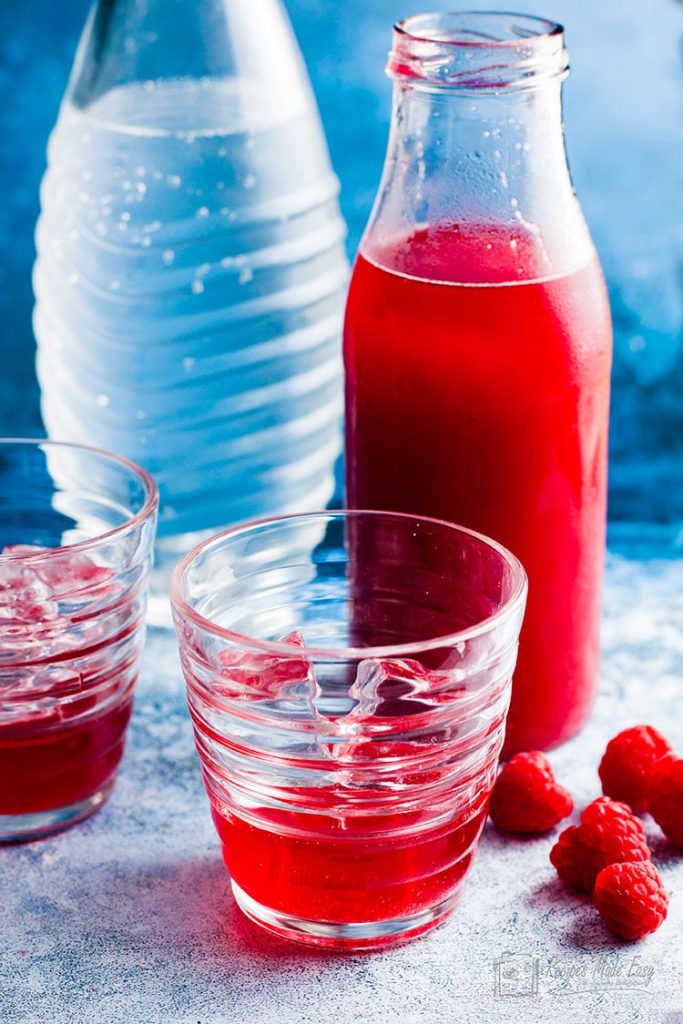 A couple of years ago I had a bumper crop of blackcurrants from my allotment and made Blackcurrant Cordial for the first time and it was a revelation. It tasted so good, packed with flavour and much better than commercial blackcurrant squash.
Since then I haven't looked back, and now every summer I make my own fruit cordials. Last year I added Rhubarb Cordial to me repertoire with great success. This year's bumper crop has been raspberries, so I decided to have a go at making Raspberry cordial. I think this is my favourite to date, although I reserve the right to change my mind next as I am quite sure I will be making even more fruit cordials in the future.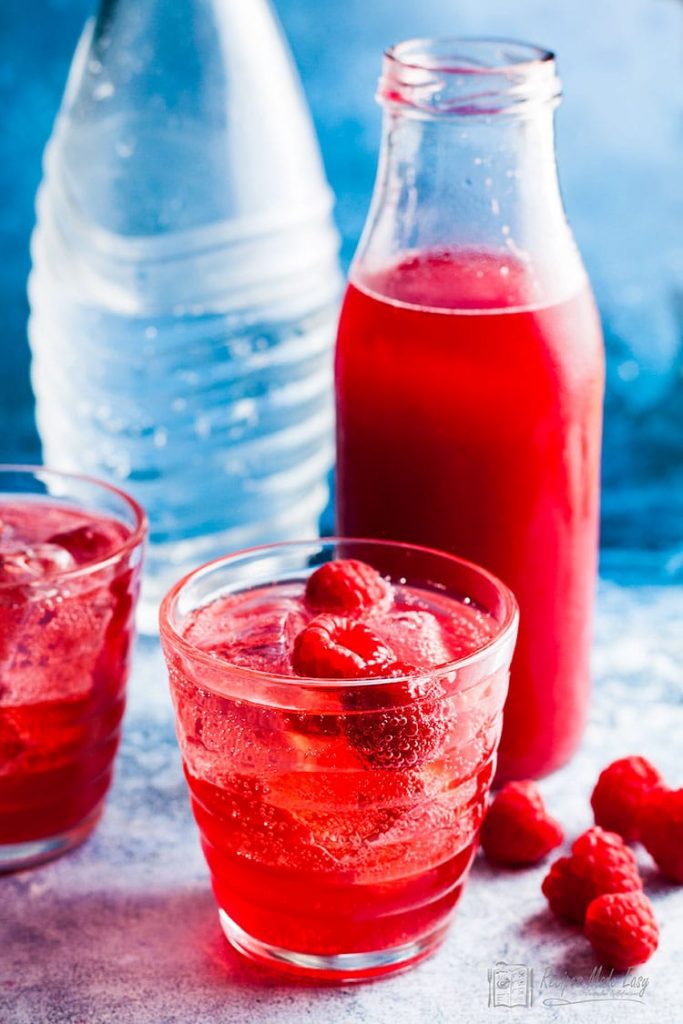 Fruit cordial with no artificial sweeteners
Apart from the fabulous flavour, I like the fact I know exactly what is in my homemade cordials. Here in the UK the government has introduced what is called the sugar tax on soft drinks. The admirable aim was to cut down the consumption of too much sugar through soft drinks to help deal with obesity.
What has actually happened is the drinks companies simply swopped sugar for artificial sweeteners to keep the cost of the drink down.
Now I'm not convinced this is a good move. The drinks taste just as sweet so it does nothing to discourage our love of sweet drinks and I worry that the long term effects of too much sweeteners may be just as bad or worse for our health as sugar but for different reasons.
I also personally do not like the aftertaste that artificial sweeteners leave and buying squash and cordial without sweetners is now very difficult. Only a few premium brands have not gone down this route so choosing to make my own was very timely.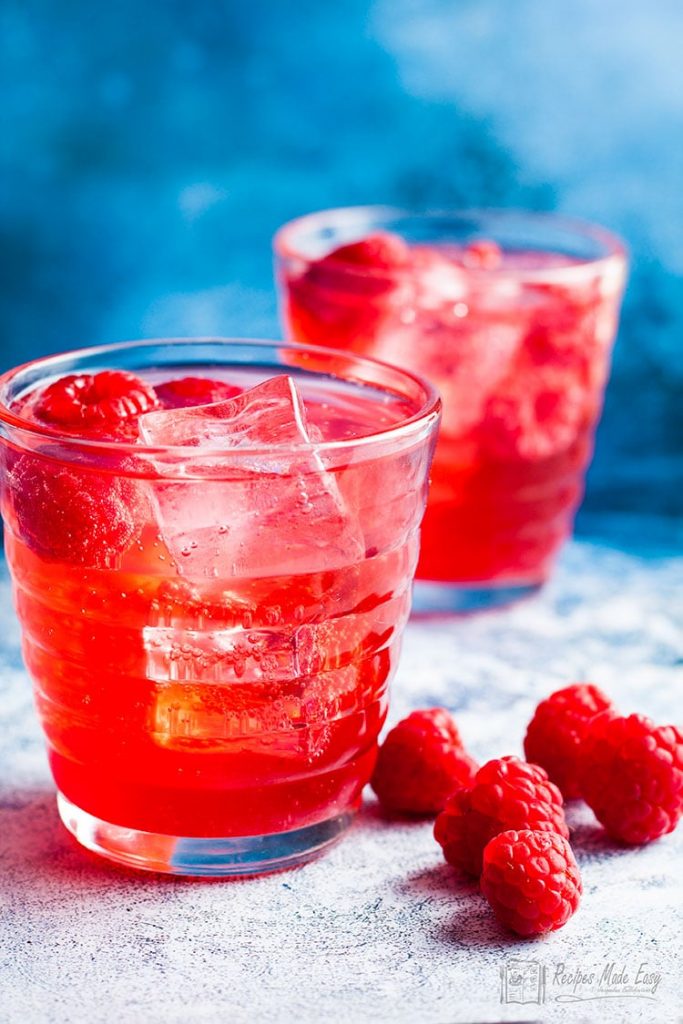 How long will Raspberry cordial keep?
Some recipes for homemade cordials have a lot of sugar. I have reduced the amount of sugar in mine as much as I dare but the sugar gives the fruit squash some of its keeping qualities. I have found my cordials last about 4 weeks in the fridge although it is usually gone long before them.
You can also freeze the cordial for up to 6 months. Longer than that I think the freshness of flavour will deteriorate a little.
Made in a similar way to my blackcurrant cordial, I have added some lime zest and juice to the raspberries to give it a bit of zing.
Clear or Cloudy Cordial
For the clearest cordial allow the juice to drip through on its own. If you don't mind the juice being a little cloudy you can push more of the juice out by squashing with the back of a spoon. This way you will get a little more cordial bi it will be cloudy. If you prefer the clearer option the cooked raspberries can be stirred into yogurt or over ice cream to avoid waste.
Step by Step Raspberry Cordial
Place the sugar and raspberries in a saucepan.

Add the water.

Add the lime zest.

heat gently stirring until sugar dissolves then simmer for 5 minutes

allow to cool slightly then add the lime juice.

Allow to cool completely before straining through a sieve.

Pour into bottles, seal and label.

Dilute to taste with still or sparkling water.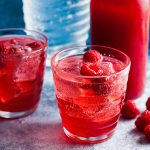 Homemade Raspberry Cordial
Print Recipe
Pin Recipe
Save Recipe
Saved!
Easy to make refreshing homemade raspberry cordial that will keep in the refrigerator for up to 1 month.
Dilute to taste with still or sparkling water.
Ingredients
500

g

raspberries

250

g

golden caster sugar

300

ml

water

2

limes

finely grated zest and juice

ice and raspberries

to serve
Instructions
Place the raspberries in a large saucepan and add the sugar, water and lime zest, then heat gently stirring until sugar has dissolved.

Continue to cook gently for a few minutes until the raspberries are very soft about

5 minutes

.

Remove from the heat and allow to cool for 10 minutes then stir in the lime juice.

Allow to cool completely and then strain the mixture through a fine sieve or coarse sieve lined with muslin. Allow to stand until all the juice has dripped through.

Pour into sterilised bottles. Seal and allow to cool then chill until required

Diluted to taste with still or sparkling water. Serve over ice and decorate with a few extra raspberries if desired.
Notes
To steralise the bottles wash in warm hot soapy water and rince well. Place the wet bottle on a tray, heat the oven to 140℃ (120℃

fan)/275°F /gas 1 and put the bottle in the oven for about 10 minutes. To steralise the lid place in simmering water for about 5 minutes.
Nutrition information is calculated using
an online nutrition database - is approximate and is meant as a guideline only.
Nutrition
Serving:
30
ml
|
Calories:
79
kcal
|
Carbohydrates:
20
g
|
Protein:
1
g
|
Fat:
1
g
|
Saturated Fat:
1
g
|
Sodium:
2
mg
|
Potassium:
56
mg
|
Fiber:
2
g
|
Sugar:
17
g
|
Vitamin A:
15
IU
|
Vitamin C:
11
mg
|
Calcium:
11
mg
|
Iron:
1
mg
Do You Like Recipes Made Easy?
Why not subscribe to Recipes Made Easy for my weekly newsletter. Or follow me on Instagram, Twitter and Facebook to never miss a recipe.
I'm sharing this post with #CookBlogShare