Guacamole, as I am sure you know, is a dip made from avocados that originates from Mexico. It is now very popular all around the globe and it is easy to see why, it's it's delicious. Although you can buy it ready made, store bought guacamole is not a patch on home made both for texture and flavour. It is also super easy and takes just minutes to make.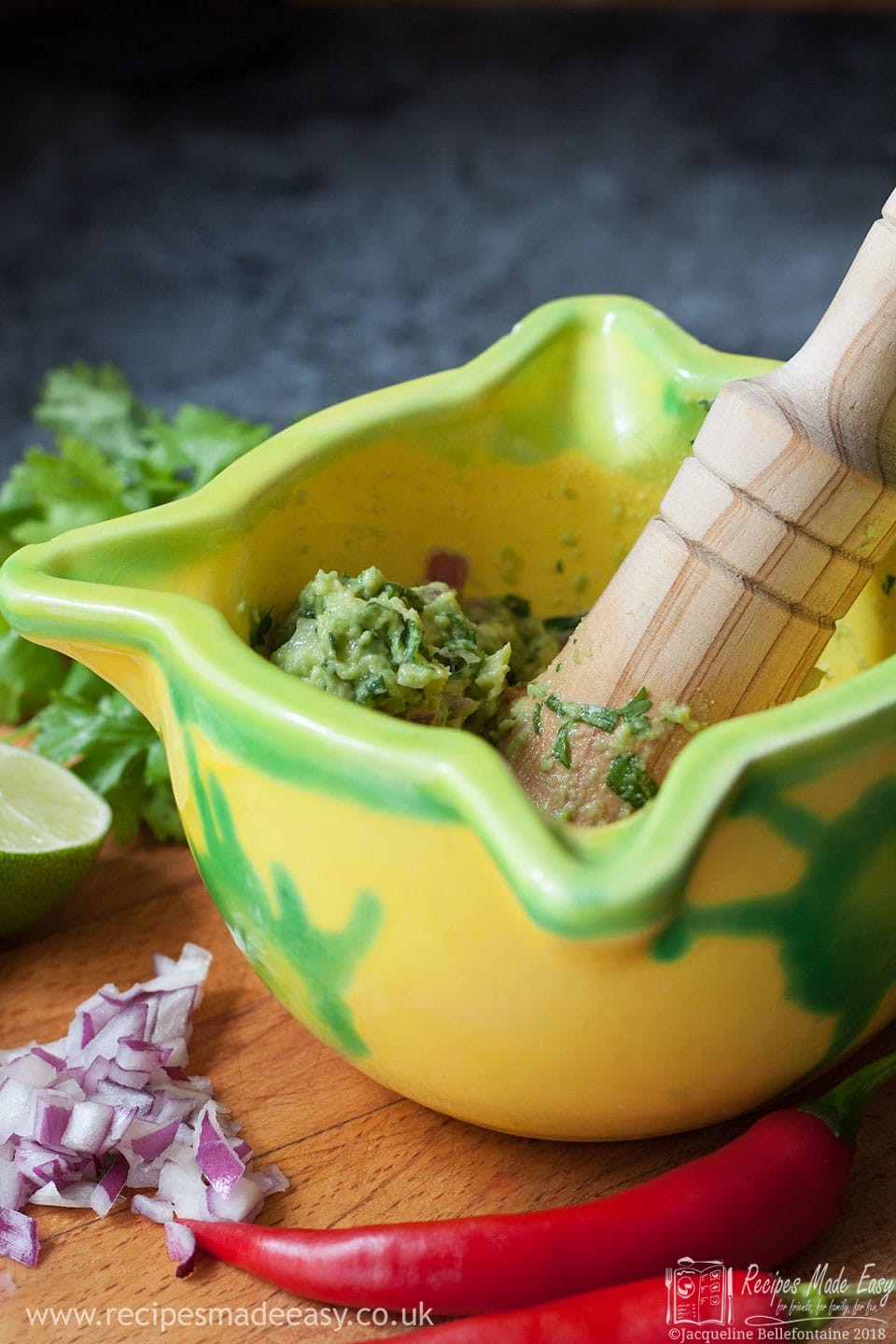 A few months ago when I shared my recipe for Chicken Fajitas, I promised you I would post a recipe for Guacamole (I always serve it with fajitas) and I have been a bit tardy. The truth is until recently I didn't really have a definitive recipe to share with you, as every time I made it, I made it differently. Basically you just need ripe avocados a pinch of salt, a little acidity (from lemon or lime juice) and a few additional flavours to make the overall flavour zing out.
Mejico - Sydney
Of course, if you follow a recipe then your more likely to get consistent results and I want to share only the best recipes with you. So I decided to ask the best person I know how to make it: my son James. James has just spent two years working in Australia and for a large part of that time, he worked in a restaurant in Sydney called Mejico. In this trendy restaurant, they make the Guacamole in a pestle and mortar at the table, so needless to say over his time at Mejico he must have made hundreds of servings for their customers. Let's face it it is a very very popular dish. Here he is in action.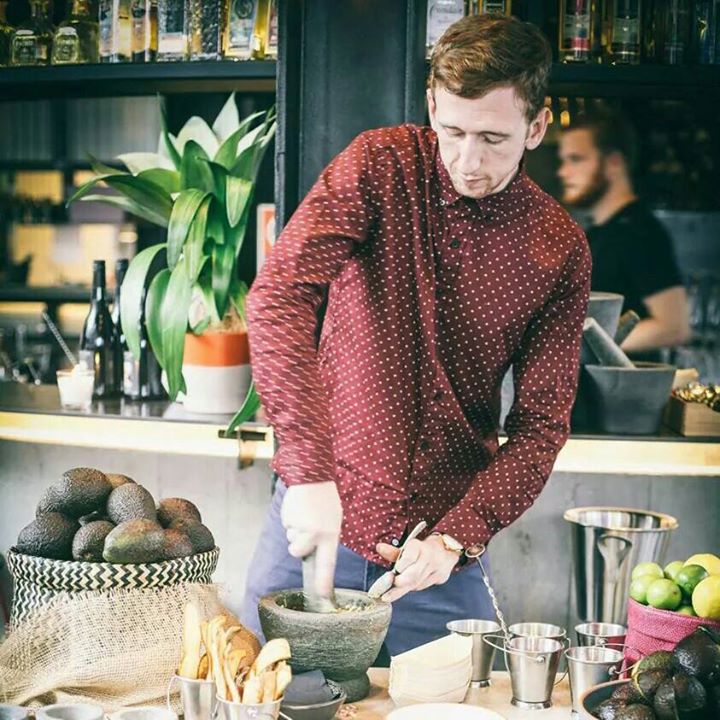 This recipe is based on how he made it at Mejico with a few tweaks of my own and I think the end result is so fabulous I shall only be making it to this recipe from now on.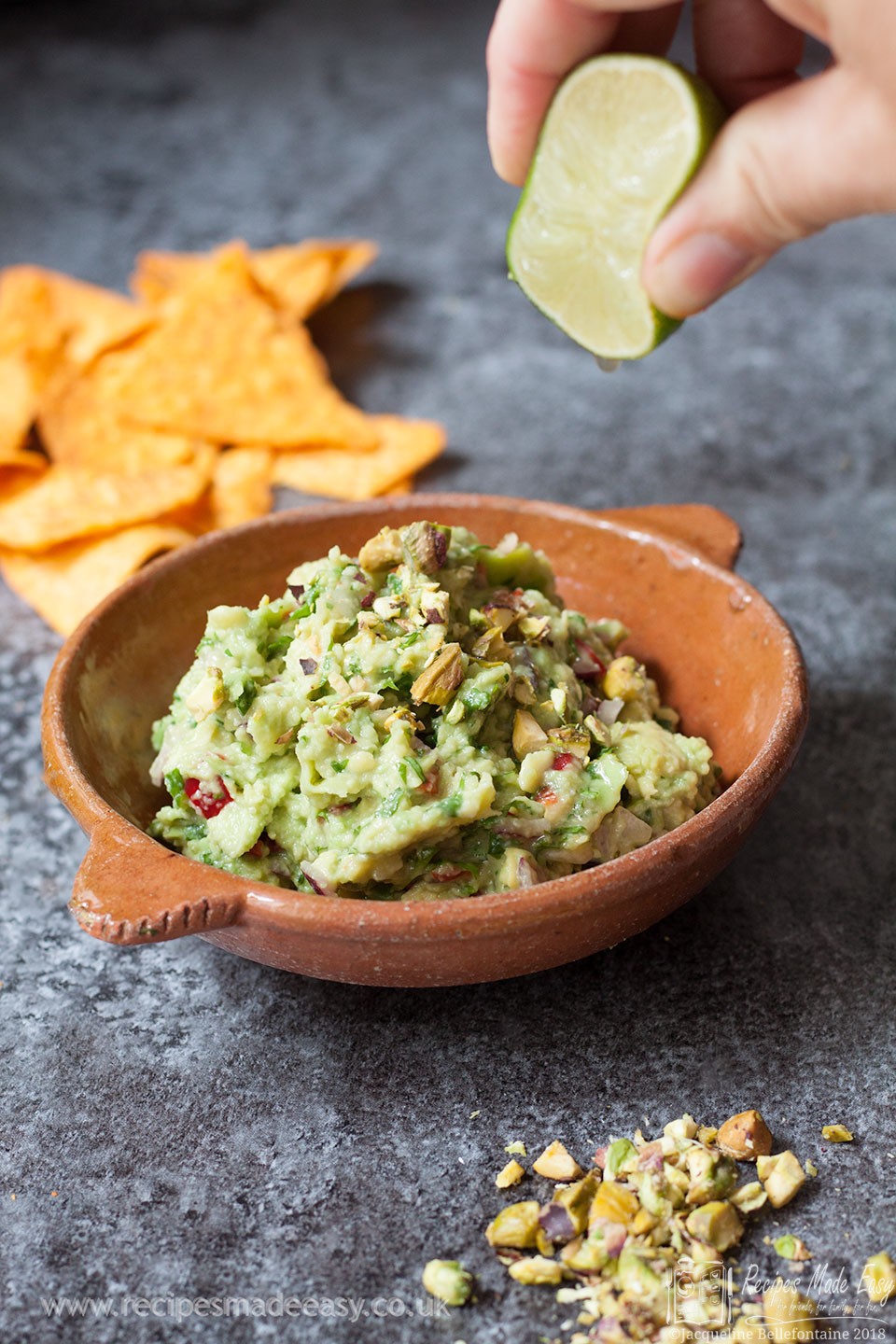 Step by step Guacamole

guacamole
Print Recipe
Pin Recipe
Save Recipe
Saved!
Quick and easy to make and far nicer than store bought Guacamole.
Ingredients
½

small red onion

½

– 1 red chilli

handful of coriander leaves

juice of 1 lime or ½ lemon

½

teaspoon

brown sugar

generous pinch of salt

2

ripe avocados

chopped pistachio

optional, to garnish
Instructions
Finely chop the onion. Deseed the chilli if desired and finely chop. Chop the coriander leaves.

Place all the ingredients except the avocado and pistachios in a pestle and mortar and pound for a few seconds to blend.

Cut the avocado in half and discard the stone. Scoop out the flesh and add to the pestle and mortar.

Pound again until all the ingredients are well blended and you have a coarse puree.

Transfer to a serving dish or serve in the mortar and sprinkle with pistachio nuts, if desired.

Notes:

Not suitable for freezing
Hints, Tips and Variations
The trick to making the perfect guacamole is to use a good ripe un-bruised avocados.
Don't worry if you do not have a pestle and mortar, use a sturdy heavy duty bowl and pound with the end of a rolling pin or mash with a fork.
You can also use a food processor but use only very short bursts as it is very easy to over process and you could end up with a puree that has no texture. (To be honest, I don't think it is worth it, it only takes a few seconds by hand even with a fork and a food processor is so much more washing up!
I like to use lime juice but you can use lemon. I add most of it while preparing the dip, then add an extra squeeze or two to taste at the end.
I've used red onions as I like the specks of colour it gives but regular onions or spring onions are fine, you need about 4tbsp of chopped onion in all.
I de-seed the chilli, but if you like a bit of heat then leave some or all of the seeds in.
At Mejico they serve the guacamole sprinkled with pistachio nuts. I've not done that before. It's not essential but I like it.
If you are not serving straight away, place the avocado stone in the guacamole and cover with cling film. this will help prevent it dis-colouring.