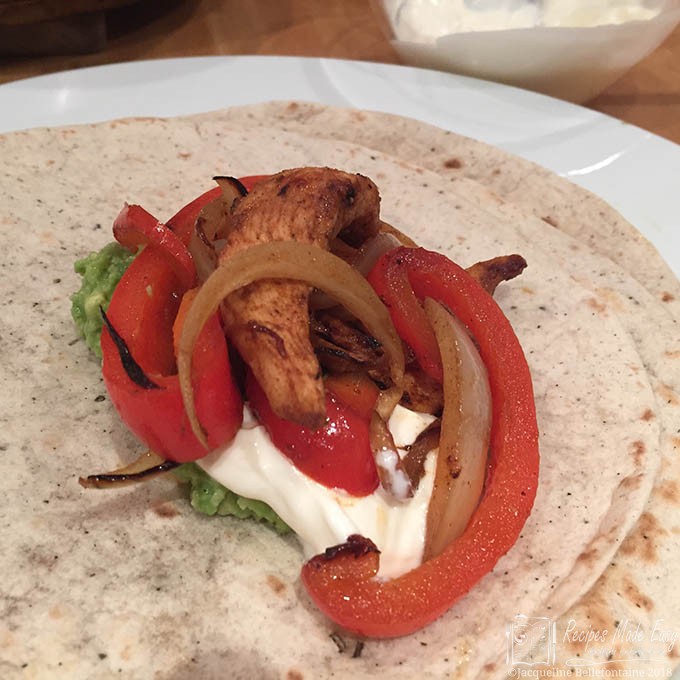 I first tasted fajitas in Minneapolis many years ago, during a press trip to promote US sunflower seeds as a snack, not just for oil.
Since then I have not tasted any as good, but that might partly have to do with the circumstances. At the time I had not long been promoted to deputy cookery editor for Women's Realm and I was on my first trip to the US. Life was pretty darn good.
As soon as I got back home I started to try making them at home and although they are not quite the same as those first ones I tasted, they have become a big family favourite. Very quick and easy to prepare, which suits me after a busy day, and the boys loved the fact that you all tuck in around the table and assemble them yourself. And of course they are very tasty.
For a long time I used a packet spice mix which is convenient as you don't need to have a load of different spices. I would personally avoid the ones that are branded 'smoky' as I really do not like the artificial smoke flavour. If you tend to have plenty of spices in the cupboard, you may as well make your own spice mix as on a gram-for-gram basis it is much cheaper. If, like me, you make fajitas regularly you can make up a large batch every so often and keep the remainder in a small airtight container ready for next time.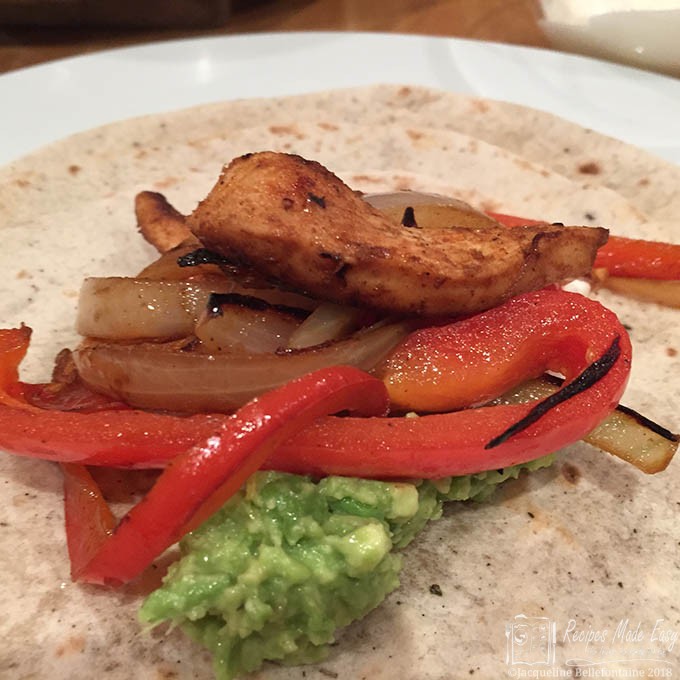 I always serve my fajitas with guacamole, tomato salsa and natural yogurt. I think homemade guacamole tastes so much better than ready made so I will pop a recipe on the blog for that soon (it will be linked here when it's done).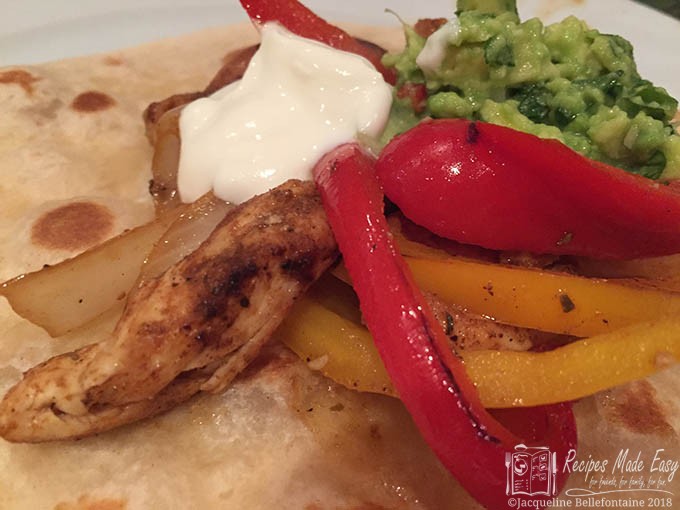 If you have not had fajitas before, you simply spoon some of the chicken fajita mixture into the centre of a warm tortilla and top with the salsa, guacanole and yogurt, then fold up the tortilla to enclose the filling and enjoy. Once the filling is wrapped up it is not easy to make them look good for photography. Even with the help of a professional photographer in a well equipped studio they just don't look that good, so I haven't even tried here at home. I am sure you'll get the idea though.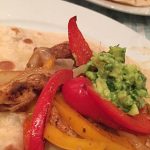 Chicken fajitas
Print Recipe
Pin Recipe
Save Recipe
Saved!
Quick to make, fajitas make a fun meal that brings the family together at the table.
Ingredients
3

skinned and boned chicken breasts

fajita spice mix

3

tablespoon

rapeseed oil

1

each red and yellow pepper

seeded and cut into strips

1

onion

sliced

8

Mexican flour tortillas

For the spice mix

½

teaspoon

caster sugar

2

teaspoon

chilli powder

1

teaspoon

ground cumin

1

teaspoon

ground coriander

1

teaspoon

paprika

½

teaspoon

salt

To serve

guacamole

tomato salsa and soured cream or yogurt
Instructions
Cut the chicken breasts into thin strips cutting crossways across the grain. Place in a bowl then, add 1 tablespoon of the oil and toss to coat in the oil.

Combine the spices for the spice mix and add to the bowl. Mix well until the chicken is coated in the spice mixture and set aside.

Heat the remaining oil in a large frying pan and sauté the peppers and onions for about 5 minutes until softened. Tip into a bowl and set aside.

Meanwhile warm the tortillas, you can do this one at a time in a dry frying pan or in the microwave, as directed on the packet. Keep warm

Add the chicken to the pan and cook stirring frequently until the chicken has changed colour about 3 – 4 minutes, then return the peppers and onion to the pan and cook for a few more minutes until the chicken is cooked through and piping hot.

Serve the meat mixture straight from the pan at the table, with bowls of and salsa, guacamole and soured cream or yogurt on the side.