Sabrina, a good friend of mine (who helps me out when I get stuck with some techie issues on the blog) mentioned she would like to see a recipe for easy hummus on the blog. It must be pretty easy to make, but I don't have a recipe she told me. She is indeed quite right - it is easy and quick.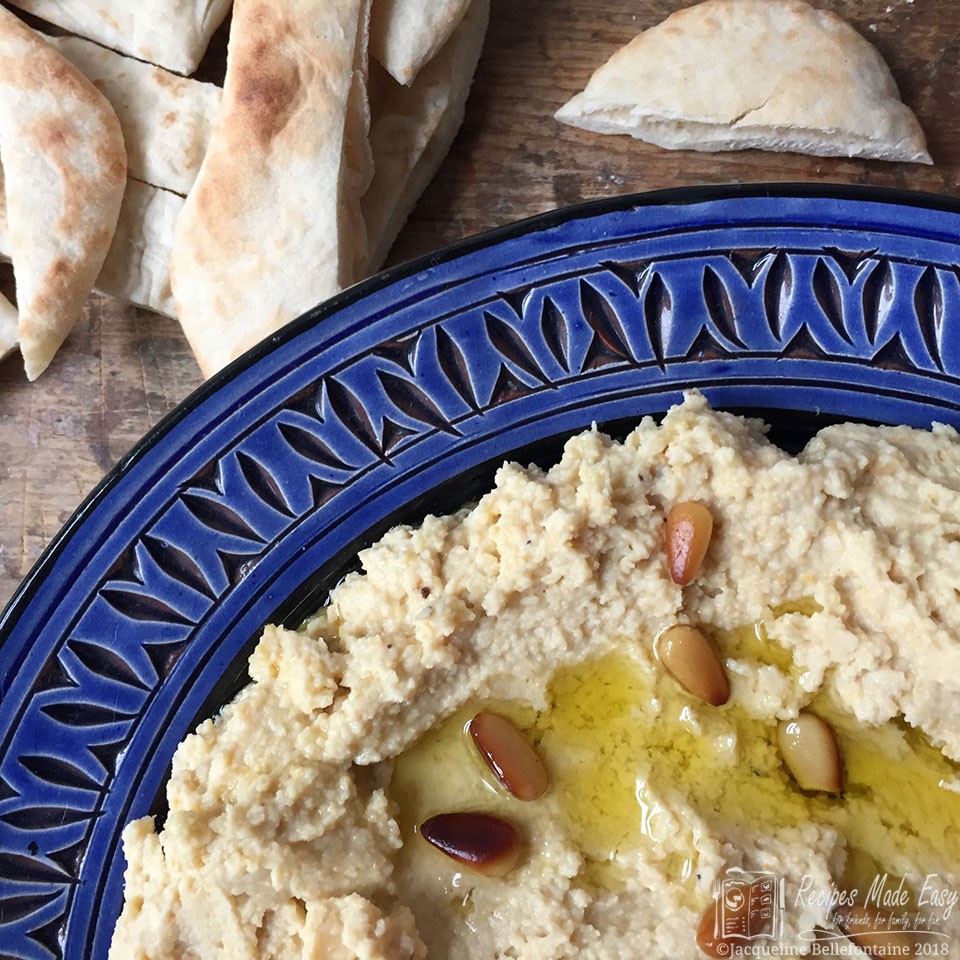 I have based my easy hummus recipe on a recipe by Claudia Roden in her book Arabesque (which is incidentally one of my favourite cookbooks). Claudia was writing about hummus long before it became the popular dish it is now. In fact, when she first wrote about it in the late 60's people in the UK thought hummus was what you found in the soil. That seems hard to believe now.
Canned vs dried chick peas
On researching this post I found that apparently there is a debate as to whether you can get as good a result with canned chick peas, as you can with dried ones which is what Claudia uses in her recipe. So I have made it with both. To be honest, I think they are much of a muchness so pick whichever suits you..
I also played around with the method of cooking chick peas see how to cook dried chick peas. Cooked conventionally they need to be soaked overnight and then boiled for at least 1 hour until they are tender. That requires a fair bit of planning ahead which I am not always that good at. So I then tried cooking them in a pressure cooker. Pre-soaked they took just 15 minutes to cook in the pressure cooker but again, that requires planning ahead. Finally I tried cooking them in the pressure cooker without soaking them first, in this case they took 40 minutes to cook. The advantage of pre-soaking is that they tend to stay whole during cooking, whereas if you don't soak them first they tend to split. That said I didn't find many had split and, given that we are going to whizz them to a puree in a food processor, the splitting is not an issue when making Hummus. What I can tell you, is that regardless of whether you use canned chick peas or dried it's going to taste so much better than any shop bought hummus and it will be much cheaper too.


Easy hummus
Print Recipe
Pin Recipe
Save Recipe
Saved!
Ingredients
400

g

cooked chick peas or 2 x 400g can chick peas

3

– 4tablespoon tahini

juice of 2 lemons

3

cloves

of garlic

crushed

salt

4

tablespoon

extra virgin olive oil
Instructions
Drain the chick peas, reserve a little of the cooking/canning liquid.

Place in a food processor and blitz until finely chopped.

Add the tahini, lemon juice, garlic and season well with salt. Blitz again to form a creamy paste adding enough of the cooking/canning liquid to get the desired consistency.

Drizzle with olive oil to serve

Garnish with paprika, chopped parsley, fried pine nuts or a few whole chick peas
Notes
Freeze: for upto 3 months
Step by step easy hummus
Hints and Tips for making and serving easy hummus
The consistency of hummus varies from country to country. I quite like mine slightly thick and chunky rather than wizzed to an ultra smooth paste. Add the cooking liquid a little at a time and blitz in bursts to get the consistency that you like best.
Likewise you can add a little more or a little less garlic, lemon juice and tahini to get the flavour you prefer. It's very much a matter of personal taste.
Top the hummus before serving with a good swirl of good quality olive oil and some toasted pine nuts, chopped parsley, paprika or sumac.
Serve with strips of pita bread or sticks of vegetables such as peppers, carrots, cucumber, or celery for dipping.