Could this classic French dessert be the ultimate pancake dish? Crêpes Suzette consists of thin pancakes cooked in a rich orange flavoured sauce which traditionally flambéd at the table.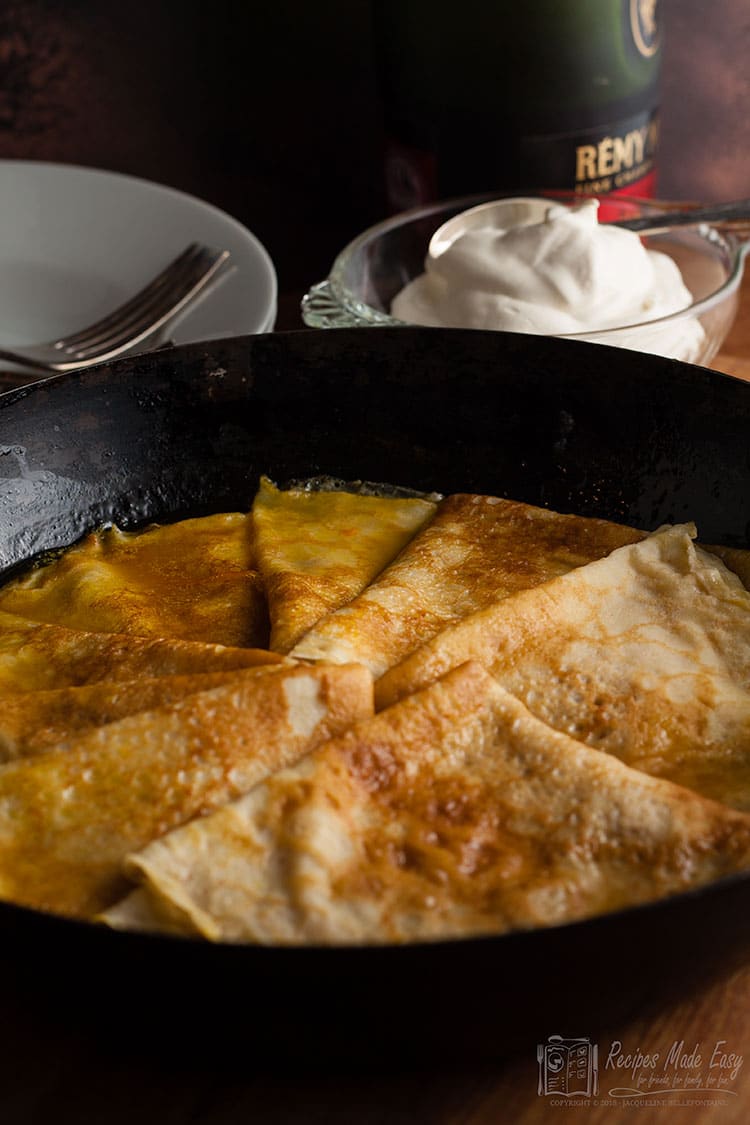 I will confess that one of my favourite ways of eating pancakes is with lemon juice and sugar. But occasionally I like to make more of an effort. Last year I served them with roasted strawberries. I also sometimes play around with the pancake itself. My Coconut and Banana Pancakes are gluten and dairy free. But in celebration of Pancake Day this year I am going all retro and serving Crêpes Suzette.
This classic French dish has been a favourite of mine for years but it's been a while since I made them. Apparently, they were quite the thing at restaurants in the 70s. The pan of crepes would sit over a small tabletop burner be wheeled in on a trolley and flambéd at the table.
Even if I had been old enough to go to posh restaurants back then, I would have steered clear of any dish that involved a bit of a spectacle. Luckily for me though my dad often made flambéd fruits for a dessert to follow Sunday roast at home. And just occasionally Crêpes Suzette. They were a real treat.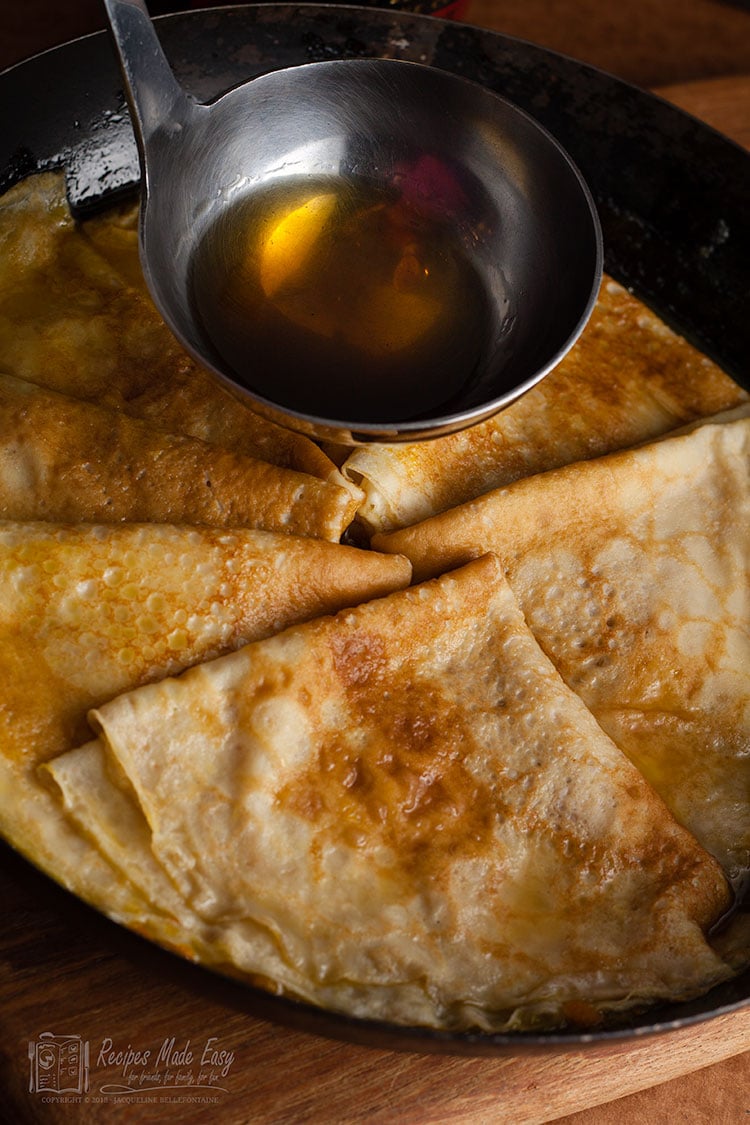 This recipe is based on one I wrote for Woman's Realm many years ago and I have only made a few minor tweaks. I remember the fun we had in the photographic studio trying the capture the flames for the shot. We must have poured half a tin of lighter fuel on it by the time we had finished.
This time I tried to capture the flames from the brandy again and I managed to get the flames on my phone at the hob for the steps (Just!). But not for the final shot. I did try with a bit of extra brandy, but when that failed I wasn't going to waste them, by cheating with lighter fuel. These bad boys were going to be eaten.
When I flambé, I heat the brandy in a ladle directly over the gas flame and then just as it starts to shimmer gently tilt the ladle so that the brandy catches and then pour over the pancakes. If you have an electric hob you can heat it in a small pan and then set alight with a lighter.
If you are worried about setting the brandy alight it can be added along with the orange liquor. Either way the gently simmering will evaporate the alcohol and leave you with the concentrated flavour, which is what we are after.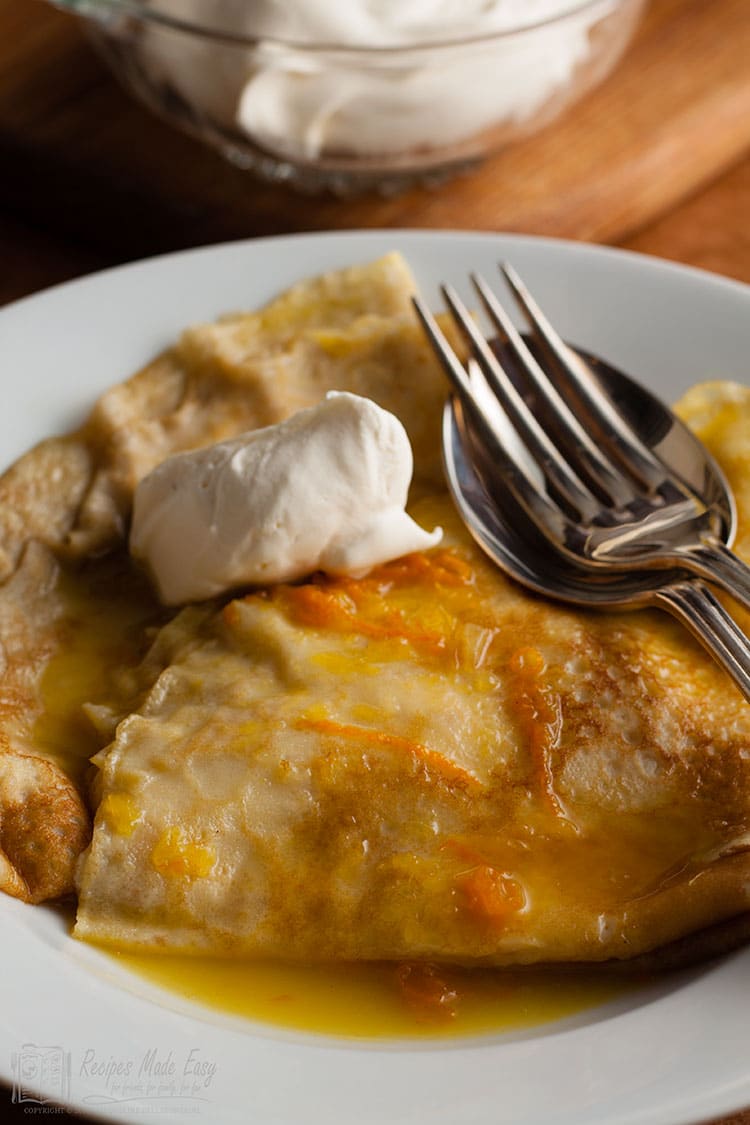 I serve the pancakes with a little lightly whipped double cream or a very good quality vanilla ice cream - Sheer bliss. Next time you are entertaining or just want a treat why not give them a go. This dish is too good to just be forgotten. I will leave it up to you whether you do the flambéing for added show at the table or not. I think they taste good enough, they don't need the theatrics.
Nigella Suggests in her recipe for Crêpes Suzette, that you can cheat with this recipe and use shop bought pancakes. Generally, I like to cook from scratch whenever possible. Given that they are soaked in a rich boozy sauce which you set light to then perhaps she has a point and it is permissible here. So if needs must then why not.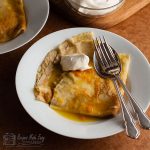 Perfect Crêpes Suzette
Print Recipe
Pin Recipe
Save Recipe
Saved!
Suzette is a delicious pancake dish which is easier to make than you might think.
Ingredients
Pancakes:
100

g

plain flour

½

teaspoon

ground cinnamon

2

eggs

2

teaspoon

oil

300

ml

milk

oil for frying
Sauce:
50

g

butter

grated rind of 1 orange

50

g

sugar

225

ml

fresh orange juice

2

tablespoon

orange flavoured liquor

optional

2

tablespoon

brandy
Instructions
Make the Pancakes

Sift the flour and cinnamon into a mixing bowl and make a well in the centre. Drop in egg, add oil and a little of the milk.

Using a wooden spoon beat well, slowly incorporating the flour as you do so until you have a smooth thick batter.

Gradually beat in the remaining milk. Allow to stand for 20 minutes before using.

Heat a little oil in a20cm (8in) heavy-based frying pan. Pour off any excess. Spoon about 3 tablespoon of batter into the pan and tilt to coat the pan base. Cook about 1 minute until underside is golden.

Flip pancake over and cook other side. Slide out of the pan and keep warm. Repeat with the remaining batter, stacking the pancakes on top of each other. Then cover with foil to prevent them drying out.

Next make the sauce

Melt butter in a frying pan and stir in the orange rind and sugar. Add the orange juice and cook stirring until sugar has dissolved.

Add the orange liquor and allow to boil gently until liquid has reduced slightly.

To Complete Fold pancake into triangles and dip in the juice to coat and push to one side of the pan.

When all the pancakes are in the pan Heat the brandy in a metal ladle or small pan. Set alight and pour over the pancakes. Serve pancakes when the flames have died down.
Notes
Nutrition information is calculated using an online nutrition database - is approximate and is meant as a guideline only.
Nutrition
Serving:
2
pancakes
|
Calories:
369
kcal
|
Carbohydrates:
41
g
|
Protein:
8
g
|
Fat:
17
g
|
Saturated Fat:
8
g
|
Cholesterol:
116
mg
|
Sodium:
154
mg
|
Potassium:
268
mg
|
Sugar:
21
g
|
Vitamin A:
665
IU
|
Vitamin C:
28.1
mg
|
Calcium:
113
mg
|
Iron:
1.7
mg
I'm linking this post to #CookBlogShare hosted at Easy Peasy Foodie