Creamy Panna cotta with a hint of citrus, topped with roasted fruits, this Clementine panna cotta has been given a delicious and unusual twist.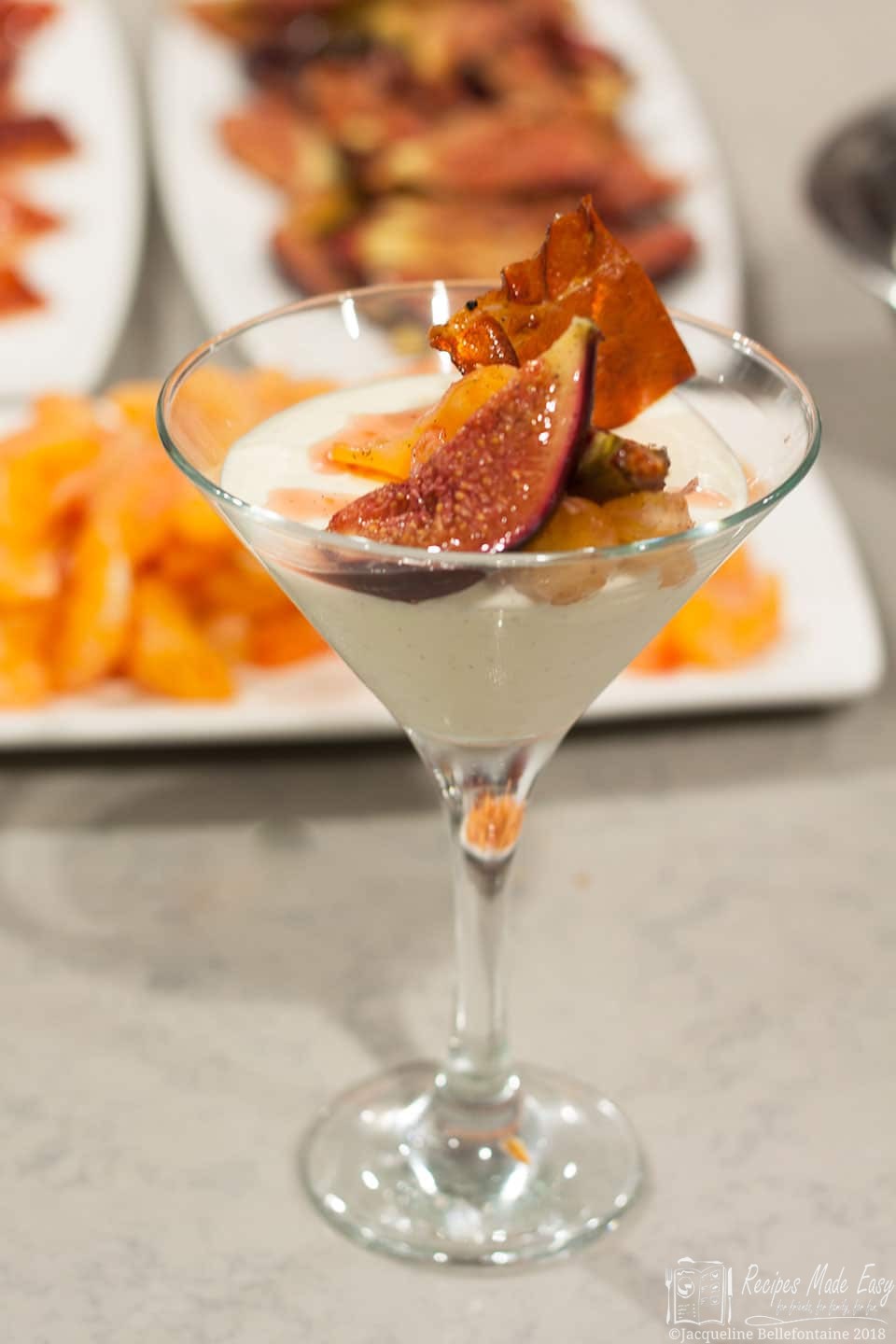 As a food writer I often get asked to events by brands wanting to showcase their products. Needless to say some are better than others and sometimes I have written about them and sometimes not.
But when I get to see and taste great products I make sure I tell my friends as I don't want them to miss out. The great thing is that now I have my blog I can also share my great finds with a wider audience, you my readers.
When I was asked if I would like to come and try out some Parma ham recipes I jumped at the chance, as Parma ham is a fabulous product that I know and love but I am always interested to find new ways to serve and use it.
Parma Ham - Prosciutto di Parma - is a PDO (Protected Denomination of Origin) product which means that it can only be produced and cured in the traditional production area near Parma, a small town in the Emilia Romagna region of Italy.
Parma ham is still produced in the same way it has always been, with Italian pigs, salt air and time. Its uniqueness is now protected by law, the Consorzio del Proscuitto di Parma protects the quality and authenticity of the product. When you see the Ducal crown you are guaranteed it is the genuine product.
So a couple of weeks ago I found myself at the Good Housekeeping Institute cookery school in London's West End with a group of bloggers and food writers to discover new ways to incorporate Parma ham into a festive menu.
When we arrived we were greeted with some delicious canapes; Parma ham, pear and rocket rolls and palmiers, along with a glass of prosecco, Later we sat down to a delicious 3-course festive themed dinner with Parma ham taking centre stage. But before we sat down to enjoy our meal we were going to have to make some of our dishes ourselves, we were in a cookery school after all!
We made our dessert first as this needed to set. Clementine panna cotta. After a quick demonstration we set about in pairs making it ourselves, helped by having all the ingredients laid out for us. You can find the recipe for this amazing dessert and find out what the usual twist is later in the post.
After making the dessert, another quick demo, and then on to make some flavoured soda bread which was to be used as the base of our bruschetta starters. As the bread baked, another demo, this time of our main course Pork fillet Wellington. I will have to share that recipe with you at another date, but meantime I must pass on one useful tip for adding extra flavour to ready rolled puff pastry for savoury dishes: sprinkle with parmesan cheese and some chopped herbs of your choice, - we used sage, fold in half and re-roll and use as required. Easy peasy and extra tasty.
While our mains cooked it was back to finishing our starters. Toasted soda bread slices were topped with a mixture of roasted butternut squash, figs,chestnuts, a little blue cheese and a couple of slices of Parma ham.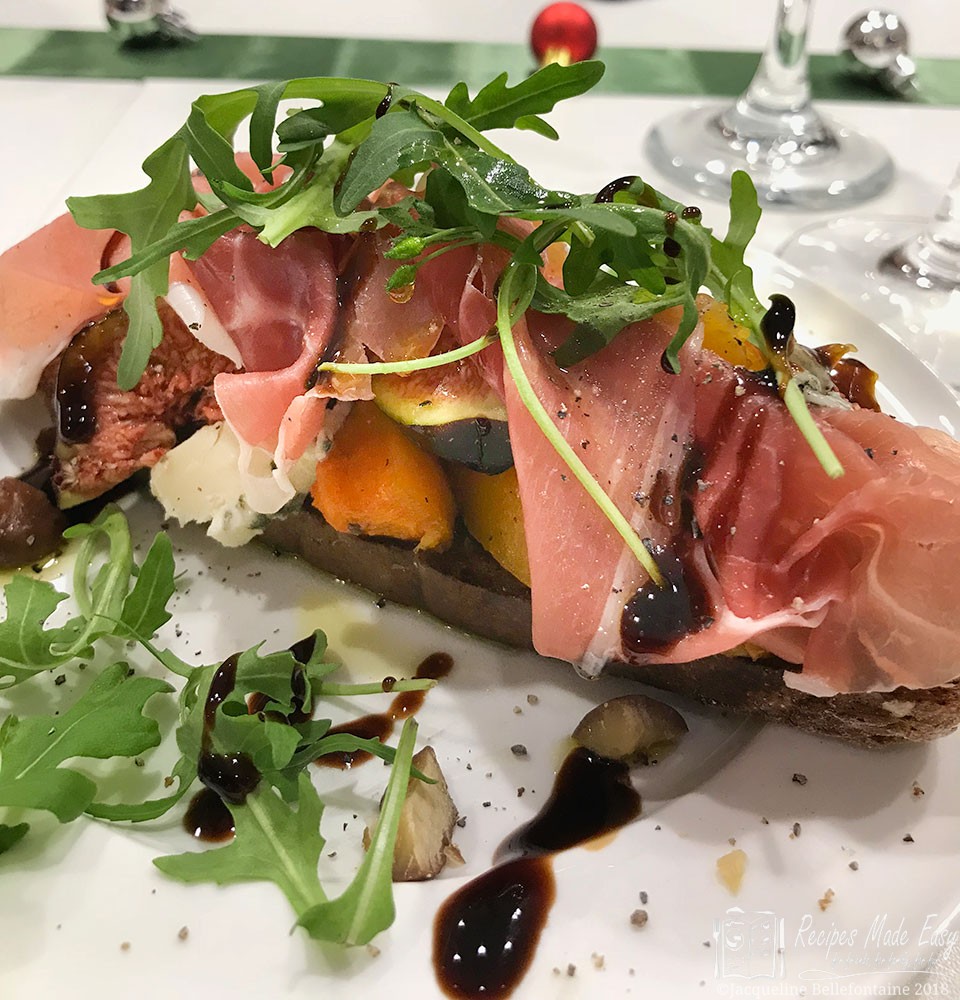 A handful of rocket leaves and some oil and balsamic vinegar glaze and our starters were complete. The variations of textures colours and flavours made this simple starter absolutely delicious.
We took our creations to the table to enjoy and get to know each other over a delicious meal. Behind the scenes, some delicious accompaniments to the pork wellington were made and served. During the evening I had expected to taste a few samples and was not expecting this sit-down extravagancer and I was feeling truly spoilt.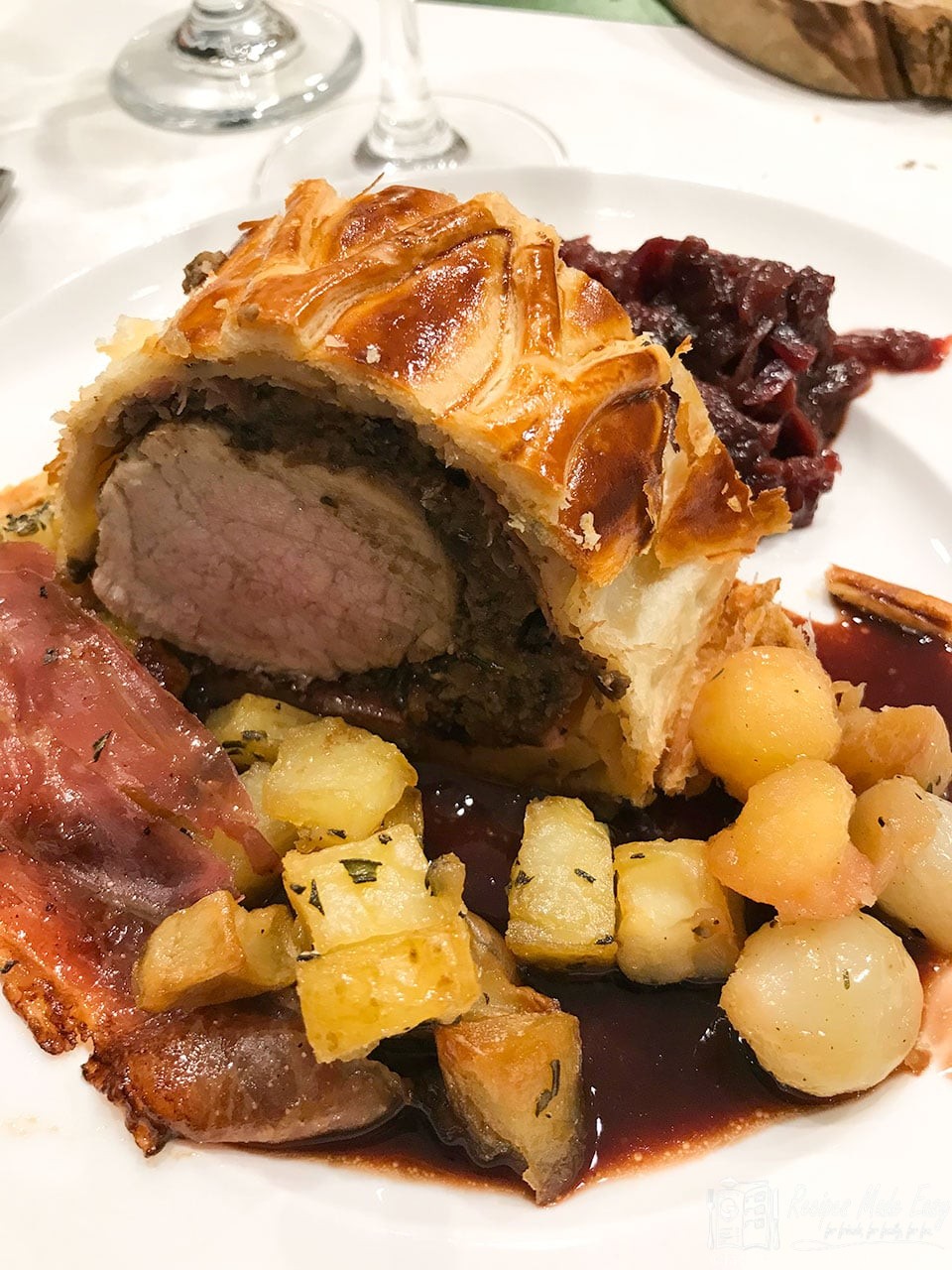 Finally, we got up to complete our panna cottas and find out the twist. Roasted fruits and candied Parma ham crisps to top. Apparently savoury/salty and sweet together is bang on trend. I don't know about that, I don't do trendy, but I do tasty and this twist certainly worked and I will definitely do this next time I want to surprise and impress.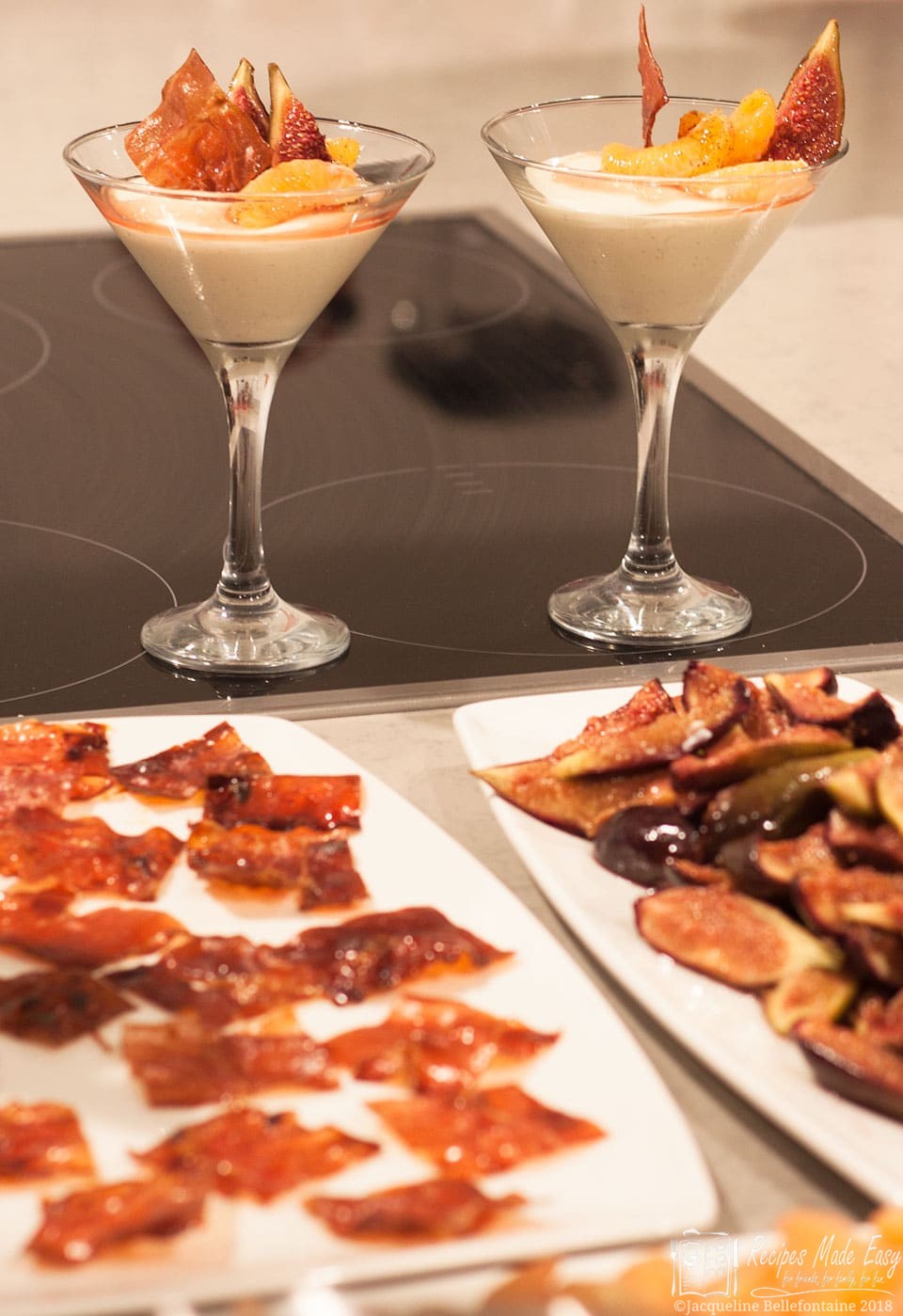 Clementine Panna cotta
Print Recipe
Pin Recipe
Save Recipe
Saved!
Creamy citrus scented panna cotta Served with roasted figs and honey glazed Parma ham crisps
Allow at least 2 hours for the panna cotta to set.
Ingredients
pana cotta
65

g

caster sugar

65

ml

water

finely grated zest of 2 clementines

1

teaspoon

vanilla paste

2

leaves

of gelatine

300

ml

full fat yogurt

200

ml

double cream
roasted fruits
1-2

firm ripe figs

1

tablespoon

runny honey

2

clementine's

2

tablespoon

Grand Marnier or Cointreau
Parma ham crisps
1-2

slice

of Parma ham

2

teaspoon

runny honey
Instructions
To make the Clementine Panna cotta
Place the sugar, water and clementine zest to a small pan. Add the vanilla paste. Heat gently, stirring until the sugar has dissolved.

Place the gelatine into a bowl of cold water for a few minutes to soften, then remove from the water and add to the pan. Gently swirl the pan so that the gelatine dissolves.

Fold the yogurt and cream together in a bowl. Stir the clementine syrup through the yogurt and cream. Divide between large wine glasses and place in the fridge to set for a few hours.
To make the honey Parma ham crisps
Preheat the grill to high. Lay the Parma ham out on to a large baking sheet and brush all over with the honey. Grill for 30 seconds to 1 minute until crisp and golden.

Remove from the baking sheet, allow to cool and cut into squares. Set aside until ready to serve.
For the roasted figs
Preheat the oven to 180°C( 160°Cfan)/350°F/gas mark 4. Cut the figs into quarters and place in a shallow roasting dish.

Peel the Clementine's and place in the roasting tin with the figs. Drizzle over the honey and Grand Marnier. Roast for 15 minutes until tender, allow to cool.
To Serve
Arrange the roasted figs and Clementine's on top of each Panna cotta, drizzle with a little of the roasting syrup, and top with honey glazed Parma Ham crisps.
Nutrition
Calories:
401
kcal
|
Carbohydrates:
35
g
|
Protein:
11
g
|
Fat:
24
g
|
Saturated Fat:
13
g
|
Cholesterol:
79
mg
|
Sodium:
105
mg
|
Potassium:
411
mg
|
Sugar:
32
g
|
Vitamin A:
810
IU
|
Vitamin C:
18.7
mg
|
Calcium:
166
mg
|
Iron:
1.1
mg
For more Parma ham recipe ideas visit www.prosciuttodiparma.com
Thanks to Brand Dialogue for inviting me to the @ParmaHamUK #ParmaHamChristmas event - I wasn't asked to write about the event but it is such fun I decided to share it anyway.