I have used toasted chopped hazelnuts in this cinnamon and nut babka which is glazed with maple syrup. The results a deliciously rich sweet yeasted bread with lots of flavour, which I think looks stunning.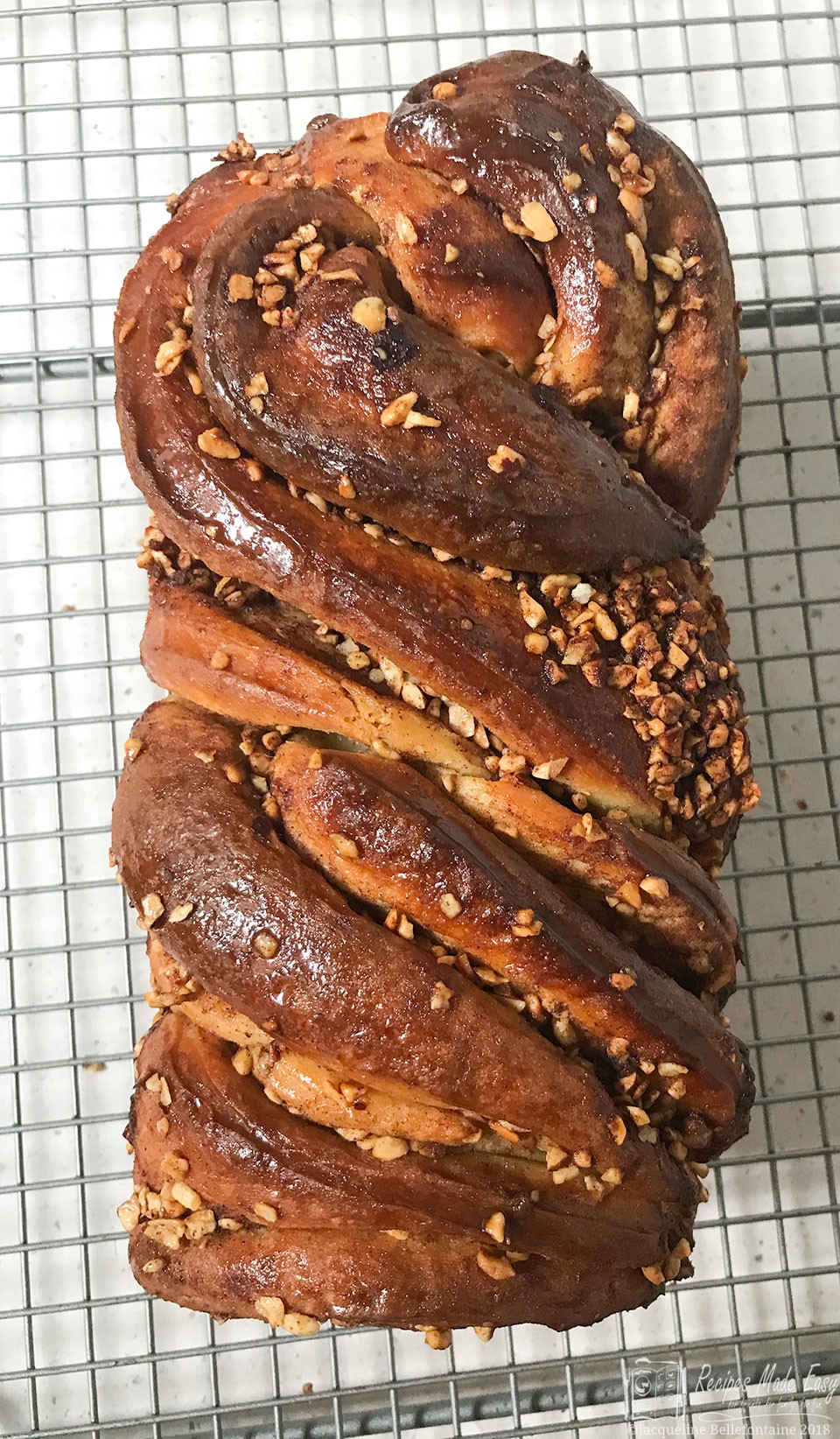 So Bake Off has finished this year and I don't know about you I was little disappointed by the final. The three challenges were making 3 different types of bread, baking and icing gingerbread biscuits and an Entremet. So choosing for my final Bake Off inspired bake was not so easy. An Entremet (a multi-layered set dessert) while impressive is not really what Recipe Made Easy is about. While I'm not altogether against adding the occasional more challenging recipe to the blog I always want that recipe to be made as easy as it can be. Sometimes it is worth the extra effort, but an Entremet, to coin one of Paul Hollywoods phrases is 'more about style over substance'.
The gingerbread biscuits, on the other hand, seemed a little bit basic for a final technical challenge and was more about the contestant's ability to decorate them rather than their baking abilities. That said I will be sharing a gingerbread biscuit recipe with you soon but mine will have festive decorations.
So that just leaves me with the breads and today's bake is loosely inspired by the final Bake Off signature challenge. Actually, it is a bread that I have wanted to make for some time. We love sweet breads in our household. Less sweet or rich than a cake they are delicious and a special treat. Perfect with a cup of morning coffee on a weekend or with a cup of steaming afternoon tea.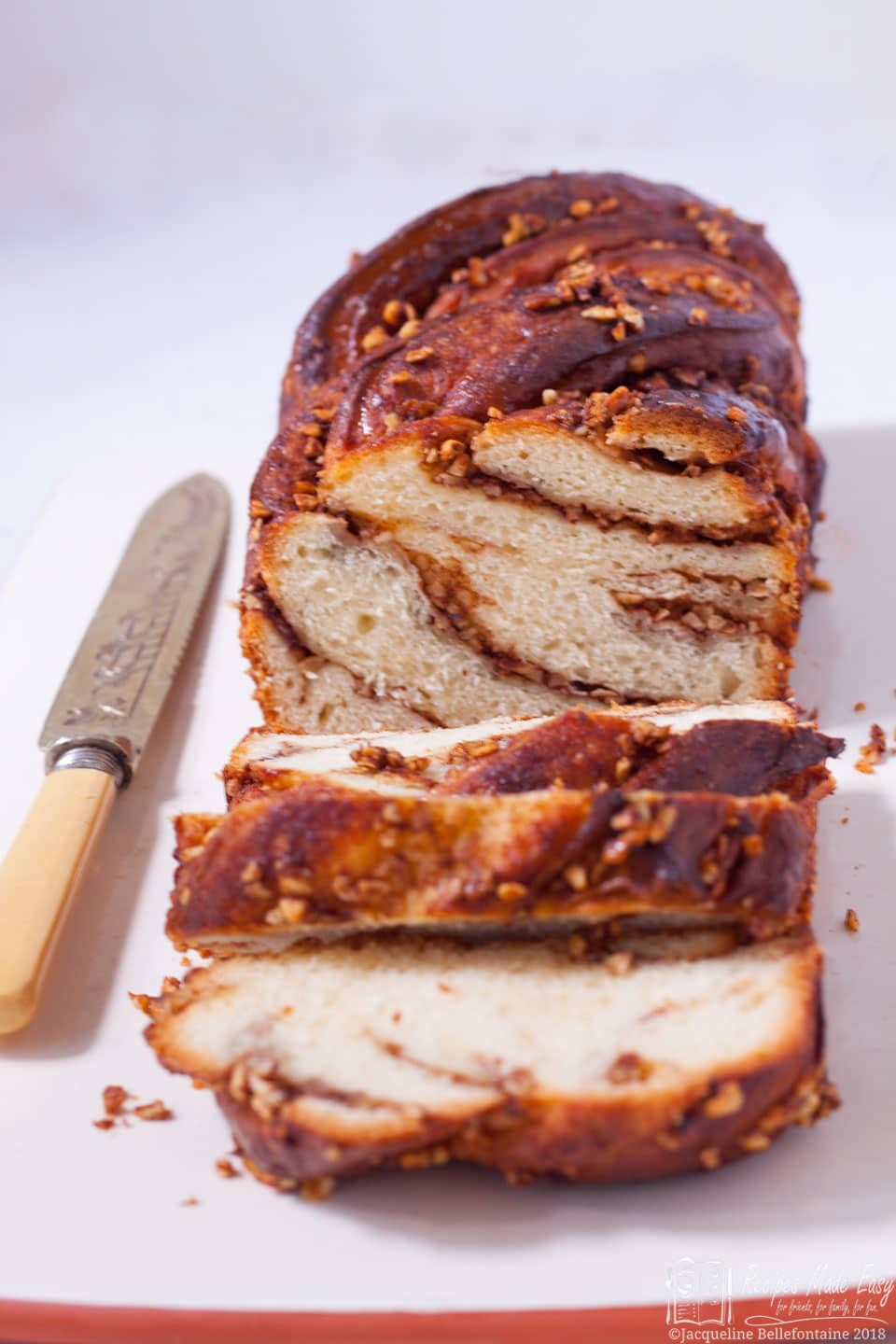 Babka is not a quick bread to make. The enriched dough inhibits the activity of the yeast and so it takes a long time to rise. But the actual hands-on time of making the loaf is not that long. After rising, you can go straight on to shape the bread but alternatively you can pop the dough in the refrigerator overnight. This has the advantage of making the dough firmer and easier to shape. So ideally I would recommend you start the day before you want to eat it. All I will say is they are so worth the wait!
The twisted effect of the bread looks pretty and is surprisingly easy to achieve. Just hold your nerve, when you cut the rolled log of dough in half. Briefly, it may look as if it is all going to fall apart but if you work quickly the twisting pulls the layers together again. It is then popped into a greased loaf tin which again holds it all in place. Trust me it doesn't need to be perfect. Part of the charm is that they do not all look exactly alike.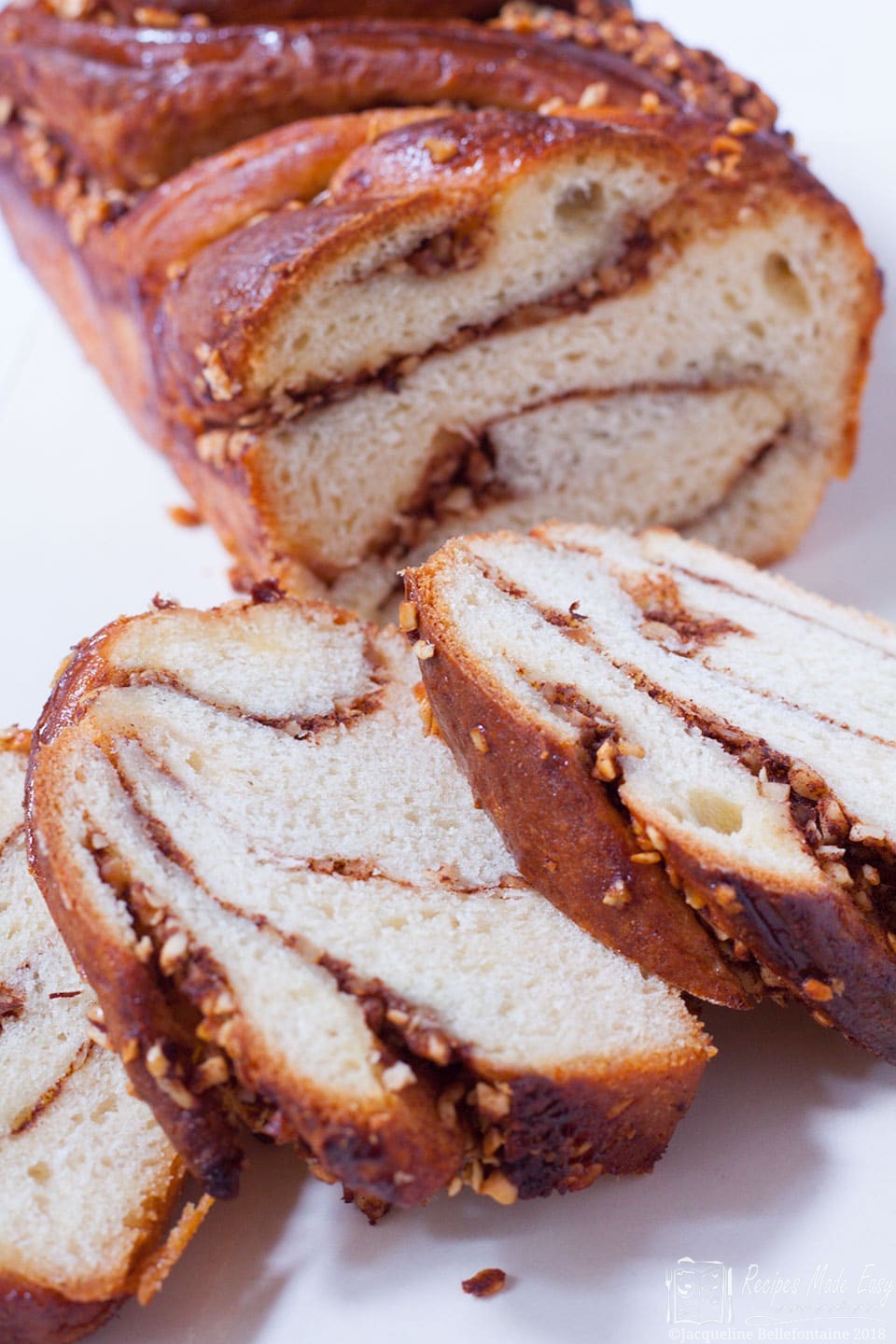 Often made with a chocolate filling, I have chosen to make a cinnamon babka with the addition of nuts. My first thought was to use pecan nuts sweetened with maple syrup. A last minute discovery that I had used the last of my pecan nuts means that I decided instead to use some chopped toasted hazelnuts. These had the added advantage of coming ready chopped! But feel free to try it with diffrenet nuts. As the bread also needs to have a sweet glaze, I thought for ease I would stick with using maple syrup in both the filling and for the glaze.

Cinnamon and Nut Babka
Print Recipe
Pin Recipe
Save Recipe
Saved!
An enriched yeasted cake with a pretty swirl of cinnamon and nut through the loaf. Makes two loaves each serving 8-10.
Allow at least 4-5 hours rising time in addition to preparation. The dough once made can be kept in the refrigerator overnight.
Ingredients
Dough
300

g

strong plain bread flour

250

g

plain flour

(all purpose)

½

teaspoon

salt

75

g

caster sugar

2 x 7

g

sachets fast action dried yeast

100

ml

milk

175

g

butter

100

ml

water

2

eggs
Filling
100

g

butter

4

tablespoon

maple syrup

1

tablespoon

light muscovado sugar

2

tablespoon

ground cinnamon

100

g

toasted, chopped hazelnuts
To complete
4

tablespoon

Maple syrup

to glaze
Instructions
To make the dough
Place the flours in the bowl of a stand mixer fitted with a dough hook and stir in the salt, sugar and yeast.

Place the milk in a small saucepan, cut the butter into chunks and add to the pan, heat gently stirring until the butter has melted. remove from the heat and add the water.

Beat the eggs in a bowl to break up then beat in the butter mixture. With the mixer on slow, gradually mix into the flour to forms a wet sticky dough. Increase the speed and mix for another 5 minutes until the dough is smooth, shiny and elastic.

Cover and leave in a warm place for about 2 hours or until the mixture is doubled in size.

At this point, if progressing with the recipe straight away, chill for about 30 minutes to help firm up the dough and make it easier to roll. Alternatively, the dough can now be left covered in the refrigerator for up to 12 hours before progressing.
To make the filling
Melt the butter, maple syrup sugar and cinnamon together in a small pan, stirring until the butter has melted and the sugar has dissolved. remove from the heat, stir in the nuts and set aside.
To shape the Babkas
Lightly grease two, 900g loaf tins. Cut the dough into two pieces and roll one piece into a 30cm square. Spread half the filling over the square and roll up tightly like a Swiss roll. (For more swirls in your loaf roll, continue rolling into a thinner rectangle.)

Cut the dough lengthwise in half and place the two pieces next to each other and twist together by lifting each strand over each other. Try making at least 4 twists then line up and tuck into one of the prepared loaf tins.

Repeat with the remaining dough and filling. Cover and leave in a warm space for about 2 hours or until doubled in size.
To complete
Preheat the oven to 190℃ (180℃ fan)/375°F/gas mark 5. Bake for 30 minutes or until a skewer inserted into the centre comes out clean.

Brush liberally with the maple syrup, then allow to cool in the tin for 10 minutes before turning out and transferring to a wire rack to cool completely.

Serve sliced.
Notes
Freeze for up to 2 months. Babkas will keep at room temperature wrapped well for several days.
Nutrition
Calories:
281
kcal
|
Carbohydrates:
32
g
|
Protein:
4
g
|
Fat:
15
g
|
Saturated Fat:
7
g
|
Cholesterol:
46
mg
|
Sodium:
166
mg
|
Potassium:
105
mg
|
Fiber:
1
g
|
Sugar:
9
g
|
Vitamin A:
375
IU
|
Vitamin C:
0.3
mg
|
Calcium:
38
mg
|
Iron:
1.1
mg
More Yeast Cookery Made Easy